From Indonesia to the Maldives, guests will get inspired to create new travel memories in the perfect setting with Hilton's renowned levels of hospitality
SINGAPORE - Setting the stage for the gradual return to travel, Hilton unveils a collection of revitalized hotels and resorts where travelers can craft new memories at some of the world's most beloved destinations.  A number of Hilton's award-winning hotels and resorts in South East Asia have undergone extensive refurbishments over the past year that will resonate with aspirations of a new era of travelers, focusing on reimagined spaces while preserving their local identity.
From Bali to Koh Samui and Manila to the Maldives, the series of transformations elevate Hilton's signature hospitality with thoughtful experiences and refreshed interiors.  In addition to prioritizing hygiene and cleanliness during the hotel upgrades, these enhancements underscore Hilton's relentless commitment to providing a safe and relaxing stay for guests to create memorable moments of reconnection with their loved ones.
From locally-inspired culinary concepts to ocean-themed Kids Clubs, Hilton's urban hotels and beachfront resorts present rejuvenated design elements that provide a meaningful connection to local culture while enhanced facilities meet evolved guest preferences for post-pandemic travel.
Fun in the Sun at Beachfront Sanctuaries

The first international resort to arrive in the Maldives 24 years ago,
Conrad Maldives Rangali Island
continues its trailblazing hospitality after introducing the world's first undersea restaurant and residence, among many other service innovations.  By early 2022, the resort will unveil extensive transformations of its signature overwater villas on the adult-only island, including a sensitive restoration of the spectacular Sunset Water Villa.  Atoll Market, the popular all-day dining destination, gives culinary world tour a fresh perspective from breakfast to creative evening cocktails.  To invigorate the body, mind and soul, a brand new gymnasium and revamped Overwater Spa caters to all demands, from active living to absolute therapeutic pampering. Conceptualized for a new generation of travellers, Teens' Club on Rangali-Finolhu Island, the livelier family-centric island, offers engaging experiences for energetic adolescents.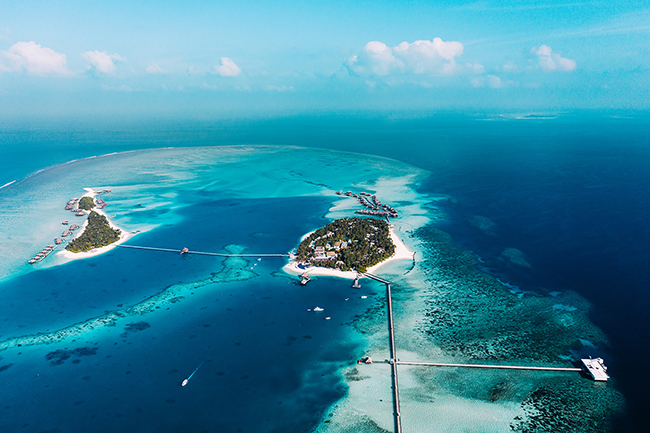 True to the beauty of the "Island of Gods",
Conrad Bali
is the ultimate luxury beach resort experience. The renovation program included the redesign and expansion of 298 rooms and suites, spa and resort lobby.  With views of the beautiful main pool and the vast Indian Ocean, couples can enjoy the relaxed setting of the rejuvenated reception area and East Lobby Lounge.  The guest rooms now feature a refreshing blue and grey palette and wooden furniture, reflecting tropical island-inspired motifs. Warm, cozy lighting and contemporary Balinese artwork add to the sense of place. For a private and relaxing moment away from the tourist crowds, Jiwa Spa, the award-winning luxury spa and wellness center, offers enhanced facilities such as a jacuzzi, whirlpool, hydroplunge, and private 25-meter pool to deliver a tranquil yet invigorating sanctuary for guests.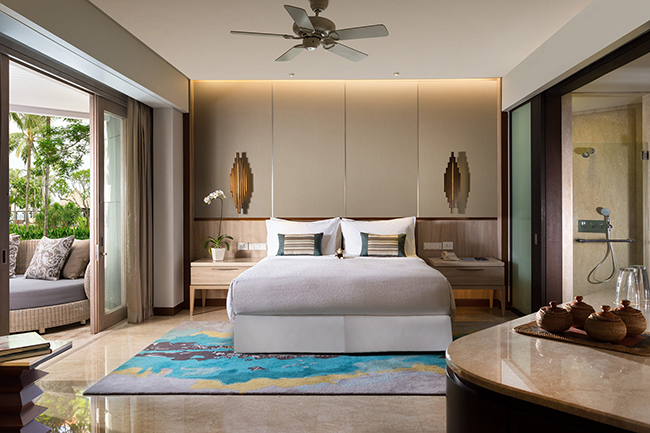 Hilton Pattaya, centrally located along the city's famed beachfront, celebrates the completion of its year-long restoration project.  The 304-room property has been completely transformed, boasting a new look that was inspired by beachside experiences, the sea and joy of sailing.   The warm interior design allows couples to bask in abundant sunlight, sea breeze and scenic views from every room's floor-to-ceiling window and private balcony. The hotel's signature Infinity Pool has been greatly enhanced with the extension of the sundeck area, allowing guests to enjoy a panoramic view of Pattaya Bay from atop its 18.5-metre long walkway extension.  Other areas such as EDGE restaurant, the executive lounge and hotel façades have been redesigned for elevated guest experiences.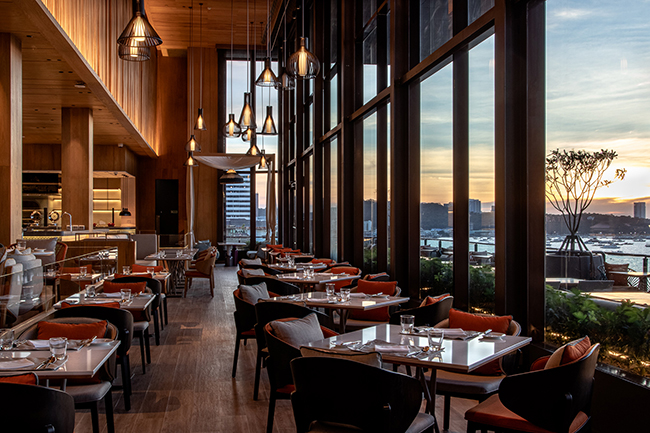 Reimagined Gourmet Indulgence for Epicureans
Commanding panoramic views of the Gulf of Thailand, Conrad Koh Samui has introduced mindful dining concepts, inspiring new venues, and improvements to well-loved culinary experiences. Foodies can now enjoy the best sunset from Aow Thai Beach at the brand new Seakret, indulging in tropical cocktails and snacks in Thai-inspired surrounds.  For those who appreciate sustainable gourmet treats, have a farm-to-table experience at Botanikka Eco-Café before checking out the resort's hydroponics system, where organic herbs and vegetables are produced for the resort's culinary needs.  Guests can also enjoy Zest restaurant's newly renovated terrace for a heightened al fresco experience, the Greek-influenced, Santorini-inspired motifs and interiors at Azure Bar and Grill's Mediterranean, and an indulgent private chef experience on a private pier at the Pier and Beach Promenade.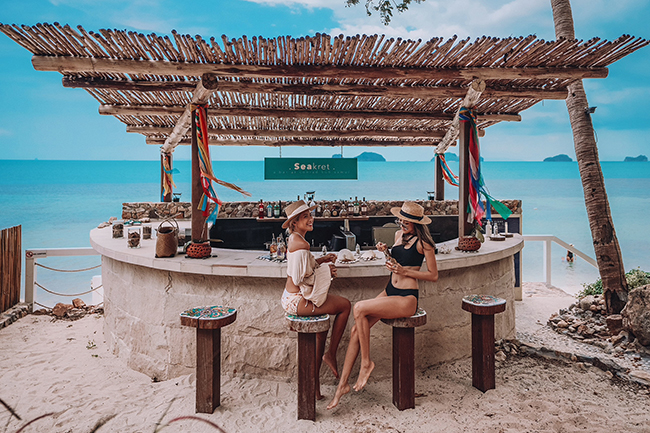 Nestled atop the iconic S Maison retail complex on the edge of Manila Bay, Conrad Manila presents rejuvenated culinary experiences in the Philippine capital.  Its brilliant façade is now thermal insulated to improve energy conservation, so that guests can indulge in its signature intuitive services with lower environmental impact.  Brasserie on 3, renowned for its innovative take on seasonal ingredients, features new bamboo flooring that is symbolic of its commitment to sustainable, organic and locally sourced products.  To intensify the modern twist to Chinese cuisine at China Blue by Jereme Leung, sophisticated new furnishing was installed to improve the dining experience at this award-winning restaurant.  For those seeking to escape the urban life, Conrad Spa Manila features revitalized interiors while its idyllic poolside landscape glitters with glass mosaic tiles to offer a resort-like sanctuary above the madding crowd.
To strengthen the appeal of this well-loved riverfront sanctuary,
Millennium Hilton Bangkok
has rejuvenated all guest rooms, as well as the hotel's all-day-dining restaurant, Flow, and public spaces.  Inspired by the majestic Chao Phraya River and its vibrant surrounding landscape, water-inspired fabric patterns and textured metals frame art installations in the public areas of the hotel. An established culinary destination, epicureans will delight in Flow's new exclusive private dining room, Cheese Library and Dessert Theatre as well as an all-weather, outdoor terrace set to elevate the alfresco riverside dining experience.  Guests can take advantage of the Thai capital's new Gold Line mass transit system for easy access to local attractions.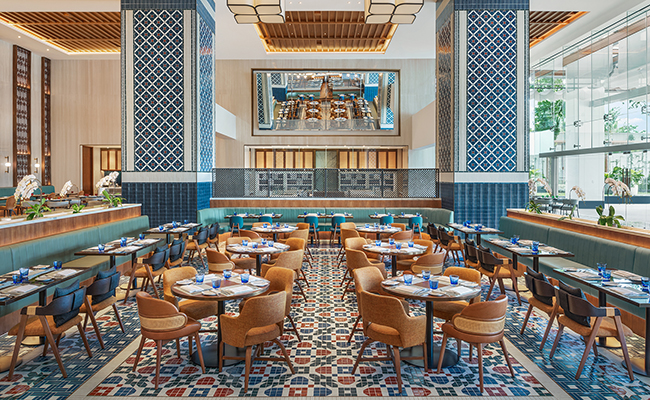 Weekend Getaway for Family Travelers 
A distinctive landmark in the Thai capital's alluring city skyline, Conrad Bangkok serves as a strategic sanctuary for weekend getaways with the family. Conveniently located near key retail, entertainment and tourist attractions, the hotel's refurbished lobby invokes the vision of an elegant outline of a Thai temple and pagoda for an immediate sense of arrival to the Land of Smiles.  After an extensive rejuvenation, its sophisticated features now complement the brand's renowned intuitive service and facilities. Families can enjoy the refreshed Premium rooms, featuring enhanced contemporary luxury and innovative technology, such as smart lighting and immersive acoustics to ensure a restful stay after a day out enjoying the hustle and bustle of city life.  To complete the sensory journey, a diverse collection of culinary concepts is available to satiate the tastebuds while an entire whole floor is dedicated to wellness indulgence.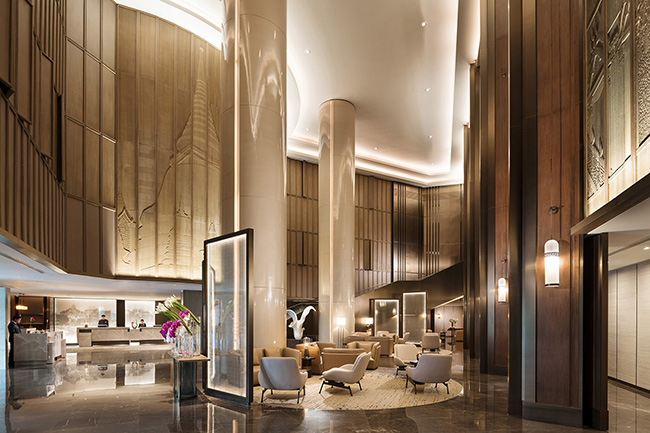 Hilton Bali, renowned for its breathtaking views, extensive facilities and warm hospitality, has completed a thoughtful refurbishment in October 2020. All guest rooms and suites were meticulously restyled to exude a timeless and contemporary look with touches of local Indonesian culture. Both adults and children will enjoy the digital transformations at the resort, including a new 50-inch LED Smart TV in guest rooms and 55-inch televisions in suites as well as enhanced WiFi infrastructure within the buildings to ensure seamless connectivity for all guests. After a day at the beach, enjoy a family dinner at the resort's all-day dining restaurant, GRAIN, and casual beachfront dining concept, The Shore, with both having received an interior uplift.  The new ambience features natural elements and earthy tones from wood, greenery, and terracotta to harmonize with its contemporary furnishings.
From 2019 to 2020, the iconic waterfront landmark
Hilton Hua Hin Resort and Spa
embarked on a remarkable renovation, revitalizing almost every element of the resort with the intention of delivering elevated guest experiences and exceptional travel memories.   Families can now enjoy an executive lounge offering unobstructed pool and ocean views, a stylish Deca Coffee Lounge serving bite-sized snacks and drinks as well as an ocean-themed Kids Club, the largest at a luxury resort in Hua Hin. In addition to completely reimagined public spaces, 53 guest rooms now present a refreshed, contemporary look decorated with Thai influence.  Each newly renovated room offers a big balcony for guests to enjoy unobstructed views of the Bay of Thailand from the comfort of their personal domain.
Collaboration Spaces for Intelligent Hybrid Events
A pioneer in connecting people, spaces and ideas, Hilton Kuala Lumpur has elevated the industry benchmark with an innovative Virtual Studio, the first of its kind in Malaysia.  The trailblazing facility is part of an extensive, state-of-the-art redesign that caters to the evolving preference for inspiring yet intelligent venues for both corporate and social events.  A suite of smart technology and equipment provides seamless execution of myriad event concepts, from hybrid conferences to wedding banquets and gala dinners.  Thoughtfully upgraded with an impressive range of high-tech solutions, such as a cyclorama green screen, wireless charging of devices, digitized flipcharts and presentation system, meeting delegates can convene with optimum efficiency and productivity.  Creative culinary experiences curated from fresh, locally sourced produce are integral to memorable events at Hilton Kuala Lumpur's Collaboration Spaces.  For example, an exclusive Sabahan coffee blend from East Malaysia gives a native caffeine boost at the newly created Barista Café./p>