87% of Singaporean travelers have reported they feel proud about the rising popularity of their country of origin as a travel destination.
Nearly four in five (79%) Singaporean travelers are seeking to better understand their own heritage through travel.
Singaporeans rank exploring local and traditional food and beverage as the most important consideration when it comes to planning travel for 2024, highlighting the intrinsic connection between culture and cuisine.
This research comes as Hilton releases its global 2024 Trends Report, which uncovers four themes expected to be the catalysts of change and innovation for travel in 2024 and beyond.
SINGAPORE – As Hilton releases its 2024 Trends Report, the leading global hospitality company has discovered an emerging generation of Asian travelers who are pursuing travel that will enable them to better understand their identity.
Dubbed as the 'GenerAsian traveler' are Asians who are inspired by self-discovery and have a desire for a deeper understanding of their own cultural and ancestral heritage through travel.
In a global survey conducted in collaboration with Ipsos, a resounding chorus of travelers across Asia have expressed a growing confidence for self-exploration. In Singapore, a staggering 87% of respondents reported they feel proud about the rising popularity of their country of origin as a coveted travel destination, with 92% feeling honored about the international popularity and appreciation for Asian food, design, and culture.
This shift in global taste can be attributed to globalization, where international audiences have better accessibility and insight into Asia through pop culture and social media. From the island city serving as the backdrop of top-grossing Hollywood films, to its restaurants receiving internationally renowned recognition, Singapore has maintained itself as one of the top travel destinations for global travelers, welcoming an estimated 2.9 million international visitors in just the first quarter of 2023.
"We're constantly monitoring the travel preferences of different generations to create tailored experiences that cater to their unique needs and desires. Fueled by a sense of pride that Asian food, design, and culture are gaining popularity globally, we know this will hold even greater significance and interest for travelers in the upcoming year. In fact, our research found that 79% of Singaporean travelers are seeking to better understand their own heritage through travel, with 85% looking to learn more about other Asian cultures. We believe that the heart of a great trip is a great stay, and so we remain committed to delivering innovative solutions to ensure our guests can fully immerse themselves in both our hotels and their communities."
Access to Local, Gastronomic Experiences are a Priority for Singaporeans
Priorities differ among travelers when it comes to selecting their accommodation. For some, convenience might be key, but for others, price remains at top of mind. In line with their travel motivations, Singaporeans are more likely than travelers from other countries surveyed to book their accommodations based on access to unique local experiences. In fact, a substantial 70% of Singapore respondents indicated that they are likely to do so, compared to the 65% average across all countries surveyed in Hilton's global study.
When it comes to the types of experiences Singapore travelers seek during their trips, 92% of respondents unequivocally ranked exploring local and traditional food and beverage as the most important to them. A strong majority (84%) also indicated a desire to connect with the local community when they travel, and gain a deeper understanding of the local history and heritage of the destination they travel to, suggesting a reassuring desire for more authentic travel experiences.
Food and beverage also showed as a unifying passion point across Asian respondents in Hilton's 2024 Trends Report survey, with respondents across Singapore, China, India, and Japan all ranking culinary experiences as the top budget priority for their travel plans next year. 
To ensure they are able to prioritize travel in the coming year, and true to their reputation of being avid travelers, more than two-thirds of Singaporeans (74%) are reducing spending on other areas of their life, which is considerably higher than the global average of 64%. Travelers in Singapore are also more inclined than the majority of their global counterparts to spend more on travel in 2024 than they did in 2023 (73% in Singapore versus 65% globally).
"At Hilton, we've noticed a rising interest in self-discovery and the desire for an even deeper understanding of one's heritage, and this will be an even more important consideration for travelers in 2024. Interestingly, 71% of all Asia Pacific respondents reported they will prioritize traveling in the next 12 months, supporting this notion of the GenerAsian traveler and their passion to explore. From our ongoing brand innovation and dining experiences to our world-renowned hospitality, Hilton will enable guests to completely connect and immerse themselves in the destinations they chose to travel."
Understanding Generational Differences in Global Travelers' Expectations
These insights were commissioned as part of research for Hilton's 2024 Trends Report, which sought to uncover the profile of the 2024 traveler, while also zooming in to understand what the desires and preferences will be for the different generations. Following a global survey of more than 10,000 travelers from nine countries, and in-depth interviews with dozens of Hilton travel experts, the report uncovers four themes expected to be the catalysts of change and innovation for travel in 2024 and beyond:
Travelers Will Invest in Their Sleep: Gen Zs are the most intentional about winding down, with 21% regulating their workout routine, and 25% avoiding alcohol before bedtime. In Singapore, 31% of respondents shared they listen to music or podcasts and chose a trusted hotel brand with consistent mattress quality as their top sleep considerations.
Travelers Will Value Connectivity and Personalization: 80% of global travelers surveyed said it's important to be able to book their trip entirely online, with 86% of Millennials and 83% of Gen Zs leading the charge. In Singapore, 87% of travelers also agreed, with 91% of Millennials and Gen Zs driving these expectations.
Culture and Experiences Will Drive Leisure Travel Decisions: Across generations, travelers' top focus is on culinary (49% globally, 52% in Singapore) as well as exploration and adventure experiences (47% globally, 49% in Singapore). In Singapore, Gen Xs and Gen Zs (54% for both) are the most passionate about their dining budget plans, while Gen Zs (58%) and Millennials (50%) are carving out more budget for exploration and adventure experiences than other generations. 
Business Travel Trends Will Redefine Expectations: More than a third of Gen Z and Millennial business travelers say they plan to extend a business trip to enjoy leisure time before or after their work obligations, and 24% of global business travelers plan to take a friend or family member with them on a business trip next year.
Hilton's 2024 Trends Report can be found at Stories.Hilton.com/2024Trends, and to learn more specifically about the GenerAsian traveler, go to Stories.Hilton.com/GenerAsian. To start planning 2024 travel, visit Hilton.com.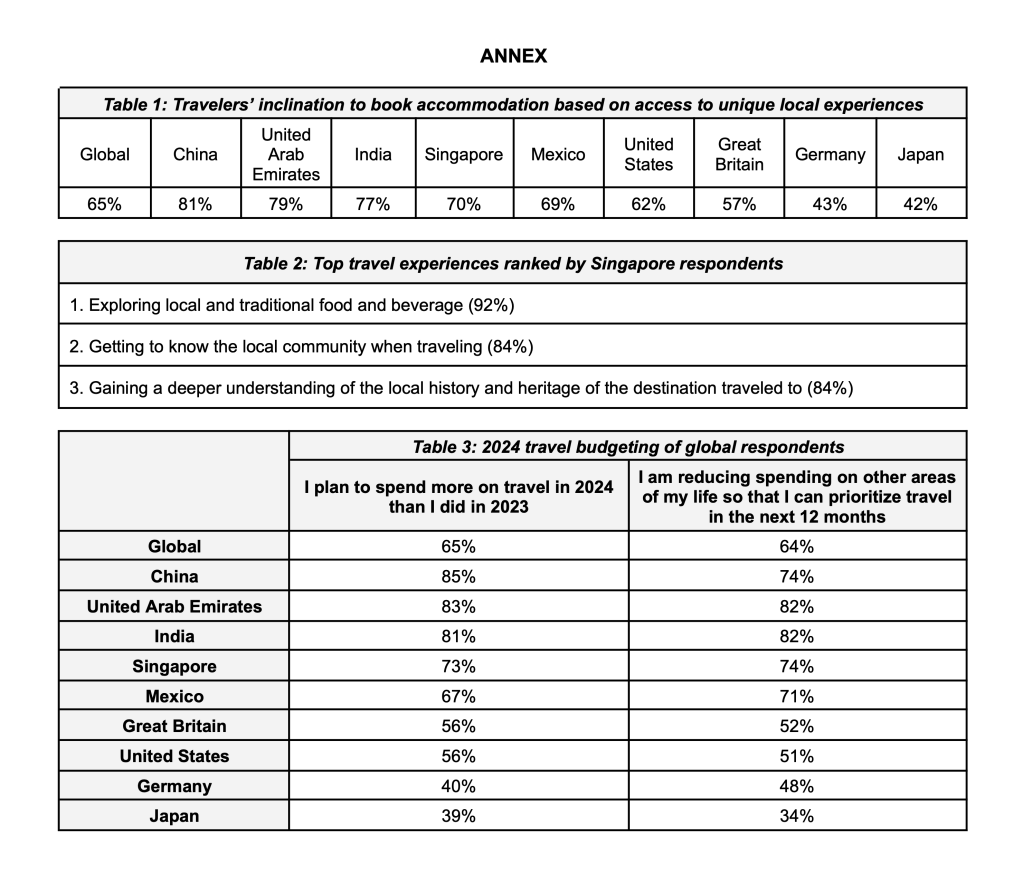 Both qualitative and quantitative methods were used to determine the emerging trends detailed in this report. Hilton conducted stakeholder interviews across the organization to gain perspectives on what travel looks like today and determine what is top of mind going into 2024, with business divisions including: Business Travel/Events, Food & Beverage, Wellness, Sustainability, Design, Digital Innovation and Workplace Culture. Hilton commissioned two phases of research with Ipsos, one of the largest market research and polling companies globally. First, Ipsos conducted 60 qualitative online video diaries in the U.S. between April and May 2023. Then Ipsos fielded a quantitative online survey in July 2023 among a nationally representative sample in Germany, Great Britain, Japan and the U.S. of adults under age 75. The samples in China, India, Mexico, Singapore and U.A.E. are more urban, more educated and/or more affluent than the general population. The survey results for these markets should be viewed as reflecting the views of the more "connected" segment of their population. Each country included an oversample of n=200 Gen Z to increase analytic capability for this age group. The age breakdown used is Gen Z: 18-26, Millennial: 27-44, Gen X: 45-58 and Baby Boomers: 59-77.
---
About Hilton
Hilton (NYSE: HLT) is a leading global hospitality company with a portfolio of 22 world-class brands comprising nearly 7,400 properties and more than 1.1 million rooms, in 124 countries and territories. Dedicated to fulfilling its founding vision to fill the earth with the light and warmth of hospitality, Hilton has welcomed more than 3 billion guests in its more than 100-year history, earned a top spot on Fortune's 100 Best Companies to Work For list and been recognized as a global leader on the Dow Jones Sustainability Indices for six consecutive years. Hilton has introduced several industry-leading technology enhancements to improve the guest experience, including Digital Key Share, automated complimentary room upgrades and the ability to book confirmed connecting rooms. Through the award-winning guest loyalty program Hilton Honors, the more than 173 million members who book directly with Hilton can earn Points for hotel stays and experiences money can't buy. With the free Hilton Honors app, guests can book their stay, select their room, check in, unlock their door with a Digital Key and check out, all from their smartphone. Visit stories.hilton.com for more information, and connect with Hilton on Facebook, Twitter, LinkedIn, Instagram and YouTube.