Leading global hospitality company, Hilton (NYSE:HLT) has published its 2022 Travel With Purpose Report, detailing its latest progress as the company works to meet its global 2030 environmental, social and governance (ESG) goals. Travel With Purpose is Hilton's global strategy to drive responsible travel globally while enhancing the long-term value of the company in an evolving world. In line with climate science and best practices, Hilton further raised its global ESG goals by setting specific and measurable goals in 2022. These new environmental commitments will support sustainable development across Hilton's operations and create more opportunities in local communities.
Global Progress Towards 2030
The 2022 Travel With Purpose report marks the first disclosure of Hilton's progress since announcing more ambitious environmental targets and new social goals which support a path towards a net-zero future for the travel and tourism industry. To date, Hilton has:
Continued to reduce our carbon emission intensity (44%), water intensity (38.1%) and landfill waste (57.6%) among our hotels globally; 
Created more than 677,359 learning and career growth opportunities against our 5 million commitment; 
Meaningfully impacted 2,793,920 community members through local support, disaster relief efforts and economic opportunities; and
Invested in two Fifth Wall's climate technology funds that aim to decarbonize the global real estate sector.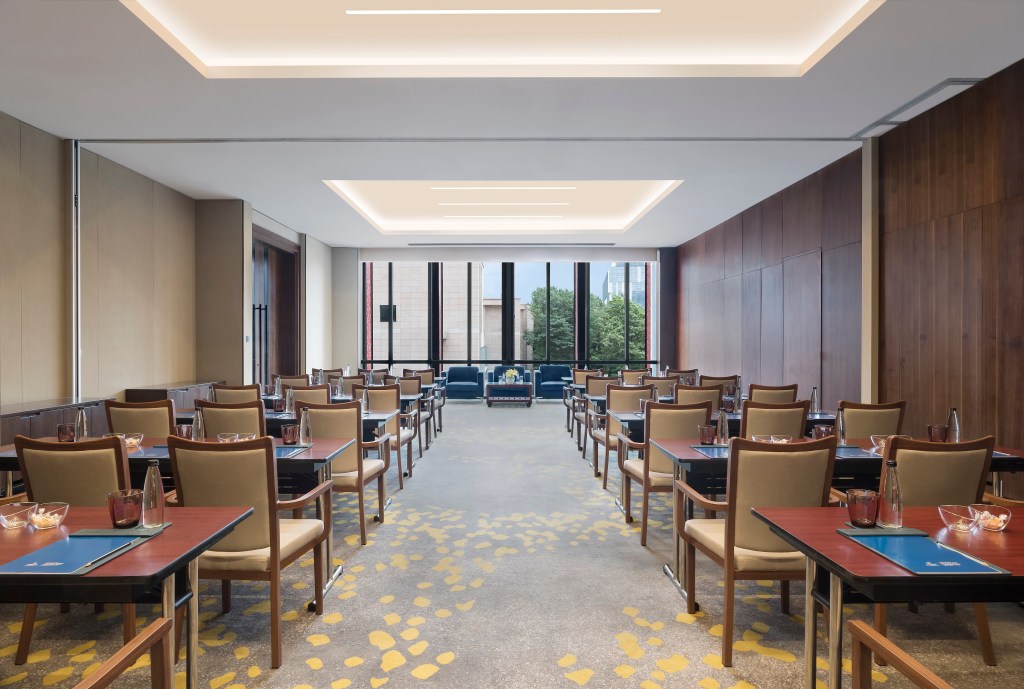 Across its global footprint, Hilton continues to advance towards meeting key sustainability targets by reinforcing Travel with Purpose efforts in Asia Pacific across key areas, such as efficient resource management, waste reduction, learning opportunities, responsible sourcing and decreasing its carbon footprint.
Responsible meetings: Through its Meet With Purpose program, Hilton offers customers the ability to offset their event's carbon emissions and invest in a portfolio of verified, high-quality carbon reduction projects through its partner, ClimeCo. All of Hilton's properties have access to the Meeting Impact Calculator, which provides customers the option to make meetings carbon neutral. The Meeting Impact Calculator is hosted on LightStay which is Hilton's award-winning platform that enables the company to track its environmental and social impact across its entire global portfolio.
A driving force for good: Aligned with the finding from Hilton's latest global trends report, which showed that 86% of travelers want to travel more sustainably, Hilton now offers on-site EV chargers for guests in over 110 hotels across Asia Pacific as of December 2022 - and its new EV search filters on its website and the Hilton Honors app allow for guests to search for properties that offer EV charging on-property or nearby. Hilton Zhoushan's newly installed charging stations have already reduced vehicle emissions by 60 tons, and Hilton Supply Management continues to engage in preferred agreements with EV charging companies to extend this offering to more properties in the region and globally.
Food waste reduction: Hilton properties in Asia Pacific such as in Conrad Centennial Singapore reduce food waste by procuring often-discarded "ugly vegetables", as well as plant-based eggs and meats for their menus. Diners can also enjoy dishes cooked with fresh vegetables from local suppliers, including an urban rooftop farm at a local school.
Leveraging AI technology: Hilton also partnered with Winnow to leverage AI technology to help chefs accurately pinpoint food waste streams to cut costs and tailor purchasing decisions in select hotels across APAC. To date, 7 properties in Japan have implemented such technology.
Repurposing linen and supporting local communities: Hilton's Asia Pacific partnership with international cleaning and sanitation company, Diversey Inc., gives discarded linen from hotels a new life. Curtains, uniforms, bed sheets and tablecloths are turned into products that are sewn, designed and sold by local communities across the region. Also through the partnership, plastic is recycled into gravel and discarded coffee grounds into cleaner alternatives to charcoal.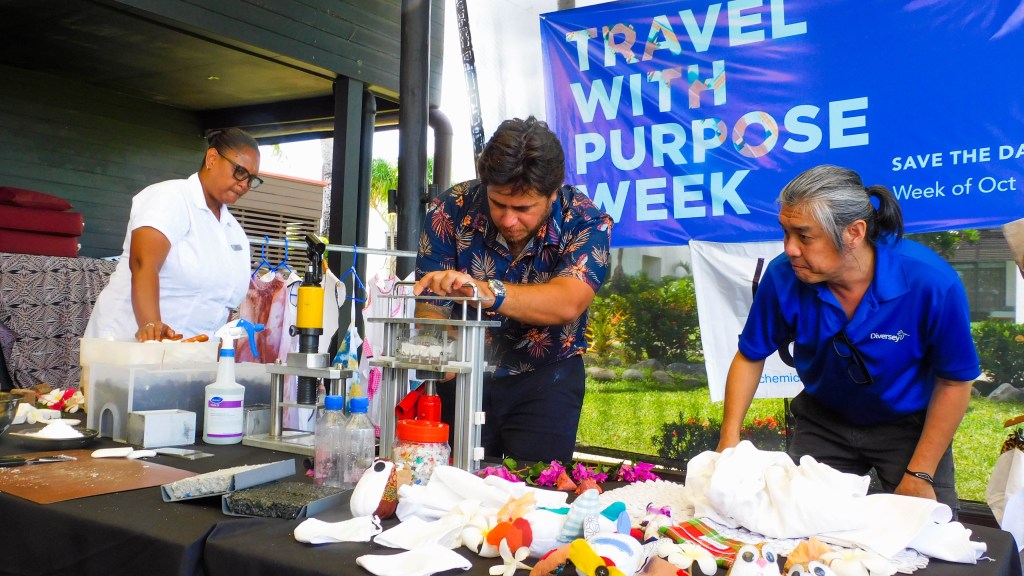 Sustainably-sourced food: Hilton continues to make progress on sourcing from Marine Stewardship Council and Aquaculture Stewardship Council certified fisheries, with Japan, Korea and Micronesia becoming our first region to achieve 25% sustainable seafood volume in 2022. 
Creating positive social impact: Hundreds of social support activities were held by properties in 2022, including community volunteering activities in environmental protection, donations, career training and development programs, with a special focus on the disadvantage groups in the workforce. In 2022, six Hilton properties in Shanghai partnered with the Shanghai Technical School for the Deaf on a skills training program for students. 
Impacting communities with Hilton Global Foundation
The release of the 2022 Travel With Purpose report corresponds with the release of the inaugural Hilton Global Foundation Impact Report, highlighting the positive global impact of $2.3M donated in 2022 to organizations working to build a healthy, sustainable planet and resilient communities for future generations. 
In Asia Pacific, the projects supported are:
Punlaan School (Philippines): Offers scholarships and programs for underprivileged young women, focusing on hospitality and culinary arts, while equipping them with job and life skills.
VOICE Area Federation (Sri Lanka): Combats food insecurity through the creation of community farms and kitchen programs to vulnerable communities in Sri Lanka.
ROLE Foundation (Indonesia): Provides young, marginalized women with a six-month residential program consisting of hospitality skills training, crucial life skills and confidence building activities.
Ocean Conservancy (Australia): Together with their partners, Ocean Conservancy protects the ocean from today's greatest global challenges by creating evidence-based solutions for a healthy ocean.
Kechara Soup Kitchen (Malaysia): Supplies food aid distributions to homeless, marginalized and poverty-stricken families in Malaysia.
China Foundation for Rural Development (China): Works to alleviate poverty in China through hospitality education, cultural exchanges, social media skills and other trainings.
To date, the Hilton Global Foundation has awarded over $8 million in grants, donated over 18 million pounds of food to communities in need, meaningfully impacted over 6.7 million people and restored over 225,000 acres of land. This includes partnerships with The Nature Conservancy to reduce firewood use, improve water source ecosystems, while lifting the income and promoting the development of local farmers and communities across China. More information about the efforts of the Hilton Global Foundation can be found here.
For its various environmental and social initiatives, in 2022 Hilton was named a global sustainability leader on the Dow Jones Sustainability Indices (DJSI), which recognizes performance across long-term economic, environmental and social criteria, for the sixth consecutive year. Hilton has also been recognized by EcoVadis with a Gold Medal designation as well as in the S&P Global 2023 Sustainability Yearbook, where Hilton was ranked among the top five percent of companies globally.
Please find the 2022 ESG Report Highlights here, and high-res images can be downloaded here.