Boldly living in Chicago's downtown Loop at the intersection of the city's theater, shopping and business districts, theWit Chicago, a Hilton Hotel sets the standard for boundary-pushing design following a recent top-to-bottom renovation. Perched 27 stories above the scenic Chicago River, ROOF at theWit Chicago, a Hilton Hotel elevates the glitz and glamour of Chicago's nightlife to new heights and is a renowned dining and nightlife destination in Chi-town and beyond. With its expressive design, sweeping skyline views and unique handcrafted cocktails and cuisine, the rooftop bar earned its reputation as one of the world's premier rooftop destinations. But its allure reached new heights when it recently played host to an electrifying exclusive performance by the multi-award-winning artist, philanthropist and cultural influencer and Chicago native, Chance the Rapper.
Chance is celebrated for shattering musical barriers and captivating audiences since the release of his groundbreaking mixtape "Acid Rap" in 2013. Blending rap, gospel and soul into a distinctive style that resonates with a wide-ranging audience, Chance's journey has taken him from chart-topping collaborations to passion projects, and his artistic prowess has garnered him three Grammy Awards, including Best Rap Album for his third mixtape, "Coloring Book," which made history as the first streaming album to ever win this prestigious accolade.
"Recreating the energy of Acid Rap's 10th-anniversary tour at ROOF at theWit Chicago, a Hilton Hotel was next-level," said Chance the Rapper. "Performing with the Chicago skyline, my hometown, as a backdrop created an unbelievable atmosphere at the newly renovated hotel, and the hyped-up crowd had great energy. It was great to come together with the Hilton Honors Experiences platform to offer an unforgettable performance for some day-one fans in my hometown."
Chance's intimate performance at theWit Chicago, a Hilton Hotel was part of an exclusive Hilton Honors experience, and one of many ways Hilton is offering money-can't-buy experiences through the Hilton Honors Experiences platform. Through the platform, Hilton Honors members can gain access to exclusive music, sports and celebrity events around the world to create cherished memories that last a lifetime.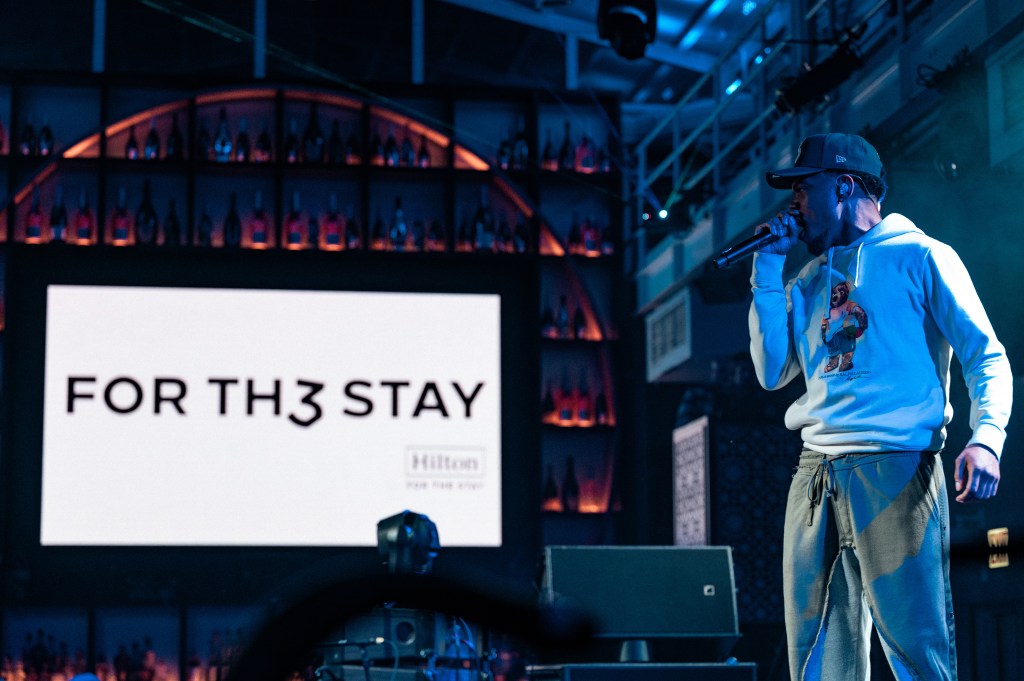 "Hilton Hotels & Resorts is known for being the backdrop to legendary events and cultural moments worldwide," said Leonard Gooz, brand leader, Hilton Hotels & Resorts. "As we look at the past 100 years of Hilton hospitality and where our flagship brand is today, theWit Chicago, a Hilton Hotel perfectly embodies the stay and moments we strive to deliver, providing energizing spaces, elevated experiences and unforgettable moments that appeal to guests and locals alike. We welcomed the opportunity to bring Chance the Rapper home for his performance on the breathtaking ROOF, where this iconic skyline meets the stage."
For travelers looking to visit the Windy City, theWit Chicago, a Hilton Hotel offers 310 guest rooms, 36 suites, a full-service spa and fitness center, a business center and an on-site experience concierge. The hotel also offers more than 7,000 square feet of state-of-the-art event and meeting spaces, including the internationally acclaimed ROOF indoor/outdoor dining venue with a retractable roof, setting the perfect stage for this event. Hilton Honors Experiences is available through Hilton Honors' free loyalty program, available here.