MCLEAN, Va. – When you want to be surrounded by the magic of the holidays in a home away from home, it matters where you stay. Hilton and Hallmark Channel are teaming up to give travelers, fans, and viewers the chance to immerse themselves in a festive dreamscape inspired by Hallmark's beloved "Countdown to Christmas" movies, at select Hilton Hotels & Resorts properties in New York, Houston and Chicago.  
Beginning today, holiday movie enthusiasts can book their stay in the limited-time, custom-designed Hallmark Channel "Countdown to Christmas" Holiday Suites by Hilton at three Hilton Hotels & Resorts properties across the United States. From "Hallmark's Holiday Sweetest Suite" at Hilton New York Times Square, to the "Haul Out the Holly" suite at Hilton Americas-Houston to a "Santa Summit" suite at Hilton Chicago, the specialty suites will deliver Hilton's unparalleled hospitality while bringing the warmth and charm of Hallmark's beloved holiday stories to life for a season of holiday cheer. Each guest room has been lovingly crafted to transport guests into a world of cozy firesides, twinkle-lit trees and the timeless spirit of holiday joy. 
"We're thrilled to partner with Hallmark for a collaboration that embodies the joy of the holiday season and brings to life the light and warmth of hospitality we show our guests every day. This is a great representation of Hilton's commitment to delivering immersive and unforgettable experiences during every stay. Our collaboration with Hallmark allows us to leverage timeless storytelling to bring an added level of excitement during the holidays."
Each of the Hilton Hotels & Resorts and Hallmark Channel suites will feature festive decor that is reflective of the property's locale, as well as symbols from "Countdown to Christmas" movies.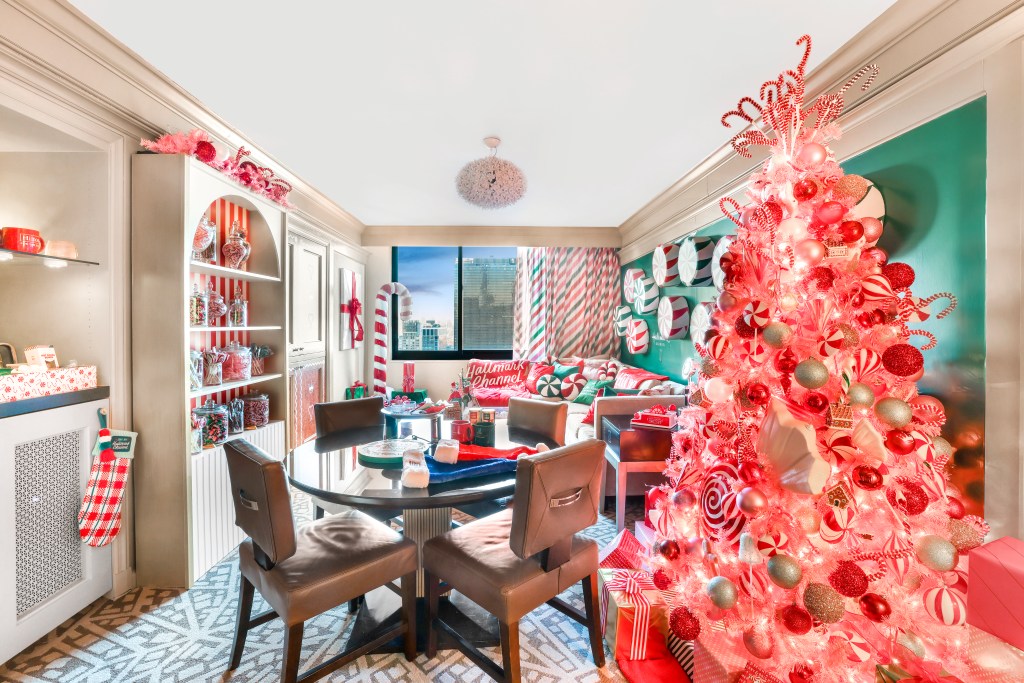 Hallmark's Holiday Sweetest Suite

Hilton New York Times Square
There's nothing sweeter than treating yourself to a Hallmark Channel Christmas in New York City! The suite at Hilton New York Times Square is designed to bring the sweetness of this year's "Countdown to Christmas" season to life. Together, Hilton and Hallmark will deck the halls with unique scratch-and-sniff wall decals to smell the joyous aroma of the season at every turn, captivating candy cane-inspired props and delightful décor for the ultimate holiday photo ops, and an in-room custom Hallmark Channel candy store to enjoy while cozying up to this season's newest holiday films. The room will also feature a curated Christmas Tree with candy garland and DIY candy ornaments to create with friends and family. Those traveling to New York this holiday season can indulge their sweet tooth and truly immerse themselves in all the sights, smells, and sweet treats a Hallmark Channel Christmas can bring.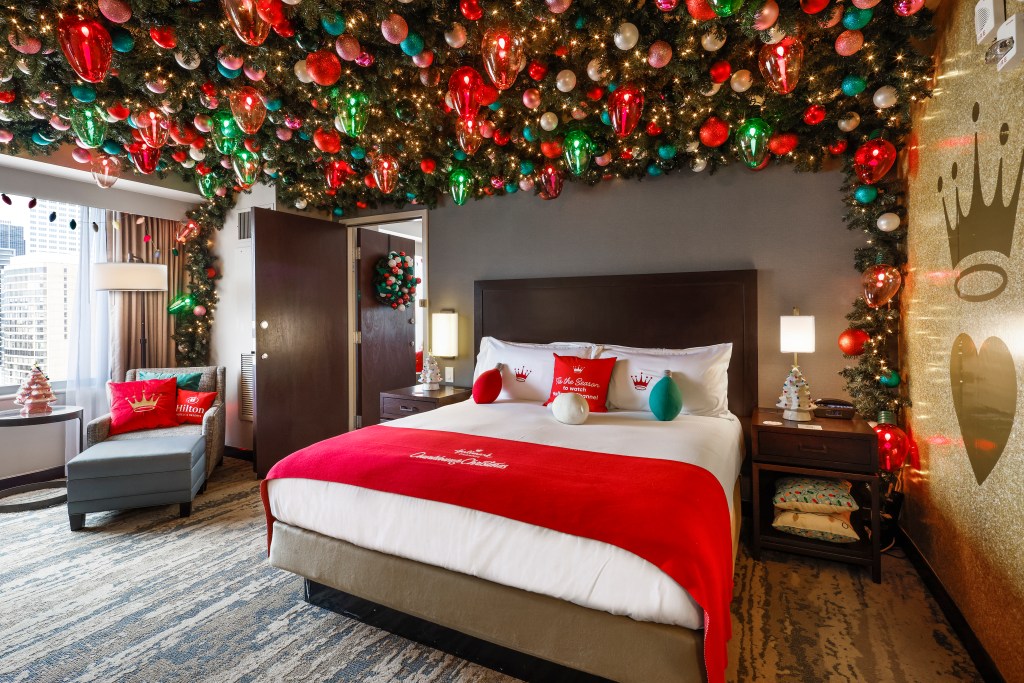 Haul out the Holly

Hilton Americas-Houston
It's all coming up merry and bright at Hilton Americas-Houston. Inspired by the all-new original Hallmark holiday movie premiere of Haul Out The Holly: Lit Up, this festive suite will feature jaw-dropping holiday designs and light treatments throughout, including enchanting light pillows, a light-up holiday village that will dazzle the world's biggest Christmas enthusiasts, a custom holiday light decorating station, a gingerbread bar, and more. Fans can expect special surprise-and-delight moments like a festive oversized game, a custom Hallmark Channel light-up marquee, and even a twinkling Christmas light ceiling! This exceptional stay will allow guests to embrace the essence of the sequel film, which stars beloved Hallmark star Lacey Chabert and centers on the iconic residents and ongoing HOA decorating competitions – and infamous citations – of the ever-festive Evergreen Lane. Amidst the bright lights, travelers can sleep soundly in this holiday paradise.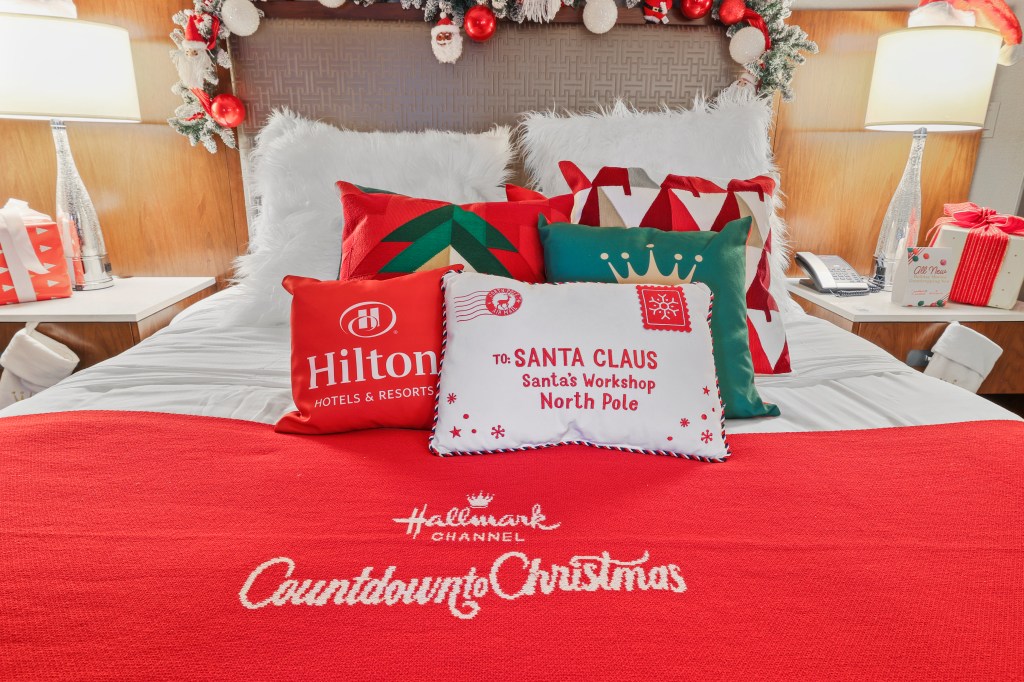 Santa Summit

Hilton Chicago
This year, the holiday suite at Hilton Chicago is fit for the man of the hour himself! The merry guest room will offer festivities that inspire the spirit of friendship and adventure, featuring vintage Santa décor, life-sized reindeer, a Santa-themed bed and cookie kit, a heartwarming wall installation for Letters to Santa, and much more. What's more, the room was created to bring to life the all-new original Hallmark Channel holiday movie premiere, "The Santa Summit," which centers on the bonds of friendship that bring true meaning to the holidays. As a special surprise for travelers slumbering in the Santa Summit suite, Mr. Claus has even guaranteed a spot on the nice list following each stay! In the hotel lobby, guests staying at this historic hotel will be transported into the ultimate holiday stay with a 24-foot Christmas tree decorated with nearly 2,000 inches of garland, and a gingerbread replica of Hilton Chicago, complete with Chicago's iconic skyline. Guests and Hallmark fans alike can even take part in finding Santa's Missing Buttons, expertly hidden throughout the hotel, to receive a treat from the Hallmark Holiday Cart. 
"Our partnership with Hilton is the perfect holiday pairing. These festive, showstopping stays are the ultimate 'suite' treat that will deliver on our fans' growing desire to immerse themselves in the Hallmark brand and the wonderful world of Hallmark Channel Christmas movies. We're proud to help guests indulge in a winter wonderland of aspirational holiday décor, charming Christmas activities, and endless ways to experience the Hallmark holiday spirit."
Each guest room will include a custom-decorated Christmas tree and complimentary hot cocoa station. To keep the holiday cheer going all season long, each guest suite will also include Hallmark Channel branded takeaways guests can enjoy with their loved ones during or after their holiday stay. Items include Hallmark Channel Wine, Bissinger's cocoa mix and hot cocoa bombs, Republic of Tea products, wine glasses, mugs, and more.
This year, guests at all three properties can get into the holiday spirit with the Hallmark Holiday Cosmopolitan, a unique cocktail offering crafted by Hilton's expert mixologists and uniquely designed to invoke every Hallmark lover's small-town holiday dreams while staying in the big city. The festive cocktail will be served alongside a zero-proof cocktail for all cheerful travelers to enjoy throughout the season.
Reservations for Hallmark Channel's "Countdown to Christmas" Holiday Suites by Hilton will be available to book starting at 12:01 a.m. EST on Nov. 1, 2023, with stays running from Nov. 7, 2023 to Jan. 2, 2024 at Hilton New York Times Square; from Nov. 7, 2023 to Jan. 1, 2024 at Hilton Americas-Houston; and from Nov. 7 to Dec. 30, 2023 at Hilton Chicago.
To enjoy a sneak peek of the "Countdown to Christmas" Holiday Suites by Hilton or book a stay, visit Hilton.com/Hallmark. To learn more about Hilton Hotels & Resorts, visit stories.hilton.com.
---
About Hilton
Hilton (NYSE: HLT) is a leading global hospitality company with a portfolio of 22 world-class brands comprising nearly 7,400 properties and more than 1.1 million rooms, in 124 countries and territories. Dedicated to fulfilling its founding vision to fill the earth with the light and warmth of hospitality, Hilton has welcomed more than 3 billion guests in its more than 100-year history, earned a top spot on Fortune's 100 Best Companies to Work For list and been recognized as a global leader on the Dow Jones Sustainability Indices for six consecutive years. Hilton has introduced several industry-leading technology enhancements to improve the guest experience, including Digital Key Share, automated complimentary room upgrades and the ability to book confirmed connecting rooms. Through the award-winning guest loyalty program Hilton Honors, the more than 173 million members who book directly with Hilton can earn Points for hotel stays and experiences money can't buy. With the free Hilton Honors app, guests can book their stay, select their room, check in, unlock their door with a Digital Key and check out, all from their smartphone. Visit stories.hilton.com for more information, and connect with Hilton on Facebook, Twitter, LinkedIn, Instagram and YouTube.
---
About Hilton Hotels & Resorts
For over a century, Hilton Hotels & Resorts has set the benchmark for hospitality around the world, providing new product innovations and services to meet guests' evolving needs. With more than 600 hotels across six continents, Hilton Hotels & Resorts properties are located in the world's most sought-after destinations for guests who know that where they stay matters. Experience a positive stay at Hilton Hotels & Resorts by booking at hiltonhotels.com or through the industry-leading Hilton Honors app. Hilton Honors members who book directly through preferred Hilton channels have access to instant benefits. Learn more about Hilton Hotels & Resorts at stories.hilton.com/hhr, and follow the brand on Facebook, Twitter and Instagram.
---
About Hallmark Channel
Hallmark Channel, owned by Hallmark Cards, Inc., is Hallmark Media's flagship 24-hour cable television network. As the country's leading destination for quality, feel-good entertainment, Hallmark Channel delivers on the 100-year legacy of the Hallmark brand. The network's lineup of signature original content includes movies, primetime scripted series, and specials. Dedicated to helping viewers celebrate holidays, seasons, and life's special moments, Hallmark Channel is home to a host of annual programming events, including the highly successful Countdown to Christmas, which has become a pop culture phenomenon and a beloved holiday tradition for millions of viewers. Rounding out the network's slate are some of television's most classic comedies and series, including The Golden Girls, Frasier, and Reba.
For more information, please visit https://press.hallmarkmedia.com/
To visit the network website, please visit www.hallmarkchannel.com 
Hallmark Channel on Social Media: Facebook, Twitter, Instagram, Pinterest, YouTube, TikTok