As new hotels prepare to open in some of the region's most coveted destinations, Hilton provides bucket list inspiration for travellers
With the world's globetrotters eagerly looking to make up for lost travel time, Hilton has revealed some of its most highly anticipated new destinations for 2022. And with more than 75 new hotels planned across Europe, the Middle East & Africa in the coming year, there is no better time to plan next year's jet-setting adventures.
The Samuel Ryder Hotel St. Albans, Tapestry Collection by Hilton
Located inside a city with 2,000 years of history at every turn, The Samuel Ryder Hotel St. Albans, Tapestry Collection by Hilton will become the first Tapestry-branded hotel to open in the UK, offering 60 guestrooms designed with a simple aesthetic to capture the original administrative and utilitarian function of the building. Created and built by the Ryder family in 1911, the building acted as the headquarters of the Ryder & Son Seed business. From this building, a world-wide company was forged by the importing and exporting of seeds sourced from across the globe. The overall design of the hotel will take a playful approach to the early 20th century with dynamic artwork and contrasting colourways, all inspired by the natural botanicals of Ryders' Seeds.
The hotel is set to open in December 2021.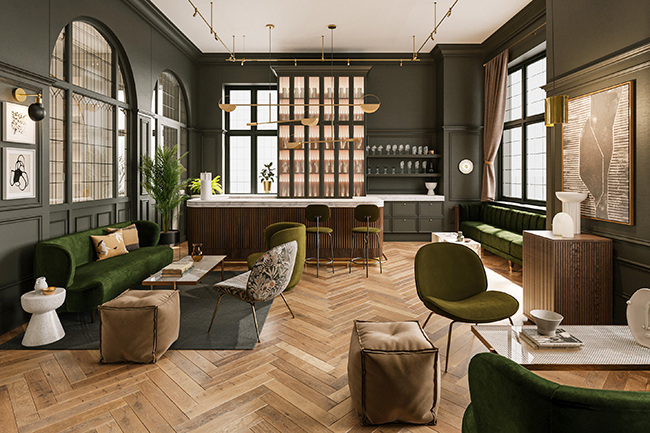 Hampton by Hilton Doha Old Town
Situated in the Old Salata district, Hampton by Hilton Doha Old Town will feature 221 modern guest rooms, an all-day dining restaurant, juice bar, 24/7 snack bar, work zone and fitness centre. It will be conveniently located close to Doha attractions such as the corniche, the Museum of Islamic Art, the National Museum of Qatar, and the famous Souk Waqif. It will also be in close proximity to the banking district and the Emiri Diwan Palace, and just 12 kilometres from Hamad International Airport.
The hotel is set to open in early 2022.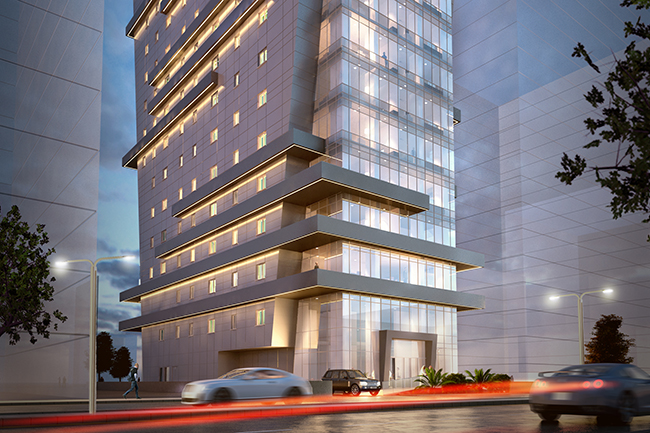 Waldorf Astoria Kuwait
The 200 luxury guest rooms at the new Waldorf Astoria Kuwait will be just feet away from world-class shopping and dining, thanks to its location in Avenues Mall — a destination with more than 1,100 shops and a movie theatre. The hotel will also be home to the award-winning Japanese restaurant concept ROKA and will feature an exclusive Club Lounge as well as an awe-inspiring 13,560 square foot Waldorf Spa. Kuwait City Centre, historical and cultural sites, and the Grand Mosque of Kuwait are just a short 15-minute drive away.
The hotel is set to open End Q1 2022.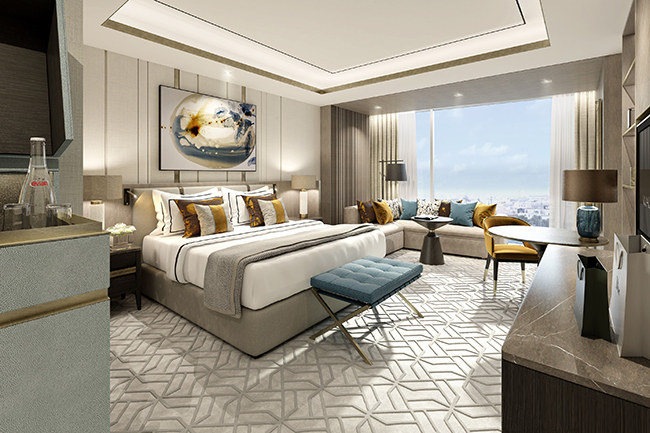 Iceland Parliament Hotel, Curio Collection by Hilton
The Iceland Parliament Hotel will be a complex of seven rebuilt and new buildings at the doorstep of the Icelandic parliament — Alþingi.  Surrounded by three different squares, close to the cathedral, city hall, and the upcoming harbour area, the hotel has been granted a key location within the city's most high-profile zone. The hotel will offer state-of-the-art meeting and conference facilities, an executive lounge, a fitness room, a spa area, café, bar and restaurant. 
The hotel is set to open in spring 2022.
Conrad Chia Laguna Sardinia
Conrad Chia Laguna Sardinia will have 107 guest rooms, each featuring a private garden or terrace, with the majority offering panoramic views of the entire Chia lagoon. La Terrazza restaurant will feature outdoor seating and iconic views of Chia Laguna. Sa Mesa, meaning "the table" in local Sardinian dialect, will be the hotel's signature restaurant offering authentic Sardinian cuisine and an extensive selection of local wines from small local producers in an informal trattoria-style setting. Bar Bollicine will serve as the hotel's all-day bar and lounge, where guests can enjoy an extensive collection of champagnes and proseccos, as well as cocktails with a modern twist. The hotel's Conrad Spa will also offer six treatment rooms, a spa bar, a yoga studio, and a state-of-the-art gym. 
The hotel is set to open in spring 2022.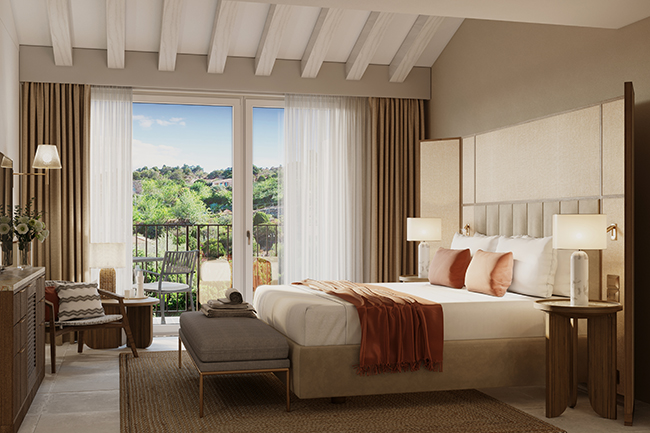 Lost Property St. Paul's London, Curio Collection by Hilton
Lost Property St Paul's London, Curio Collection by Hilton, will open this spring to offer stunning views of St. Paul's Cathedral and the City of London. The six-story hotel will offer a charming restaurant for guests and close access to some of London's most visited tourist attractions.
The hotel is set to open in spring 2022.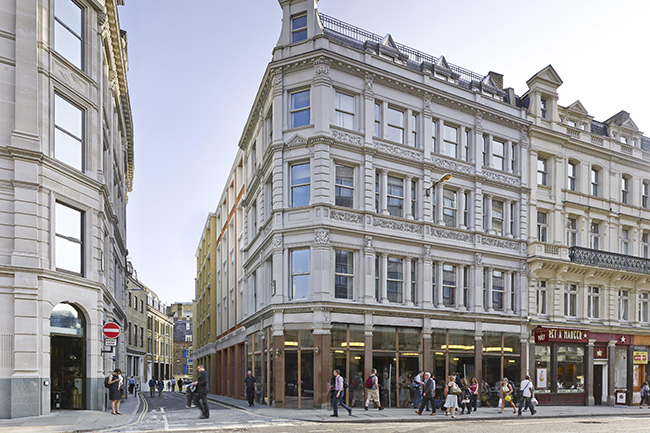 Hilton Dubai Palm Jumeirah
Located on the iconic Palm Jumeirah, this upscale hotel's beachfront location makes it a destination of choice for those looking for a relaxing getaway. After waking up to the sunrise reflecting over the serene waters of the Palm, guests can exercise on the mile-long promenade, take a dip on the property's private beach, enjoy a treatment at the spacious eforea spa or have a bite at the hotel's wide range of restaurants, bars and lounges  — including Trader Vic's, Barfly by Buddha Bar, and Claw BBQ.
The hotel is set to open in spring 2022.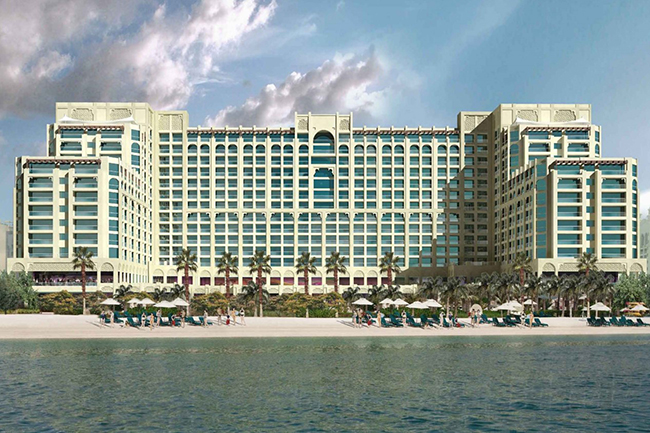 Sea Breeze Santorini Beach Resort, Curio Collection by Hilton
Sea Breeze Santorini Beach Resort, Curio Collection by Hilton will be Hilton's first location on the glamorous Greek island of Santorini. The 37-room hotel draws inspiration from Santorini's iconic blue and whitewashed architecture and incorporates the island's rugged natural beauty with stone walls and organic wooden textures. Each room will boast private terraces and a hot tub or pool.  Guests can choose from two restaurants and two bars for a relaxed bite to eat or cocktail, with two of the outlets being located on the resort's private beach. With two pools, a spa, fitness facilities and loungers by the beach, guests can alternate between working up a sweat, getting pampered, soaking up the sun, and cooling off in the water.
The hotel is set to open in spring 2022.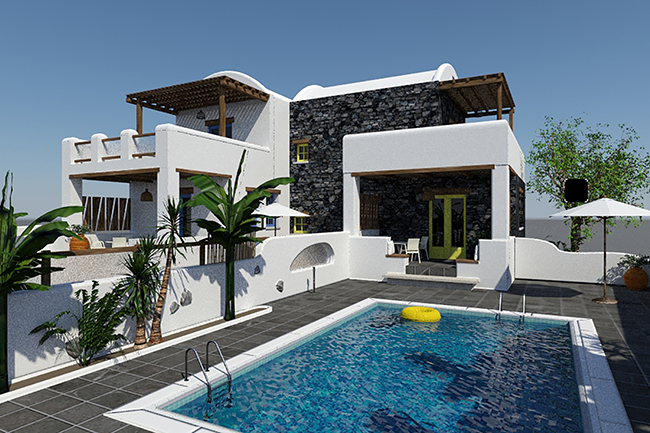 Motto by Hilton Rotterdam Blaak 
Motto by Hilton Rotterdam Blaak will become the first Motto property in the Netherlands and the first in Europe when it opens in 2022. The hotel provides convenient access to some of the city's top attractions, such as the Museum Boijmans Van Beuningen, Old Harbour, Maritime Museum Rotterdam, and Cube Houses. It's also just a few minutes' walk from Rotterdam's famous Markthal, where visitors can shop and explore nearly 100 indoor food stalls and restaurants. 
The hotel is set to open in spring 2022.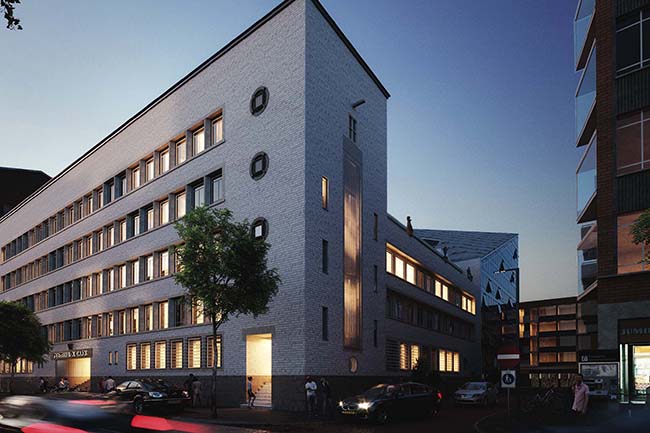 Hilton Bahrain
Located along Al Fateh Highway, the 348-room Hilton Bahrain will feature studios, one-bedroom and two-bedroom apartments with all the comforts of home and a stunning view of the sea from each unit's balcony. With six distinct restaurants and lounges, nine meeting rooms and a luxurious spa, the hotel promises an exceptional guest experience. 
The hotel is set to open in summer 2022.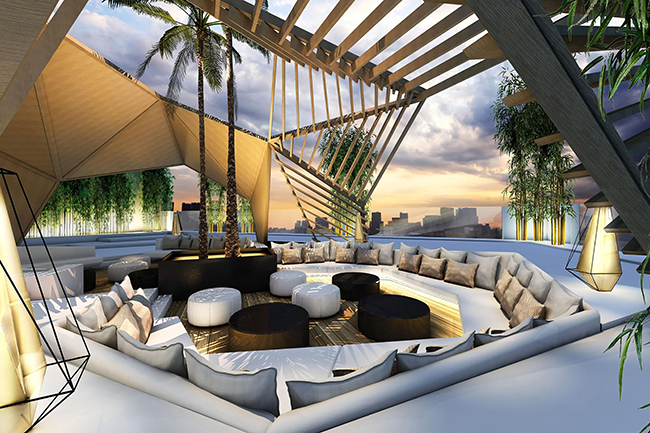 Hotel Saski Krakow, Curio Collection by Hilton
Set in the centre of Krakow's old town, adjacent to the historic Main Square, Hotel Saski Krakow is poised to be one of the city's most celebrated hotels. The property will be ideal for both travellers of leisure and business, offering a swimming pool, spa and fitness centre, a restaurant and bar, as well as a business centre. 
The hotel is set to open summer 2022.
Hilton Mallorca Galatzo
Set over 54,000 square metres of perfectly presented gardens, Hilton Mallorca Galatzo will boast three swimming pools and two pool bars, ensuring guests are never far from a cool drink and a dip in the pool to complement the warm Balearic climate. With relaxation and rejuvenation in mind, the hotel will offer a sizeable wellness centre and two distinct dining experiences, and is located less than a five-minute drive from the popular beaches of Paguera.
This hotel is set to open in summer 2022.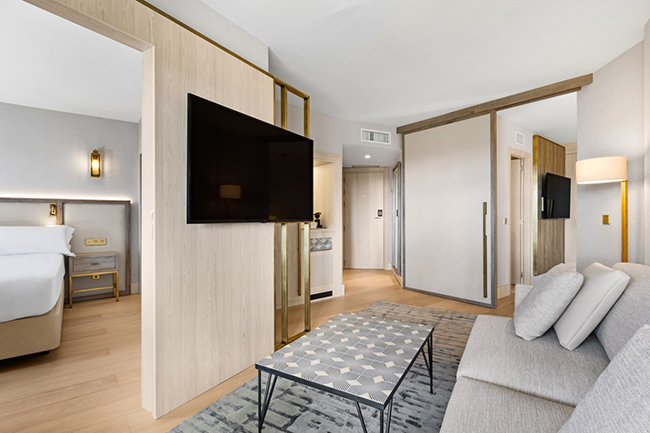 Hilton Rome Eur La Lama
Hilton Rome Eur La Lama is located in EUR business district, with direct access to La Nuvola Roma Convention Center. Metro links are just a few streets away, and Euroma2 mall is within a 10-minute drive. Central Rome and Fiumicino and Ciampino airports are less than half an hour from the hotel.  The hotel features a rooftop restaurant and terrace, kids' activities, and a library bar.
The hotel is set to open in autumn 2022.
Hilton Cairo Nile Maadi
This newly built 20+ storey hotel is located in the upscale residential and diplomatic district of Maadi with direct access to the Nile Corniche. Hotel guests will be able to enjoy the spectacular views of the Nile river while sunbathing by the outdoor pool. Perfect for both leisure and business, Hilton Cairo Nile Maadi will feature a large health club and spa, an outdoor swimming pool, two restaurants, an executive lounge, as well as fully-equipped meeting and event spaces.
The hotel is set to open autumn 2022.
Conrad Rabat Arzana
Featuring 120 spacious guest rooms, Hilton's first luxury hotel in Morocco will offer spectacular ocean views from its elevated waterfront location, overlooking a tranquil lagoon and beach. Guests will be able to experience breathtaking surroundings while enjoying locally inspired food and beverage at two unique restaurants. The hotel will also offer a fully appointed spa and salon as well as 600+ square metres of event space that includes a grand ballroom and four meeting rooms.
The hotel is set to open in autumn 2022.