Known for its blissful summers and snow-covered winters, Michigan is an ideal destination for travelers seeking outdoor beauty, dynamic city adventures, and fantastic shopping opportunities. Hilton is here to make sure your travels in Michigan are fully equipped with a perfect stay year-round. Whether visiting while summer is in full bloom or when the leaves change colors in the fall, Hilton can help you enjoy the best of The Great Lakes State. 
Jump To:
Detroit Skyline – Photo Credit: Sean Pavone/Shutterstock
Where to Stay: DoubleTree Suites by Hilton Hotel Detroit Downtown – Fort Shelby
Nestled in the center of downtown Detroit, DoubleTree Suites by Hilton Hotel Detroit Downtown – Fort Shelby is perfect for sports fans of all kinds, concert goers, or travelers looking for a night of fun-filled action. Located less than a mile away from Comerica Park and Ford Field, the property is perfect for catching a football or baseball game, as well as seeing the biggest celebrities light up the stage when the turf at Ford Field transforms to an arena for musical guests and fans alike. Right around the corner, Greektown is alive with energy, serving delectable foods and delicacies.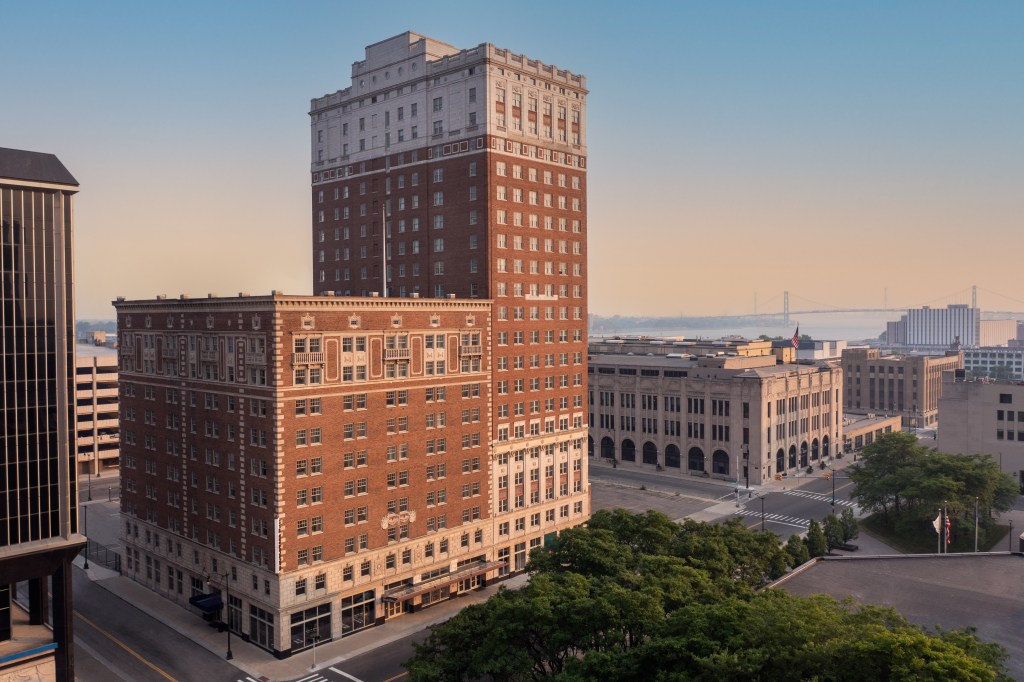 This 203-room, newly renovated hotel offers the perfect home base for exploring the city, complete with a redesigned lobby, meeting and public spaces, new furnishings and lighting, three available on-site dining options, and an expansive fitness center for all your wellness goals. Listed on the National Register of Historic Places, DoubleTree Suites by Hilton Hotel Downtown Detroit – Fort Shelby remains a highlight for traveling in Detroit, accustomed with historic integrity and graceful finishes. 
If international travel is on your bucket list, make sure to hop across the Detroit River to Windsor, Canada and visit DoubleTree by Hilton Windsor Hotel & Suites for a dip in the indoor pool or an opportunity to take in panoramic views of both cities.
Blue Bridge in Grand Rapids, Michigan – Photo Credit: View_Point/Shutterstock
Where to Stay: Amway Grand Plaza, Curio Collection by Hilton 
Rooted in the history of the city, Amway Grand Plaza, Curio Collection by Hilton towers high over the Grand River with views of the skyline and the famous "Blue Bridge." Nearby museums, art galleries, and event venues surround the iconic location in every direction. With one-of-a-kind amenities such as an indoor pool, pet-friendly rooms, a variety of event spaces for social events and meetings, and multiple on-site dining options including The Kitchen by Wolfgang Puck, this is the perfect location for business and leisure travelers all in one. If guests are looking for unique wellness opportunities, a spacious pickleball court sits atop the 4th floor rooftop, featuring stunning cityscape views.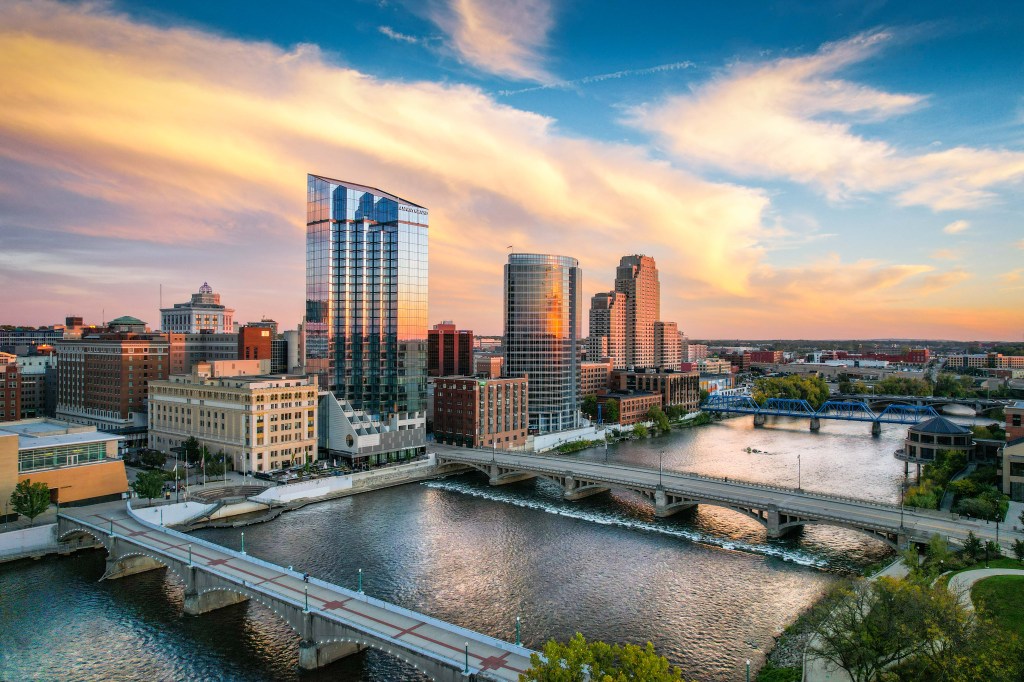 Once named "One of the 10 Finest Hotels in America" in the 1920s and a member of "Historic Hotels of America" since 2012, the hotel's interior holds antique chandeliers and classic designs, covered in deep reds and greens with gold trim. Within the hotel's prime facilities, Amway Grand Plaza, Curio Collection by Hilton is adorned with a range of art pieces each fall, featuring artwork participating in the city-wide annual art competition. Installations are viewable by guests and locals alike, highlighting the beautiful spaces the property has to offer. The hotel also features a skywalk to a nearby concert venue and access to the heart of Grand Rapids, flourishing with new activities each day. 
Grand Traverse Bay in Traverse City, Michigan - Photo Credit: ehrlif/Shutterstock
Where to Stay: Tru by Hilton Traverse City
Only three miles from Traverse City's Miracle Mile and six miles from Cherry Capital Airport TVC, Tru by Hilton Traverse City sits at the corner of opportunity for travelers of all kinds. Whether guests are looking for a dip in the northern waters of Lake Michigan or spending the day perusing the shops in town, there are plenty of activities in Traverse City. With Sleeping Bear Dunes less than an hour away, travelers have the chance to see the well-known sand dunes, backed by the blue waters of Lake Michigan. Guests are also less than 10 miles from the Traverse Wine Coast, overflowing with wineries and scenic views.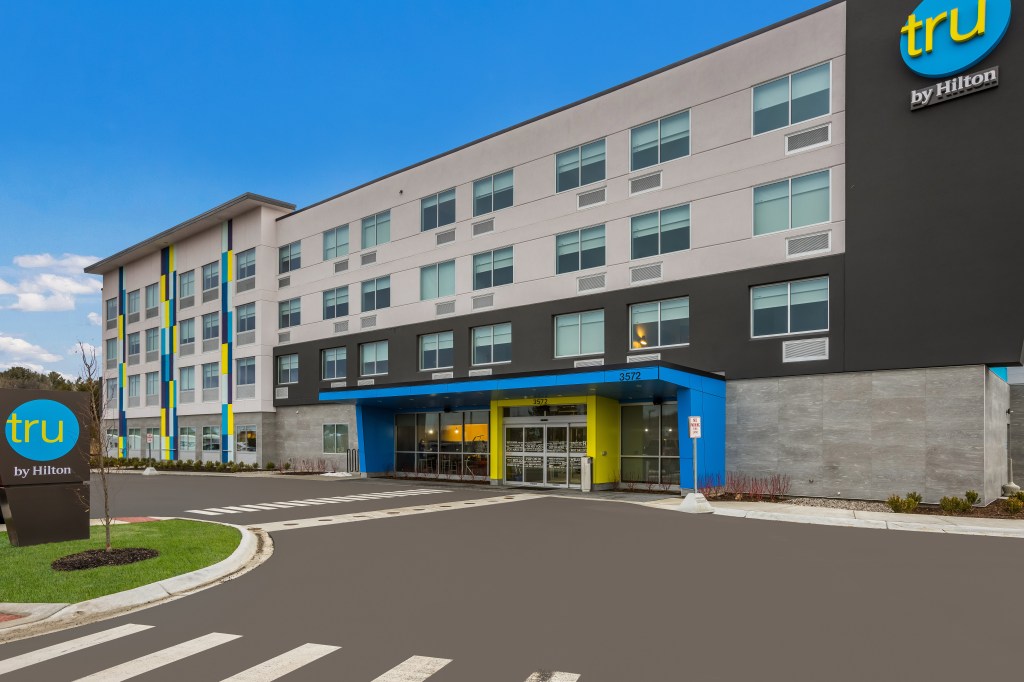 With pet-friendly rooms, a spacious fitness center with high-end equipment, and the brand's signature free, hot breakfast, Tru by Hilton Traverse City is the ideal home base for an action-packed getaway. 
Dutch Windmill and Tulip Field in Holland, Michigan – Photo Credit: John McCormick/Shutterstock

Where to Stay: Tulyp, Tapestry Collection by Hilton 
Tucked in the west side of the state is a hidden gem – Tulyp, Tapestry Collection by Hilton in Holland, Michigan. Known for its annual tulip festival and nearby summery beach shores, this is the perfect place to stay for a small-town getaway. Each of the hotel's vibrant 56 rooms boast floor-to-ceiling windows overlooking the center of Holland, with views of Riverview Park and a plethora of local restaurants and shops.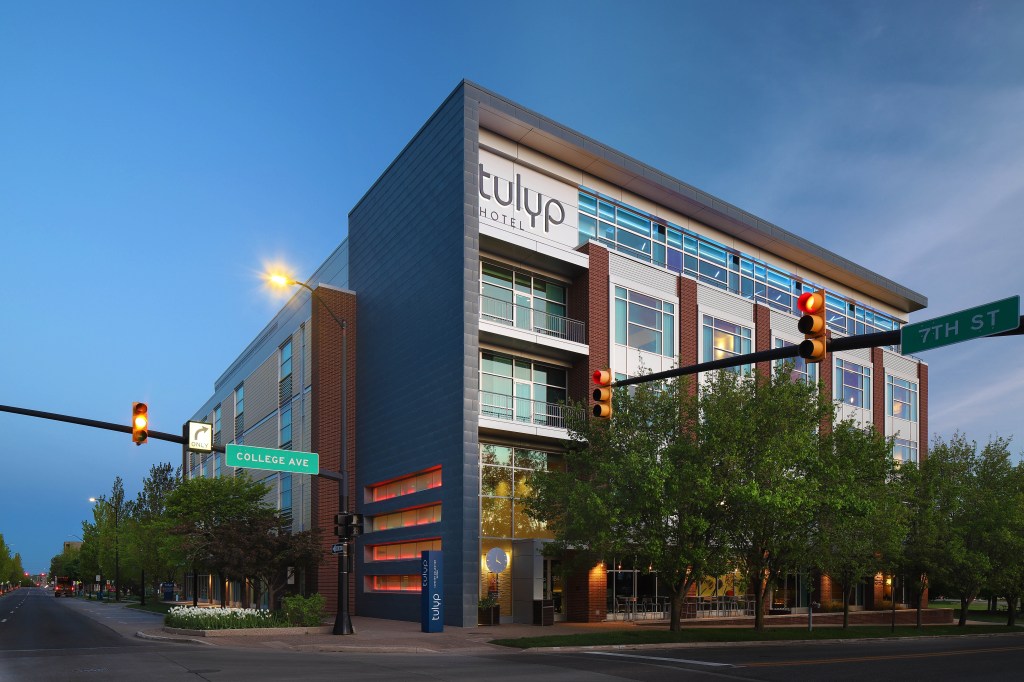 Less than 15 minutes away lies the coast of Lake Michigan, surrounded by summer air and fresh water. A world of summer fun awaits with small shops, restaurants, and beach activities nearby. Interested in exploring downtown? Holland is known for hosting a springtime festival celebrating the Dutch roots of the town. You can find over 100,000 tulips throughout the flower festival, plus food, entertainment, and so much more. Taking after the town's celebrations, Tulyp, Tapestry Collection by Hilton is decorated with colorful bunches of tulips within the hotel's guest rooms and open spaces. Perfect for travelers of all ages and interests, the hotel welcomes the atmosphere of a quiet beach town, packed with endless energy and activities.  
Presque Isle Park and Lake Superior – Photo Credit: Cavan-Images/Shutterstock
Where to Stay: Hampton Inn by Hilton Marquette/Waterfront 
Although Michigan's Upper Peninsula may seem like a far-off destination, Hampton Inn by Hilton Marquette/Waterfront is an experience and scenic location all wrapped in one. Overlooking the southern lakeshore of Lake Superior, this property sits at the edge of adventure. Located less than 15 minutes from Presque Isle Park, guests can take in the scenery of the lake and cliffsides by taking a hike, bike ride, or boat ride along the mesmerizing shoreline. Waterfalls fill the surrounding area on local hiking and biking trails, boasting beautiful summer greens and colorful fall trees. For families traveling with children, two museums are close by, alongside shopping centers and dining for the whole family in downtown Marquette.

At Hampton Inn by Hilton Marquette/Waterfront, guests can enjoy an indoor pool, a business center, and a plate of Hampton's famous waffles during their stay. Travelers visiting Northern Michigan University are less than five minutes from this property, providing a comfortable stay for families coming and going throughout the school year.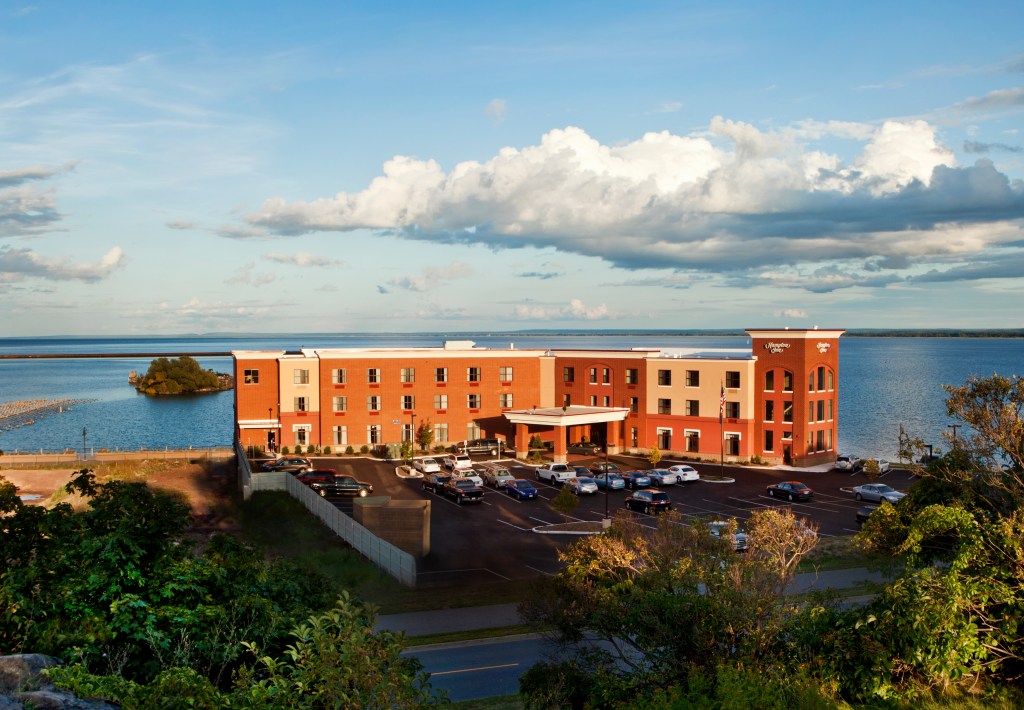 If you are traveling in September or March, you're in great luck. Marquette is one of the few locations in the US where travelers can hope to catch a glimpse of the Aurora Borealis. With 83 miles of shoreline and waterfront-hotel views, guests are in the prime location for this beautiful feat of nature.