Whether you're chasing resort vibes or cityscapes this summer season, one thing remains constant — you'll get to soak in some spectacular sunsets that light up the sky in hues of red, orange, and yellow. And what better way to enjoy the golden hour view and summer sounds than with a glass of champagne or iced tea? From the island paradise Maldives to the urban cityscape of Kuala Lumpur, our round-up of Instagram-worthy vantage points features private suites and sunset yacht rides for the best sunset views in South East Asia.
Hilton Maldives Amingiri Resort & Spa: An uninterrupted vista across sun, sand and sea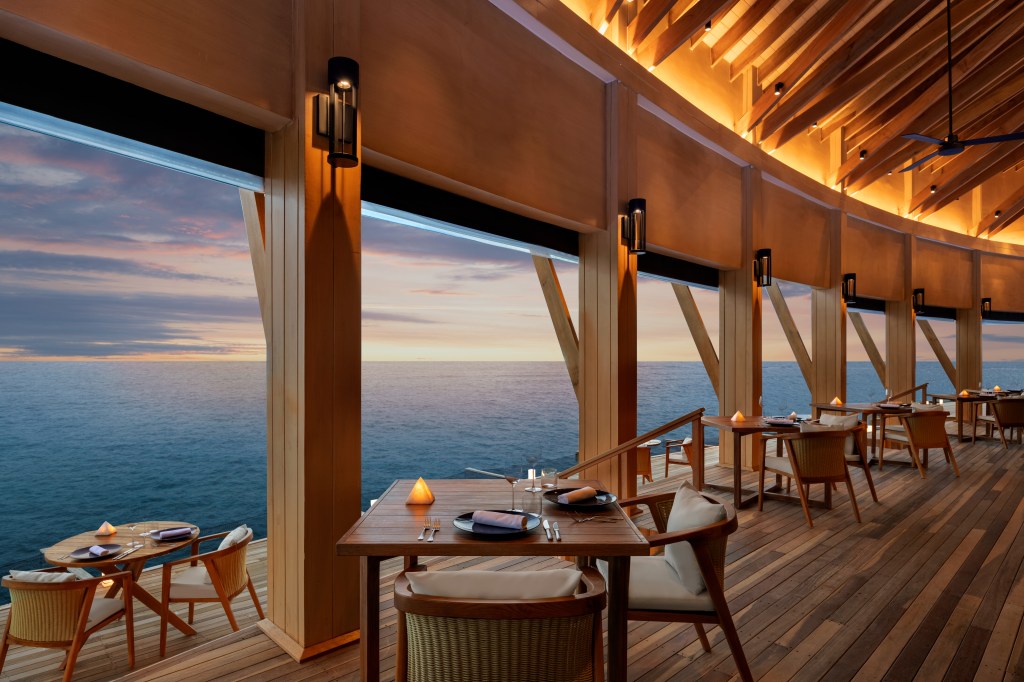 Indulge in sea-to-sky silhouettes and an uninterrupted view across the horizon, as you lounge in the comfort of your overwater villa. Spacious accommodations at the upcoming Hilton Maldives Amingiri Resort & Spa offer guests an intimate oasis of refined tranquility, and every single villa comes with a private pool, as well as direct access to the Indian Ocean. Another great space to catch the sunset is the resort's Eden Champagne & Gin Bar, with carefully curated selections and an intimate setting – or perhaps at a table by the water at Origin, amidst a mindful, forward-thinking seafood dining experience. Take in panoramic views of azure waters and watch time pass at a different pace as the sky turns dramatic shades of gold.
Conrad Bali: A view accompanied by a transformative wellness experience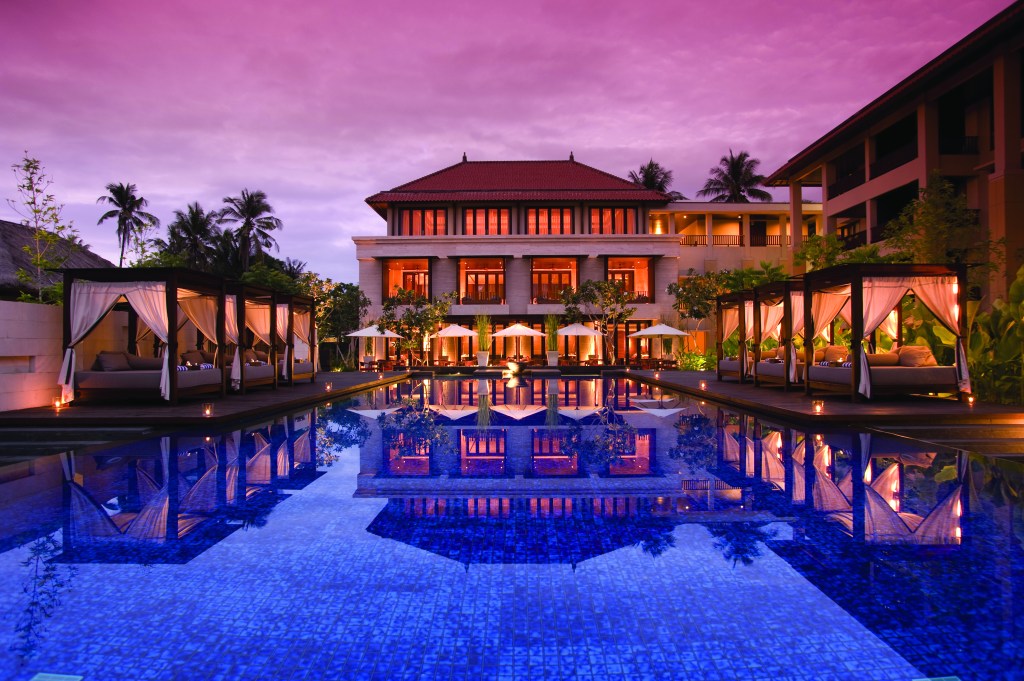 In the Island of the Gods, take your sun salutations to a whole new level at Conrad Bali. Yoga or pilates by the beach is just the beginning at the resort, where you'll be able to settle into your favourite poses amidst the ocean breeze and the warming heat of the setting (or rising) sun.
Chasing sunsets, coupled with incredible wellness experiences, can help you reset — from forest bathing to sound healing and signature spa treatments that elevate your experience into a spiritual practice. You can even pay a visit to the sacred Balinese water temple, Tirta Empul, to immerse yourself in a ritual purification exercise for inspired living and inner peace. For some, sunsets are signifiers of a divine connection: with such stunning sights, you'll instantly feel transformed.
Hilton Garden Inn Kuala Lumpur: For a rooftop lounge with stunning skylines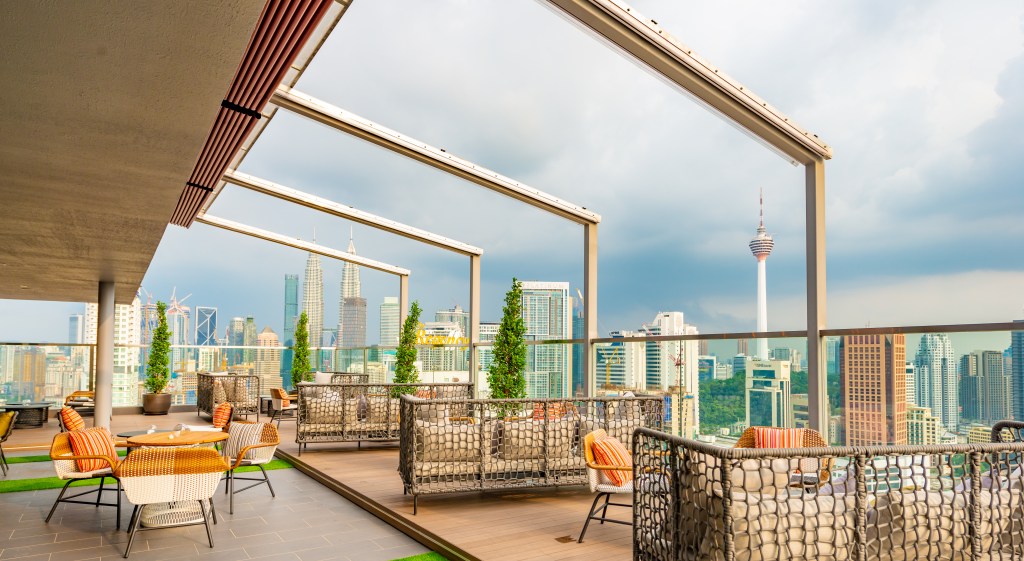 Known for its rooftop bar scene, Kuala Lumpur boasts some of the most iconic skylines in Asia. Up the ante on happy hour and immerse yourself into the night at Rooftop 25 Bar and Lounge, Hilton Garden Inn Kuala Lumpur Jalan Tuanku Abdul Rahman South. Soak up the best views of the city with a sunset experience framed by sweeping downtown views of the Petronas Twin Towers and KL Tower. Savour bespoke cocktails by the resident mixologist, while surrounded by slick beats and big cityscapes. You can even dip your toes into the rooftop pool with an evening swim, and realize that one of Asia's most prominent cosmopolitan hubs doesn't get much better than this.
Conrad Koh Samui: For panoramic cliffside views
Looking for a different kind of adventure? Located on the southwestern tip of the island, Conrad Koh Samui offers a host of cliffside villas and commanding sunset views of the Gulf of Thailand. Even the restaurants and bars boast singularly unique views - imagine visiting a cocktail bar perched high above the resort against a large rock wall, where you can sit in swing sofas and sip on specially concocted mixtures - all while basking in the warm glow of the setting sun. Experience the highlights of island living with beach kayaking activities, snorkelling trips at nearby coral reefs, and sunset yacht rides. Or slip into the luxury spa to enjoy soothing massages and saunas with calming ocean views.
Hilton Garden Inn Phuket Bang Tao: Balancing beach and city living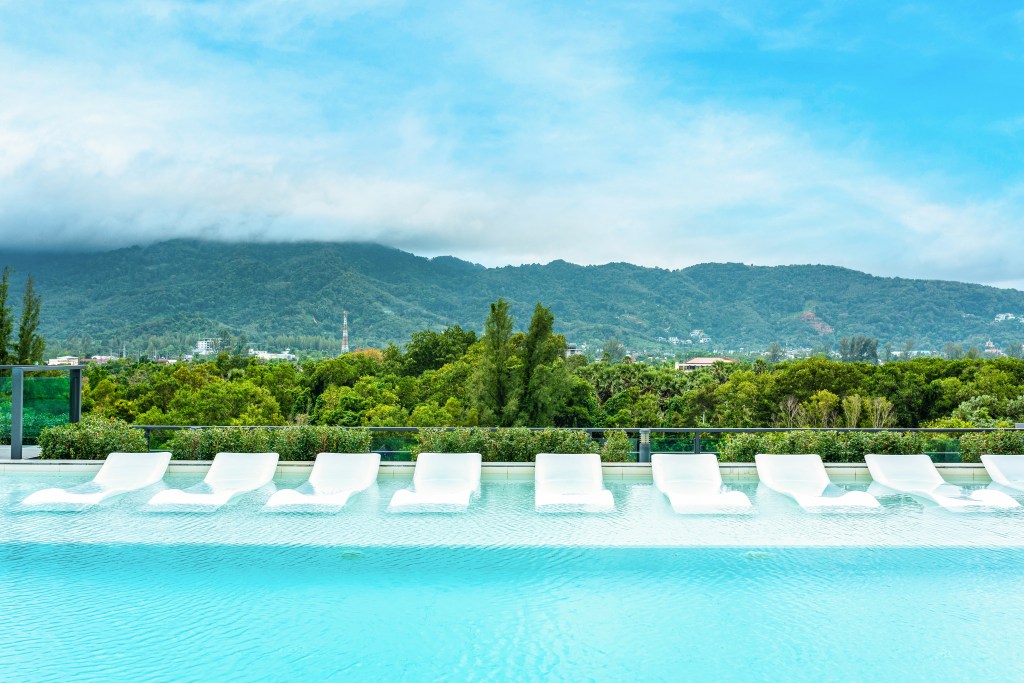 Embrace the harmonious balance of beachside relaxation and energising cosmopolitan vibes at Hilton Garden Inn Phuket Bang Tao – complete with expansive views of both panoramas. Relax in the comfort of your king guest room complete with private balcony, and sip on an evening tipple while overlooking the beautiful Laguna Phuket, all while the setting sun bathes the surroundings in a golden glow. Throughout your stay, seize the chance to swim one of two on-site outdoor pools, stroll over to the nearby Bang Tao beach, or even take a short drive to the bustling Patong nightlife district for a night out.
Waldorf Astoria Bangkok: Sweeping sights from one of the tallest buildings in the city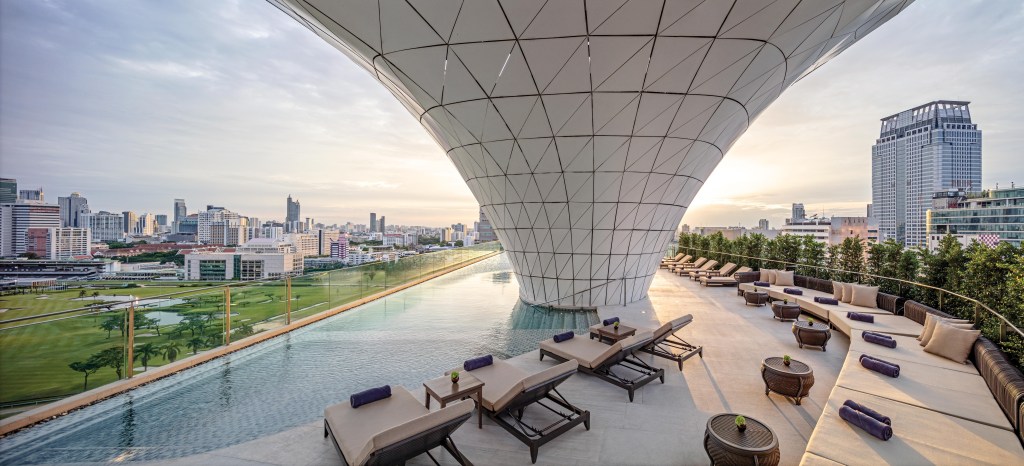 Skyscrapers and high-rise buildings dot the Bangkok cityscape, but none are quite so luxurious or iconic as Waldorf Astoria Bangkok. Located in the heart of the city's central business district, and spread across different levels of the building, you'll get some of the best views of downtown Bangkok from the hotel's restaurants and bars. Watch the sun dip below the horizon as you indulge in grilled meats and seafood at the 55th-floor Bull & Bear – or stand by the wraparound windows and admire the glittering city lights far below, as you enjoy an evening with friends at The Loft on the 56th floor, complete with bespoke cocktail in hand.
During the day, head over to the infinity pool on the 17th floor, and lounge in the sun (or shade, if you prefer!) while overlooking the scenic grounds of the Royal Bangkok Sports Club. Pro tip: come in the evening, and stay till late – watching the sky shift from afternoon, to dusk, and then to night, is something you'll never quite forget.
In partnership with Hendrick's Sunset Cinema, Hilton Honors members can redeem their Points for a pair of tickets to movie screenings on each night of the event at Tanjong Beach Club in Singapore, via the Hilton Honors Experiences platform. Hilton is also excited to offer incredible giveaways at each screening. What better way to cap off your day than with a sip of gin and tonic and a movie by the sea — just as the sun is setting!