Voted one of "America's coolest small towns," there is no question why Lititz, Pennsylvania, is next up in Hilton's Hidden Gems series. Situated about 8 miles north of Lancaster, the small town of Lititz allows visitors to experience a combination of old and new with its rich history and trendy downtown. The city makes for a perfect getaway for all ages, whether travelers are spending a day sampling treats from the famous Wilbur® Chocolate Company or roaming the city while taking in the picturesque architecture. Lititz is a treasure waiting to be uncovered.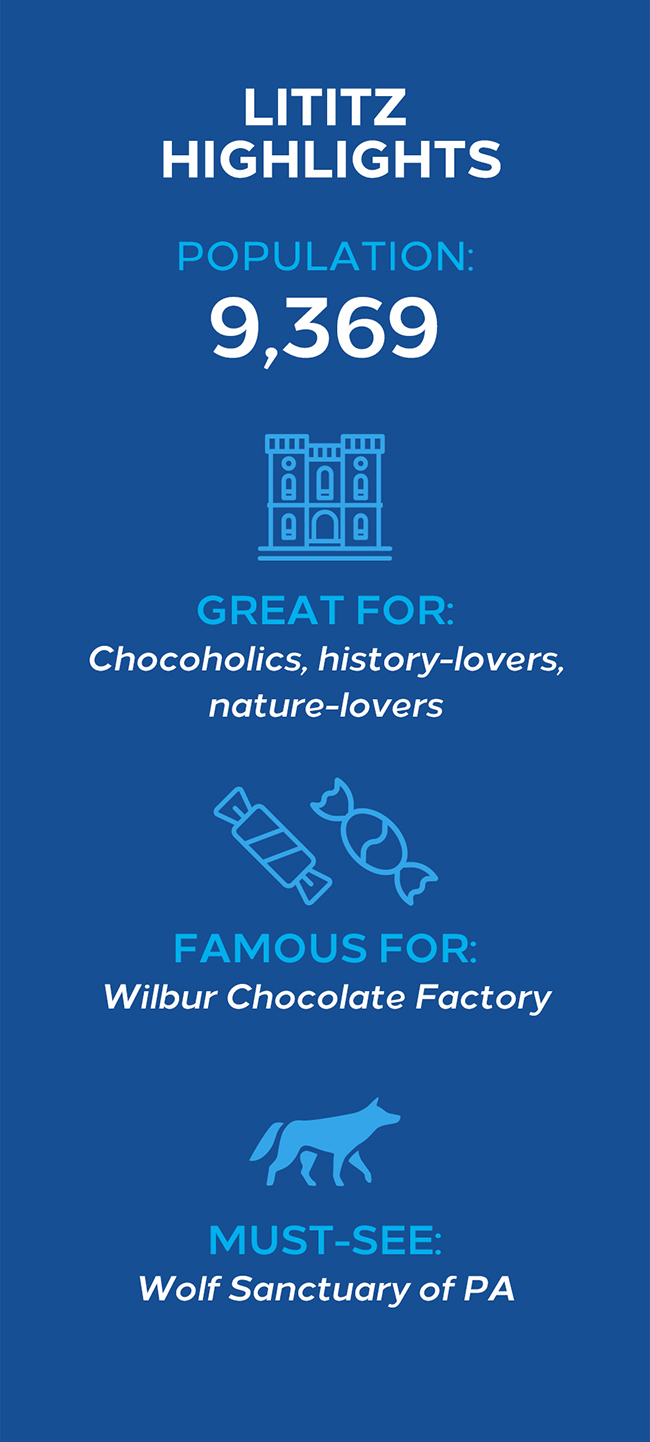 Things to Do
Art and history lovers will find there are plenty of fun and interesting activities to enjoy throughout the city. The city's history dates back to 1756, so the Lititz Historical Foundation is a must-see, allowing visitors to immerse themselves in an authentic 18th-century experience with costumed guided tours of  the museum's Johannes Mueller House. Travelers with an eye for art can stop by one of the city's local galleries, such as the Rusicano Gallery, which features an eclectic mix of modern artwork from local and international talent.
For foodies with a sweet tooth, don't miss the Wilbur Chocolate Store, a chocolate manufacturer that originated more than 150 years ago. Visitors can watch confectioners create decadent treats, and chocoholics can enjoy a variety of chocolate specialties, including milk chocolate coins and chocolate-covered potato chips. The city is also home to Julius Sturgis Pretzel Bakery, the oldest commercial pretzel bakery in the United States. There, visitors can tour the bakery, get a hands-on pretzel-making lesson and shop for salty, doughy treats. Additional dining options to keep in mind include the Appalachian Brewing Company, Tomato Pie Café and The Bulls Head Public House at General Sutter Inn.
Adventure seekers and animal lovers can spend the day with a pack of wolves at the Wolf Sanctuary of PA. The educational tours are suitable for both adults and children and offer visitors the chance to see the wolves in a protected natural habitat. Visitors can walk the trails while learning about wolf biology and the conservation efforts to preserve wolf populations.
Downtown Lititz has a variety of shops and boutiques, making it an ideal stop for those looking to spend the day shopping for unique finds. One of the best places to check out is Moravian House Antiques, which has handcrafted furniture, folk art from local craftsmen and more.
Staying in Lititz gives travelers the option to visit Lancaster, located in Pennsylvania's Dutch Country, for a day of shopping or a trip to to Ronks, about 14 miles from Lititz, for an authentic Amish experience,  including buggy rides and shows at American Music Theatre.
Where to Stay
After a fun-filled day of activities, wind down at The Wilbur Lititz, Tapestry Collection by Hilton, which once was home to the original Wilbur Chocolate Company Factory (production has since relocated to Cargill Cocoa & Chocolate plants in both Lititz and Mount Joy, Pennsylvania). Just like the city it is in, the hotel blends old and new, preserving the original features of the factory and incorporating modern updates. The property is close to major spots around town, with the Wilbur Chocolate Store and Lititz Spring Park Train Station located just across the street. The hotel is also home to the Blackworth Live Fire Grill, where seasonal ingredients are cooked over an open flame, giving guests an exceptional culinary experience.