Best work‑from‑hotel guestrooms
For many, the continued threat of COVID-19 has made working from home the new normal for the foreseeable future. While there have been many benefits to this new way of life, there have also been a few gripes – from unstable Wi-Fi signals to uncomfortable workstations and the need for a distraction-free hour or two for an important meeting or to spark inspiration. Based on this new reality, WorkSpaces by Hilton presents a new work-from-hotel solution for both corporate customers and individuals seeking private office space to increase efficiency in their workday.
To provide more value for Hilton's loyal customers during this time, the company launched an exclusive Hilton Honors offer this week, allowing members to earn 10,000 Hilton Honors Bonus Points after completing their first WorkSpaces by Hilton stay at participating locations. Hilton Honors members can also enjoy exclusive benefits, including the ability to earn Points and stay credit. Elite members are also eligible for space-available room upgrades, premium Wi-Fi and Executive Lounge access (where available). 
You can now enjoy a clean, convenient and distraction-free workspace at participating Hilton hotels across the U.S., UK and some parts of Canada. Consider one of the below Hilton properties for your next "work-from-hotel" day.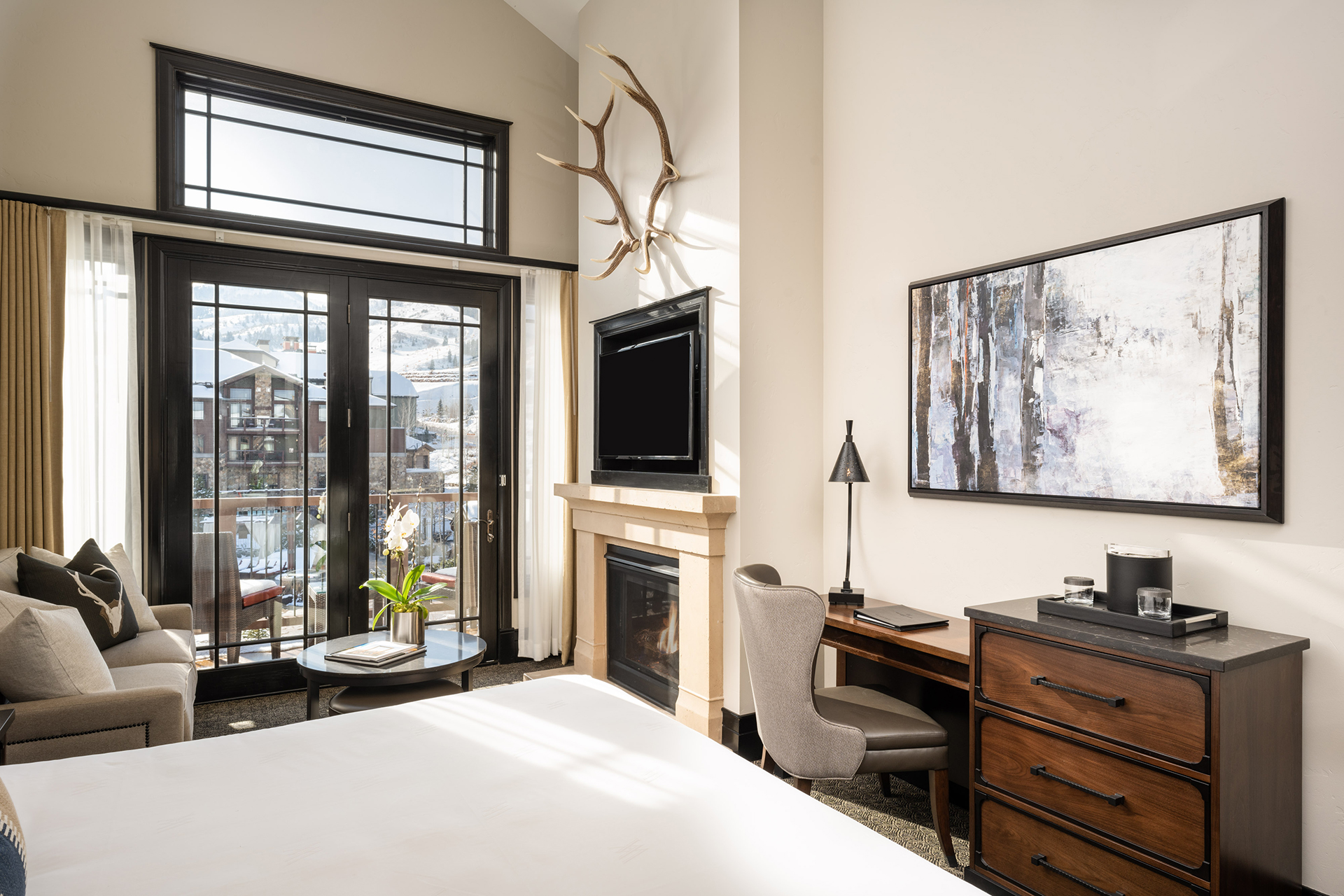 Best Place to Ski in/Ski out of Your Workday This Winter | Waldorf Astoria Park City
Park City, Utah
Take your next conference call while sitting next to a gas fireplace and overlooking the majestic Wasatch mountain range by booking a WorkSpaces by Hilton reservation at Waldorf Astoria Park City.  After a long day at the office, unwind and recharge with a run on the slopes, a dip in a hot tub or by enjoying a relaxing massage.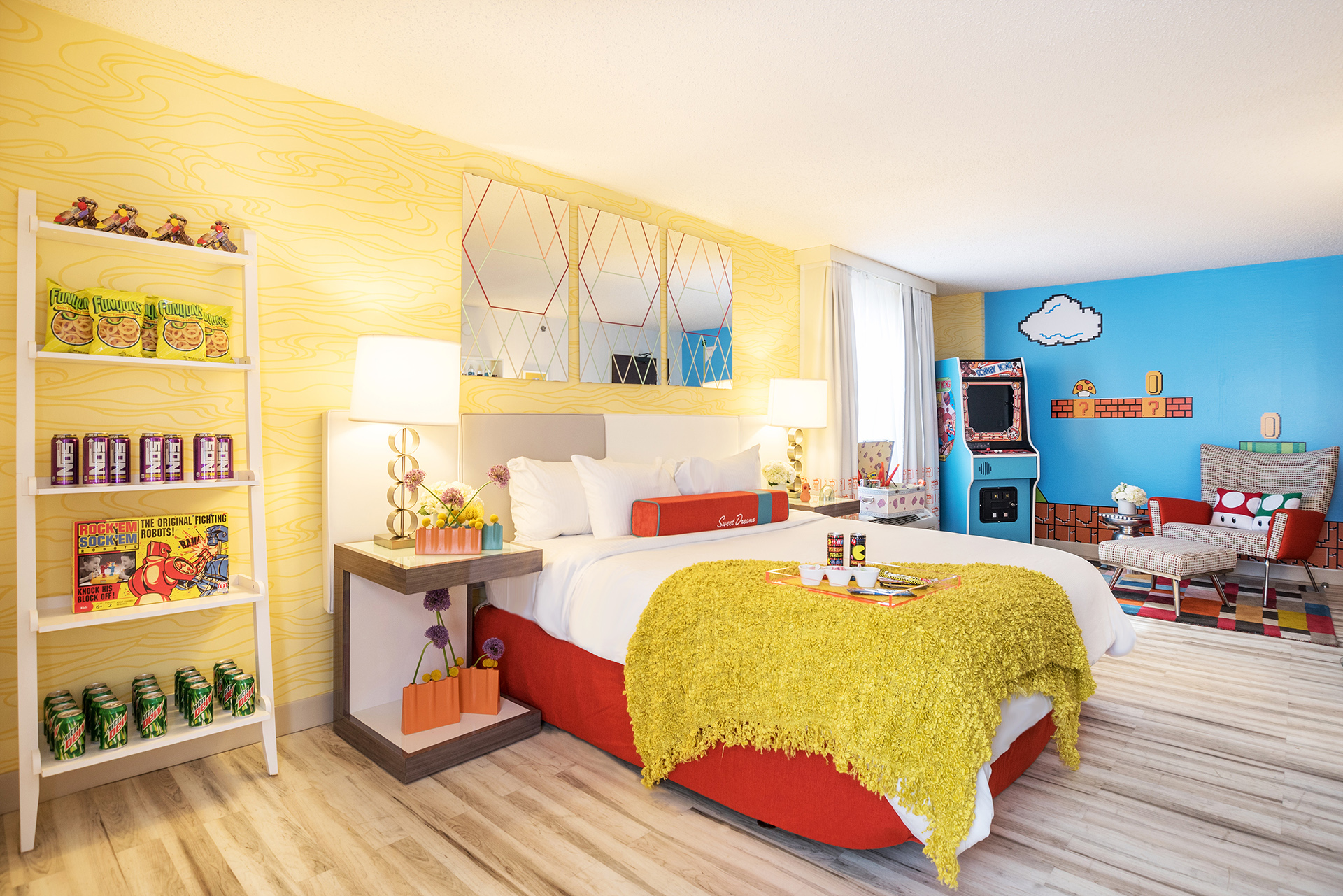 Best Guestroom to Inspire Your Workday Creativity | the Curtis Hotel - a DoubleTree by Hilton Hotel  
Denver
In need of a creativity boost? From a video game-themed room to a "Ghostbusters"-themed room, the Curtis Hotel - a DoubleTree by Hilton Hotel offers 15 unique hyper-themed guestrooms perfectly suited for guests searching for a creative workspace. WorkSpaces by Hilton reservations includes access to the hotel's weekly socially responsible guest activities, like beer tasting, BINGO, yoga and more.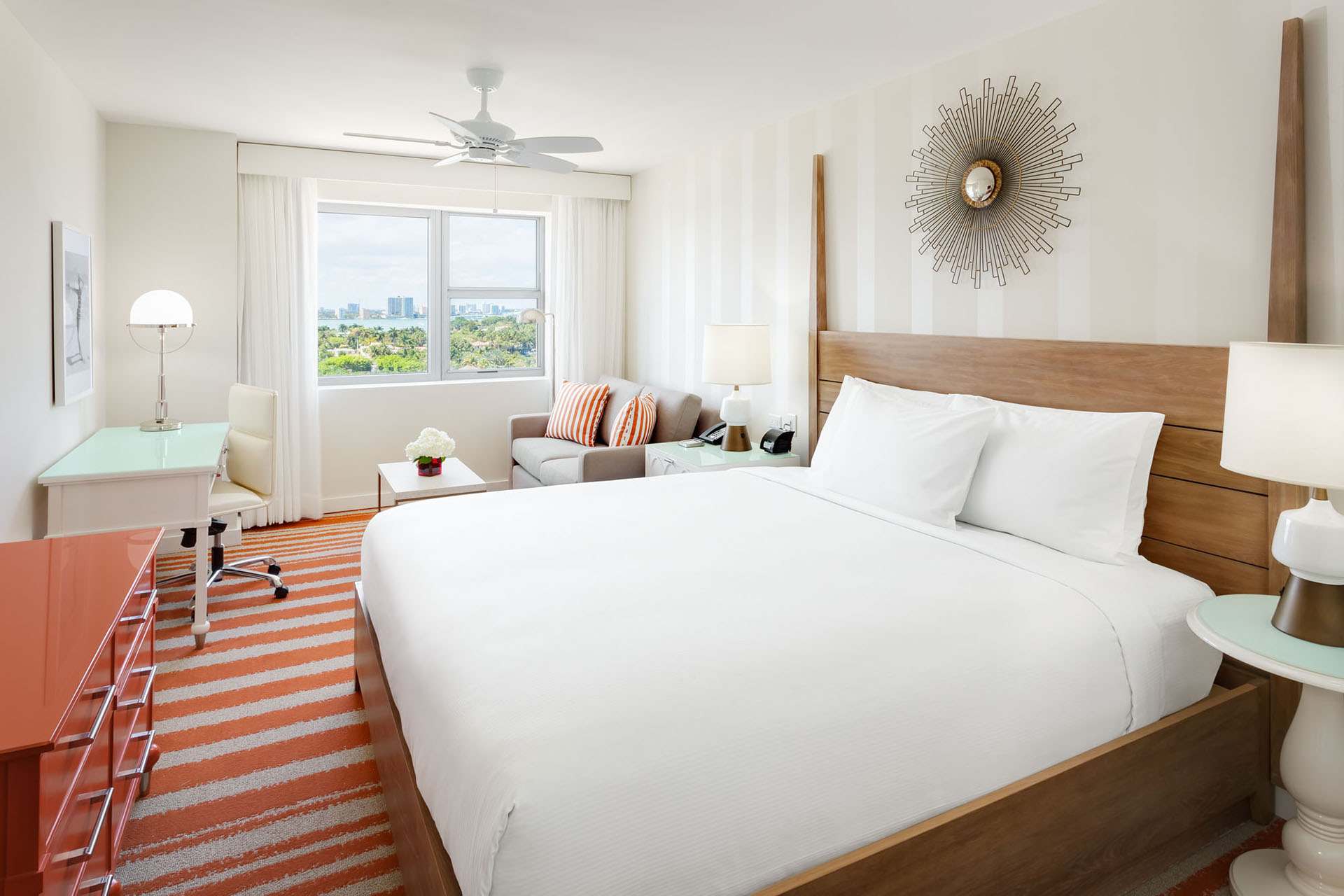 Best New Backdrop That's Real | Hilton Cabana Miami Beach
Miami
Upgrade your video conferencing backdrop to Hilton Cabana Miami Beach, where guests have a picturesque view of the Atlantic Ocean. As part of a WorkSpaces by Hilton reservation, guests may also enjoy on-site amenities, including two pools, a pool bar, a full-service restaurant and beach/poolside service. In addition, guests have access to complimentary use of bicycles and non-motor watersports.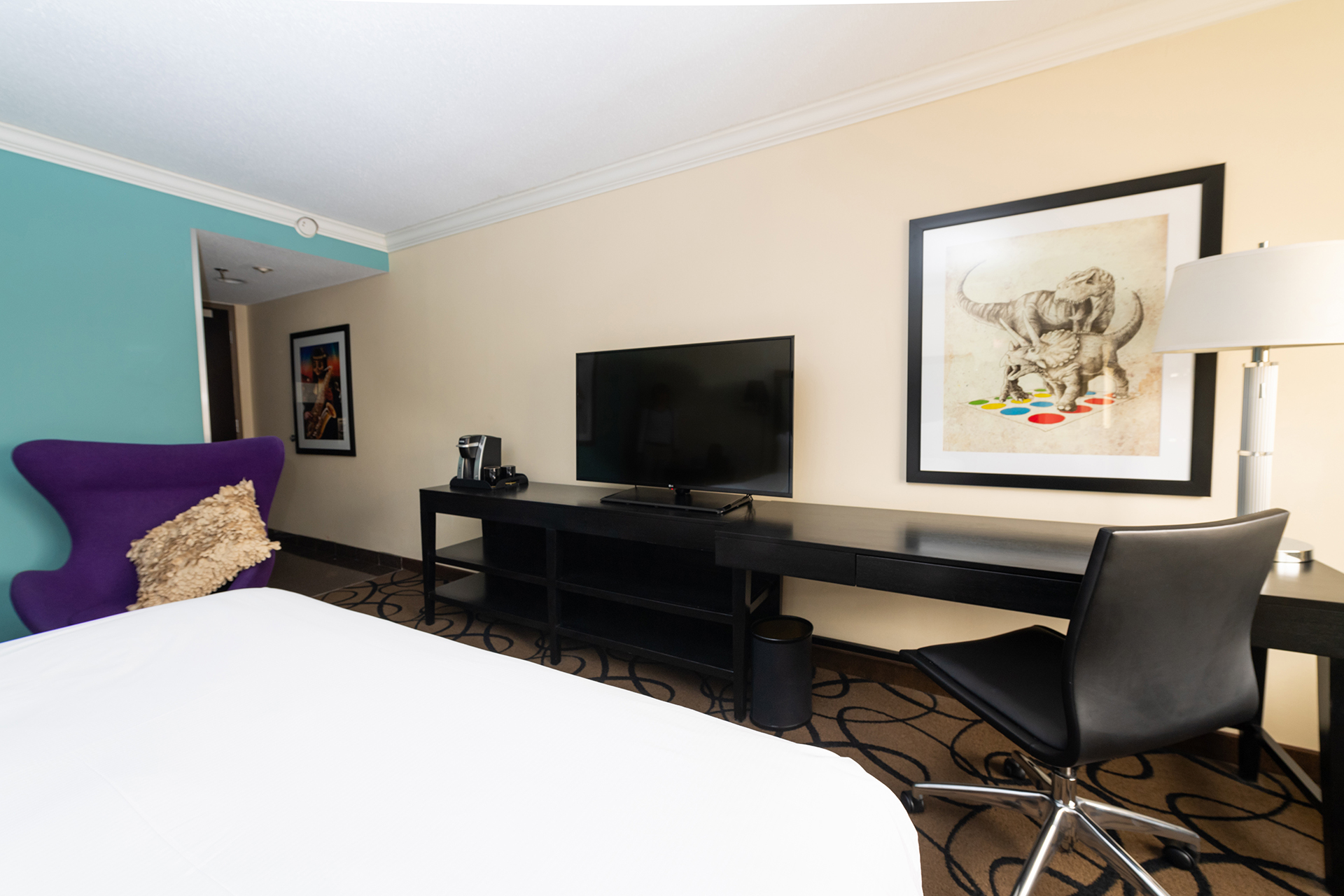 Best Spot to Work + Play | The VERVE Hotel Boston Natick, Tapestry Collection by Hilton
Natick, Mass.
Enjoy a blast from the past at The VERVE Hotel Boston Natick, Tapestry Collection by Hilton. The newly-opened VERVE Hotel is a celebration of American Pop Culture from the 1960's to the 1990's. Guests visiting will enter an environment that pays tribute to music, commercials, celebrities, period movies and television shows and video games through their music playlists and art installations, which can draw intense inspiration during the workday. Guests who book WorkSpaces by Hilton rooms will enjoy a morning cup of coffee and snack bag filled with two bottles of water, a piece of fruit and a sweet treat to help keep you hydrated and energized throughout the workday, as well as access to the fitness center and video games.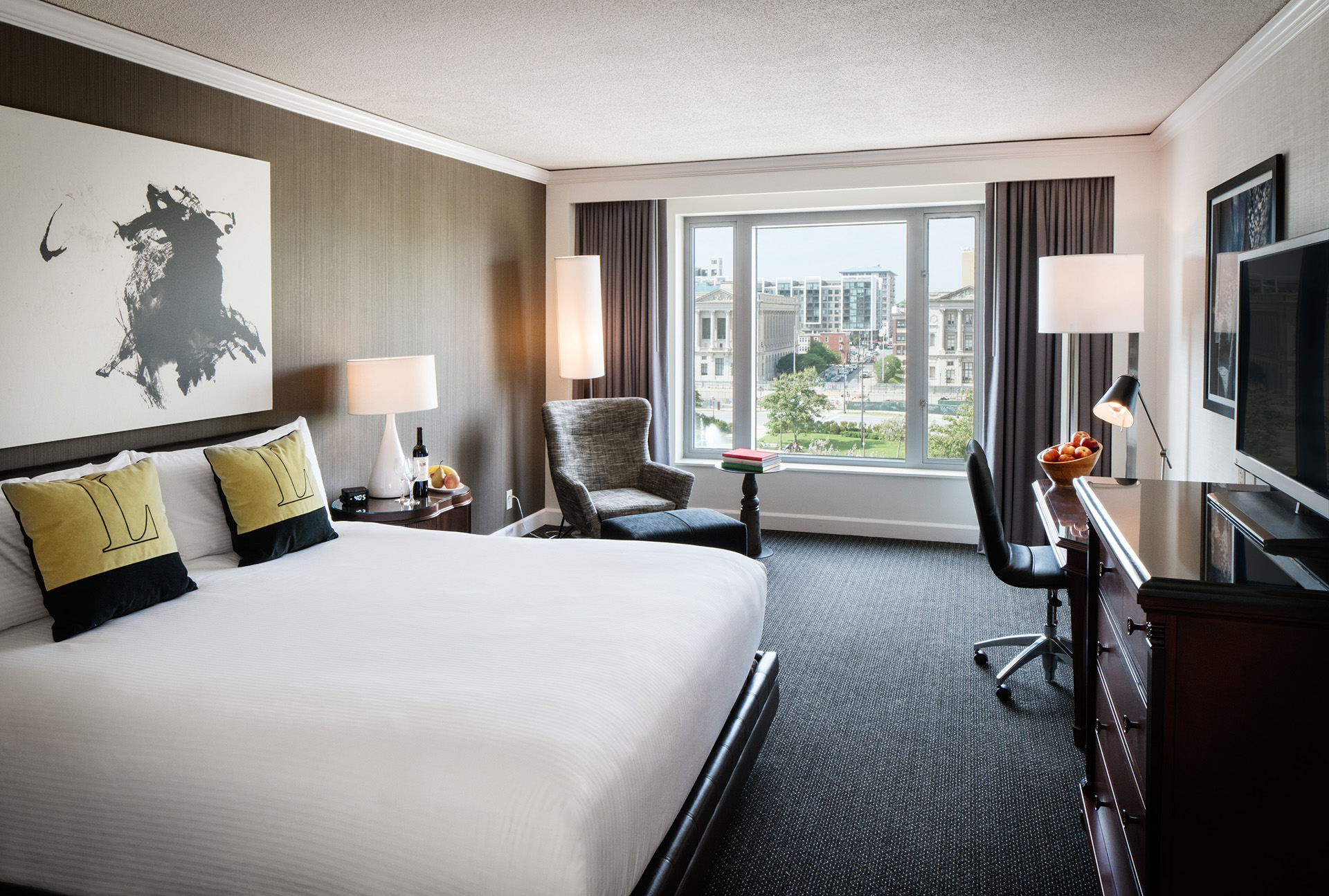 Best Location for the History or Art Buff | The Logan Philadelphia, Curio Collection by Hilton
Philadelphia
Clean out your inbox with soothing views of Swann Fountain or use your lunch break to visit the nearby Liberty Bell or Philadelphia Museum of Art with your WorkSpaces by Hilton room at The Logan Philadelphia, Curio Collection by Hilton. After a day of work in a premium guest room, kick off happy hour with a curated cocktail and unobstructed views of Philadelphia at Assembly Lounge, the hotel's rooftop bar.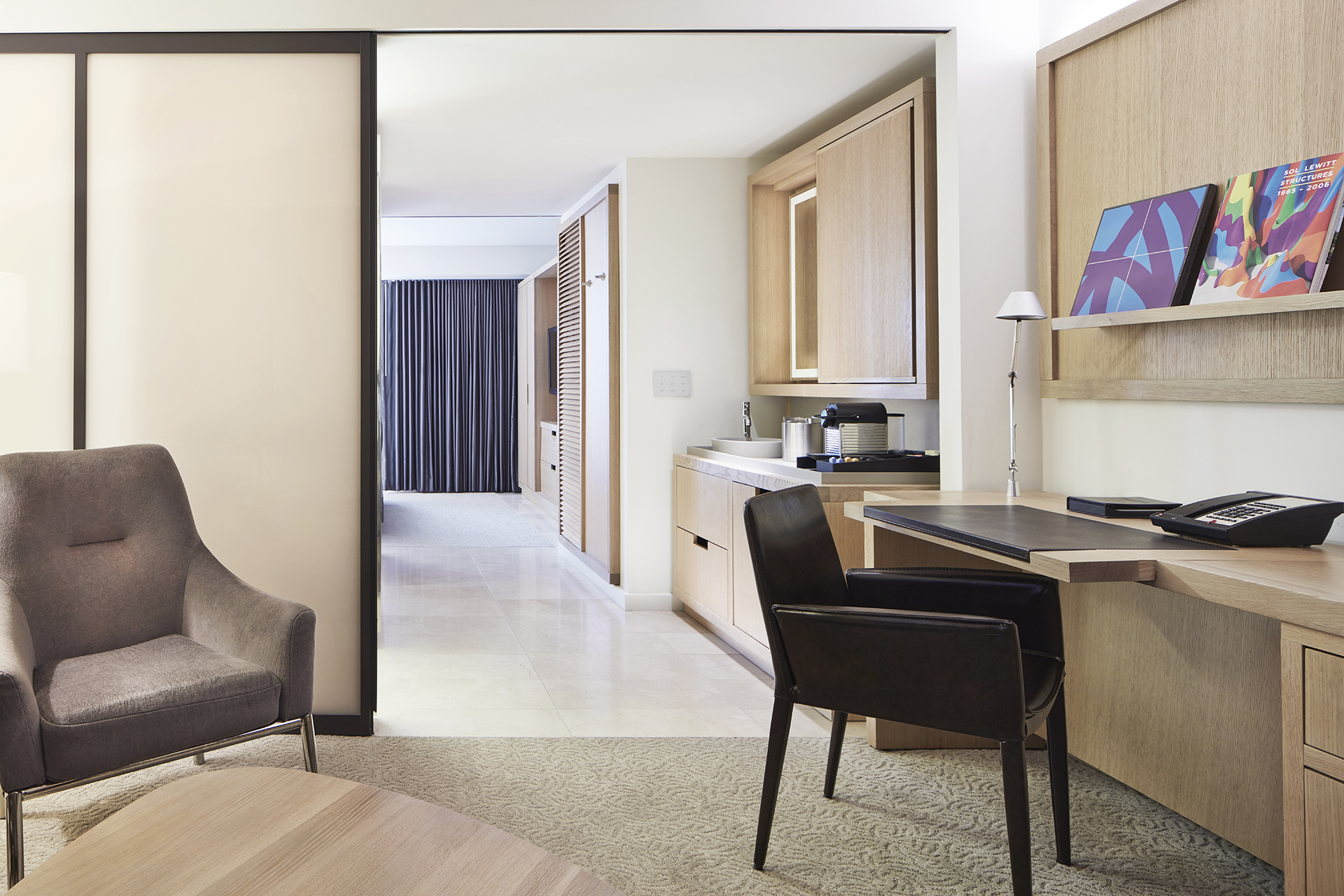 Best Place to Zoom with a Bit of Zen | Conrad New York Downtown
New York City
If you're looking for a moment of zen while you work, you will be interested in Conrad New York Downtown's "Work + Well" day use room. Included in the WorkSpaces by Hilton rooms, guests will receive a Clean Market Zen box and discount code for an in-store treatment at Clean Market in nearby Brookfield Place; breakfast and lunch delivered via room service; and On the Rocks Cocktail delivery at 4 p.m. Guests will also have access to a curated list of digital books via Bedside Reading on the Download, accessible through your in-suite television.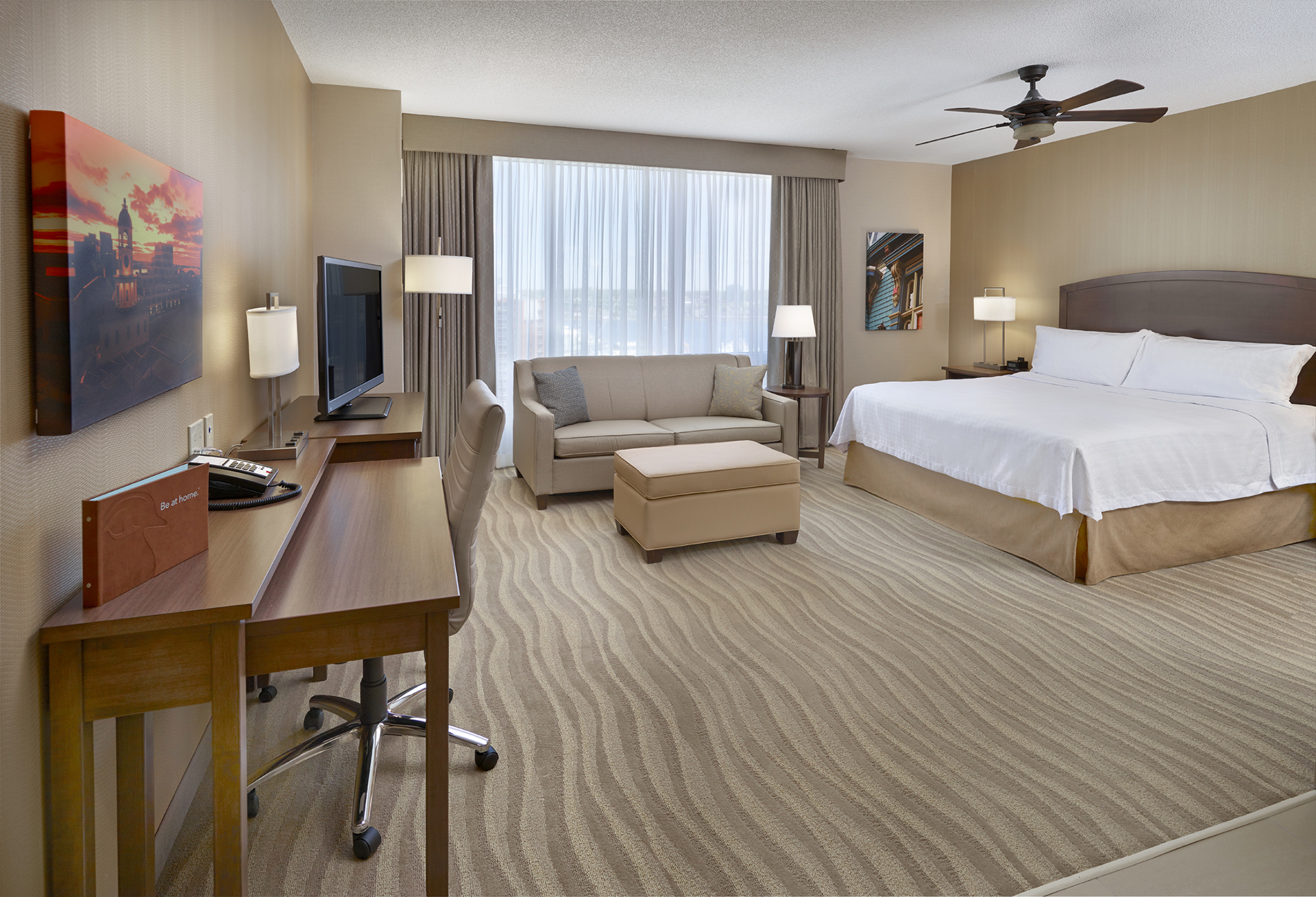 Best Waterfront Views | Homewood Suites by Hilton Halifax Downtown and Hampton Inn by Hilton Halifax Downtown
Halifax, Nova Scotia
Enjoy a comfortable, quiet workspace at this dual property, complete with complimentary coffee or tea and parking. For an afternoon break, guests can take a quick stroll along the scenic Harbour Boardwalk, just minutes away, or enjoy complimentary use of the fitness center and pool. Available through May 31, 2021, WorkSpaces by Hilton rates at Hampton Inn by Hilton Halifax Downtown and Homewood Suites by Hilton Halifax Downtown vary and can be booked by contacting each hotel directly.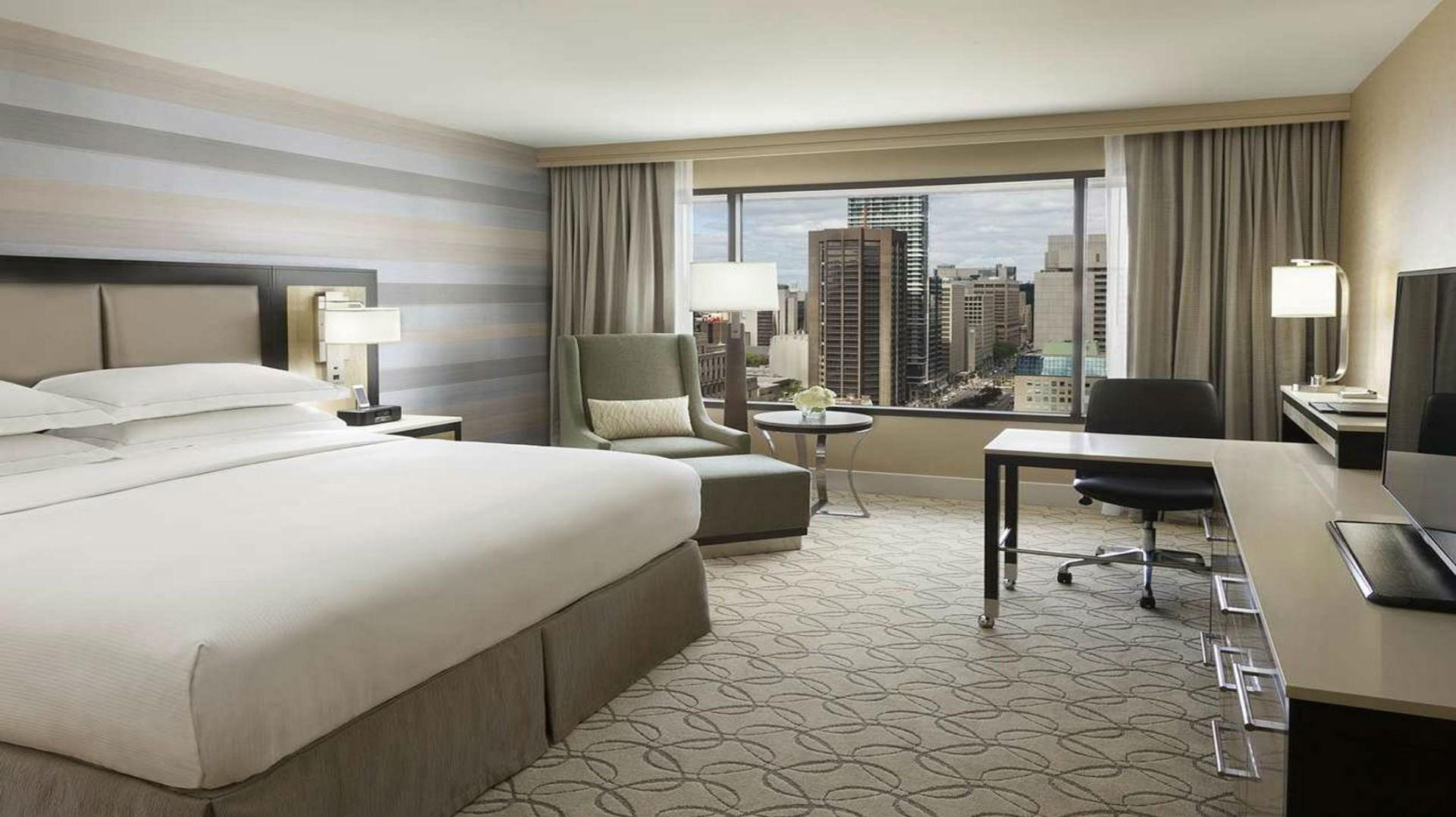 Best Skyline View | Hilton Toronto
Toronto
Take in the impressive downtown Toronto skyline with a WorkSpaces by Hilton room at Hilton Toronto. From the comfort of their room, guests will enjoy the change of scenery as they may spot the CN Tower or Nathan Phillips Square, Old and New City Hall and Osgoode Hall. Guests can power through the workday with a complimentary coffee and "Fuel Your Day" snack bag and take a relaxing break in between calls with a quick dip in the indoor pool.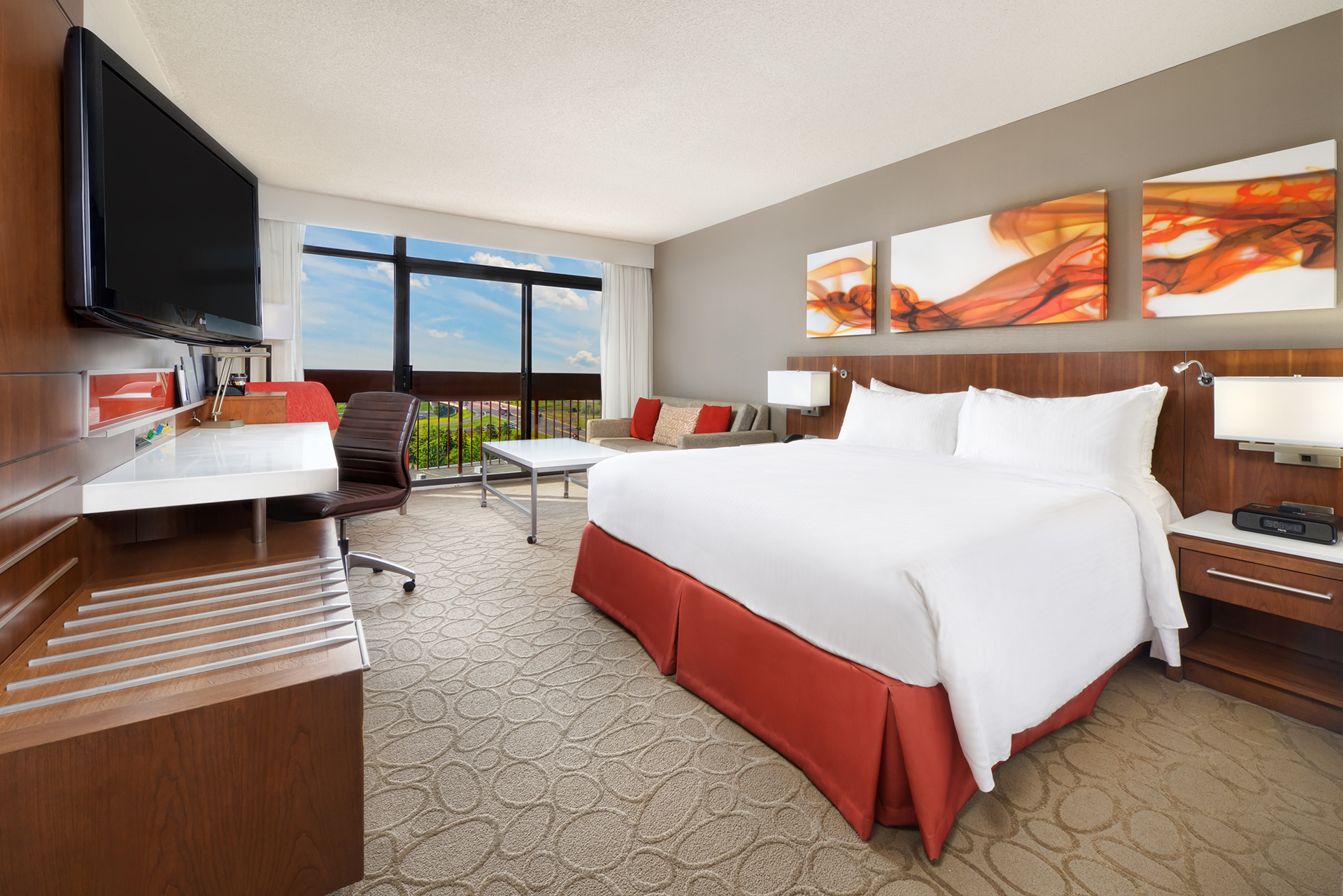 Best Suburban Ontario Escape for Waterslides, Work and Play | Hilton Mississauga/Meadowvale
Mississauga, Ontario
Start your workday at Hilton Mississauga/Meadowvale with a complimentary beverage at the Grab N' Go market and a "Fuel Your Day" bag of assorted snacks with a WorkSpaces by Hilton reservation. For the ultimate mix of business and pleasure, guests can enjoy complimentary use of the pool, which includes Big Blue, the longest, three-story waterslide in the Greater Toronto Area.
To join Hilton Honors (it's free), enroll at HiltonHonors.com.