Get ready for the summer travel surge: After more than a year of being cooped up, travelers are about to reemerge in full force.
Nearly 80% of Americans plan to take a wish list trip in the coming months, with close to 60% saying they'll first travel domestically before heading overseas, according to a new survey from Hilton.
Once again free to roam as many COVID-19 restrictions lift in the U.S., Americans are making up for lost time. Nearly six in 10 want to book nicer hotels and stay longer than usual, while three in 10 plan to indulge in fine dining, according to the survey.
Travelers are also honing in on some of the country's most iconic destinations: Honolulu, New York City and Las Vegas are the most desired domestic travel locations. These locales are far-flung, yet they share common traits such as world-class food, eye-catching scenery and a wide array of attractions.
To celebrate the return to travel—and to aid in the planning of memory-making trips—Hilton is highlighting the top three dream domestic destinations, keeping in mind what travelers are hankering for most as they begin to explore again.
#1 – Honolulu
The Hawaiian capital tops the list as the most coveted U.S. destination, with nearly a third of respondents saying it is on their wish list*. Honolulu, set on the island of Oahu, is known for its luxurious beaches, vibrant sunsets and lush tropical foliage. The activities are plentiful—and incredibly varied. Visitors can embark on an island biking tour, hike to a local waterfall or simply enjoy happy hour with a Mai Tai in hand. The dining experiences range from Hawaiian luaus to upscale restaurants featuring fresh local fare.
Hilton Hawaiian Village Waikiki Beach Resort, located in the heart of Waikiki, is an ideal location for the nearly 30% of survey respondents who said they want access to explore the nearby area. The hotel boasts Waikiki's widest white sand beach, also making it a perfect spot for the four in 10 survey respondents who said that relaxing on a beach was the "tone" they'd like to set for their vacation.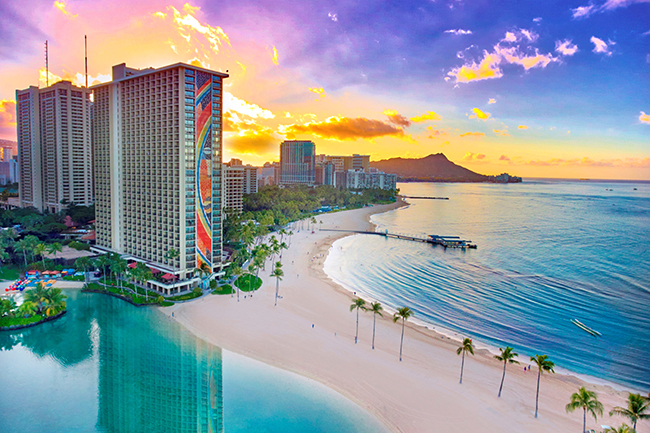 Hilton Hawaiian Village Waikiki Beach Resort Aerial View
#2 - New York City
The Big Apple, a top pick for 25% of respondents, came in second. With countless restaurants spread across its five boroughs, New York is a haven for those seeking haute cuisine yet also offers myriad affordable options (Street hot dog, anyone?). There's a plethora of activities and attractions for solo travelers, couples, friend groups and families. With baseball season in full swing, visitors can check out a Mets or Yankees game. There's also Central Park to roam, nightclubs to explore and museums to meander. Visiting the Statue of Liberty—cited by 21% of survey respondents as a sight they'd like to see— is a breeze, thanks to easy-to-access ferry rides.
Those who want to experience the city that never sleeps can stay at the Millennium Hilton New York Downtown. Visitors looking for options outside of Manhattan can head just across the Hudson River to New Jersey's Canopy by Hilton Jersey City Arts District.
#3 – Las Vegas
Nearly a quarter of respondents, 24%, selected Las Vegas as a desired destination, putting it just under New York City in the rankings. With attractions that range from famed restaurants and spectacular shows to golf greens and expansive pools—and of course, exciting gaming—this locale has something for just about anyone. The famous Las Vegas Strip was cited by 20% of respondents as a wish list sight to see. Once visitors get their fill of glitz and glamour, they can take a day trip to the nearby Grand Canyon and Hoover Dam to check out some natural wonders.
There's a wide range of lodging options in Las Vegas, including the newly opened Virgin Hotels Las Vegas, part of Hilton's Curio Collection, and Resorts World Las Vegas, which brings together three of Hilton's premier brands—Conrad Hotels & Resorts, LXR Hotels & Resorts and Hilton Hotels & Resorts—to form the largest Hilton property in the world.
*Survey takers could select more than one dream location.