March 1 marks the 150th anniversary of the establishment of America's first national park: Yellowstone. Situated atop a volcanic hot spot, the park is known for its iconic geysers, hot springs, dramatic canyons and other impressive natural features, making it a "must-see" destination for many. This year, the park will also play host to a multi-month commemoration event, offering opportunities to reflect on the past 150 years, highlighting successes in the ecosystem and opening dialogue on how to prepare for the Yellowstone of tomorrow.
If Yellowstone is on your travel wish list, there's never been a better time to visit, and the park's location on the Wyoming and Montana border makes it the perfect midpoint for a road trip through the region's other majestic national parks: Grand Teton and Glacier. Here's the perfect itinerary that allows you to see it all, as well as some other notable sights along the way!
Make Your First Stop Jackson Hole
Begin your trip in Jackson, Wyoming. This charming town offers a wealth of homespun dining establishments and shops, museums with works by famous names, and picture-perfect arches made of shed antlers from the nearby National Elk Refuge. It makes the ideal starting point for exploring the peaks of Grand Teton National Park before heading further north into the lower loop of Yellowstone National Park, where you can explore popular geothermal features such as Old Faithful, and search for bison, bighorn sheep and elk in the Hayden Valley.
Where to Stay: Homebase at the spacious suites at Homewood Suites by Hilton Jackson, located near all the action downtown and just a short drive to the airport and Grand Teton National Park. Fuel up for a day of adventure with the hotel's free hot breakfast, and wind down in the evening with a dip in the onsite pool.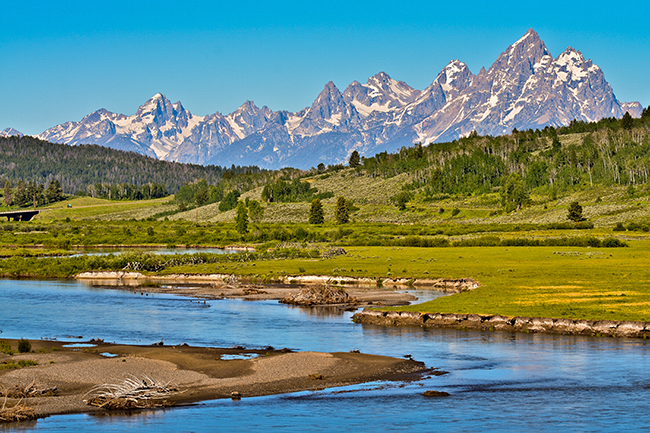 Grand Teton National Park
Credit: Chanya Thirawarapan/Shutterstock
Next Up, Head to Big Sky Country
As you make your way through Yellowstone's upper loop, allow ample time to stop at unforgettable natural formations such as the Grand Canyon of Yellowstone and Mammoth Hot Springs, before heading into Montana's Big Sky. This year-round destination is an outdoor lover's paradise and is home to world-class skiing, hiking, mountain biking, fly fishing, rafting and more. After a day of wild adventures, take a relaxing stroll through hip Bozeman, Montana, which boasts chic eateries, a variety of craft breweries and soothing hot springs that are sure to melt your cares away.
Where to Stay: Book a room or family-friendly suite at Hilton Garden Inn Bozeman, which is walking distance from a variety of eclectic eateries and a short drive away from the outdoor activities of Big Sky and the towering dinosaur fossils at the Museum of the Rockies.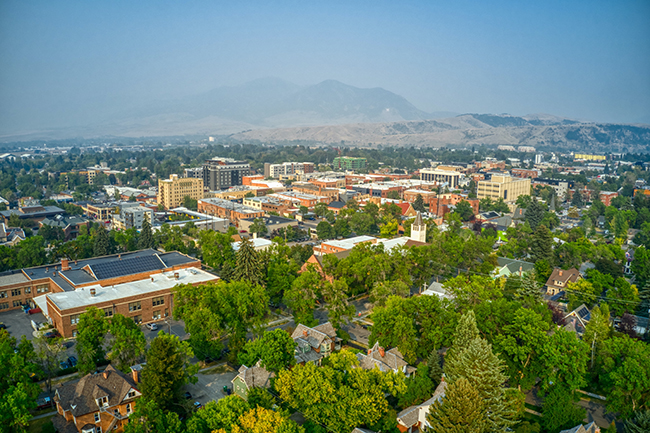 Bozeman, Montana
Credit: Jacob Boomsma/Shutterstock
Cap Off Your Journey in Kalispell, Montana
Continuing north, you'll come to the breathtaking turquoise Flathead Lake, which is surrounded by mature ponderosa pines, juniper trees and awe-inspiring views of the Mission Mountains. Come summer, the region is brimming with juicy Flathead cherries. They're a perfect snack to enjoy as you wander the quaint streets of Kalispell, Montana and admire restored buildings from the 1800s. The town serves as the gateway for Glacier National Park, which offers more than 700 miles of hiking trails, making it an idyllic spot to seek solitude and reflect on your amazing journey through so many natural wonderlands.
Where to Stay: Hampton Inn Kalispell is ideally situated near Flathead Lake and Glacier National Park, as well as the serenity of Lone Pine State Park. When it comes time to bid farewell to this epic escapade, the hotel is just a short drive away from Glacier Park International Airport.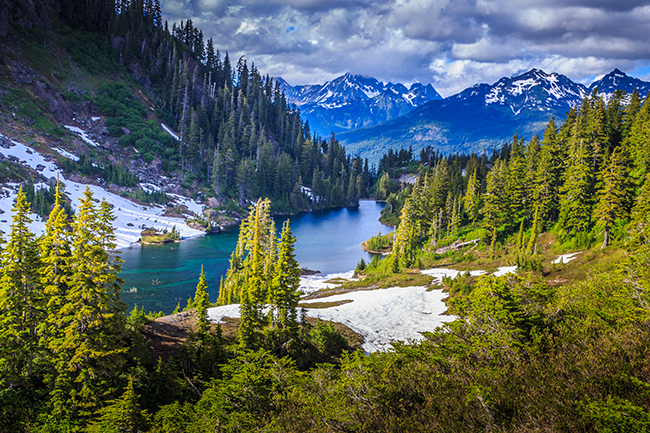 Glacier National Park
Credit: Vaclav Sebek/Shutterstock
Hitting the road this summer? Hilton Honors members can earn up to 5,000 Bonus Points and save on qualified car rentals with Alamo, Enterprise and National. Members can also redeem their Points for car rentals through the Hilton Honors Online Portal. Not a Hilton Honors member? It is free and easy to join at HiltonHonors.com, and new members can earn up to 5,000 Bonus Points.