Adam Crocini talks the latest food and beverage trends, how Hilton selects chef partners, tips for getting into the hottest new restaurants and more
Food and beverage are such an integral part of the travel experience. Through food, diners can relish recipes handed down from generation to generation. Guests can immerse themselves in local communities to enjoy flavors found only in specific regions of the world. Adam Crocini, senior vice president and global head, Food and Beverage Brands, Hilton, knows firsthand the impact that culinary experiences can have, and how factors, like design and detail, make a huge difference in a guests' travel experience. Here, Stories From Hilton goes one-on-one with Adam to learn tricks of the trade and gather insight into the trends that will have everyone talking in 2023.
How can I get into the hottest new restaurant in town?
From my vantage point, where you eat is as crucial as where you stay. Contact the concierge at your hotel in advance of your arrival. The best restaurants often work with hotel concierges so that they can accommodate out-of-town foodies. If you don't know what the hottest new restaurant is in town, again you can ask the concierge – they make it their mission to stay on top of these developments.
If you're staying at a property that doesn't have a concierge on staff, grab a reservation online for whatever date and time the restaurant has available during your trip. Then, give the restaurant a call to see if you can move your reservation to a different time. It can be easier to get the reservation time you want if you already have a reservation booked.  
How do you select the right wine when taking a customer or client out for dinner? 
If a restaurant has a sommelier, request their services. They are trained in all aspects of wine, so not only will they pair wines with certain foods, but they will ask the right questions to gauge the palates of all diners and find a wine that will satisfy every member of the party. Don't be afraid to set a price point – the more information you can provide, the better able the sommelier will be to help.
If a sommelier is not available, here are a few tricks of the trade. First, a simple rule of thumb is that "what grows together, goes together." This means if you are sampling foods from a specific region, look for wines from the same region. Another rule of thumb is to pair light foods with lighter wines and heavy dishes with heavier wines. Fish, for example, pairs nicely with a crisp white wine, while a juicy ribeye is best suited for a bold red. If selecting wine for a group enjoying a variety of food, go with an easy-drinking, people-pleaser: a lighter red blend or a Pinot Noir.
Hilton is known for popularizing the club sandwich. What separates a good from a great club sandwich? 
Although many claim to have invented the club sandwich, which features chicken or turkey with mayo, lettuce, tomato and bacon on toast, it was Waldorf Astoria New York that first began to offer it to guests as a portable sandwich in 1931. At that time, the hotel created room service for guests too busy and tired to dine in the hotel's restaurant. Having a meal in your room was a luxury and enhanced the travel experience for guests. Room service became a hit, with the club sandwich a popular staple.
But what makes a club sandwich great is the bread. What would a Philly Cheese Steak be without the roll it's on, or even a hot dog without a bun? Bread is the most vital component of this sandwich, followed closely by crispy bacon and fresh, quality ingredients, like in-season tomatoes and hand-carved turkey. Sourcing ingredients locally whenever possible is a way to ensure diners are getting the freshest foods. It's all in the details, and when done well, a simple sandwich can be a great sandwich.

How important is the right ice for a cocktail?
If bartenders are delivering drinks with a sophisticated ice program, such as the one at Waldorf Astoria Bangkok, which has its own ice carving bar, it demonstrates the attention to detail for the entire cocktail program. Just as a cocktail is served in a specific glass to accentuate its taste and presentation, so too, can the ice itself enhance the cocktail. A Collins spear – ice shaped like a long, thick block - is commonly used with cocktails served in a highball glass, such as a Tom Collins or a Mojito, and makes your drink look very cool. Ice balls or cubes are designed for straight spirits or heavier cocktails, drinks meant to be savored longer. A large ice cube will keep the cocktail cold without watering down the drink.
What is the cocktail of this summer going to be?
Negronis, made with gin, sweet vermouth and Campari, have long been a great summer drink and, more recently, people are discovering the Negroni Sbagliato. This "broken," yet new, take on a classic Negroni replaces the gin with sparkling wine to give it a light, effervescent lift that isn't quite as strong as a Negroni but just as delicious. My go-to drink, however, is a Grey Goose Martini with a twist or a single blue cheese olive. A recent survey says 2023 is the return of the martini, so call me a trendsetter!
Is the low- and no-alcohol trend here to stay?
With the sober curiosity movement gaining momentum worldwide and an increased consumer focus on wellness, more people are opting to be spirit-free while still seeking a great drinking experience with concoctions that look and taste just as delicious the spirited version. As a result, more of our bars and restaurants are accommodating this demand and exploring new, innovative non-alcoholic options. Many hotels across the Middle East, for example, including DoubleTree by Hilton Dubai M Square, Hilton Doha The Pearl and Hilton Riyadh Hotel & Residences, are expanding "Cocktail Zero" menus. Hospitality is about ensuring guests feel cared for, and whether hotels offer onsite dining or not, Hilton brands will continue to adopt and support guests' demands.
How do you select chef partners for Hilton's restaurants?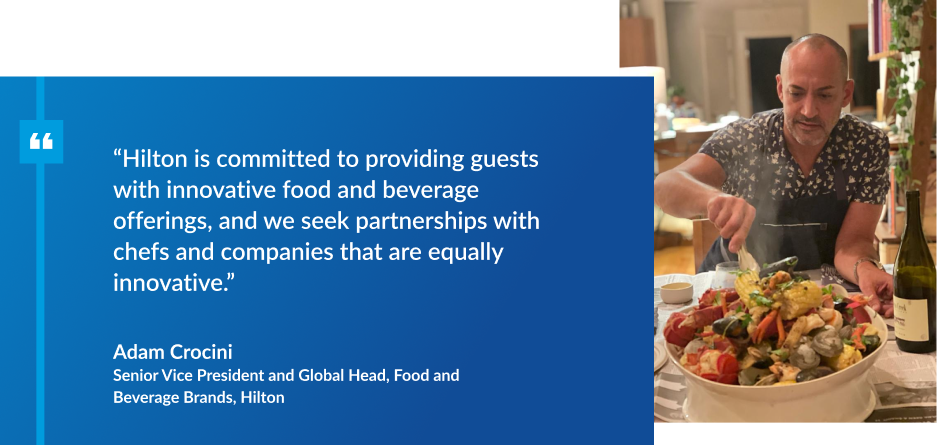 Hilton is committed to providing guests with innovative food and beverage offerings, and we seek partnerships with chefs and companies that are equally innovative. For example, Tempo by Hilton is collaborating with Bluestone Lane, an Australian-inspired premium coffee roaster, café and lifestyle brand, to create unique on-property food and beverage experiences together at Tempo by Hilton hotels. Waldorf Astoria Hotels & Resorts also partners with Asia Pacific's Leading Independent Spirits Company, Proof & Company. This partnership will reimagine the experience across the luxury brand's iconic Peacock Alley locations around the world, with theatrical beverage rituals in an elevated bar concept that includes cocktail menus, glassware and ambiance.
What are some of the best restaurant design trends you are seeing?
Our restaurant and bar teams both support and celebrate the local communities in which they operate in, and outside of ingredients and dishes, design plays a large role in making travelers feel like a local. In fact, when traveling this year, nearly half of travelers surveyed said that they want to be immersed in local cultures and products. Of course, we also want our restaurants to be destinations for the local community as well, so we create spaces that appeal to both locals and travelers.
This is accomplished by taking cues from neighborhoods and incorporating the destination's history and pride into every design. Take Hotel Fraye Nashville Midtown, Curio Collection by Hilton, for example. Situated in Nashville's buzzy Midtown neighborhood, its restaurant and bar concept, Gathre, ties into the city's equestrian culture, bringing an upscale ambiance and down-home comfort to Music Row with standout elements like rope-light chandeliers emulating a bridle and reins to horse head iron door knockers artistically displayed throughout dining spaces.
What's more important: A great hotel bar or a great rooftop bar? 
This feels like a trick question! Bars, whether in a hotel lobby, within the confines of a restaurant or on a rooftop, are a key component to a successful hotel as long as they provide a successful and purposeful experience for our guests. Bars are not just drinking spaces; they are communal, meeting spaces where people can connect.
What changes or innovations in hotel restaurants have come about since the pandemic?
The pandemic certainly accelerated a lot of existing trends we see today. For example, in addition to seeking out healthier fares and local ingredients, consumers' increasing desire for wellness has translated to a seamless flow between indoor and outdoor spaces. After years of spending time on porches and patios, people were reminded of the benefits of spending time outdoors and embraced dining and drinking outdoors or in patios, rooftops and indoor spaces that embrace biophilia by bringing the feelings of the outdoors inside. Many of our properties invested in bigger and better outdoor spaces, including heating lamps and sophisticated seating, as well as innovated touch-free technologies, such as menu QR codes or even a revolutionary pancake maker at Tru by Hilton, which creates golden pancakes with just the wave of a hand.
What's the secret to keeping complimentary breakfasts fresh, delicious and competitive? 
It's no secret that breakfast offerings, including complimentary hot breakfast at select properties, are important to the travel experience. Today's travelers also seek healthier options to eat and drink while prioritizing locally sourced food and beverage products. Though previously, morning dishes like avocado toast, grain bowls and smoothies were viewed as a trend, these fresh, more healthful items are now an expectation among our guests. We have recognized a shift in dietary preferences as well, with some guests opting for gluten-free, vegan, vegetarian and protein-based alternatives, like tofu and plant-based meat. On the other hand, we also acknowledge some guests want to indulge when traveling, so we don't anticipate breakfast favorites, like fresh-baked waffles at Hampton by Hilton, will be disappearing any time soon.
What advice would you give people wanting to build a career in the restaurant and culinary industry? 
When I started my job in the restaurant business in high school, little did I know the impact it would have on me. Seeing the joy and excitement of the people I was serving became my number one focus. I attended the Culinary Institute of America, which not only provided me an exceptional education, but it also introduced me to invaluable professional connections.
It can be a challenging industry, considering, at times, the long hours, holidays, weekends. However, it's an amazingly dynamic profession that allows for growth, development and opportunity in a life-long career. One doesn't have to be a cook, a chef, a server or a front-of-the-house manager to work in culinary. Today's culinary graduates can create their own niches and paths, such as sustainable farming, beer making, business management, television, hotels or social media. Ten years from now, we're going to see the food and beverage industry moving at an even faster pace. For anyone who loves food, there are many ways to grow and be successful in the culinary industry.