Día de los Muertos (Day of the Dead) is celebrated on November 1 and 2 by Mexicans and Mexican Americans to remember deceased loved ones, and to accept death as a natural part of the human experience.  Participants of all ages paint their faces as cheerful calavera (skulls), wear colorful costumes and join in parades, among other fun rituals.  The 3,000-year-old holiday is a festive, joyous time and one of Mexico's most important celebrations as diverse as the country itself.
Offering travelers elevated food and beverage, world-class hospitality and unique local culture, Hilton's growing All-Inclusive resorts in Mexico — specifically Hilton Playa del Carmen, an All-Inclusive Adult Only Resort and Hilton Cancun, an All-Inclusive Resort (opening November 7) — are offering tips and recipes for celebrating Día de los Muertos in an authentic way.
Invitation is the Foundation of the Holiday
The cornerstone of Día de los Muertos is the "ofrenda" (offering), an altar decorated at grave sites and in homes to invite the spirits of the dead back home.  Ofrendas include elements representing air, water, fire, and earth.
"At home, we create ofrendas to honor our deceased loved ones," explains Alejandra Vela, Guest Experience Manager at Hilton Cancun, All-Inclusive Resort.  "In graveyards, we gather with our family and clean the graves, then we decorate them with flowers, photos, candles, food and drinks.  We stay up all night in the graveyards, sharing stories and anecdotes of our dead ancestors.  During this time, it is believed that the deceased return to their earthly homes to visit and celebrate with them." 
Blending Mexican heritage with modern sophistication in a one-of-a-kind beachfront paradise, Hilton Cancun, an All-Inclusive Resort offers curated adventures in local art, gastronomy and culture, and boasts 12 unique dining experiences, including five specialty restaurants and three bars. 
How to Build an Ofrenda to Invite the Dearly Departed
Find a place in your home to welcome in your departed loved ones–a desk, table or any flat surface will do!  The most traditional ofrendas have seven levels and numerous items including:
A cherished picture of the departed to give their spirit a place to visit
Candles and incense to light the spirits' way home
Orange or yellow marigolds to symbolize life
The departed's favorite food, drinks, books or mementos
Pan de Muertos, a sweet bread designed to resemble the shape of skull and crossbones for hungry souls to enjoy (recipe below)
Drinks, including Mexican Hot Chocolate (recipe below), and salt to protect otherworldly guests
Sugar skulls to represent the sweetness of the departed's life
Papel picado, a colorful, decorative tissue paper believed to represent the delicate nature of life, with holes allowing a way for souls to travel through and visit
Once you have created your ofrenda, gather your loved ones to remember your ancestors.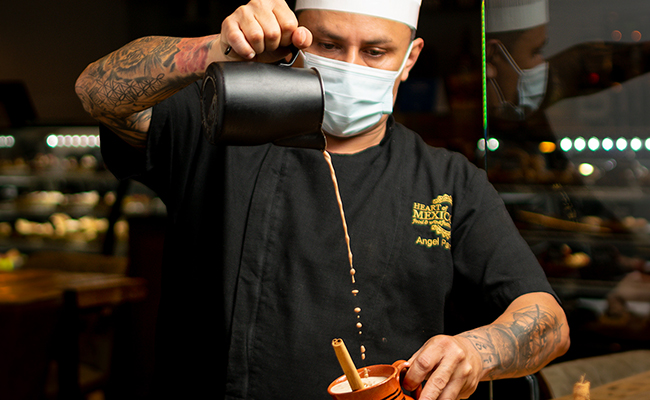 Break Bread with the Dead through a Pan de Muertos Recipe
Pan de Muertos is a sweet bread feasted on throughout the holiday, that will satisfy your sweet tooth and can serve as an offering for the ofrenda.  Pan de Muertos has become a delicious Día de los Muertos tradition to be shared with family — living and dead.
Chef Luis Parra at Hilton Playa del Carmen, an All-Inclusive Adult Only Resort — is sharing the hotel's recipe for you and your deceased to enjoy. 
INGREDIENTS – yields 4 pieces
Bread
¼ cup water
1 ½ tablespoons active dry yeast
1 pinch of sugar to ferment yeast
5 cups all-purpose flour
4 eggs
2/3 cup condensed milk
1 tsp salt
1 tsp vanilla extract
2 tbsp orange zest
¾ cup sugar
1 cup butter
VARNISH
4 tbsp melted butter
¼ cup sugar
PREPARATION
Dissolve the yeast and the pinch of sugar in the warm water. Let it rest for 5 minutes or until fermentation. 
In a large mixing bowl, place the flour, eggs, condensed milk, salt, vanilla, orange zest, and yeast. Use a mixer to beat at low speed until it gains body. If by hand, pour the flour in a large bowl and add the rest of the ingredients one by one and in small amounts before mixing. 
While mixing slowly, add the butter in small, soft dice, alternating with the sugar. Beat the mixture for 10-15 minutes, until the butter is fully incorporated.
The dough should be sticky, but it should hold its shape while in a ball without spilling to the sides. 
Grease a large bowl with butter and let the dough rest. Cover with plastic or cloth for 3-4 hours or until doubled in size. 
Knead lightly and divide the dough into 5 equal parts. Separate a fifth and stiffen it a little by adding more flour and reserve. 
With the other 4 parts, form the compact bread balls and place them on previously greased trays. Let them rest for 30 more minutes. You will notice that they expand a bit and lose their smoothness. 
While you let the four balls rest, use the fifth part of the dough that you reserved to form the "bones" and balls that will go in each loaf. Roll out eight long, thin pieces as the bones and small balls to go on each end. Let them sit for about 10-15 minutes. 
Once the balls of dough and the bones have rested enough, glaze the loaves with a little water to serve as glue and put on the loaves. Let sit for 2 more hours, or until they double again. 
Bake at (350 °F) for 18-20 minutes until the surface is golden brown.
When the breads come out, let them cool for 10 minutes. Brush them with the melted butter and sprinkle with sugar to taste. Enjoy!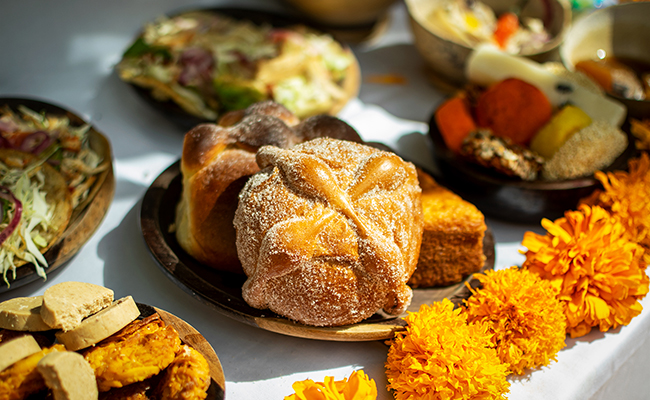 Warm Your Spirits with a Mexican Hot Chocolate
Chef Luis Parra of Hilton Playa del Carmen, an All-Inclusive Adult Only Resort also has a delicious Mexican Hot Chocolate recipe that will be sure to warm your soul.  
INGREDIENTS 
1 ½ cups Mexican melting chocolate
3 tablespoons of honey
4 cups milk or milk substitute  
1 cinnamon stick or pinch of cinnamon 
1.5 oz Tequila (optional) 
PREPARATION
Roughly chop or grate Mexican chocolate and set aside.
Over low heat, bring four cups of milk in a small saucepan to a gentle boil.
Mix in the chocolate and honey stirring frequently with a molinillo, globe beater, or whisk until dissolved and foam is generated.
Remove from heat. While chocolate is hot and frothy, sprinkle with cinnamon and serve with pan de muerto.
Optional: Add 1.5 ounces of your favorite tequila for a delicious, spiked version.
Enjoy your holiday this year with family and friends. And for those who have left this world, it's time to celebrate the impact they've left on us.