Drinks bring Mexico's culture to life with history, flavor—and even a bite of venom
When guests step into Sotol at Hilton Los Cabos Beach & Golf Resort, they enjoy much more than a cocktail — because sipping a sotol means getting a glass full of Mexico's vibrant history and culture.
Sotol spirits (not to be confused with tequilas or mezcals, which are derived from the agave plant) are distillates produced from the dasylirion lucidum plant, also known as the desert spoon. There are more than a dozen species of desert spoon that grow throughout Mexico, which means the flavor of different varietals is influenced by climate, rainfall level, and local vegetation. 
Sotol Agave Bar offers the largest list of sotols in Los Cabos with 47 different labels representing flavors throughout the region, sotol blends, and the eye-popping venom sotol. 
At the helm of it all is Sotol Head Bartender Miguel Saavedra, a mixologist with 19 years of experience behind the bar.
Here, he shares his expert insight for those interested in jumping into the world of sotols.
As a mixologist, when did you become a fan of sotols?
"I became a fan of sotols when I learned about the history and culture behind each bottle, the work behind each distillate, and the 800-year legacy of knowledge passed from generation to generation. I enjoy learning about the origins of this culture and the medicinal properties of this spirit and take pride in sharing this knowledge with our guests." 
What makes sotols distinct from other spirits?
"Flavor!  Within these distillates, we can find flavors such as cooked agave, citrus, mineral, herbal, and fruit flavors, [as well as] aromas of cinnamon and vanilla found in the barrels where they rested. The complexity of flavor tells an intricate story of the terroir and even the size of the plant. Interestingly, Sotol is not derived from agave but from a plant in the onion and garlic family that provides a smoky flavor similar to a mezcal." 
What are the most popular sotol-based drinks?
"The most famous drink is the margarita. We try to give it many variations so that when our guest tries them they have a new experience. In the same way mezcal has become very fashionable and is a distilling that contributes a lot to cocktails such as the mezcalita, which is one of the most famous cocktails."
What range of sótols are offered at Sotol at Hilton Los Cabos?
"Within our list of sotols we can find a great variety such as ancestral that are a jewel due to their technology-free process, as well as blend, reposados, double and triple distillation white groves, the most sought-after rattlesnake sotol. We also have sotols from groves from the three states with the designation of origin to produce this distillate, which are Coahuila, Chihuahua, and Durango." 
For someone who wants to make a great sotol cocktail at home, where should they start?
One of my favorite Sotol cocktails is The Venom, which isn't as intimidating as it sounds!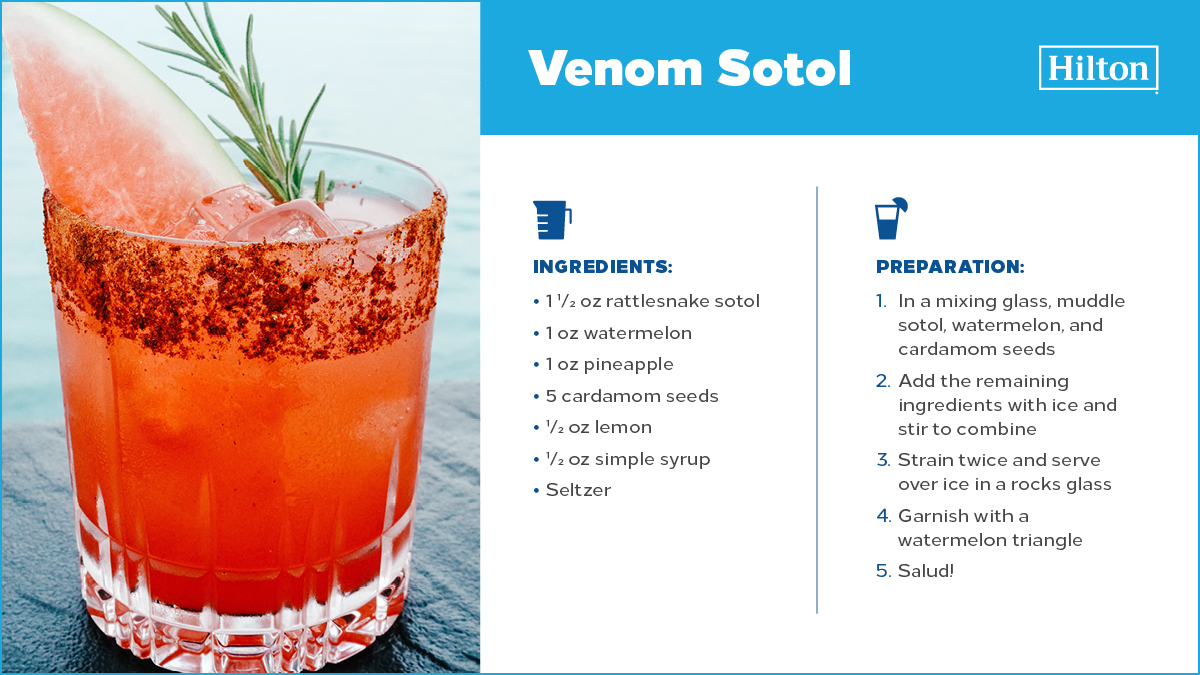 Download Recipe Here