Drum up excitement by making it a special occasion, seek familiar menu items
When dining with little ones in tow, you'll likely find an abundance of chicken fingers and hot dogs on the menu. But for those looking to introduce their kids to finer fare, Hilton luxury brands and their restaurants offer a wealth of options to help make eating in a "fancy" restaurant a breeze. 
At Conrad Punta de Mita in Mexico and Waldorf Astoria Monarch Beach Resort & Club in California you'll find luxe menus that cater to kids. Whether savoring wood-fired meats in a breathtaking open-air setting at Conrad Punta de Mita's Mezquite or delighting in modern dishes with a Latin American twist at Waldorf Astoria Monarch Beach Resort & Club's Aveo Table & Bar, younger traveler taste buds will enjoy exciting new flavors presented in an unintimidating way.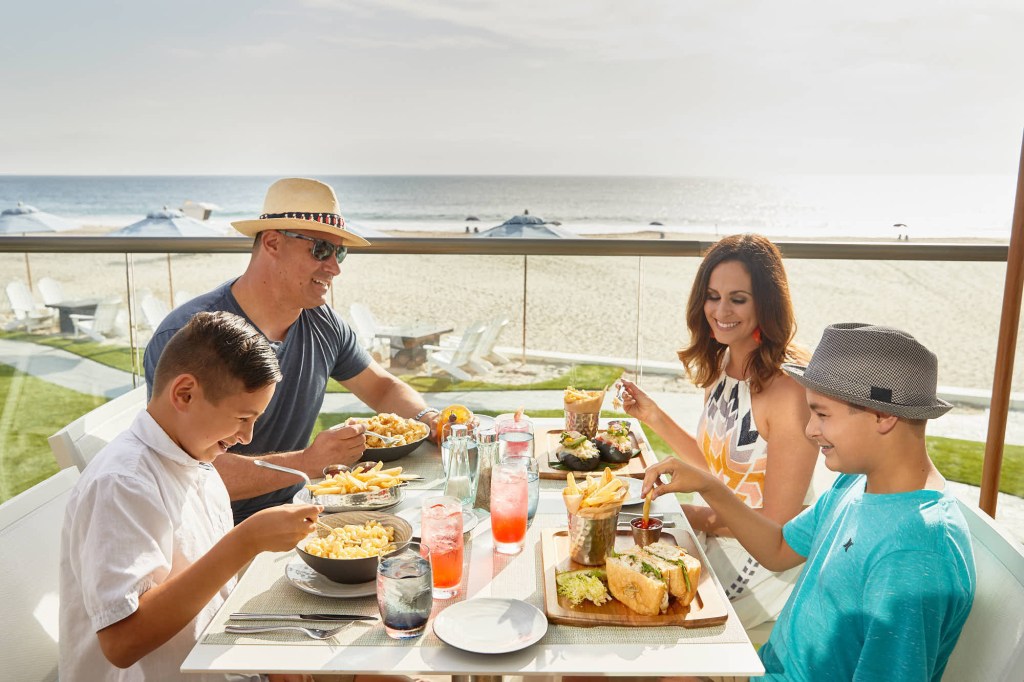 Are you eager to share an upscale culinary experience with your entire brood? Chef Roberto Portocarrero from Conrad Punta de Mita and Executive Chef Jean-Pierre Dubray from Waldorf Astoria Monarch Beach Resort & Club were asked to share their tips for helping introduce kids to more sophisticated dining experiences.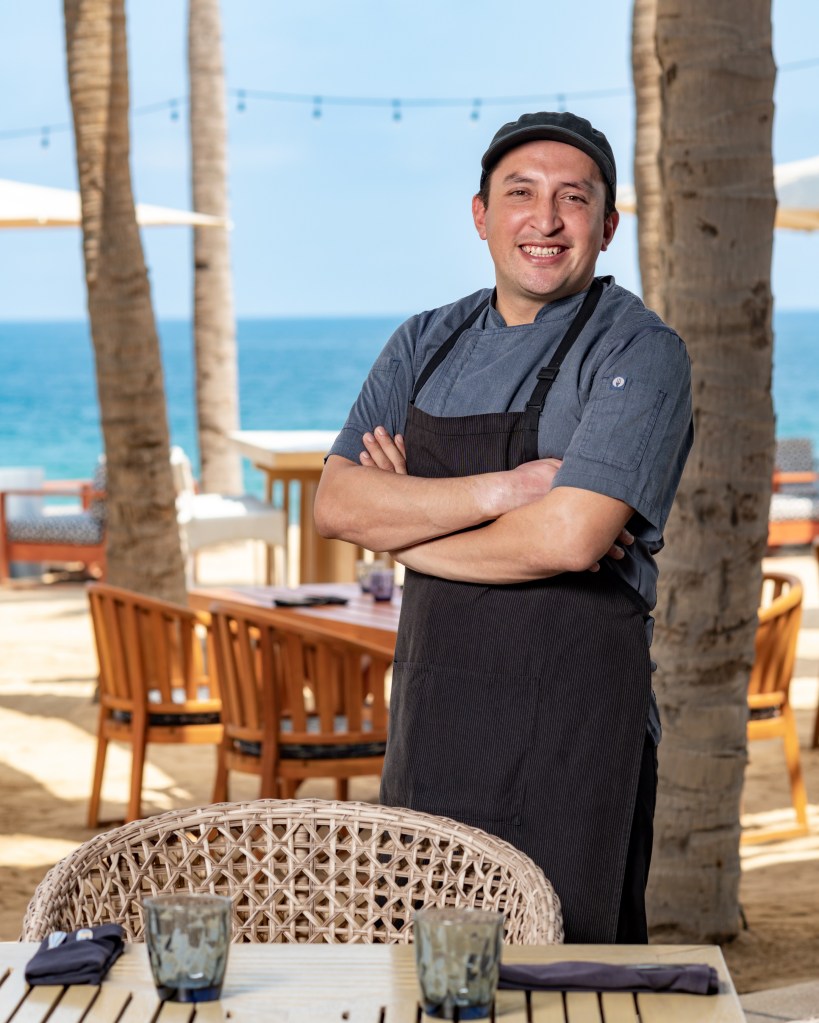 What is the key to introducing kids to gourmet food?
Roberto: Start with easy-to-eat dishes – tacos are a great example – and allow your kids to eat with their hands. Make it tasty and simple to enjoy before moving on to more complicated cuisine that requires silverware. 
Jean-Pierre: It's important to involve your kids in the kitchen as much as possible. The more they're exposed to different types of food, where it comes from, and the ways to prepare it, the more they will learn about the world and the benefits of eating quality food.
What's the value in starting this culinary journey at a young age? 
Roberto: I think is important for kids to discover the diversity of flavors and dishes they can enjoy early, before they get used to the traditional fast-food menus you find everywhere. I guided my own son from a young age by serving up traditional Mexican dishes, which opened his horizons and inspired him to be a foodie who enjoys a wide variety of cuisine.
Jean-Pierre: Educating children about food at a young age gives them the opportunity to learn about different ingredients, expand their palates, and will likely lead to their making healthier food choices on their own as they get older.
What dishes on your restaurant menus are good first steps?
Roberto: Our menu offers a diversity of dishes that incorporate both new and familiar flavors. Items such as lobster mac & cheese, fish and shrimp tacos, lobster empanadas, grilled veggies, and zarandeado fish and chicken all offer great opportunities for kids to discover new flavors.
Jean-Pierre: Simple dishes that have an element of familiarity are a great place to start. For example, our yuca steak fries are prepared in a way that is similar to classic French fries, but introduces a new ingredient for kids to enjoy. The yuca fries are also served with a cilantro crema sauce, introducing slightly more complex flavors than a simple sour cream. In addition, we offer a selection of gourmet flatbreads that would make a great transition into luxury dining for kids who are familiar with staple menu items such as pizza and garlic bread.
How can diners work with the restaurant to create the best family-friendly dining experience?
Roberto: I recommend starting with our family-style experience that brings different dishes to the table, allowing everyone in the family to pick and taste the variety of Mexican gastronomy to determine what they like best.
Jean-Pierre: We love when our guests ask questions about the menu so that we can know their preferences and help make recommendations based on the family's needs. Open communication and engaging interactions between servers and guests are the recipe for making an unforgettable dining experience for all!
Yuca Steak Fries with Cilantro Crema from Aveo Table & Bar at Waldorf Astoria Monarch Beach Resort & Club
2-3 side servings
Ingredients
2 yuca roots
Olive oil
1 tablespoon cotija cheese
1 cup sour cream
0.25 cup cilantro
1 lime, juiced
0.5 teaspoon salt
0.5 teaspoon pepper
Parsley (optional)
Directions
Rinse the yuca, cut off both ends and then cut into two- to three- inch segments. Use a knife to peel off the skin of the yuca.
Cut out and discard the core of the yuca and slice the root pieces lengthwise into quarter-inch sticks.
Coat the bottom of a large skillet with olive or another neutral oil (up to 2 inches high) and heat over medium-high heat to a temperature of 350º F.
Add the yuca strips to the hot oil in small batches. Fry until golden brown, turning occasionally.
Carefully remove the fries with a slotted spoon and place them on paper towels to drain.
Sprinkle with cotija cheese and parsley, serve, and enjoy!
For the Cilantro Crema: Combine sour cream, cilantro, lime juice, salt and pepper into a blender.
Blend ingredients until smooth and fully combined.
Cook's Note
Leftover yucca fries can be stored in an airtight container in the fridge for up to 4 days. They can be reheated in a frying pan, oven, or air fryer to keep them crispy.
Ingredients
120 gr Elbows pasta N4
30 gr parmesan cheese
60 gr Cheddar cheese
80 gr cream cheese
20 gr butter
1 gr Colima salt
1 gr black pepper
30 gr truffle sauce
120 gr Lobster tail
Directions
Heat a pot with water and salt to cook the pasta, leaving it a little harder than al dente.
In a frying pan, mix the flour diluted in a little cold milk and then add the rest of the milk, the teaspoon of mustard, a pinch of salt and a pinch of pepper. Mix well and heat over medium heat.
Then lower the heat to the minimum and add the cheddar cheese, stirring again until it is incorporated.
When the pasta is cooked, mix it with the truffle sauce and place it in a baking dish. Cover with the grated parmesan cheese and bake in the oven on medium-high for 2 minutes.
Add previously cooked lobster.