Let the good times roll in New Orleans with these must‑try Mardi Gras tips, traditions and treats
Excitement is building as the full festivities of Mardi Gras return to New Orleans this year, for the first time since 2020. From parades and super krewes to delicious food, king cakes and more, there are so many unique traditions to experience during the world-famous celebration.
At The Roosevelt New Orleans, A Waldorf Astoria Hotel, guests visiting during the Carnival season are welcomed by the lavish city block-long lobby lit up in purple, green and gold, along with festive décor and displays. Guests can also indulge in seasonal food and beverage specialties including takeaway king cakes, king cake-themed lattes and martinis, edible cocktails and more.
We had the pleasure of chatting with Jason Schneider, executive chef at The Roosevelt New Orleans, A Waldorf Astoria Hotel, who has lived in and around New Orleans for more than 20 years. He talked about the history of Mardi Gras, some of the must-dos for Mardi Gras first-timers, the best foods to try when visiting New Orleans, and even shared the recipe for the hotel's Chicken Clemenceau.
Q: Can you share the history of Mardi Gras?
A: Wow, this is a question for a historian, and you can expect a lengthy answer. Basically, it is to celebrate the upcoming religious season of Lent. It is celebrated in most countries with a large Roman Catholic population. The parade and throws have developed locally, making our Mardi Gras Unique. 
Q: What is a must-do for someone visiting for Mardi Gras for the first time?
A: I think a parade is at the top of everyone's list, but I recommend going to one of our "super krewes." They are awash with celebrities, have the biggest budgets, the most lavish floats and throws. Krewe of Endymion is probably the most famous, but you also have Bacchus, Rex, and Zulu.
Q: What makes this city's food unique from a chef's standpoint?
A: We have more traditional dishes in Louisiana than any other place in America. Boudin, Tasso, Andouille, Rice Dressing, Stuffed Mirlitons (Chayote Squash), Gumbo, Jambalaya, and I am just getting started.
Q: What type of cuisine and types of foods are must-tries?
A: There is so much out there. Try the boiled crawfish and an oyster po'boy (get it dressed, lettuce tomato, mayo, and pickles). February-March is when you can get crawfish and oysters both in season. If you're not a seafood lover, try a muffuletta at Central Grocery. I have been eating sandwiches from there since I was a small child. They used to have barrels of olives, salted cod, stacks of fresh-baked bread, and these ornate clear glass urns of vegetables meticulously arranged and cured in olive oil — sensory overload. Don't expect to see that these days, but they make the same great muffuletta. Be warned they don't do any modifications. You get a half or whole. Grab a nice beer or wine from the packaged store next door and head to the Levee of the Mississippi River for a great picnic. 
Q: What is the history behind the king cake?
A: Its origins are to celebrate the Epiphany in Catholicism. The cake is known as "three kings cake" and again can be found throughout the world where there is a Roman Catholic presence. Many natives think that it is a local dish and part of our celebration of Mardi Gras. This included me until I was working in Mexico; I saw some king cakes in a bakery one day, and I was flabbergasted. In Mexico, whoever gets the baby has to have a tamale party. Here in New Orleans, you have to provide the next king cake.
Q: What is your favorite Mardi Gras dish that's prepared at the hotel? Can you share a recipe?
A: Something I like to make this time of year is Chicken Clemenceau. This is a recipe for a traditional dish that you will have a tough time finding in a restaurant unless you happen to visit one of our more classic restaurants like Galatoire's. They have been serving this dish since the 1920s. It is quickly made at home in one pan, and its simple ingredients make up something more delicious than its sum of parts. For a more elegant presentation, use a whole roasted chicken. We also have this dish on our banquet menus for lunch.
Chicken Clemenceau Recipe
Ingredients:
2 lbs fresh boneless chicken
1 lb of mushrooms
1 stick of butter  
1 teaspoon of garlic 
1 onion julienned
1½ lb diced potatoes, lightly fried and tender (can use frozen or diced fresh) 
1 cup white wine
1 cup of English peas, fresh, blanched or frozen
Salt and pepper
¼ cup chopped parsley
Chicken jus or reduced chicken stock (unsalted)
Chopped cherry tomatoes (optional garnish)
Directions:
Start by cutting your chicken into similar size pieces and season with salt and pepper. 2" x 2" is good but can be smaller, your preference.
Sauté chicken with half the butter until cooked to 165 F. Remove chicken and reserve, keeping warm.
Add the onions and the rest of the butter to the skillet and sauté lightly. Add your mushrooms (I like to use cremini or white. You can use any mushroom you like but the flavor profile won't be the same as the original) and garlic, then continue to sauté until mushrooms are cooked, and most liquid has evaporated.
Add white wine, reduced chicken stock, peas and potatoes. Turn up the heat, reducing the wine and stock to glaze the potatoes.
Return the chicken to the pan and the potatoes.
Add your parsley and toss until parsley is warmed and integrated into the dish.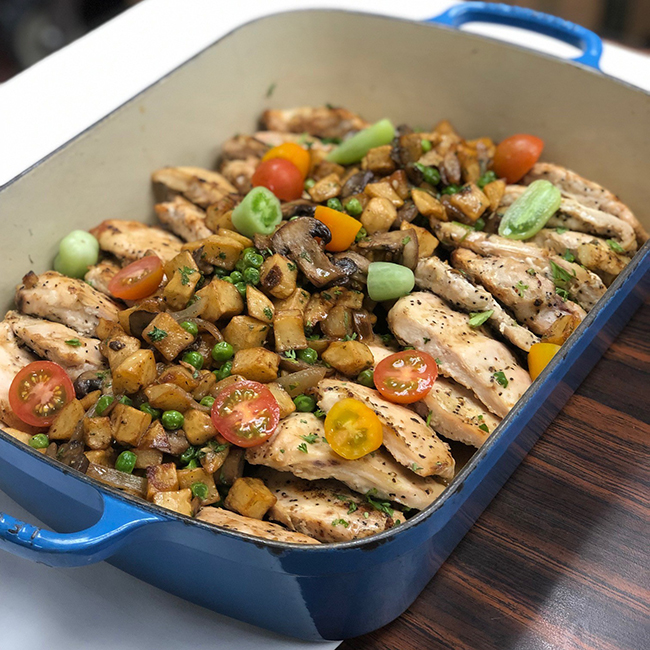 And that's not all! Located on the river and within walking distance to parades in the French Quarter, on Bourbon St., Canal St., and more, Hilton New Orleans Riverside provides another perfect destination to unwind before and after a day of celebrating. The hotel is excited to welcome guests and locals alike to celebrate the Carnival season with the return of the Krewe of Shoebox float contest this year. In 2021, the hotel introduced the float-making contest to reignite the Carnival spirit and entice people to get creative through self-expression and creativity with a tradition that could be enjoyed both locally and globally. This year's shoebox float contest is raising funds for the Louisiana Hospitality Foundation, and the entries will be displayed in the lobby through March 2.