Add these five stunning covered bridges to your fall travel itinerary
Flume Covered Bridge - Photo Credit: James Kirkikis/Shutterstock
Covered bridges are more than simply scenic relics of a bygone era. They've endured for centuries thanks to their timeless charm and today hold a special place in American history and culture. Whether it's the popular covered bridges of New England or the iconic structures of the Midwest, eager travelers venture to off-the-beaten-path locales to catch a sight of the beauty of wooden trusses and shingled roofs. 
Come fall, these distinctive landmarks become even more picturesque as they're surrounded by autumnal colors, captivating the imagination of travelers and photographers alike with a sense of nostalgia. When making your own pilgrimage to explore the nation's most well-preserved bridges, you'll want to be sure to add these five stunners to your itinerary.
Roseman Covered Bridge: Winterset, Iowa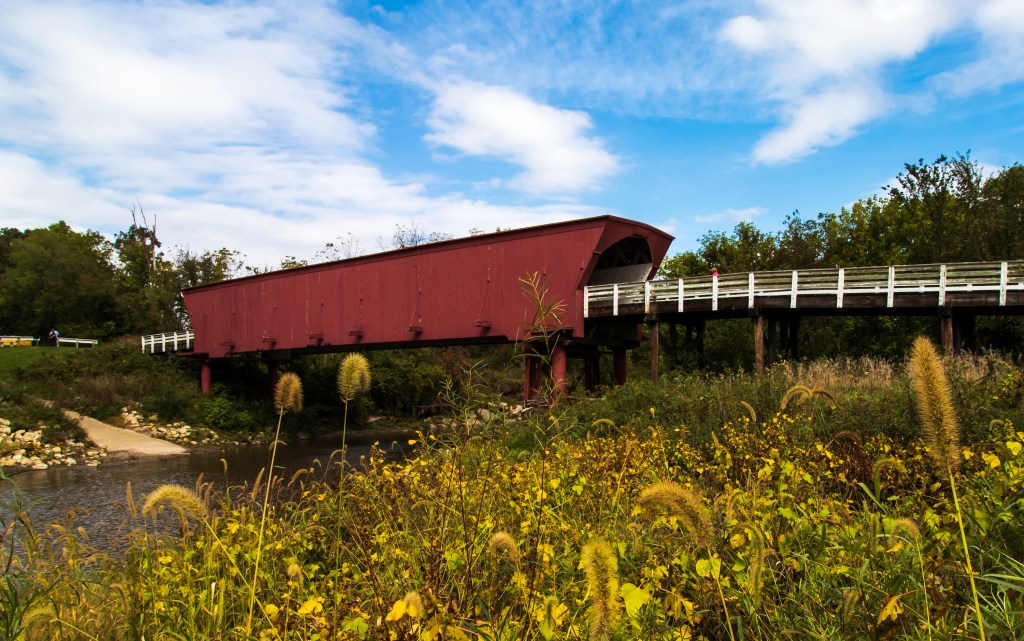 No Midwestern road trip would be complete without a visit to the iconic Roseman Covered Bridge. This striking, long-lasting symbol of America's rural heritage comes alive in autumn when the surrounding foliage bursts into vibrant shades of yellow, orange, and red. Continue through Madison County to discover the region's other photogenic covered bridges, including the equally picture-perfect Cedar Cover Bridge, Hogback Cover Bridge, and Imes Bridges, among others.
Flume Covered Bridge: Franconia Notch State Park, New Hampshire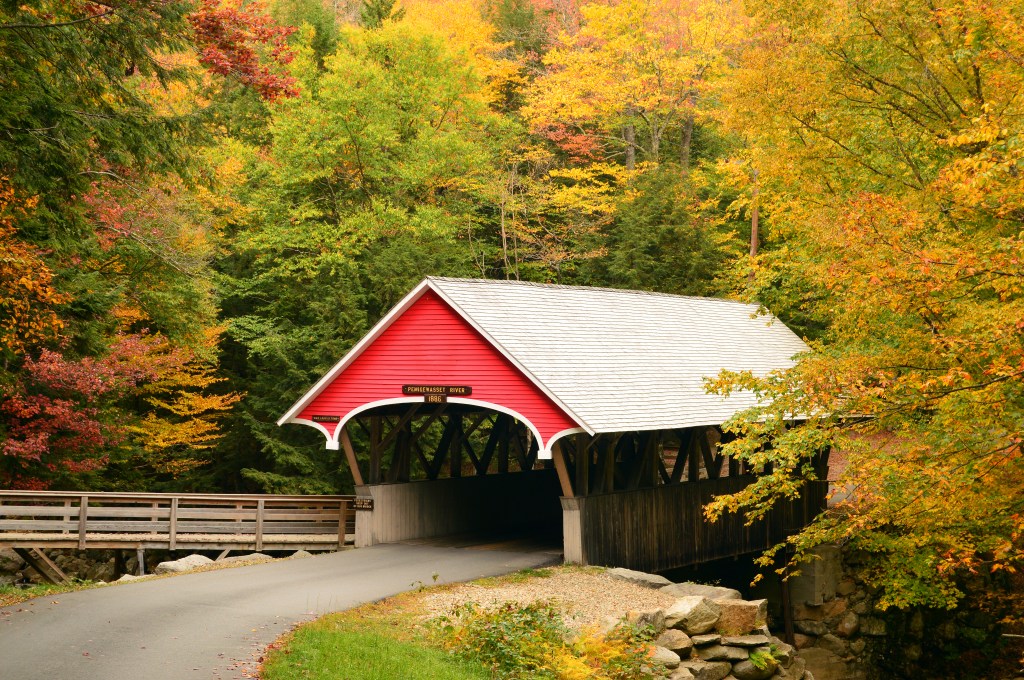 New Hampshire's Flume Gorge is a popular stop for hikers looking to take in impressive views of rock formations, waterfalls, mountaintops, and other natural wonders. The trek to this chasm is a breathtaking two-mile journey that offers the opportunity to marvel at a man-made charmer as well: Flume Covered Bridge. Built in 1871, this idyllic red-hued structure spanning the Pemigewasset River is the oldest covered bridge in New Hampshire and considered one of the most beautiful in the nation.
Felton Covered Bridge: Felton, California
Thanks to a restoration effort in 1987, California's bewitching Felton Covered Bridge continues to stand as the tallest covered bridge in the United States. This imposing bridge is a sight to behold, and a stroll inside the towering structure is sure to make any traveler feel small in comparison. The area surrounding the bridge is also lovely, offering a park with playgrounds, volleyball, and other outdoor activities, making this a perfect destination for anyone seeking a leisurely outing on a crisp fall day.
Horton Bridge: Amnicon Falls State Park, Wisconsin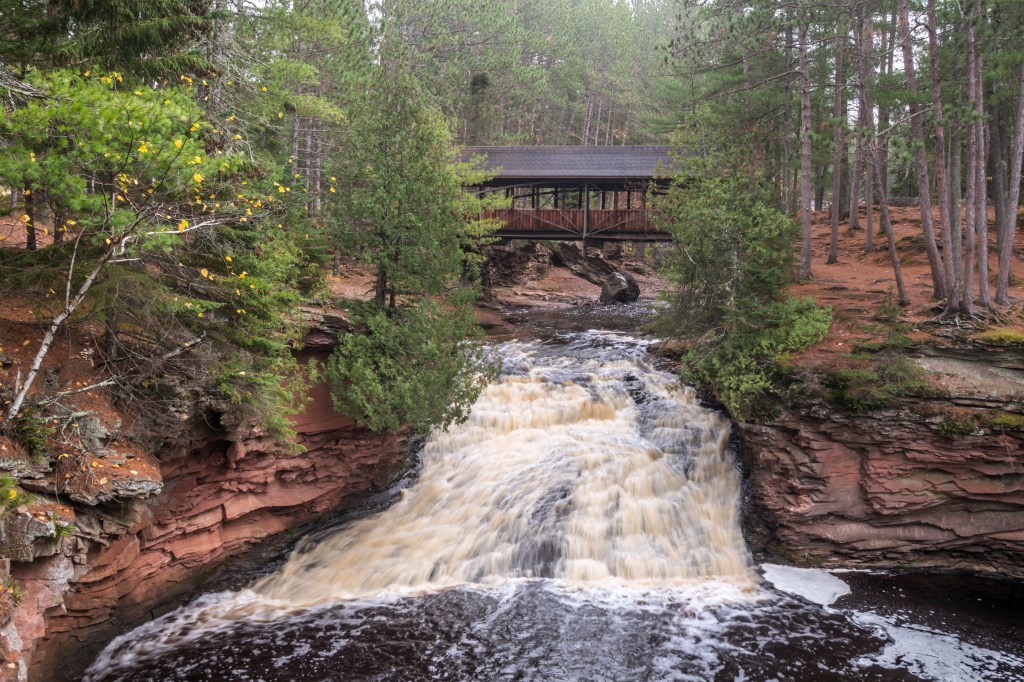 Picturesque Amnicon Falls State Park in Wisconsin is teeming with beguiling hiking trails and enchanting waterfalls. But explorers who visit the park are drawn to one spot in particular: Horton Bridge. The bridge itself is not only spectacular, but it's also regarded as one of the best places to take in views of the park's magnificent Lower Falls. Equally impressive is Horton Bridge's innovative design, which eliminated the need for rivets and bolts, thus allowing the structure to be assembled without the use of expensive tools and machinery.  
Sachs Bridge: Gettysburg, Pennsylvania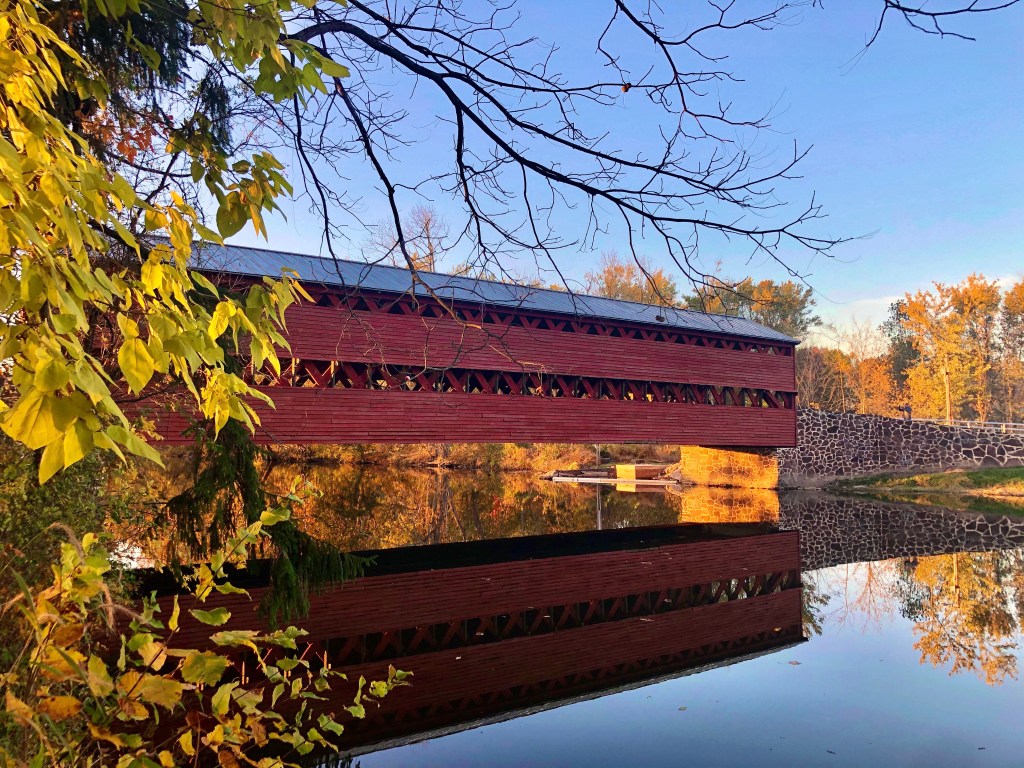 Travelers visiting the storied Gettysburg Battlefield needn't travel far to find an historically significant covered bridge. Sachs Bridge is notable for being used by both the Union and Confederate Armies during the Battle of Gettysburg, and the tales surrounding this renowned sight live on today. Many claim the bridge is haunted by Civil War ghosts, and it's been the subject of several paranormal investigation shows..