A recent consumer trends survey by Hilton revealed that people are looking for travel experiences in 2023 that align with their wellness goals and priorities and appeal to mind, body and spirit. As well as physical fitness, improving mental and emotional health whilst travelling is considered a priority.
In tune with its survey findings, Hilton has the perfect "Alpine getaway" recommendations for an early 2023 trip, where travelers can look forward to snowy fun in the mountains while still being able to enjoy all amenities of a beautiful European city.
Explore the most elevated town in Europe
The highest town in Europe, Davos, Switzerland is famed for its diversity of winter activities across the lofty Swiss Alps. A bucket list experience for hikers, snow boarders, skiers and nature lovers, Davos is where the ultimate adventure awaits. Surrounded by panoramic views of the Alps, Hilton Garden Inn Davos is located just five minutes from Davos Platz with cable car access to the famous Jakobshorn ski resort. 
After a day of enjoying the snowy mountains, guests can unwind in the wellness area with a relaxation room, sauna and steam bath or sit by the fireplace. Once everyone is warm and cosy again, guests can head down to the inhouse grill restaurant which offers delicious local dishes or international classics. 
A mountain and city escape in Munich
Munich is famous for its many parks, unique breweries, cultural offerings and diverse culinary scene. It is also very easy to head out to the mountains and many lakes in the surroundings by car or public transportation – from exploring Tegernsee with the Wallberg to skiing at Zugspitze during a trip to Garmisch-Partenkirchen. 
Hilton Munich Park encompasses the Englischer Garten, a large public park, as part of the hotel. Every room features a private balcony with stunning views over the park and upwards to the majestic Alps. Once back from exploring the surrounding mountains or the city center, guests can unwind in the Fitness & Relaxation Area. In the evening, the Tivoli Restaurant offers a culinary journey through the alpine regions in Central Europe and the People's Bar is perfect for a night cap. 
Hilton Munich City offers easy, walkable access to the old town, and the adjoining S-Bahn station connects the hotel to the airport, main station and city center. The Juliet Rose Bar is the place to be with the beverage menu split into four categories relating to the botanical properties from root to fruit: woody, herbal, floral and fruity. 
Anyone who would like to make a gourmet culinary stop during the drive to the Alps can do so at Hilton Munich Airport. The Michelin-starred Mountain Hub Gourmet Restaurant offers fine dining options celebrating modern Alpine cuisine, and during the winter there is also an exclusive raclette special.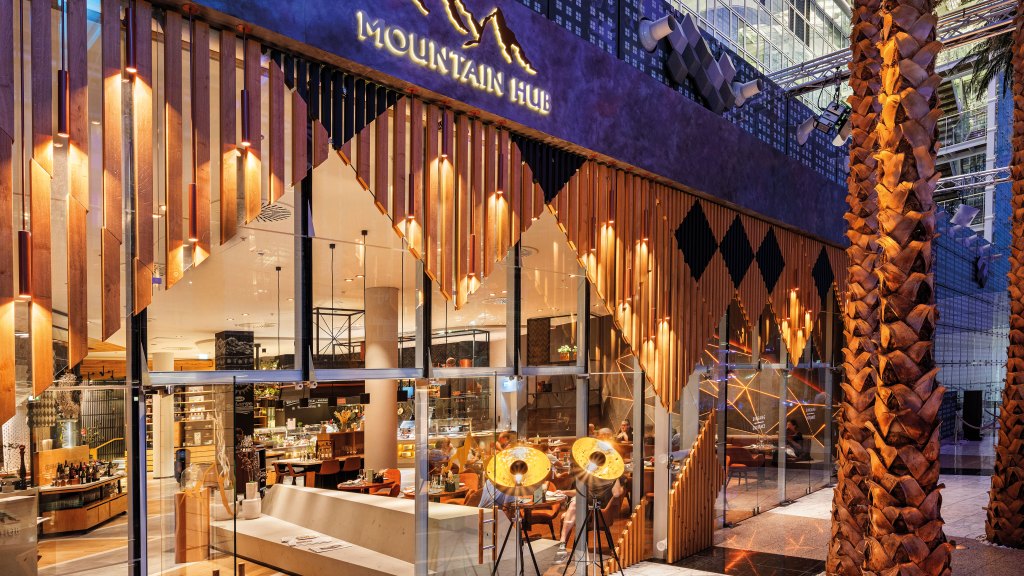 Alpine panorama in Geneva
With Lake Geneva and the Alps in the background, Geneva, Switzerland is one of the most picturesque cities in Europe and offers various winter sports activities. Located just one hour away is Glacier 3000, a station overlooking twenty snow-capped peaks above 4,000 meters of altitude. Activities include walking across the world's first suspension footbridge spanning two summits and sliding down the outdoor Alpine Coaster for a rush of adrenaline. Travelers can also enjoy a ride across the glacier with sledge dogs.
After a day exploring the area, relax and unwind at Hilton Geneva Hotel & Conference Center which offers a heated pool, whirlpool, sauna and hammam. L'Olivo Restaurant offers contemporary dining options with local and seasonal products from the region. Children will feel at home thanks to confirmed connected rooms and menus designed specifically for them. 
Explore Lake Como in the winter
While Lake Como is a very famous Italian destination in spring and summer, winter is also a great time to visit the picturesque area in northern Italy, with various ski resorts such as Piani di Bobbio and Monte Sighignola just 30 minutes away by car. As well as the ski slopes, there are lots of areas for sledding or snowboarding within an hour away. For example, Lanzo Intelvi is a well-known winter tourist resort with climbing facilities and skiing tracks. It is also a point of departure for climbing routes onto neighbouring mountains.
Located a few steps from the lakefront, Hilton Lake Como offers guests a pleasant and relaxing stay whilst enjoying the tranquility and beauty of Lake Como. When guests are not out exploring the mountains or the idyllic old towns, the eforea spa and health club is a great place to unwind and enjoy massages, body wraps, the sauna and more. Guests can also enjoy a dip in the heated infinity pool overlooking the magnificent lake. Located on the ground floor, Taffeta is a modern lounge during the day, and an elegant classic bar by night, reflecting the spirit of Milan blended with the essence of Como.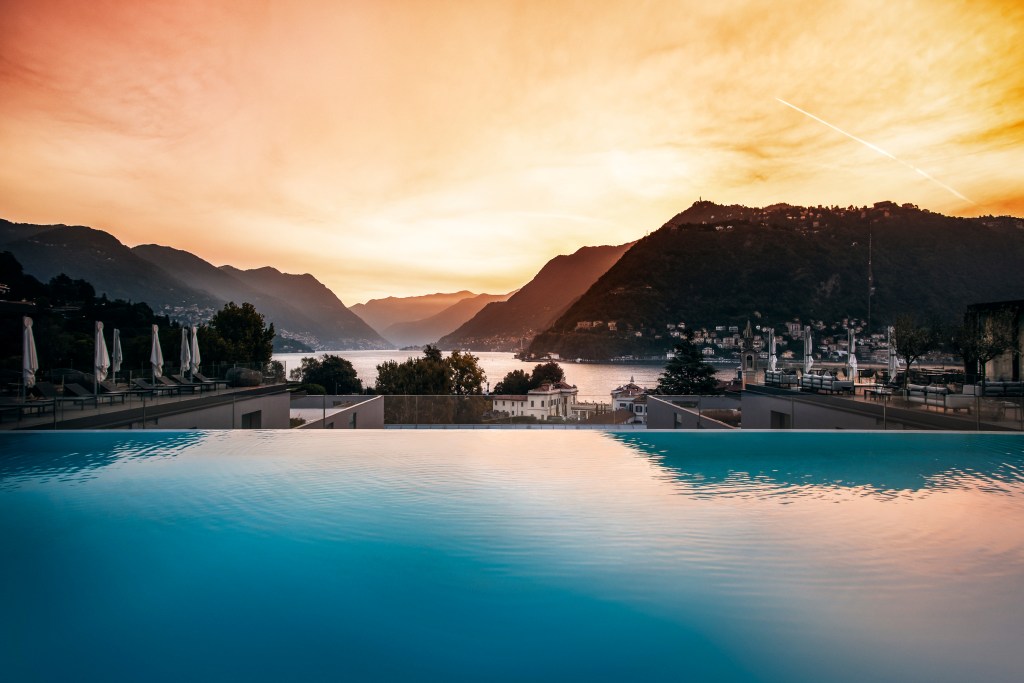 Culture and winter fun in Vienna
Known far and wide for its imperial palaces, rich cultural offerings and delicious culinary treats, the Austrian capital of Vienna is perfect for urban explorers. Not too far from Vienna are a number of options to enjoy some skiing and snowy fun, most of which can be reached in under two hour's drive. Semmering Hirschenkogel, for example, is perfect for beginners and 90 minutes by car from Vienna. The closest ski resort to Vienna is Unterberg Pernitz, which can also be reached by public transport. This ski resort offers 16 kilometers of slopes for beginners to more experienced freestyle skiers.  
Hilton Vienna Park and Hilton Vienna Plaza are excellent choices for those who like to combine an urban city trip and winter experiences. The ÉMILE Restaurant & Bar at Hilton Vienna Plaza offers travellers and locals alike creative Austrian and French cuisine while they enjoy the unique atmosphere of the golden twenties. LENZ – Social Dining at Hilton Vienna Park is great for everyone who craves delicious Austrian classics with an innovative twist. Hilton Vienna Danube Waterfront, located right at the Danube River, invites its guests and smaller groups for a round of curling with some punch and chestnuts before enjoying a lovely dinner in the Waterfront Kitchen Restaurant.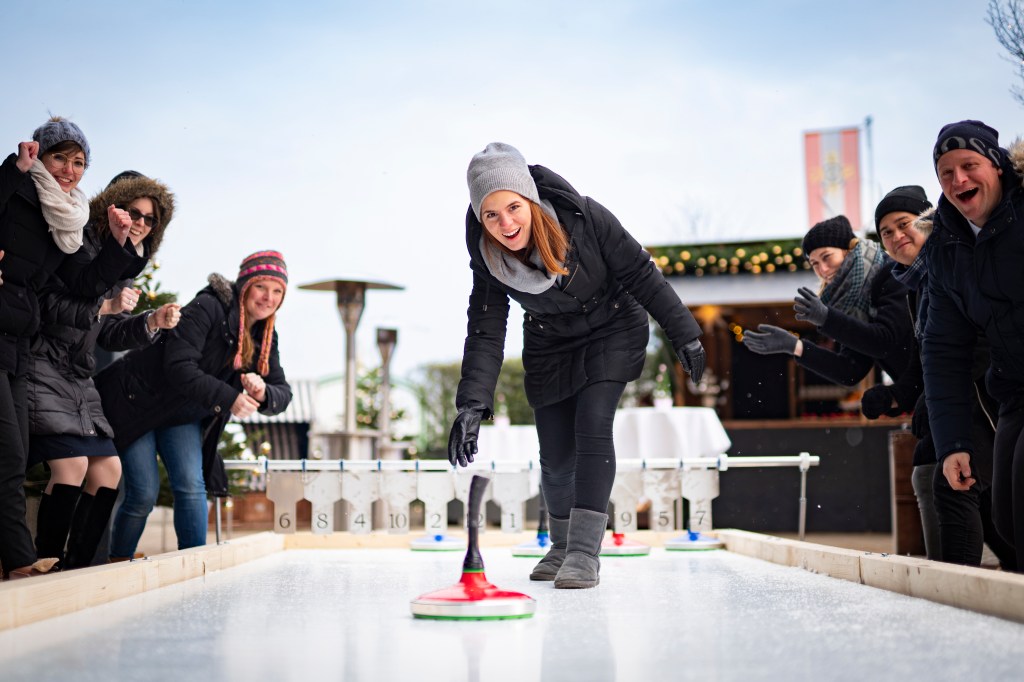 Alpine hideaway in Evian-Les-Bains
Nestled between Lake Geneva and the mountains, Evian, France benefits from a truly exceptional natural environment and is famous for its mineral water. In winter, there are lots of skiing slopes around Evian-Les-Bains. Two of the closest ski resorts are Thollon-les-Mémises and Bernex, just a little bit further there is Les Portes du Soleil, the largest ski area in Europe – all with opportunities also for a scenic snow-shoe hike or a dog sledding adventure.
Hilton Evian-les-Bains is located on the shores of Lake Geneva and a few minutes' walk from the centre of Evian-les Bains. The TAAJ Ayurveda Spa and the heated pool are perfect for regenerating after a day on the slopes. Canelle Restaurant offers a high-class culinary experience, inspired by French cuisine. In winter, there are also seasonal offerings such as raclette.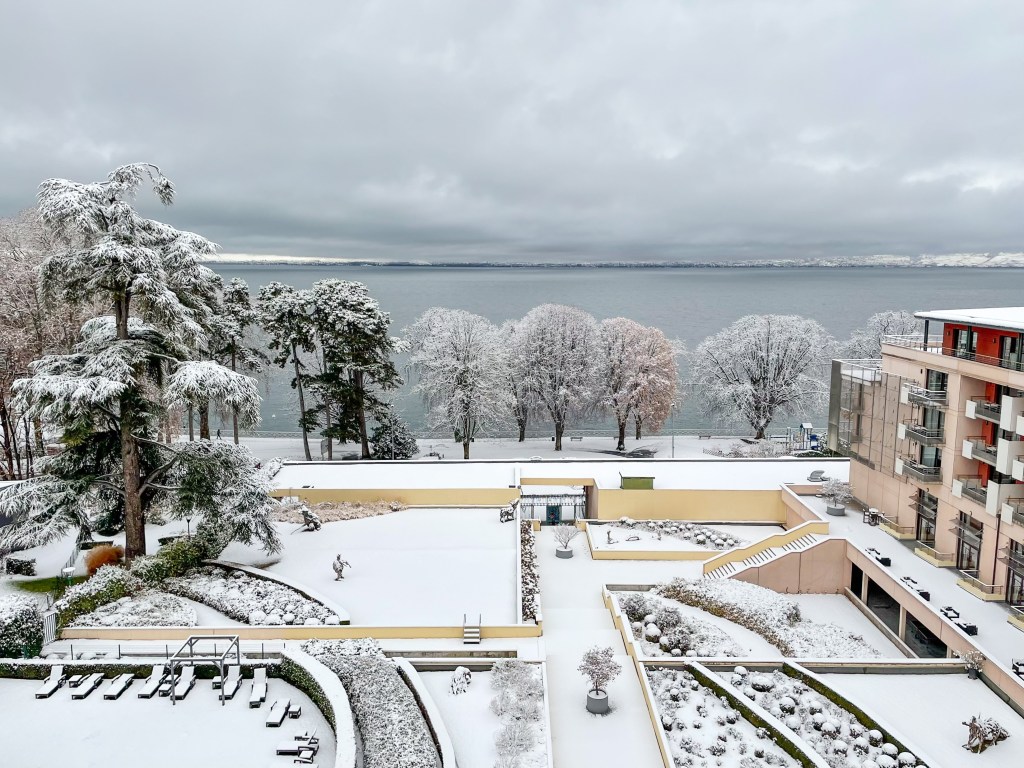 Zurich as a gateway to various ski areas
Zurich, Switzerland is a great option to enjoy a winter sports vacation and still be able to explore the city. Various ski resorts are very close to Zurich and it takes often just between 60 to 90 minutes by car or train, making them very accessible. Sattel-Hochstuckli is a very family-friendly ski area, as is Atzmännig, which is ideal for beginners and offers various other winter experiences such as sledging or snowshoe hiking.
Hilton Zurich Airport is located at the international gateway of Switzerland offering easy access to both the city (just a 15 minutes' drive) and the surrounding ski areas. Horizon10 restaurant offers Swiss culinary specialties and a great 180° panoramic view of the runway and the Alps.