Whether you're gearing up for a first-time vacation with your pet or are a seasoned dog parent traveling with Fido, it's always good to be prepared for anything when hitting the road with a furry friend. Print this handy-dandy checklist before every trip so you won't forget anything. In case you do leave something behind, here's what you'll find at pet-friendly Hilton properties.  
Pampurred pets
At more than 35 Canopy by Hilton locations around the world, pets are welcomed with their very own bed, food and water dishes, local treats and toys, and a Paws in the Neighborhood guide to the area's friendliest places for pets. Many of these pet-friendly hotels are within walking distance to parks and offer unique pet amenities as well. For example, Canopy by Hilton Portland Waterfront features dog beds and bowls around the lobby and a gift full of dog-friendly extras including an LL Bean dog bed in the room, a locally designed and made dog bandana, and house-made dog biscuits. Canopy by Hilton Austin Downtown has artificial pet turf on its outdoor balcony so pets can relive themselves, and Canopy by Hilton Dallas Uptown is directly across the street from MUTTS Canine Cantina dog park. See a Welcome Enthusiast during your arrival for a complimentary day pass.
Pawsitively 'suite' perks
Guests of Embassy Suites by Hilton, Homewood Suites by Hilton and Home2 Suites by Hilton have kitchens – some with full-sized appliances – making traveling with any special foods or medicines a pet may need easier. In addition to pet-friendly accommodations, Hilton's all-suites team members at Homewood Suites and Home2 Suites will provide guests with information on local pet-friendly resources, including local dog parks, nearby 24-hour vets, pet stores and any pet-friendly restaurants in the area. Various locations offer their own personal touches, as well. Home2Suites by Hilton Plano Richardson, for example, features a fenced-in dog park for its furry guests.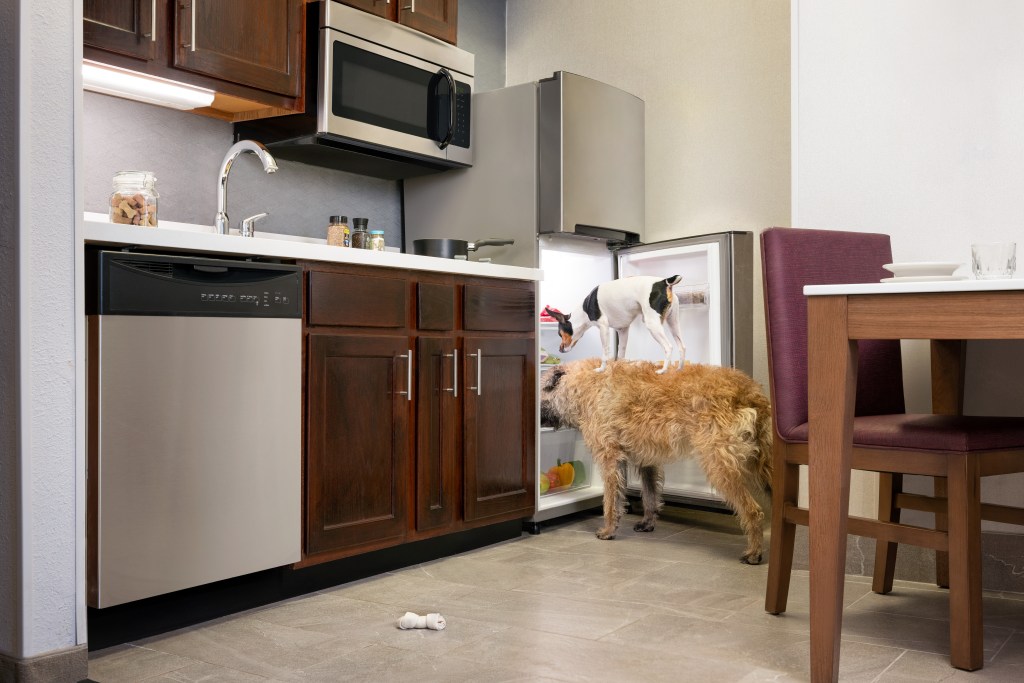 Raising the ruff
From the hip and happening Tru by Hilton hotels to the warmhearted hospitality of Hilton Garden Inn to the everywhere-you-want-to-be Hampton by Hilton, this trio of brands are also part of the pet-friendly portfolio, so you have more than 5,000 perfect places to stay. Search destinations through Mars Petcare's BETTER CITIES FOR PETS program to find the most pet-welcoming destinations, such as Nashville, Tennessee. You can stay at nearby Hampton Inn and Suites Downtown Nashville and know you'll find plenty of places to take your pooch.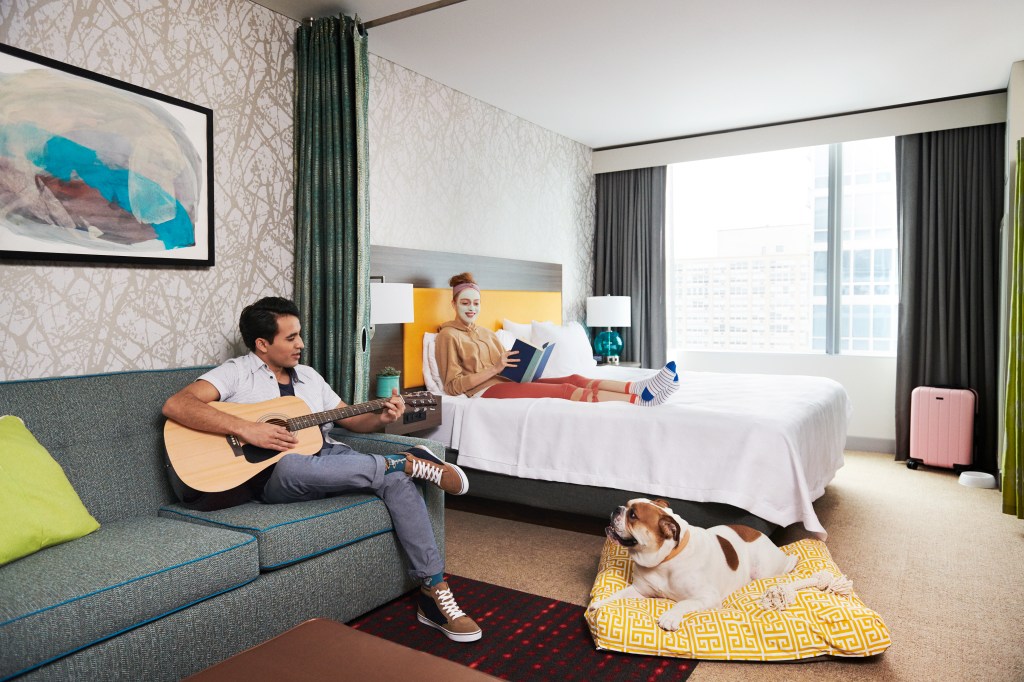 Feline fine
When traveling with pets, guests of Homewood Suites by Hilton and Home2 Suites by Hilton benefit from the partnership between Mars Petcare and Hilton, which features pet-focused programming and benefits in the U.S. and Canada. Guests can connect with Mars Petcare professionals to answer any questions on traveling with a pet, including ways to reduce anxiety and keep pets healthy. Mars Petcare experts are on hand through a new online and phone service to provide one-on-one pet health, wellness, and behavioral advice throughout the trip. 
---
Hilton Pet Packing Checklist
Travel Crate
Extra food and snacks
Food and water dishes
Chew toys and treats
Cleaning supplies (in case of accidents)
Brush
Familiar blanket or bed
Leash and harness
Water
Collar with up-to-date contact tag
Medications and copies of prescriptions
Pet first aid kit
Disposable litter box for cats
Disposable housebreaking pads for puppies or older dogs
Don't forget to pack...
Download this handy pet packing checklist
To book a hotel with a pet-friendly Hilton brand, explore hotels here. Hilton Honors members can also use Points to purchase pet products on Amazon.com through Shop With Points.