Tru by Hilton has grown at an incredible pace, re-energizing the midscale market as the fastest brand launch in hospitality industry history. Today, less than three years since first opening its doors, Tru has 100 open hotels with 320 additional properties in the pipeline, the largest mid-scale pipeline in the Americas with over a third of the overall share. 
As Talene Staab, vice president and global head of Tru by Hilton, looks at what's next for this game-changing brand, she notes, "Tru by Hilton was developed from the ground up based on consumer and owner feedback to deliver an offering that both find valuable. Created with developers in mind, owners have been a critical part of the brand's success throughout every stage, from conception to today, and their commitment and excitement for Tru continues to drive our momentum."  
Helping to drive that momentum is owner Mitch Patel of Vision Hospitality Group. Patel was not only an early adopter of Tru by Hilton, but also a collaborator in the brand's development. Mitch opened Tru by Hilton McDonough, the brand's second hotel, and more recently, Tru by Hilton Atlanta NW Kennesaw and Tru by Hilton Chattanooga Hamilton Place. Read on to learn about his development experience with the brand and insights into why it has become a favorite among owners. 
TS: Mitch, tell us a bit about yourself.
MP: We began Vision Hospitality Group 22 years ago from humble beginnings, starting off with little capital but a big dream. I developed my first hotel as the project's general contractor, even though I'd never even built a shed before. I then took off my hard hat and my role switched to general manager and I opened the hotel, even though I'd never managed a team before. That was our initial entry into the hospitality business, and it's been a wonderful journey from there. Today, Vision Hospitality Group owns and operates 40 hotels across the country. The majority are within the Hilton portfolio, primarily in the focused service category. 
TS: You were an early adopter of Tru by Hilton. What inspired you to add the brand to your portfolio?
MP: I added Tru to my portfolio because it was backed by Hilton, which has a proven track record of developing fantastic brands that become category killers. The powerful Hilton engine provides marketing support, the Hilton Honors loyalty program, the reservation system and more. We have a long track record of success with Hilton across numerous brands, so when the opportunity to build a Tru came to us, we were eager to partner with them.
The midscale segment is the largest of all segments within the hospitality industry. Hilton saw a void in the segment, and that was the birth of Tru. Hilton did a brilliant job getting a focus group together, including a group of long-time owners, of which I was honored to be part of. The team asked for owner input right from the beginning and really listened to that feedback every step of the way. As such, Tru is truly a brand that has been designed in collaboration with the development community.
TS: What would you consider the key differentiator of Tru by Hilton?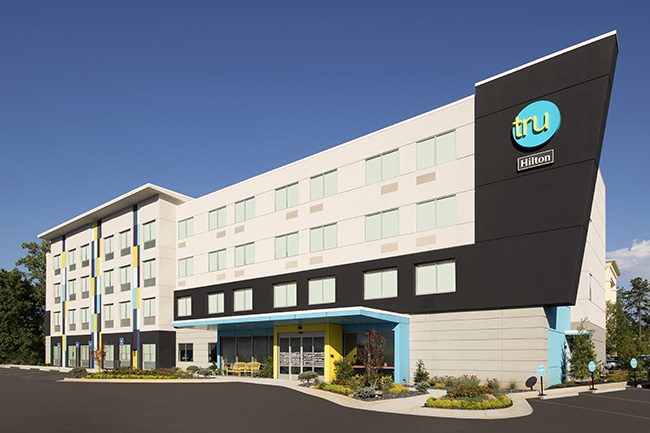 MP: The offering and amenities set Tru apart from other midscale brands. Tru by Hilton delivers exactly what our target guest is looking for at the rate that's right for them. I think the public spaces are one of the keys to the brand's success. Larger than a traditional hotel's would be, they provide a fun, bright space for playing, gathering and eating. I love when I walk into Tru and see families ordering a pizza to the lobby and playing board games or pool.  Plus, the breakfast concept is well thought out and guests love it. 
Tru guest rooms are compact yet efficiently designed. The rooms are bright, clean and functional with great beds and efficient storage. The bathroom provides a great shower experience, with plenty of space, great lighting, and a clean, airy look. Overall, guest feedback has been positive across the board.
TS: Tru recently opened its 100th hotel. In your opinion, why do you think the brand has experienced such fast growth? What would you tell a new hotelier looking to open a Tru?
MP: Lots of existing Hilton owners are building Tru hotels, but I've also talked to many new-to-the-Hilton-family owners who are developing a hotel for the first time with Tru. I think the brand is a great entry for an owner as in my experience, it has a great business model and an attractive value proposition. The development cost per key to average rate per key works really well, which is crucial. Plus, Tru is able to penetrate many different types of markets, whether it's a downtown location or a town with a population of 10,000 people. The opportunities are extremely broad and the brand is attracting a broad developer audience. 
TS: How was the development process for Tru?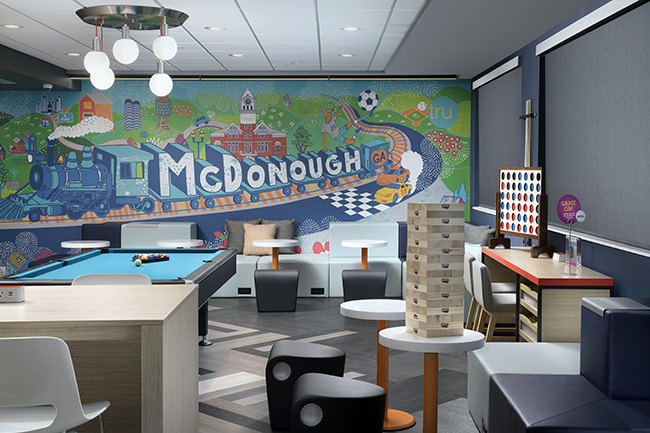 MP: The bottom line is important, and I love the efficiencies with Tru. The brand has a compact prototype, which is key because land is becoming scarcer than ever. Tru only requires 1 ¼–1 ½ acres to build, compared to 2–2 ½ in a traditional hotel. That more compact footprint helps bring construction costs down. In my experience, Hilton Supply Management has done a great job creating efficiencies with FF&E. Tru provides several package options for owners to select from, helping save on time and costs and making it very simple for developers.
TS: How are your Tru properties performing?
MP: For Tru by Hilton McDonough, we've penetrated that market extremely well, and we're the number one hotel in the midscale segment there. We're also very happy with our recent openings with Tru by Hilton Atlanta NW Kennesaw and Tru by Hilton Chattanooga Hamilton Place. The first night we opened in Chattanooga, we had quite a bit of walk-in business, a sign that people were looking for a Hilton product in the market. The hotel has strong performance for being just a month old, and we're on the path to success with the occupancy and average rate ramping up.