Even as remote working blurs boundaries between work and life, APAC travelers are finding new ways to balance both by working from anywhere – including extended stays at hotels
Survey respondents across six of APAC's leading tourism markets show increasing preference for flexibility, spotlighting why it matters where you stay when travelling for leisure, business, or a blend of both.
Image for illustration purposes only. Photo Credit: Vlada Karpovich/Pexels
SINGAPORE – The pandemic has redefined travel, and as leading hospitality company, Hilton (NYSE: HLT), unpacks its newest survey findings1, travel trends spotlight how the past two years have not only changed how people travel, but why. Results revealed the lines between work and personal trips have become increasingly blurred - with vacation time increasingly being added to work trips. This signals a need to establish new rhythms of rest and reconnecting, emphasizing why now, more than ever, it matters where you stay.
"Our study shows that work trips are not only extended for extra down-time, but leisure travel also needs to be flexible and connected enough to allow for an element of remote working or working from anywhere," said Ben George, senior vice president and commercial director, Hilton, Asia Pacific. "More than ever, this puts the spotlight on the stay itself and what the hotel experience can offer in totality. When you need to produce an inspiring presentation while on the move, it matters where you stay — the environment, food, amenities make all the difference."
Blurring Lines Between Work and Life
The rise of remote working during the pandemic has accelerated an always-on culture, resulting in a greater want and need among employees to disconnect from constant video conferencing and the incessant ping of messaging apps. 
43% of Indonesian and Malaysian travelers say they want to disconnect from work, but among them 95% and 81% still spend some time working while travelling with family.
Employed respondents from Singapore (66%) and Australia (64%) cannot seem to switch off their work mode, despite saying they would like to.
There is also the added stress of guilt associated with responding to work emails while on vacation, according to half of the respondents in Indonesia (59%), Australia (58%), Malaysia (57%), and Singapore (54%).
Remote Working From Stunning Locations
At the same time, there is an emerging preference among travelers to make the most of the remote working flexibility that more companies are now offering. Across the region, gainfully employed respondents would choose to do some form of work while travelling, with India (98%) ranked at the top, followed by Thailand and Indonesia (95%), Malaysia (81%), Singapore (65%), and Australia (64%). 
This corresponds with extended stays at hotels, which offer an ideal environment for working from anywhere when it is preferred. Hilton's booking data recorded an increase of up to two days in the average length of stay from 2019 to 2022 in Asia Pacific—with Singapore and Bangkok taking the lead at five and four days, respectively. 
WFH: Work from Hilton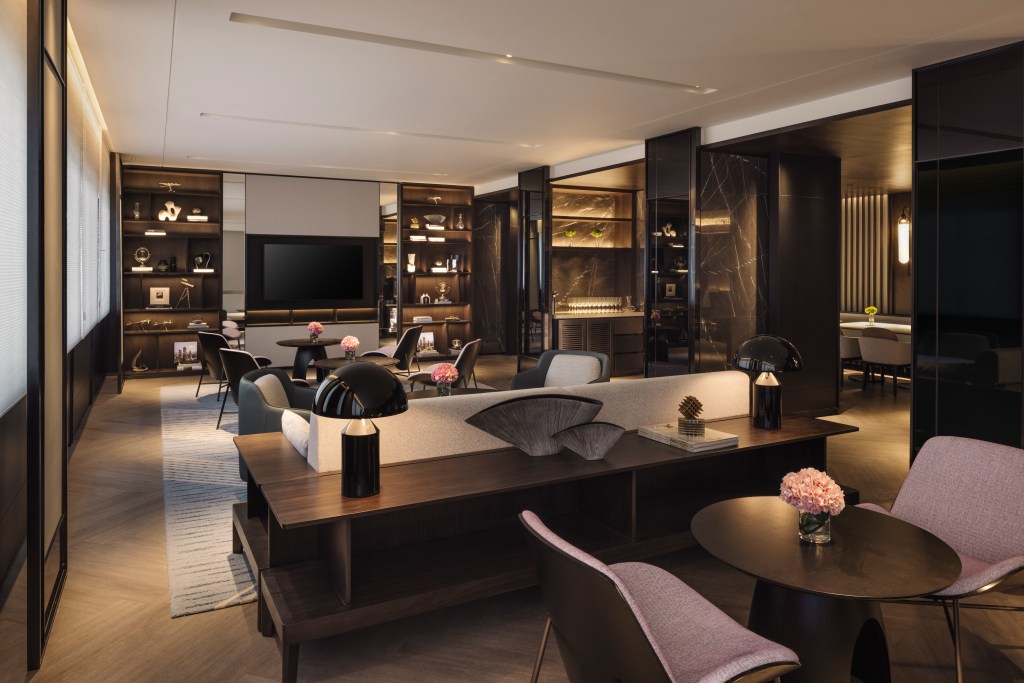 Guests can enjoy a well-connected stay at Hilton Singapore Orchard. In addition to its close proximity to the city center, array of award-winning restaurants and spectrum of meeting and event spaces, executive room and suite guests can enjoy access to the executive lounge which features private meeting rooms. At Hilton Bengaluru Embassy Manyata Business Park and Hilton Garden Inn Bengaluru Embassy Manyata Business Park, guests get direct access to a state-of-the-art convention centre, a collection of five distinct dining experiences, a rooftop swimming pool and a spacious fitness centre. A stone's throw from a variety of retail and entertainment options, these hotels make disconnecting after work a breeze.
For the traveler who likes to mix work and play, check in to Hilton Sydney for a seamless stay in the Central Business District. Modern touches include spacious workstations – fitted with ergonomic Herman Miller chairs and desks – and lounge access for executive suite guests. Wellness does not have to take a backseat to work here, as visitors can unwind with an array of wellness amenities for when the Zoom fatigue gets real. Target aching shoulders with relaxing hot-stone massages from Alysium Day Spa or hit your movement goals with fully equipped gym and workout classes at Fitness First Pitt Street Platinum within the building. 
Level up your virtual background with dazzling views from the iconic Waldorf Astoria Bangkok.  Located at the heart of the business district, work in elegant rooms or meeting and event spaces complemented with utmost graceful service. Relax over a pampering session at the Waldorf Astoria Spa or lounge by the outdoor pool on a floating cabana and watch the world whiz by. While the sky shifts to dusk, dip into Bangkok's sky-high bar scene with a bespoke cocktail in hand at The Loft — you're officially out of office.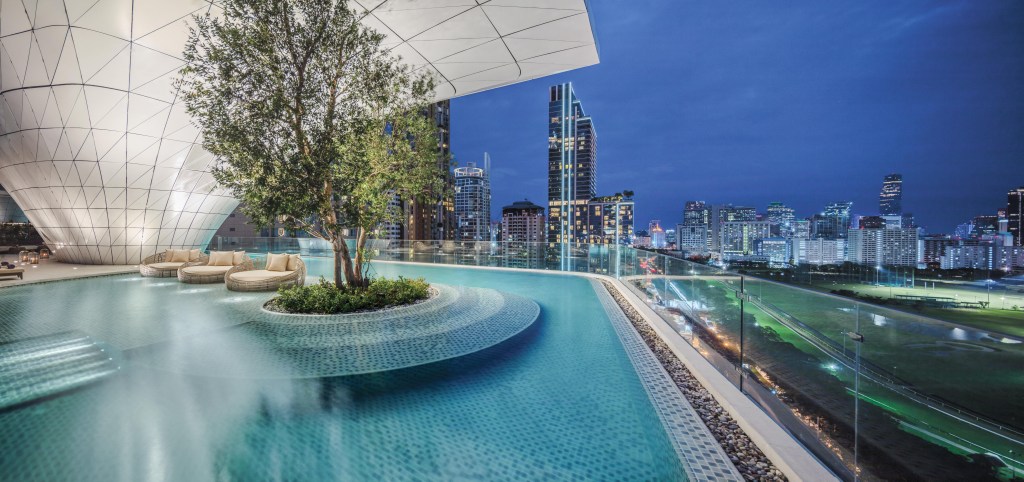 Switching off? It matters where you stay.
While travelling has always been an avenue for adventure, there has been a renewed desire among respondents to stay in and wind down — rather than to head out for more strenuous activities.
Across all APAC markets surveyed, respondents chose sitting by the pool or the beach, booking a relaxing spa treatment, and taking a nap as among their top preferred activities to do if they had time to themselves on vacation2. 
Whether this is a mindset nurtured from years of multiple lockdowns, or fatigue from the stressors and uncertainty of the pandemic, it is clear that wellbeing is a priority for the 2022 traveler in order to be freed from the pressure of being always switched-on. This highlights the importance of considering where you stay — where guests are taken care of to afford them the freedom to focus on what matters: whether it's to work, relax, or enjoy the best of both worlds. 
Savoring the stay: For the overworked soul, learn to savor stillness at ROKU KYOTO, LXR Hotels & Resorts – with activities such as summer stargazing, floating meditation in an elegant onsen-thermal pool, or slipping away into the luxury spa at the foothills of Northern Kyoto. 
Craving something to calm the nerves? Dive into the Aqua Wellness Center – the first of its kind at Waldorf Astoria Maldives Ithaafushi – for deep relaxation. The wellness space features a hydrotherapy pool atop Maldivian waters that is customized to target tension and increase circulation, while boosting immunity and improving sleep quality for the restless traveler.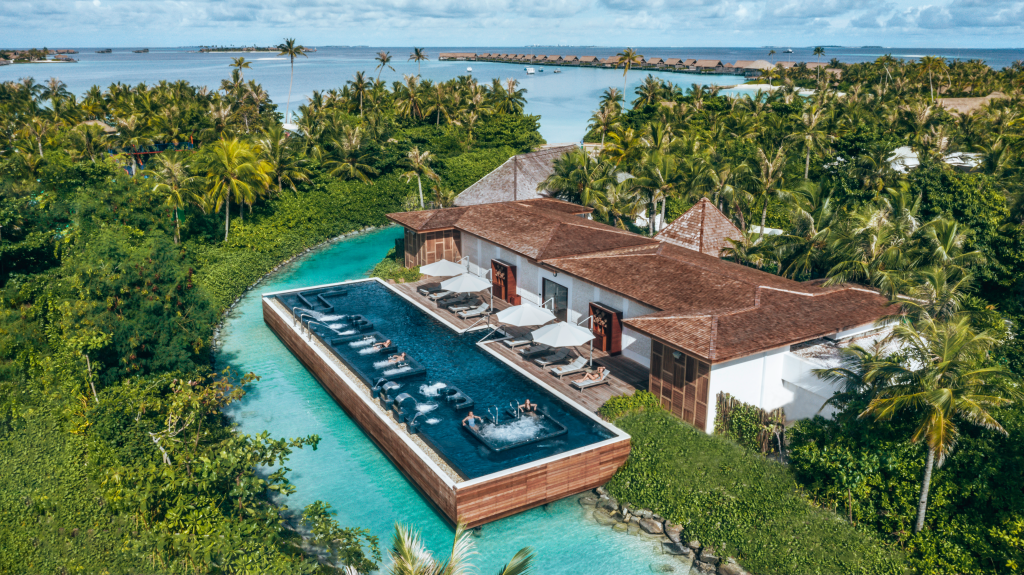 Or digital detox and enjoy a relaxing stay at the beachfront Conrad Bali, known for its holistic wellness experiences such as Sunrise Meditation and Sound Healing therapy — to help you establish rhythms of rest and find work-life harmony in the new normal.
Hilton Honors Members get to switch off after back-to-back conference calls with a 90-minute indigenous signature spa treatment at Conrad Maldives Rangali Island, or soothe those muscles with a revitalizing 60-minute massage on the beach at Hilton Hua Hin Resort & Spa — courtesy of Hilton Honors point redemptions which enables travelers to mix business and leisure to enhance their stay all in one click of an app.
View Hilton's Global Trends Report 2022 here. To start planning your next getaway and redeem exclusive rewards, visit Hilton.com and join Hilton Honors to elevate your stay.
Footnotes
 Survey conducted with nearly 6,000 respondents across Singapore, Australia, Indonesia, Malaysia, Thailand and India
Among 12 activities, sitting by pool or beach ranks #1 (19%), spa treatment ranks #3 (15%), taking a nap ranks #4 (14%). Romantic dinner with spouse/significant other ranks second at 17%.
---
About Hilton
Hilton (NYSE: HLT) is a leading global hospitality company with a portfolio of 22 world-class brands comprising nearly 7,300 properties and more than 1.1 million rooms, in 123 countries and territories. Dedicated to fulfilling its founding vision to fill the earth with the light and warmth of hospitality, Hilton has welcomed more than 3 billion guests in its more than 100-year history, earned a top spot on Fortune's 100 Best Companies to Work For list and been recognized as a global leader on the Dow Jones Sustainability Indices for six consecutive years. Hilton has introduced several industry-leading technology enhancements to improve the guest experience, including Digital Key Share, automated complimentary room upgrades and the ability to book confirmed connecting rooms. Through the award-winning guest loyalty program Hilton Honors, the more than 165 million members who book directly with Hilton can earn Points for hotel stays and experiences money can't buy. With the free Hilton Honors app, guests can book their stay, select their room, check in, unlock their door with a Digital Key and check out, all from their smartphone. Visit stories.hilton.com for more information, and connect with Hilton on Facebook, Twitter, LinkedIn, Instagram and YouTube.