Steps away from the iconic Yorkville and Rosedale neighbourhoods, this 184‑room hotel marks the brand's Canadian launch with chic spaces, locally inspired cuisine and superb amenities
TORONTO and McLEAN, Va. – Hilton, Easton's Group of Hotels and The Gupta Group today announced the opening of Canopy by Hilton Toronto Yorkville. Marking the brand's Canadian debut, this boutique hotel delivers elevated experiences with a local flair in one of Toronto's most prominent neighbourhoods.
"We're excited to open Canada's very first Canopy by Hilton hotel in Toronto. With its premium location, the hotel will bring a unique blend of sophistication, convenience and urban living," said Reetu Gupta, ambassadress, The Gupta Group and Easton's Group of Hotels. "Nestled between the picturesque Yorkville neighbourhood and the wooded Rosedale neighbourhood, Canopy Toronto Yorkville offers guests an exciting new way to experience the city."
"With its local vibe, bespoke culinary offerings and elevated design, Canopy Toronto Yorkville offers an inspired stay that embodies the experience of the Canopy by Hilton brand."
"Joining a global portfolio of more than 35 sophisticated boutique hotels, Canopy by Hilton Toronto Yorkville is an incredible property to mark the brand's Canadian debut," said Jenna Hackett, global brand leader, Canopy by Hilton. "With its local vibe, bespoke culinary offerings and elevated design, Canopy Toronto Yorkville offers an inspired stay that embodies the experience of the Canopy by Hilton brand."
Thoughtful Design
With design led by Studio Munge, the 184-room hotel celebrates the best of the neighbourhood through thoughtful and authentic design. Canopy Central, the hotel lobby, welcomes guests with layered interiors, curved edges and organic motifs complemented by an impressive local art collection.
In a nod to its unique location between bustling Yorkville and forested Rosedale, the property pairs oak features with copper accents to highlight the unique connection between nature and cosmopolitan life. "Just-Right" guest rooms also incorporate the brand's iconic canopy bed and inviting warmth while public areas include a sleek indoor pool, a modern fitness centre incorporating local street art, a transfer lounge and 3,500 square feet of meeting space.
A Dynamic Culinary Experience 
Under the leadership of Justin Raponi, executive chef and lead culinary enthusiast, Canopy Toronto Yorkville will boast two on-site dining options. Día serves as a gathering place to enjoy seasonal fare and eclectic wines and spirits. Día offers a variety of dishes including memorable cheeses, Roman-style pizza and more. Visitors and locals alike can also enjoy the restaurant's signature wine program and sample libations as a part of Canopy's bespoke evening tastings.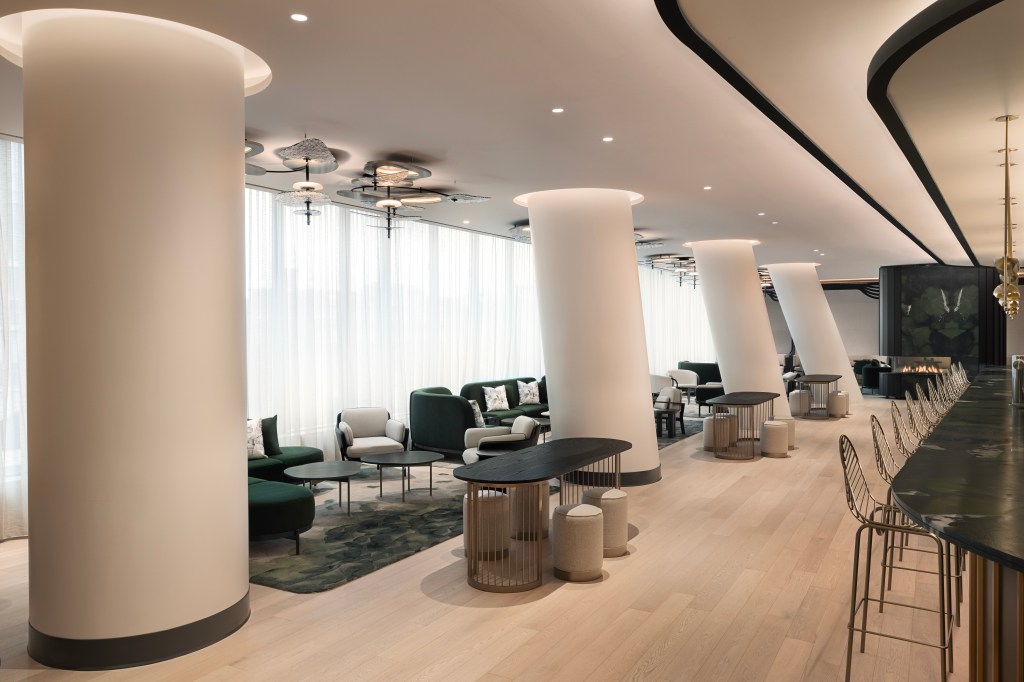 For lighter fare, Virtu Café & Provisions fosters a strong connection with the surrounding neighbourhoods and the entire city. Opening a few months after Canopy Toronto Yorkville's debut, the hotel's all-day café will serve purposefully sourced, locally inspired dishes and foster a connection with the community.
In the Heart of It All 
Yorkville is one of the city's trendiest neighbourhoods with world-class shopping, dining and cultural attractions – alongside renowned events like the Toronto International Film Festival. In Rosedale, guests can discover the neighbourhood's natural beauty and even take part in local celebrations like the annual Mayfair, a springtime festival. Canopy Toronto Yorkville is a short distance from some of the city's most notable attractions like the Royal Ontario Museum, Gardiner Museum and Casa Loma. The hotel is also steps away from the Sherbourne subway station, connecting guests to the Greater Toronto Area. "Canopy Enthusiasts" – hotel team members and local know-hows – can connect guests to the city's most popular sights or local hotspots, and Canopy Bikes are available so guests can explore what the neighbourhood has to offer.
"Affectionately known as "The Six" by locals, Toronto is an energizing, unique city with something for everyone, and Canopy Toronto Yorkville is no exception," said Shaileen Shah, general manager, Canopy Toronto Yorkville. "Canopy Toronto Yorkville creatively represents the city's rich culture through thoughtful design, a curated art collection, locally sourced cuisine and more. We're eager to welcome guests to our city and hotel."
Canopy Toronto Yorkville will participate in Hilton Honors, the award-winning guest-loyalty program for Hilton's world-class portfolio of 19 distinct hotel brands which boasts more than 150 million members. Members who book directly will have access to instant benefits, including a flexible payment slider that allows members to choose nearly any combination of Points and money to book a stay, exclusive member discounts, free standard Wi-Fi and access to the Hilton Honors mobile app.
For more information about Canopy by Hilton Toronto Yorkville, visit their website or follow them on Instagram. Canopy Toronto Yorkville is located at 387 Bloor Street East Toronto, Ontario, M4W 1H7, Canada. 
---
About Hilton
Hilton (NYSE: HLT) is a leading global hospitality company with a portfolio of 22 world-class brands comprising nearly 7,300 properties and more than 1.1 million rooms, in 123 countries and territories. Dedicated to fulfilling its founding vision to fill the earth with the light and warmth of hospitality, Hilton has welcomed more than 3 billion guests in its more than 100-year history, earned a top spot on Fortune's 100 Best Companies to Work For list and been recognized as a global leader on the Dow Jones Sustainability Indices for six consecutive years. Hilton has introduced several industry-leading technology enhancements to improve the guest experience, including Digital Key Share, automated complimentary room upgrades and the ability to book confirmed connecting rooms. Through the award-winning guest loyalty program Hilton Honors, the more than 165 million members who book directly with Hilton can earn Points for hotel stays and experiences money can't buy. With the free Hilton Honors app, guests can book their stay, select their room, check in, unlock their door with a Digital Key and check out, all from their smartphone. Visit stories.hilton.com for more information, and connect with Hilton on Facebook, Twitter, LinkedIn, Instagram and YouTube.
---
About Canopy by Hilton
Canopy by Hilton delivers elevated, boutique hotel experiences that celebrate the best of the neighborhood. Inviting, sophisticated design, bespoke food & beverage and crafted touchpoints deliver a locally inspired, high-end and welcoming stay. The Canopy portfolio includes nearly 40 open properties around the globe with more than 30 under development across 17 countries and territories. Experience Canopy by Hilton by booking at canopybyhilton.com or through the industry-leading Hilton Honors app. Hilton Honors members who book directly through preferred Hilton channels have access to instant benefits. Learn more about Canopy by Hilton at stories.hilton.com/canopybyhilton, and follow the brand on Facebook, Instagram, Twitter and Pinterest. 
---
About The Easton's Group of Hotels
The Easton Group of Hotels has grown into a significant force in Canada's hospitality and service industry, which develops and manages a portfolio of 20 hotels across Canada. Its flagship hotels include industry-renowned brands like Hilton, Marriott, and IHG. With a dynamic leadership team and an abiding passion for excellence, the company is actively expanding to new locations with diverse offerings for demanding business and leisure travellers. Our core values work together to ensure total satisfaction for every guest we have the pleasure of serving during their stay. Visit www.eastonsgroup.com and connect with us on Facebook, Instagram, and LinkedIn.