The secluded resort offers the ultimate sanctuary for rejuvenation and discovery in one of Mexico's hottest destinations
TULUM, Mexico - Hilton (NYSE: HLT) today announces the opening of the highly anticipated oceanfront Conrad Tulum Riviera Maya, marking the brand's debut in the Mexican Caribbean.  Located eight miles north of Tulum, in a secluded bay surrounded by a tropical forest and pristine Caribbean waters, the 349-room resort offers a retreat for guests seeking a transformative getaway, with curated signature restaurants, destination spa, oceanfront pools and access to Tulum's celebrated sights and attractions.
"We are thrilled to make Hilton's debut in Tulum – one of Mexico's premier destinations – with this fabulous luxury hotel," said Danny Hughes, executive vice president and president, Americas, Hilton. "The Caribbean and Latin America has long been a priority market for Hilton with Mexico leading the way – it's our 5th largest presence globally by number of hotels with Tulum as a central part of our growth strategy."
"Conrad Tulum Riviera Maya represents so much of what we strive for in our ever-expanding brand portfolio – bold and locally-inspired design, innovative culinary offerings and fulfilling, meaningful experiences for our guests," said Matt Schuyler, chief brand officer, Hilton. "With a record-setting year of openings ahead for the brand, it's a pleasure to start 2022 with such an exemplary addition to Conrad's resort offerings and to Hilton's luxury category at large." 
Bold Design
In the heart of the world's most exquisite natural wonders, from jungles and beaches to hidden cenotes and colorful flora and fauna, Conrad Tulum Riviera Maya is designed to give guests a deep connection with Tulum's distinctive landscape. Upon entering the lobby, guests pass through ornate wooden doors, engraved by local artisans, and are immediately greeted by sweeping ocean views and an immersive art installation, a nod to ancient Mayan architecture and Tulum's surroundings. 
The nature-inspired theme continues throughout the hotel's thoughtfully designed guest rooms, incorporating organic elements such as stone, wood and metal. Boasting floor-to-ceiling windows with panoramic ocean views, guest rooms are designed with calming tones and elegant furnishings, each with their own private balcony and relaxation tub or plunge pools on the ground floor rooms. Guests seeking additional space can enjoy a suite complete with a spacious living room and adjacent dining area for up to eight people, as well as a spa-inspired master bathroom complete with a soaking tub and rainfall shower.
Exquisite Dining
A destination unto itself, Conrad Tulum Riviera Maya's diverse dining options include five restaurants as well as six bars and lounges featuring globally inspired cuisine, casual poolside fare and world-class catering for meetings and events. Venues include energizing bar experiences serving up generous wine lists, regional spirits and refreshing tropical cocktails, and elevated dining experiences offering flavors of the world with innovative and local twists. A sample of the dining offerings at the hotel includes:
Autor: The resort's most sophisticated dining experience is an ode to its chef or 'author' where guests experience a personalized culinary journey curated by Chef Jersaí Miranda.
Maratea: Features distinct cuisine inspired by the Mediterranean Basin from southern Spain to North Africa, Greece and Turkey.
Ukai: A sushi bar dedicated to the traditional Japanese fishing method, brought to life as a contemporary sushi counter committed to sustainable fishing.
Kengai: A Teppanyaki restaurant that merges classic Japanese and Southeast Asian techniques with local ingredients and styles, whose name is inspired by the Jacaranda tree, brought to Mexico by Japanese immigrants in the 20th century.
Chaak Bar: Named after the Mayan rain god and inspired by the cenotes where the Mayans would connect with him, Chaak Bar offers guests a place to seek shelter and recharge.
Cafetal: This upscale café and market are inspired by the traditional Tianguis, an economic and social gathering center in Mexican culture serving locally sourced coffee, snacks and all-day essentials.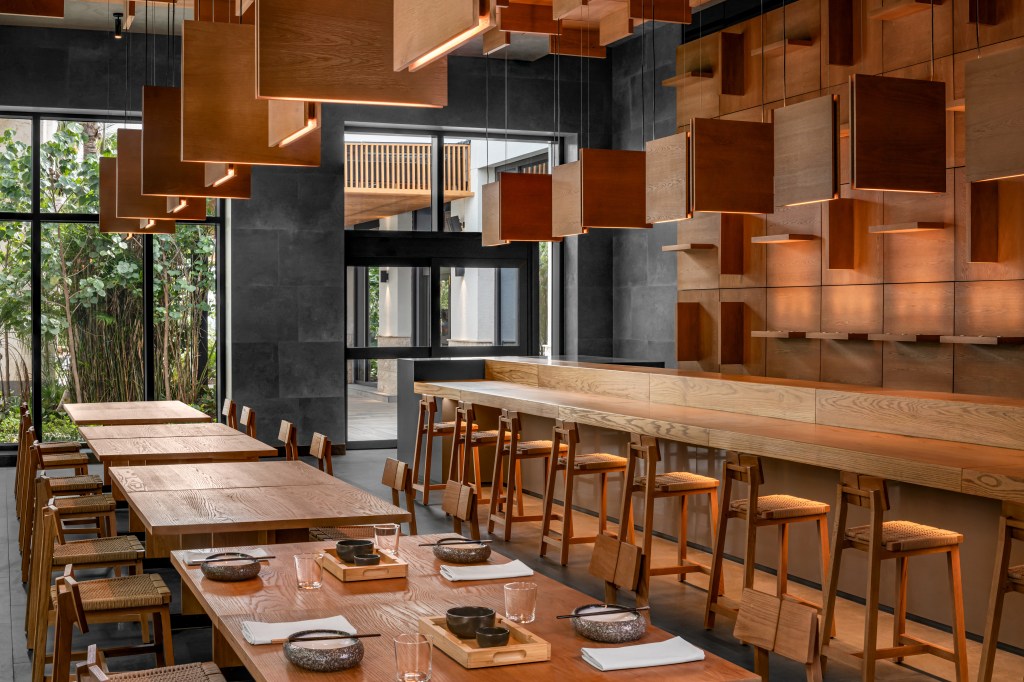 Transformative Experiences
Allowing travelers to discover new facets of well-being and self-fulfillment, the guest experience at Conrad Tulum Riviera Maya is characterized by a deep connection with the natural environment and to honor Tulum's cultural traditions. Whether floating, snorkeling or kayaking in the crystal-clear bay waters or lounging in an oceanfront cabana by one of the five pools, guests can fully immerse themselves in this mystical paradise. 
Nestled within lush mangroves, Conrad Spa Tulum is a destination purposefully designed as a wellness refuge.  Guests enjoy a wide range of services inspired by the legends of the Mayan gods and traditional Mexican herbalism in individual treatment rooms or "casitas." Spa offerings include an extensive menu of body rituals, a sensory Water Ritual including an outdoor pool and thermal facilities and the Mayan Manteada, an ancient massage technique in which shawls are tied around the waist to relax and realign the body. For guests looking for an enlightened sense of well-being and tranquility, the property has an in-house Shaman to perform ancient rituals like the purifying gratitude and sacred cenote ceremonies.
Sustainable Beauty + Wildlife 
The resort is dedicated to safeguarding Tulum's landscape and its resources. From an environmental education curriculum to multiple rescue and relocation programs for its mangroves, wildlife, and coastal forest, conservation is ingrained in the DNA of Conrad Tulum Riviera Maya. The hotel emphasizes meticulous preservation and sustainability through its sea turtle protection program as well as an innovative waste management system and water quality monitoring projects. The sea turtle protection program reduces the impact of the hotel's activities during the turtles' nesting season and guarantees the conservation of the protected species. 
Inspired Gatherings 
Conrad Tulum Riviera Maya offers the destination's first and largest separate event center featuring 55,000 square feet of indoor and outdoor event space. The convention center's modern yet elegant décor features large windows giving way to breathtaking views. The 9,000 square foot outdoor terrace is perfect for al fresco dining, and additional event spaces include a Main Ballroom, Junior Ballroom and three meeting rooms that can accommodate up to 2,500 people.
Conrad Tulum Riviera Maya is the latest addition to Hilton's portfolio of iconic luxury hotels in premier global destinations. This year, Conrad Hotels & Resorts will significantly expand its footprint in key urban and resort destinations including Los Angeles, Nashville, Sardinia and Rabat, Morocco.
Conrad Tulum Riviera Maya offers guests the confidence of Hilton CleanStay and participates in Hilton Honors, the award-winning guest loyalty program for Hilton's 18 distinct hotel brands. Members who book directly have access to instant benefits, including a flexible payment slider that allows members to choose nearly any combination of Points and money to book a stay, exclusive member discounts, free standard Wi-Fi, and access to the Hilton Honors mobile app.
For more information and reservations, please visit Hilton.com/conrad-tulum and follow the hotel on Instagram at @ConradTulumRivieraMaya or on Facebook at Facebook.com/ConradTulumRivieraMaya.
---
About Hilton
Hilton (NYSE: HLT) is a leading global hospitality company with a portfolio of 22 world-class brands comprising nearly 7,300 properties and more than 1.1 million rooms, in 123 countries and territories. Dedicated to fulfilling its founding vision to fill the earth with the light and warmth of hospitality, Hilton has welcomed more than 3 billion guests in its more than 100-year history, earned a top spot on Fortune's 100 Best Companies to Work For list and been recognized as a global leader on the Dow Jones Sustainability Indices for six consecutive years. Hilton has introduced several industry-leading technology enhancements to improve the guest experience, including Digital Key Share, automated complimentary room upgrades and the ability to book confirmed connecting rooms. Through the award-winning guest loyalty program Hilton Honors, the more than 165 million members who book directly with Hilton can earn Points for hotel stays and experiences money can't buy. With the free Hilton Honors app, guests can book their stay, select their room, check in, unlock their door with a Digital Key and check out, all from their smartphone. Visit stories.hilton.com for more information, and connect with Hilton on Facebook, Twitter, LinkedIn, Instagram and YouTube.
---
About Conrad Hotels & Resorts
Spanning five continents with over 40 properties, Conrad Hotels & Resorts has created a seamless connection between bold design, impactful experiences and curated contemporary art to inspire the conscientious traveler. Conrad is a place where guests are empowered to explore through intuitive service and experiences that authentically connect them with local culture. In addition to its award-winning hotel offerings, the brand also features an expanding residential portfolio combining sophisticated design, best-in-class amenities and purposeful service in inspiring destinations. Experience Conrad Hotels & Resorts by booking at conradhotels.com or through the industry-leading Hilton Honors app. Hilton Honors members who book directly through preferred Hilton channels have access to instant benefits. Learn more about Conrad Hotels & Resorts at stories.hilton.com/conradhotels, and follow the brand on Facebook, Instagram and Twitter.