DoubleTree by Hilton to partner with Zero G Kitchen and NanoRacks to bring its signature warm welcome to the International Space Station in historic scientific experiment
MCLEAN, Va. - DoubleTree by Hilton will take its iconic warm welcome to new heights when its famous chocolate chip Cookie becomes the first food baked in space inside a prototype oven designed to make long-duration space travel more hospitable.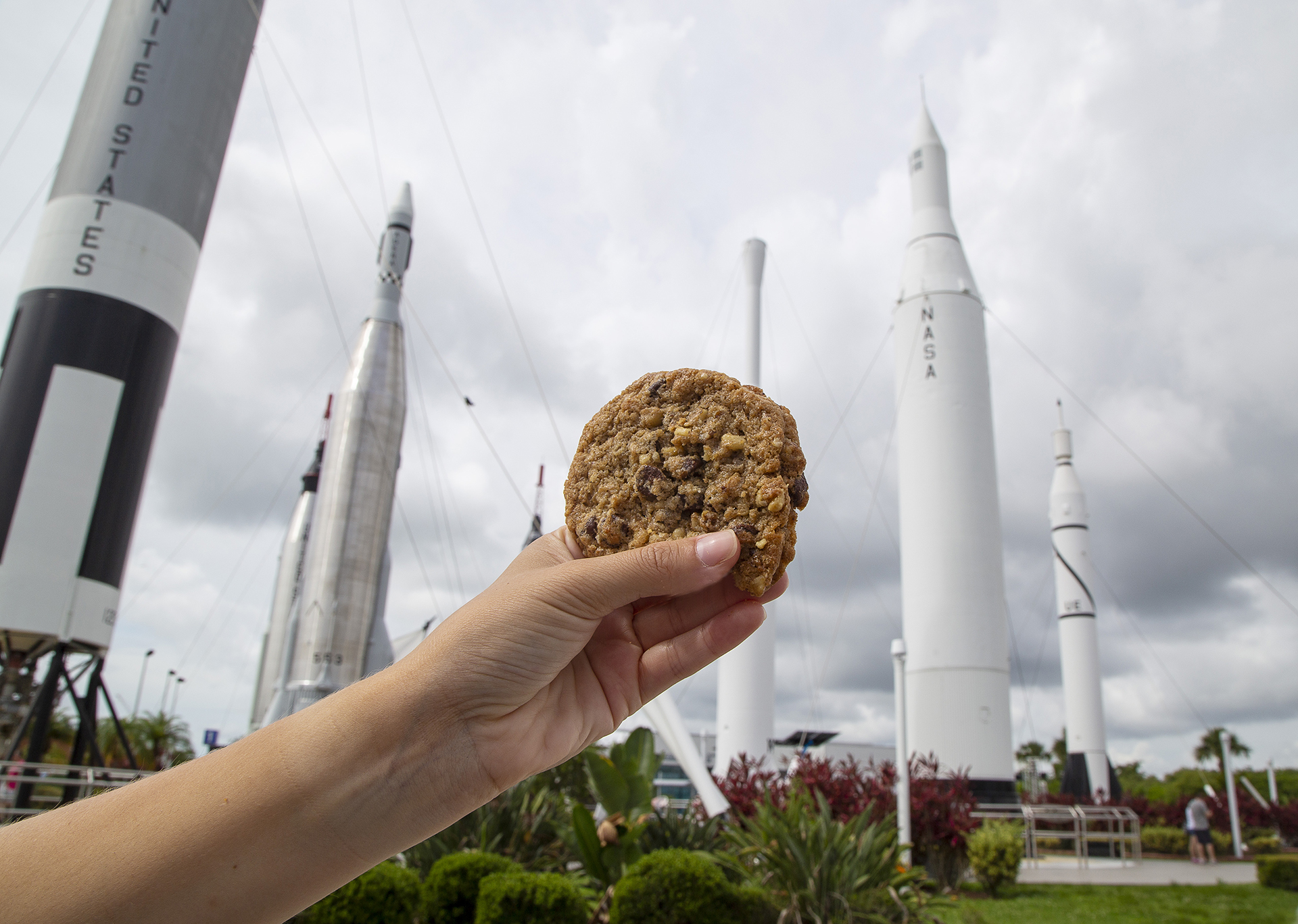 Later this year, DoubleTree by Hilton will make aerospace history when a batch of DoubleTree Cookie dough is launched along with the prototype oven in a rocket bound for the International Space Station (ISS) as part of a landmark microgravity experiment. Working in partnership with Zero G Kitchen, which creates appliances for microgravity use in long-duration space flights, and NanoRacks, a leading provider of commercial access to space, Hilton will be the first hospitality company to participate in research aboard the space station.
That's only fitting for a hotel brand that at the height of the Space Race announced plans for a hotel on the moon, said senior vice president and global brand head, DoubleTree by Hilton, Shawn McAteer. 
"Hilton has long been an industry innovator, and as we celebrate our 100th year, we're excited to send our hospitality into orbit," McAteer said. "The simple gesture of a warm Cookie welcome is a favorite of DoubleTree guests around the world, and now we are sharing that moment of hospitality as part of this experiment aboard the International Space Station."
Ian and Jordana Fichtenbaum, the husband and wife team at Zero G Kitchen responsible for the space oven concept, said the DoubleTree Cookie was their first thought when they began imagining the creation of an oven to make space travel more comfortable.
"Opening up the frontier of space means making it relatable to people's everyday lives, and what could be more relatable than a freshly baked cookie?" said Ian Fichtenbaum, co-chef and co-founder, Zero G Kitchen. "When we first concepted the oven, we naturally thought of DoubleTree by Hilton and its signature Cookie. It is the perfect treat to bring a warm welcome to space." 
DoubleTree by Hilton is committed to inspiring the next generation of travelers to pursue careers in hospitality, so the brand will also partner with Scholastic to develop an educational program related to hospitality in space for 50,000 middle school classrooms across the United States. This supports Hilton's Open Doors Pledge, the company's commitment to connecting, preparing or employing at least one million young people by 2019 by helping them to reach their full potential. The program and accompanying curriculum, which includes a lesson and activity sheet, will focus on better understanding the challenges of living and working in space, and encourage students to think creatively about what innovations need to occur to ensure long-duration space travel is comfortable and hospitable.
To accompany these efforts, DoubleTree by Hilton and Scholastic will launch a student contest this fall asking U.S. middle school students to submit their own innovative proposal for making life in space more hospitable. Prizes will include a cash award, iPad and, for teachers, a complimentary stay at any DoubleTree by Hilton location. Full contest details and submission guidelines are available at www.scholastic.com/openingdoorsinspace.
Learn more about the launch and technology behind the oven by visiting www.cookiesinspace.com or www.newsroom.hilton.com/cookiesinspace.
About Zero G Kitchen LLC
Based in New York City, Zero G Kitchen was founded with a goal of building a kitchen in space, piece-by-piece, and offering its use to a variety of food researchers, educators and companies with an interest in the future of food and household appliances in space. Funded by its founders, Ian and Jordana Fichtenbaum, it is leading the way with its first appliance, a small oven. 
About NanoRacks
NanoRacks LLC, an XO Markets company, is the world's leading commercial space station company. NanoRacks believes commercial space utilization will enable innovation through in-space manufacturing of pharmaceuticals, fiber optics – and more, allow for transformational Earth observation, and make space a key player in finding the solution to Earth's problems.
Today, the company offers low-cost, high-quality solutions to the most pressing needs for satellite deployment, basic and educational research, and more –in over 30 nations worldwide. Since 2009, Texas-based NanoRacks has truly created new markets and ushered in a new era of in-space-services, dedicated to making space just another place to do business. 
About Scholastic
To learn more about Scholastic, visit our media room at: mediaroom.scholastic.com.
---
About Hilton
Hilton (NYSE: HLT) is a leading global hospitality company with a portfolio of 22 world-class brands comprising nearly 7,300 properties and more than 1.1 million rooms, in 123 countries and territories. Dedicated to fulfilling its founding vision to fill the earth with the light and warmth of hospitality, Hilton has welcomed more than 3 billion guests in its more than 100-year history, earned a top spot on Fortune's 100 Best Companies to Work For list and been recognized as a global leader on the Dow Jones Sustainability Indices for six consecutive years. Hilton has introduced several industry-leading technology enhancements to improve the guest experience, including Digital Key Share, automated complimentary room upgrades and the ability to book confirmed connecting rooms. Through the award-winning guest loyalty program Hilton Honors, the more than 165 million members who book directly with Hilton can earn Points for hotel stays and experiences money can't buy. With the free Hilton Honors app, guests can book their stay, select their room, check in, unlock their door with a Digital Key and check out, all from their smartphone. Visit stories.hilton.com for more information, and connect with Hilton on Facebook, Twitter, LinkedIn, Instagram and YouTube.
---
About DoubleTree by Hilton
DoubleTree by Hilton is a fast-growing, global portfolio of 660 hotels with more than 150,000 rooms across 51 countries and territories. For more than 50 years, DoubleTree by Hilton has continued to be a symbol of comfort for business and leisure travelers around the world, from welcoming guests with its signature, warm DoubleTree chocolate chip cookie, to serving the local community. DoubleTree by Hilton offers contemporary accommodations and amenities, including unique food and beverage experiences, state-of-the-art fitness offerings and meetings and events spaces. Experience a positive stay at DoubleTree by Hilton by booking at doubletree.com or through the industry-leading Hilton Honors app. Hilton Honors members who book directly through preferred Hilton channels have access to instant benefits. Learn more about DoubleTree by Hilton at stories.hilton.com/doubletree, and follow the brand on Facebook, Twitter and Instagram.