Foz do Iguaçu, Brazil — With a growing global footprint, Hilton opens the newest addition to the DoubleTree by Hilton portfolio in the tourist city of Foz do Iguaçu, state of Paraná. Opening Nov. 9, DoubleTree by Hilton Foz do Iguaçu Brazil is managed by Iguaçu-based Viale de Hotéis, with the national support of Atlantica Hospitality International, a hospitality manager with more than 170 ventures throughout Brazil.
"DoubleTree by Hilton brings a warm welcome to the guest experience, including the brand's signature, warm DoubleTree chocolate chip cookie offered at check-in," said Fabio Prado, general manager, DoubleTree by Hilton Foz do Iguaçu.
DoubleTree by Hilton Foz do Iguaçu is located in the main tourist corridor of the city, Avenida das Cataratas, providing easy access to the main tourist attractions in the region, including the Argentine border, Catuaí Palladium shopping mall, Duty Free stores, a water park, bird park, helicopter ride and the majestic wonder of nature, Iguazu Falls.
"Foz do Iguaçu is a versatile destination that combines business and tourism. Thus, we strongly believe that DoubleTree by Hilton Foz do Iguacu Brazil will be a distinctive accommodation option in one of the world's main triple borders, focused on offering convenience and signature hospitality to travelers," said Ricardo Bluvol, vice president of development, Atlantica Hospitality International.
Occupying a total area of 35,000 square meters with approximately 12,000 square meters of built area, the hotel has a welcoming lobby, with contemporary furniture and bold design. The hotel also offers more than 250 guest rooms and upscale suites, including the Presidential Suite, featuring panoramic views of the sunset and the new International Bridge of Integration Brazil – Paraguay.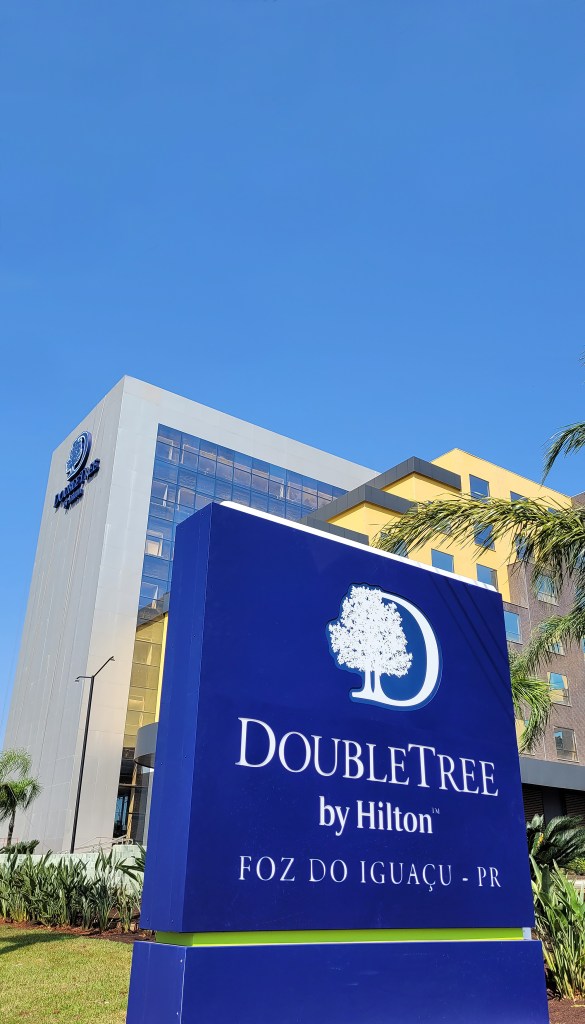 The hotel's garden has large green areas, with plants from the Atlantic Forest biome. Guests can relax in the outdoor pools, in the heated indoor pool or unwind in the world-class spa, offering massage services and other spa treatments. For the little ones, fun is guaranteed at the kids club or in the children's pool. The hotel also offers tennis courts, beach tennis courts, a multi-sport court and a football 7 court. Guests can find state-of-the-art equipment and request personal trainer services at the hotel's fitness center or relax in the sauna and steam rooms.
Featuring two restaurants, DoubleTree by Hilton Foz do Iguaçu offers guests a variety of all-day dining experiences, supporting local suppliers and Brazilian, Argentinian and Paraguayan ingredients from the region. DoubleTree by Hilton Foz do Iguaçu also caters to meeting and events needs and offers three meeting rooms, the largest one with capacity for up to 100 people. In the outdoor area, events such as weddings and birthdays can accommodate larger groups, up to 1,000 guests.
The hotel also features renewable and energy efficient technologies, including a solar collector system for water heating, rainwater reuse and natural lighting in both public spaces and rooms, supporting Hilton's "Travel with Purpose" initiative, and in line with Atlantica's Aja Responsibility and Sustainability program.
"We believe that a brand known worldwide, such as Hilton, will add value not only to this venture, but also to Foz do Iguaçu as a whole. We are very happy to be able to strengthen the tourist potential of the region and its growth through the generation of new jobs from this opening," said Paulo Baldan, representative of the group of investors and one of the partners in the venture.
Learn more about DoubleTree by Hilton on Stories From Hilton.
---
About Hilton
Hilton (NYSE: HLT) is a leading global hospitality company with a portfolio of 22 world-class brands comprising nearly 7,300 properties and more than 1.1 million rooms, in 123 countries and territories. Dedicated to fulfilling its founding vision to fill the earth with the light and warmth of hospitality, Hilton has welcomed more than 3 billion guests in its more than 100-year history, earned a top spot on Fortune's 100 Best Companies to Work For list and been recognized as a global leader on the Dow Jones Sustainability Indices for six consecutive years. Hilton has introduced several industry-leading technology enhancements to improve the guest experience, including Digital Key Share, automated complimentary room upgrades and the ability to book confirmed connecting rooms. Through the award-winning guest loyalty program Hilton Honors, the more than 165 million members who book directly with Hilton can earn Points for hotel stays and experiences money can't buy. With the free Hilton Honors app, guests can book their stay, select their room, check in, unlock their door with a Digital Key and check out, all from their smartphone. Visit stories.hilton.com for more information, and connect with Hilton on Facebook, Twitter, LinkedIn, Instagram and YouTube.
---
About DoubleTree by Hilton
DoubleTree by Hilton is a fast-growing, global portfolio of 660 hotels with more than 150,000 rooms across 51 countries and territories. For more than 50 years, DoubleTree by Hilton has continued to be a symbol of comfort for business and leisure travelers around the world, from welcoming guests with its signature, warm DoubleTree chocolate chip cookie, to serving the local community. DoubleTree by Hilton offers contemporary accommodations and amenities, including unique food and beverage experiences, state-of-the-art fitness offerings and meetings and events spaces. Experience a positive stay at DoubleTree by Hilton by booking at doubletree.com or through the industry-leading Hilton Honors app. Hilton Honors members who book directly through preferred Hilton channels have access to instant benefits. Learn more about DoubleTree by Hilton at stories.hilton.com/doubletree, and follow the brand on Facebook, Twitter and Instagram.
---
Atlantica Hospitality International
Founded in 1998, Atlantica Hospitality International, headquartered in the state of São Paulo, has a portfolio of more than 170 developments, which total the offer of more than 28 thousand rooms, in more than 60 cities in Brazil. It has more than five thousand employees trained to best serve its investors and guests, through transparency and high quality.
It has exclusive alliances with four of the largest hotel chains in the world – Choice Hotels (owner of the Sleep Inn, Comfort, Comfort Suites, Quality and Clarion brands), Radisson Hotels Americas (Radisson, Radisson BLU, Radisson Collection, Radisson RED, Park Plaza, Park Inn by Radisson and Country Inn & Suites by Radisson), Hilton (Hilton Garden Inn and DoubleTree by Hilton brands) and Wyndham (Ramada Hotel & Suites, Ramada and Ramada Encore), in addition to its own Go Inn, eSuites, Transamerica Fit, Transamerica Classic, Transamerica Executive, Transamerica Prestige, Transamerica Prime brands and the "by Atlantica" seal. The company's hotel developments follow international standards of excellence, with complete infrastructure, modern and well-equipped accommodation, and complimentary services, such as wireless internet connection and breakfast.
A pioneer in Brazil among hotel managers, Atlantica manages leases and residences with services within its Atlantica Residences vertical. There are four categories of studios and apartments - m/ode, e/joy, u/rbit and e/pic -, in addition to the by Atlantica Residences endorsement for hotels converted to the residential model, all located in strategic regions and equipped with a mini kitchen. The buildings have shared laundry facilities, a convenience point and offer pay-per-use services, such as cleaning and delivery, which can be requested from third parties through the app that works as a 24x7 service center.
And its third area of operation includes management of multi-property projects, which are offered mainly in leisure destinations, under the concept of second homes or vacation homes.