The brand's largest hotel in the U.S. offers unparalleled views of the Music City skyline and the highest rooftop bar and restaurant in the city
MCLEAN, Va. and NASHVILLE, Tenn., – Hilton proudly announces the opening of the largest Embassy Suites by Hilton hotel in the U.S., Embassy Suites by Hilton Nashville Downtown. The spacious 506-key all-suites hotel, situated adjacent to Music City Convention Center, is a destination for both business and leisure guests to meet, gather and celebrate their next big event.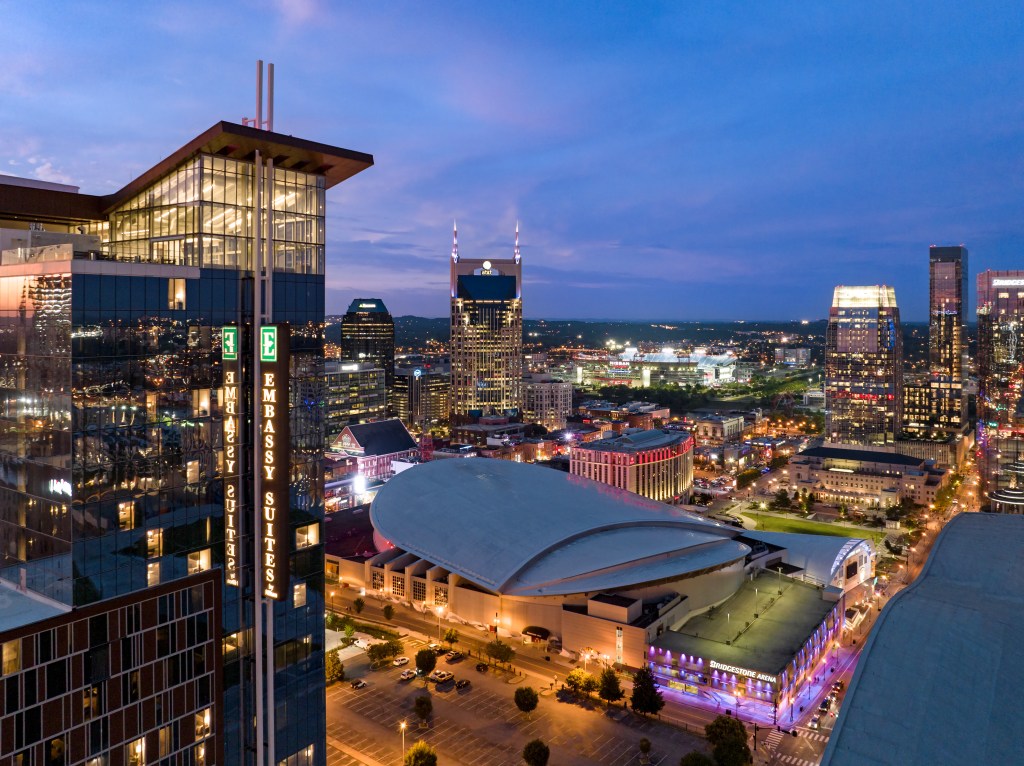 The new-build, 30-story hotel extends high into Nashville's skyline, offering breathtaking views from all angles and is within steps of the city's top attractions. The amenity-filled property boasts the city's highest rooftop restaurant and bar, veranda and more than 32,000 square feet of indoor and outdoor meeting and event space outfitted with state-of-the-art technology.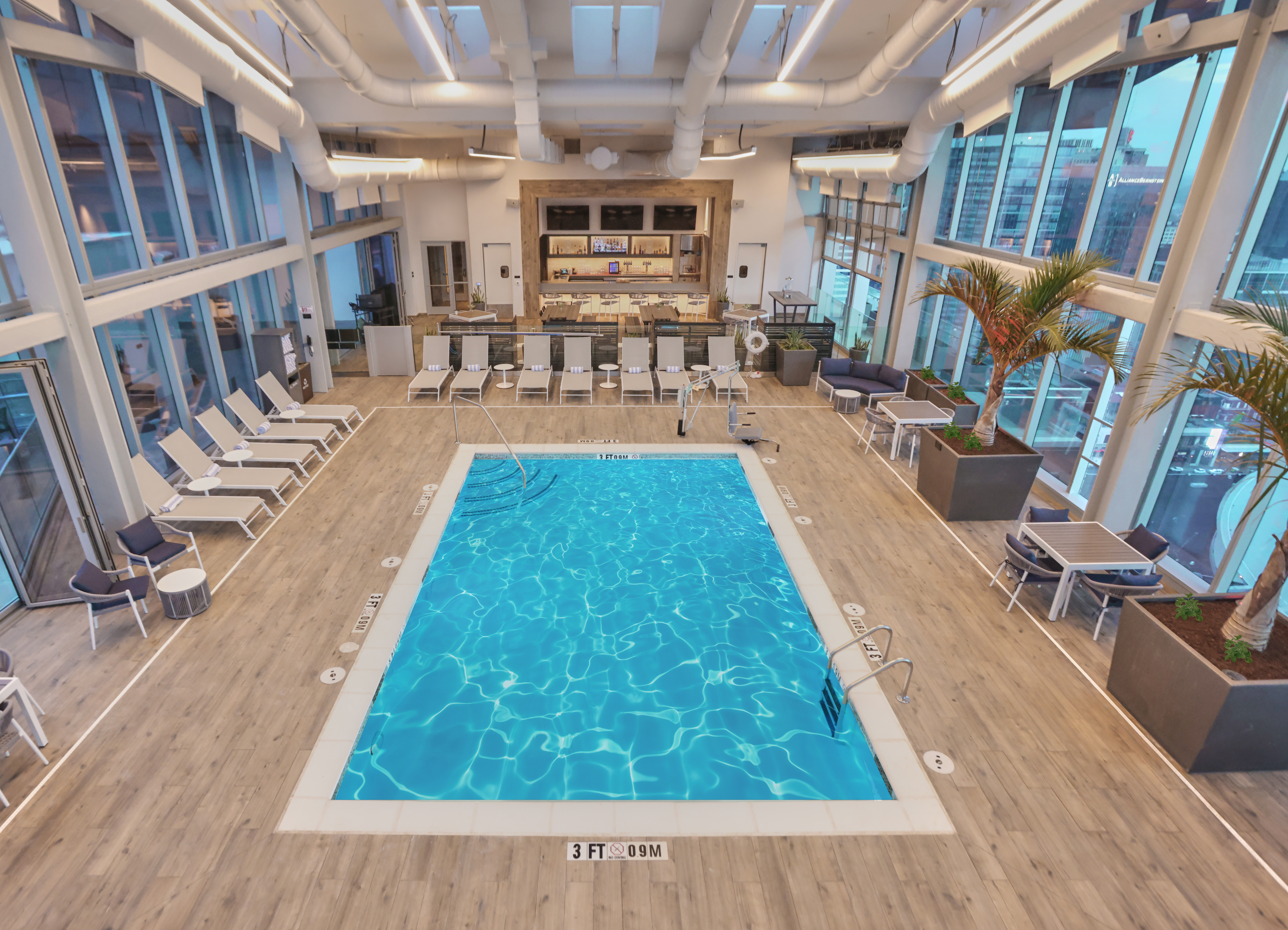 "Nashville is one of the hottest leisure and convention destinations to visit right now, and we're excited for Embassy Suites by Hilton Nashville Downtown to be the newest place to stay and experience Music City," said Bonnie Campagnuolo, brand leader, Embassy Suites by Hilton. "Beyond having an unparalleled location in the center of it all, the new hotel has been sustainably and thoughtfully created to provide a modern yet approachable space filled with sunlight and paying homage to the city with music-inspired touches."
Embassy Suites by Hilton Nashville Downtown was developed by Fort Worth, Texas-based Crescent Real Estate and is owned in partnership by a controlled affiliate of Starwood Capital Group and Crescent Real Estate. 
"The opening of Embassy Suites by Hilton Nashville Downtown is an exciting time for Starwood Capital," added Rob Tanenbaum, managing director, head of North American hotel asset management, Starwood Capital. "We are thrilled to be able to continue contributing to the hospitality space within this iconic city and community, with the largest Embassy Suites by Hilton in the nation."
Sustainable and Musical Design
The purposeful architectural design of Embassy Suites by Hilton Nashville Downtown features subtle cues to Nashville's musical roots. Born from deeply traditional regional materials, combined with modern steel and glass, the hotel bridges the historic character of the city with the newer modern architecture of the Music City Center. 
A nod to the life and spirit of the songwriting capital of the world, the exterior of the hotel includes design features such as the crown resembling the lid of a grand piano in a lifted position; the blade sign and steel structure supporting the roof feature takes the form of a large violin bow; and the front facade reflects a large sheet of music with each row of windows unique from the staff above and below.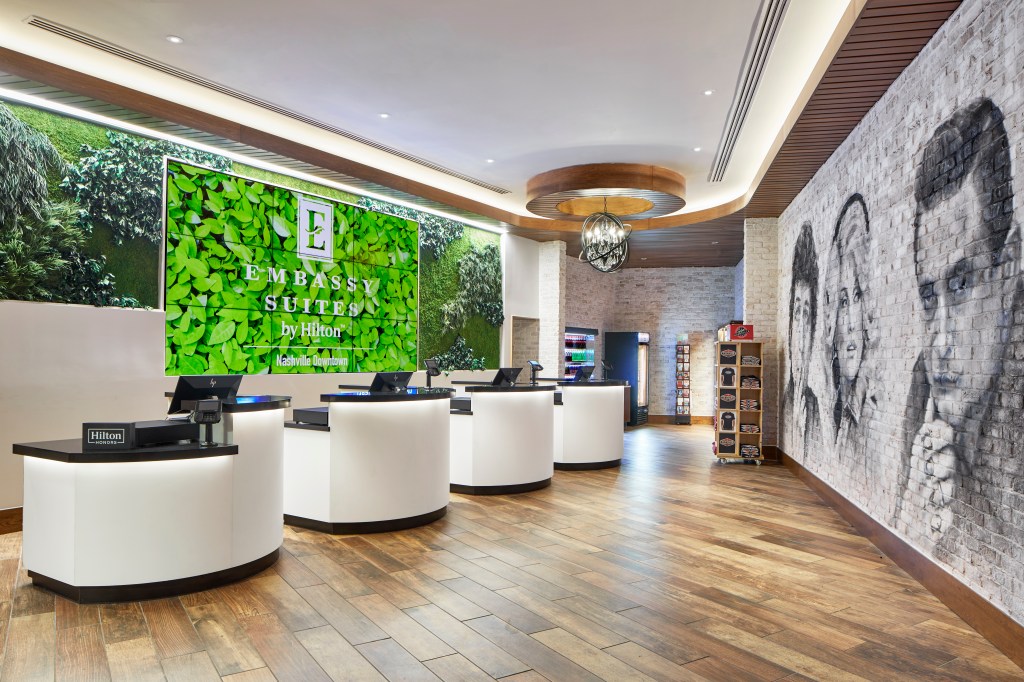 When entering different public spaces throughout the hotel, guests will notice the porte cochere ceilings are curved, resembling musical instruments, sound waves and the Cumberland River, which bisects Nashville. At check-in, travelers will catch sight of the front desk pods shaped as musical notes and each suite of the hotel features beautiful artwork that pays homage to the city's renowned musical history. 
Also significant are the sustainable attributes at the core of the design and development process for Embassy Suites by Hilton Nashville Downtown. The LEED-certified hotel infuses sustainable elements throughout, including its use of reclaimed wood, stone and iron. Daily operational practices continue the hotel's commitment to sustainability and include a glass recycling program, low mercury lighting, and reduced water use programs. 
Experience the Comforts at Embassy Suites by Hilton Nashville Downtown
Operated by Davidson Hotels, Embassy Suites by Hilton Nashville Downtown offers leisure and business travelers an upscale experience with best-in-class customer service. Awaiting guests are 506 spacious suites, many with floor-to-ceiling windows, and panoramic views of Nashville's dynamic skyline from the 27 balcony suites overlooking downtown.
As a full-suite hotel, guests will enjoy separate living and sleeping areas with ample space to spread out, especially in the unique one-bedroom suites with two king beds. The hotel also provides free Wi-Fi for Hilton Honors members and a 24-hour fitness center with the latest cardio, balance and weight-training equipment to maintain exercise routines away from home.
Step Inside Our Suites
Bedroom
Breathtaking panoramic views of Music City from the 1 King Suite - Panoramic Corner.
Living Room
The seating area with a sofa sleeper as seen in the 1 King Suite - Panoramic Corner allows the suite to sleep up to four.
Balcony
Located on floors 4-6 of the hotel, the 1 King - Balcony Suite overlooks the city and is perfect for unwinding.
Kitchenette
All of our suites include a kitchenette with a microwave, refrigerator, and coffeemaker. Pictured is the kitchenette in our 1 King Studio Suite.
Studio Suite
The 1 King Studio Suite still sleeps up to four with a sofa sleeper.
Taking Food & Beverage to New Heights
Beyond the comforts of home away from home, Embassy Suites by Hilton Nashville Downtown offers elevated dining options across four unique concepts: 
Good Citizen Coffee Co.: This specialty coffee bar features Tennessee's own roaster, Good Citizen Coffee Co., which is committed to biodiversity and supporting eco-friendly farmers.
The Overlook: Elevated 30 floors, guests will feel as if they're on top of a mountain in the heart of a flourishing city. Travelers and locals alike can enjoy garnished cocktails, small bites, and spectacular views overlooking the thriving streets of downtown Nashville. 
Hand Cut Chophouse: Opening in early 2023, Embassy Suites by Hilton Nashville Downtown will also feature the lobby-level Hand Cut Chophouse, famous for offering only the finest chops and burgers. The brand's first outpost outside of Scottdale, Arizona also includes a full mixology bar with signature cocktails, draft beer, as well as an award-winning wine menu. 
Harmony: This concept offers Embassy Suites' acclaimed free made-to-order breakfast each morning, with the brand's signature omelets – a favorite of travelers across the nation – as well as complimentary drinks and snacks every night during the Evening Reception. Following the reception, Harmony remains open for the evening to feature live music in a lively bar environment.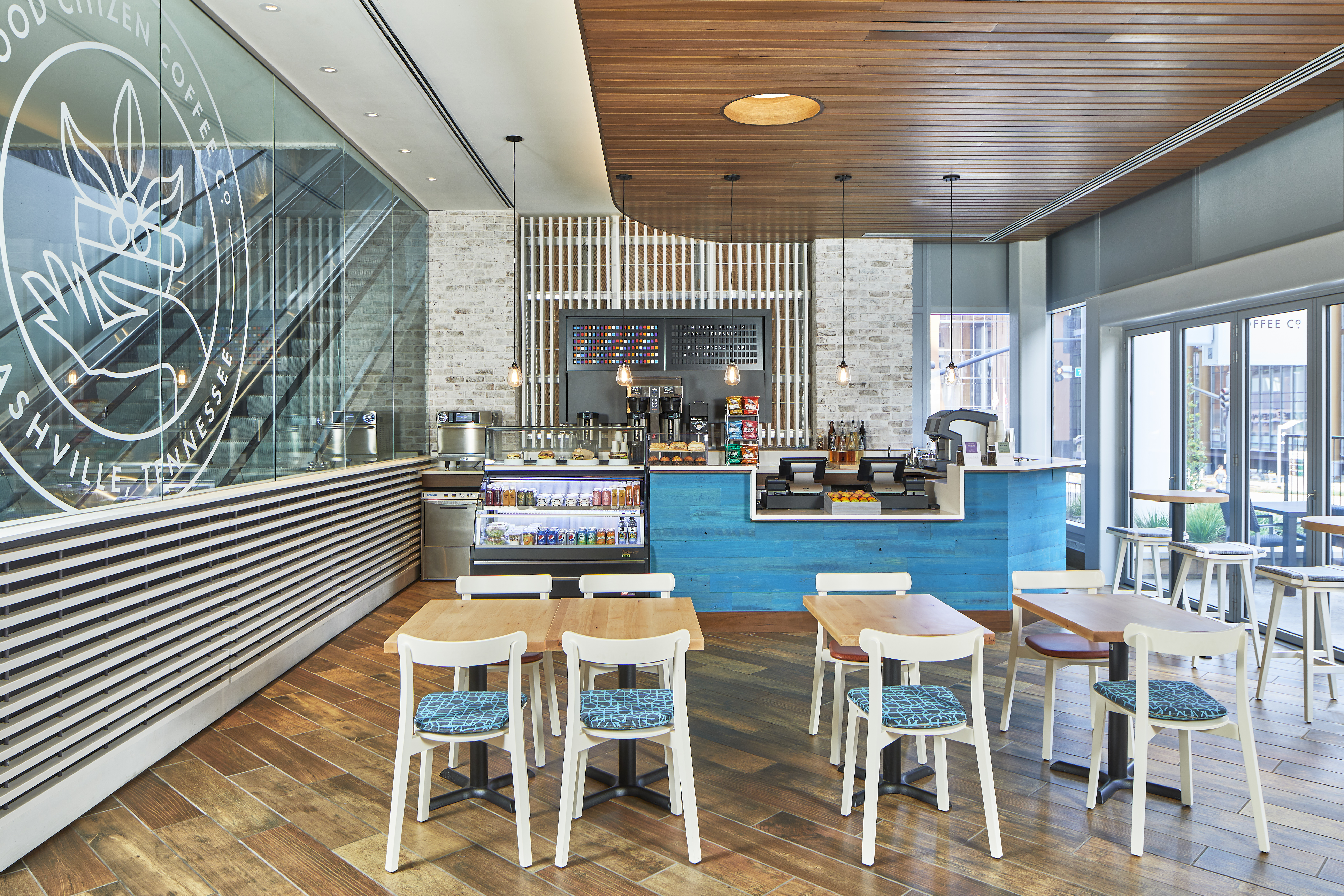 Space for Any Event
Embassy Suites by Hilton Nashville Downtown boasts distinctive, indoor/outdoor, semi-private and private event spaces flooded with natural light that can accommodate 10 to 400 people. The hotel's multi-purpose, state-of-the-art convention and conference area, Crossvine Event Space, features 32,000 square feet of meeting and event space with five ballrooms all on one level – the largest of which is 9,300 square feet. Menus featuring local offerings inspired by each season can be customized based on the occasion.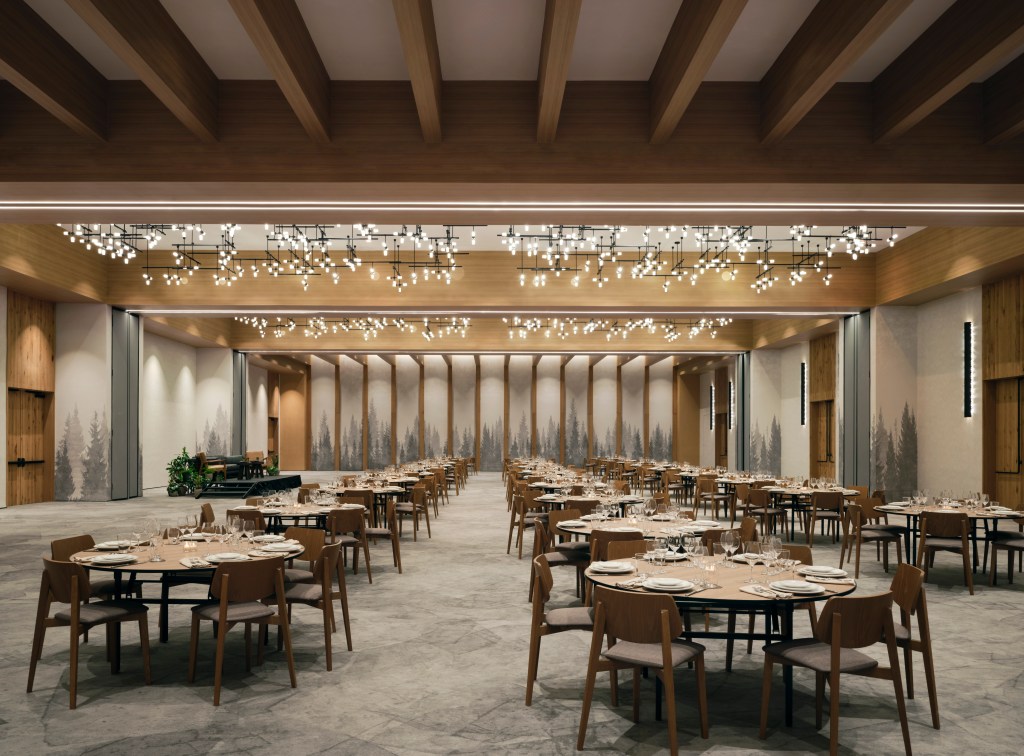 Other event spaces include the outdoor terrace of Harmony and the private gallery and patio of The Overlook, which offers the perfect spot to take in the excitement of Broadway or capture the serenity of golden hour from high above Nashville.
For more information or to book your next stay, please visit Hilton.com or call 615-736-7100 or book directly through the free Hilton Honors app for access to instant benefits.
Read more about Embassy Suites on Stories From Hilton.
---
About Hilton
Hilton (NYSE: HLT) is a leading global hospitality company with a portfolio of 22 world-class brands comprising nearly 7,300 properties and more than 1.1 million rooms, in 123 countries and territories. Dedicated to fulfilling its founding vision to fill the earth with the light and warmth of hospitality, Hilton has welcomed more than 3 billion guests in its more than 100-year history, earned a top spot on Fortune's 100 Best Companies to Work For list and been recognized as a global leader on the Dow Jones Sustainability Indices for six consecutive years. Hilton has introduced several industry-leading technology enhancements to improve the guest experience, including Digital Key Share, automated complimentary room upgrades and the ability to book confirmed connecting rooms. Through the award-winning guest loyalty program Hilton Honors, the more than 165 million members who book directly with Hilton can earn Points for hotel stays and experiences money can't buy. With the free Hilton Honors app, guests can book their stay, select their room, check in, unlock their door with a Digital Key and check out, all from their smartphone. Visit stories.hilton.com for more information, and connect with Hilton on Facebook, Twitter, LinkedIn, Instagram and YouTube.
---
About Embassy Suites by Hilton
Embassy Suites by Hilton, one of Hilton's market-leading brands, is dedicated to delivering what matters most to travelers. The full service, upscale brand offers both leisure and business travelers an approachable, best-in-class experience with two-room suites, free made-to-order breakfast, inviting open atriums, 24-hour fitness centers and a complimentary evening reception. Embassy Suites by Hilton offers more than 260 open hotels with 39 properties in development. Experience a positive stay at Embassy Suites by Hilton by booking at embassysuites.com or through the industry-leading Hilton Honors app. Hilton Honors members who book directly through preferred Hilton channels have access to instant benefits. Learn more about Embassy Suites by Hilton at stories.hilton.com/embassysuites, and follow the brand on Facebook, Twitter and Instagram.
---
About Davidson Hotels
Davidson Hotels is the heritage brand for Davidson Hospitality Group. Over the decades, Davidson Hotels has built a trusted brand that values financial cunning and employs an owner's mentality, while remaining true to heart for hospitality. Founded in experience and expertise, Davidson Hotels crafts a beautiful synergy between guest hospitality, personalized services, and management goals, positioning ownership partners for unparalleled success. For more information, visit www.davidsonhospitality.com/davidson-hotels/. Follow us on Instagram: @davidsonhospitality and Twitter: @DavidsonHospGrp. Like us on Facebook: @DavidsonHospitalityGroup. Connect with us on LinkedIn: @DavidsonHospitalityGroup. #DavidsonHotels
---
About Crescent Real Estate
Crescent Real Estate LLC (Crescent) is a real estate operating company and investment advisor, founded by Chairman John C. Goff, with assets under management, development, and investment capacity of more than $10 billion.  Through GP Invitational Fund III, the company acquires, develops, and operates all real estate asset classes alongside institutional investors and high net worth clients. Crescent's premier real estate portfolio consists of Class A and creative office, multifamily, hospitality, and senior living assets located throughout the U.S., including the Ritz-Carlton, Dallas, and the wellness lifestyle leader, Canyon Ranch ®. For more information, visit www.crescent.com. 
---
About Starwood Capital Group
Starwood Capital Group is a private investment firm with a core focus on global real estate, energy infrastructure and oil & gas. The Firm and its affiliates maintain 16 offices in seven countries around the world, and currently have approximately 4,500 employees. Since its inception in 1991, Starwood Capital Group has raised over $70 billion of capital, and currently has approximately $125 billion of assets under management. Through a series of comingled opportunity funds and Starwood Real Estate Income Trust, Inc. (SREIT), a non-listed REIT, the Firm has invested in virtually every category of real estate on a global basis, opportunistically shifting asset classes, geographies and positions in the capital stack as it perceives risk/reward dynamics to be evolving. Starwood Capital also manages Starwood Property Trust (NYSE: STWD), the largest commercial mortgage real estate investment trust in the United States, which has successfully deployed over $91 billion of capital since inception and manages a portfolio of $27 billion across debt and equity investments. Over the past 31 years, Starwood Capital Group and its affiliates have successfully executed an investment strategy that involves building enterprises in both the private and public markets. Additional information can be found at starwoodcapital.com.