Highly Competitive Rates, Customizable Rooms and Coveted Urban Destinations Create a New Type of Stay for All Guests
MCLEAN, Va. - Hilton (NYSE: HLT) today announced the launch of Motto by Hilton, its newest affordable lifestyle brand that will empower guests by giving them the freedom to create their own experiences in the world's most sought-after cities. As Hilton approaches its 100th anniversary, it continues to pioneer the hospitality landscape with a new brand to address the needs and desires of the evolving global traveler.  
"Hilton prides itself on being a leader in the hospitality industry and evolving with the needs of our guests," said Christopher J. Nassetta, president and CEO, Hilton. "Innovation is in our DNA, and as we embark on our 100th year as a company, we are innovating more than ever before. With Motto by Hilton, we are bringing to market something the industry has never experienced with its flexible and affordable room product, desirable locations and guest-empowered service." 
The Making of Motto
Motto by Hilton takes a fresh approach to modern travel culture. It is a micro-hotel with an urban vibe in prime global locations. 
Hilton evaluated the emerging lifestyle hostel model globally to understand the opportunity to enhance the shared room concept. But, extensive research showed that travelers who stay in hostels, in fact, do not like rooming with strangers and often book just with their friends or family. They want more from their hostel experience but are limited by current options in the market. 
As it evaluated the existing market, Hilton quickly understood that what these travelers wanted was an affordable urban lifestyle brand – one that combined comfort and accessibility with travel and lifestyle trends that centered around: 
Prime Locations: It's about giving travelers access to the best location - being in the heart of the city and in the most popular neighborhoods. Right neighborhoods make a difference. 
Authenticity: What does it mean to be "here"? Locality breeds identity, community, and ultimately, a sense of place. 
Affordability: Competitive rates that open the doors to cities and locations that travelers didn't think they could afford. 
Flexibility: One size doesn't fit all — choice is paramount. Multi-purpose spaces are growing in popularity because of the flexibility they afford. 
"Following extensive market research that focused on consumers' needs and wants, we discovered the opportunity for a brand that offers travelers a trifecta of centrally located, reasonably priced and less traditional lodging that provide a one-of-a-kind experience," said Jon Witter, chief customer officer, Hilton. "These findings led us to create Motto by Hilton, a flexible environment that allows guests to design their stay, their way." 
The Motto Way
Motto by Hilton hotels around the world will show off their flexibility through spaces that have been cleverly designed, technology that makes traveling seamless and a standout sleep experience that makes recharging easier than ever.
Guest Rooms: With an average footprint of 163 square feet or 14 square meters, the highly efficient rooms will include space-saving features such as wall-beds, lofted beds, segmented shower and toilet stalls, and multi-functional furniture that can be discreetly stowed when not in use.
Linking Rooms: Eliminating the hassle of coordinating travel for larger groups, Motto by Hilton hotels will have the option for guests to book multiple connecting rooms in advance. 
Split-payments: Motto by Hilton hotels will allow guests to split payments between more than one person at the time of booking, avoiding the sometimes-complicated math exercise during checkout.  
Connected Room: All Motto by Hilton rooms will be outfitted with Hilton's Connected Room technology – the first mobile-centric hotel offering that allows guests to control features in their room (i.e., temperature, lighting, TV, window coverings, etc.) from their Hilton Honors mobile app. 
Curated Sleep Experience: Motto by Hilton hotels will put an emphasis on a premium sleep experience. Whether it is a premium mattress; a Sleep Kit with eye masks, essential oils or vitamin bars; a white noise app; blackout window shades; or sound absorbing materials throughout the room, Motto by Hilton is sleep-obsessed and prioritizes quality sleep for every traveler.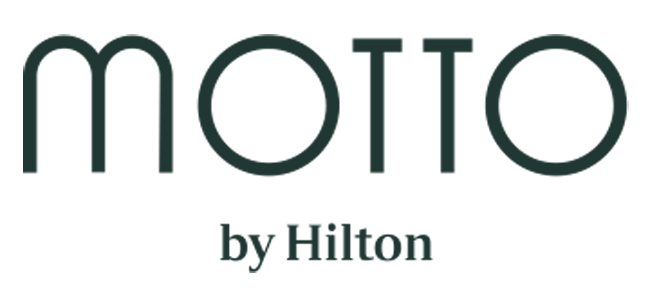 "The launch of Motto by Hilton emphasizes our relentless commitment to creating innovative brands that meet what today's travelers want," said Phil Cordell, global head of new brand development, Hilton. "The unmatched flexibility of Motto offers tremendous value by empowering travelers to tailor every stay to their specific needs." 
While Motto by Hilton prices will vary by market, each property will offer competitive rates that will make it a viable option for travelers who typically stay with friends or family or seek out temporary housing options when traveling to urban markets. 
Motto on the Move
This global brand will be made up of a carefully curated portfolio of hotels in the most desirable urban destinations throughout Europe, the Americas, the Middle East and Asia Pacific. 
Motto by Hilton hotels will be located in prime neighborhoods, such as the 100-bed Motto by Hilton in Marylebone, London, which is being developed with the UK-based developer, Dominvs Group. Demolition on the site has commenced and construction will start in January 2019, targeting a 2020 opening as one of the first Motto by Hilton properties. 
Motto by Hilton also has deals in various stages of development in other exciting urban destinations like: Lima, Dublin, Savannah, San Diego, Boston and Washington, D.C., – to name a few. 
"We've deconstructed the traditional hospitality experience to create something truly fresh and exciting," said Tripp McLaughlin, global head, Motto by Hilton. "This will be a global brand, heavily targeting the destinations where our connected and confident travelers want to travel to the most."
As part of Hilton, Motto by Hilton invites guests to enjoy benefits of Hilton Honors, the award-winning guest-loyalty program for Hilton's distinct hotel brands. Members who book directly with Hilton have access to instant benefits, including a flexible payment slider that allows members to choose nearly any combination of points and money to book a stay, an exclusive member discount, free standard Wi-Fi and the Hilton Honors mobile app.
---
About Hilton
Hilton (NYSE: HLT) is a leading global hospitality company with a portfolio of 22 world-class brands comprising nearly 7,300 properties and more than 1.1 million rooms, in 123 countries and territories. Dedicated to fulfilling its founding vision to fill the earth with the light and warmth of hospitality, Hilton has welcomed more than 3 billion guests in its more than 100-year history, earned a top spot on Fortune's 100 Best Companies to Work For list and been recognized as a global leader on the Dow Jones Sustainability Indices for six consecutive years. Hilton has introduced several industry-leading technology enhancements to improve the guest experience, including Digital Key Share, automated complimentary room upgrades and the ability to book confirmed connecting rooms. Through the award-winning guest loyalty program Hilton Honors, the more than 165 million members who book directly with Hilton can earn Points for hotel stays and experiences money can't buy. With the free Hilton Honors app, guests can book their stay, select their room, check in, unlock their door with a Digital Key and check out, all from their smartphone. Visit stories.hilton.com for more information, and connect with Hilton on Facebook, Twitter, LinkedIn, Instagram and YouTube.
---
About Motto by Hilton
Motto by Hilton is a lifestyle hotel brand designed to help guests live like a local in prime global locations. Motto by Hilton caters to travelers looking for dynamic experiences by bringing together the best elements of a lifestyle hotel – cleverly compact guestrooms, centrally located destinations, modern design, locally inspired food & beverage and a vibrant connection to the neighborhood. Motto by Hilton delivers a flexible and innovative hospitality experience through elements like first-of-its-kind connecting guestrooms for up to 9 rooms, lively communal spaces and a coffee house and bar for work and social use by guests and locals alike. Check out Motto by Hilton in Washington D.C., Philadelphia, New York City, Tulum and Rotterdam by booking at mottobyhilton.com or through the industry-leading Hilton Honors app. Hilton Honors members who book directly through preferred Hilton channels have access to instant benefits. Learn more about Motto by Hilton and its 20 additional properties under development at stories.hilton.com/motto, and follow the brand on Facebook and Instagram.