Hotel launches themed suite with an array of Barbie‑themed programming throughout the property
BOGOTA, Colombia – Hilton Bogota Corferias announces the launch of the limited-time Barbie-themed suite. Available from July 10, 2023, to July 2024, the suite is designed to celebrate the innovation, fantasy and fun that Barbie personifies, while evoking a sense of nostalgia for those who held Barbie as a centerpiece of their childhood. The suite is perfect for a fun getaway, glamourous vacation, or immersion into the world of the beloved doll. Fans can also indulge in several Barbie-themed experiences from check-in to check-out across the hotel in addition to booking the suite.
"Our design for this suite is inspired by the fans who grew up with the iconic Barbie doll. From the moment they arrive at the hotel, we want them to feel transported into a Barbie utopia. In this suite, every corner is tailored to create a sense of childhood nostalgia," said John Freudenthaler, general manager, Hilton Bogota Corferias. "We would like to thank our partners at Mattel for helping us bring this Barbie dreamworld to life; this innovative offering for our guests will surely create new memories for years to come."
Barbie-themed Suite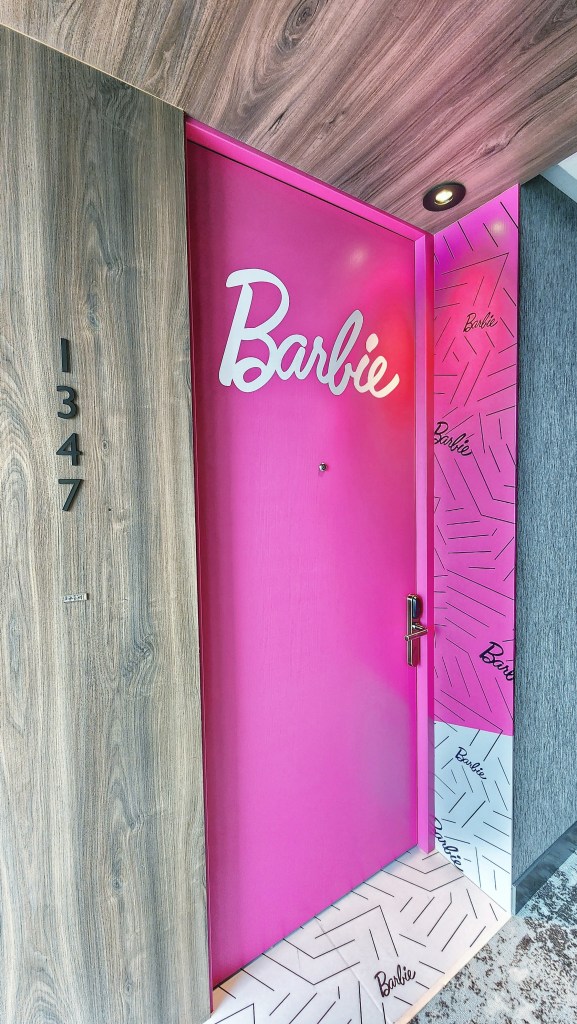 Located on the hotel's 13th floor and offering an impressive view of the city, including the striking Eastern Hills and beautiful skylines of Northern Bogota, the 1990's inspired, and thoughtfully designed suite transports guests to the Barbie world from the moment they enter the door. The 552 square foot one-bedroom suite for four guests features inspiring and empowering Barbie mantras throughout, including "Together We Shine" and "Strong Girls Make Waves".
Shades of pink adorn the wall accompanied by patterned graphics, Barbie and her friends and contemporary artwork of the legendary doll. The king bed features a colored headboard with pink and white furnishings atop a faux fur white rug. Guests can unwind on the pull-out couch featuring Barbie throw pillows or prepare for a night of glam and style at the light and bright dressing suite-inspired vanity featuring an amenities kit, including a Barbie doll, tutu and pink glasses. Also, in the suite guests find a robe, slippers, and towels with Barbie's name on them. The expansive bathroom features Barbie graphics throughout and a large dressing mirror. As a pet-friendly suite, four-legged friends can live their Barbie dreams too, enjoying a space created specifically for them atop a shag bean bag chair.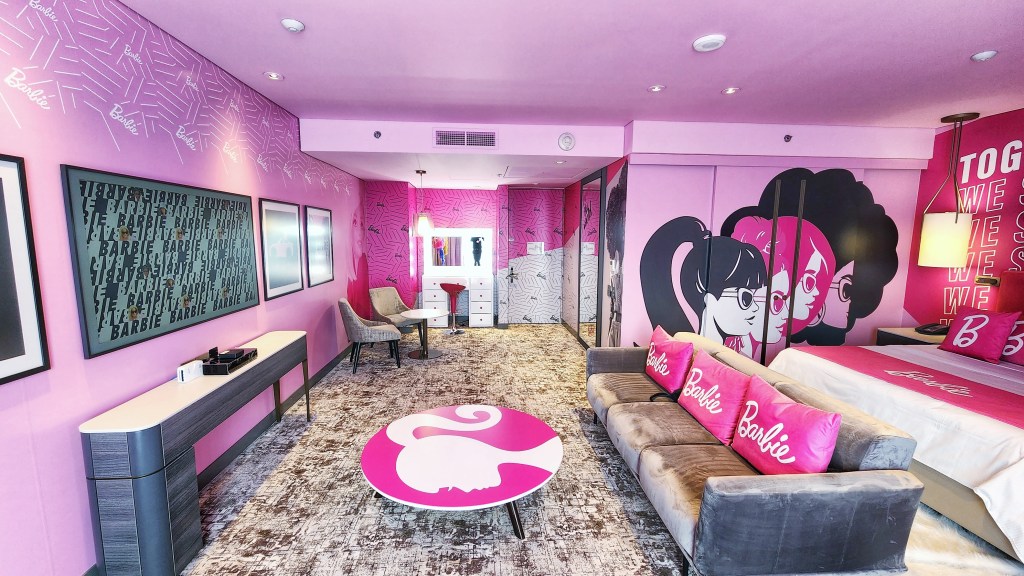 Barbie-themed Programming
Not only guests can experience Barbie's unmistakable style while in their suite, but this experience is also reflected in programs throughout the hotel where everyone is welcome, even pets. Guests can choose from a variety of special activities, such as relaxing in the spa or hosting a vibrant pool party with friends in the heated indoor pool. 
In addition, they can enjoy a pink sunset with delicious drinks from Four Eleven Bar or delight in a glamorous pinknic on the hotel´s terrace with snacks and drinks inspired by Barbie. Other activities include pizza, bakery, and fashion master classes, make-up, karaoke, a photo booth and accessory kits, including pink aprons. Guests can also dine at OKA Grill House, and Bon Market where iconic culinary creations get a touch of Barbie's color palette through fresh fruits and local ingredients. 
Hilton Bogota Corferias is located at Carrera 37 No. 24 29, Bogota, Colombia. Available through July 30, 2024, guests can visit the hotel's website, contact corferias.reservations@hilton.com or call +57 601 4434400 to reserve the suite. Rates for the Barbie-themed suite start from $229 per night and must be booked 24 hours in advance. Terms and conditions apply.
Read more about Hilton Hotels & Resorts at stories.hilton.com.
---
About Hilton
Hilton (NYSE: HLT) is a leading global hospitality company with a portfolio of 22 world-class brands comprising nearly 7,300 properties and more than 1.1 million rooms, in 123 countries and territories. Dedicated to fulfilling its founding vision to fill the earth with the light and warmth of hospitality, Hilton has welcomed more than 3 billion guests in its more than 100-year history, earned a top spot on Fortune's 100 Best Companies to Work For list and been recognized as a global leader on the Dow Jones Sustainability Indices for six consecutive years. Hilton has introduced several industry-leading technology enhancements to improve the guest experience, including Digital Key Share, automated complimentary room upgrades and the ability to book confirmed connecting rooms. Through the award-winning guest loyalty program Hilton Honors, the more than 165 million members who book directly with Hilton can earn Points for hotel stays and experiences money can't buy. With the free Hilton Honors app, guests can book their stay, select their room, check in, unlock their door with a Digital Key and check out, all from their smartphone. Visit stories.hilton.com for more information, and connect with Hilton on Facebook, Twitter, LinkedIn, Instagram and YouTube.
---
About Hilton Hotels & Resorts
For over a century, Hilton Hotels & Resorts has set the benchmark for hospitality around the world, providing new product innovations and services to meet guests' evolving needs. With more than 600 hotels across six continents, Hilton Hotels & Resorts properties are located in the world's most sought-after destinations for guests who know that where they stay matters. Experience a positive stay at Hilton Hotels & Resorts by booking at hiltonhotels.com or through the industry-leading Hilton Honors app. Hilton Honors members who book directly through preferred Hilton channels have access to instant benefits. Learn more about Hilton Hotels & Resorts at stories.hilton.com/hhr, and follow the brand on Facebook, Twitter and Instagram.