BOSTON and MCLEAN, Va. – Today, global hospitality leader Hilton (NYSE: HLT) announced the opening of the 1,060-room historic Hilton Boston Park Plaza. Most recently known as the Boston Park Plaza, this beloved hotel rejoins the Hilton Hotels & Resorts portfolio, bringing back Hilton's benchmark of hospitality in the Back Bay neighborhood. In the mid-20th century, Conrad Hilton purchased the property, which represented Hilton's first hotel in Boston and was later named the Statler Hilton. Now representing Hilton once again, the architecturally impressive hotel features contemporary and pet-friendly guest rooms and suites, two restaurants, a variety of amenities and 70,000 square feet of meetings and event space. The property is owned by Parks Hospitality Holdings (PHH) and managed by Hilton. 
"Since Conrad Hilton purchased the property in 1954, we've built upon his vision to fill the earth with the light and warmth of hospitality."
"We are delighted to welcome back one of our first Boston properties, Hilton Boston Park Plaza, to the Hilton family. The hotel's exceptional location in the heart of the city, coupled with the property's friendly service and thoughtful amenities, offer the perfect homebase for every traveler and any occasion," said Danny Hughes, president, Americas, Hilton. "Since Conrad Hilton purchased the property in 1954, we've built upon his vision to fill the earth with the light and warmth of hospitality. Today, we are proud to welcome travelers at more than 60 Hilton hotels across Boston."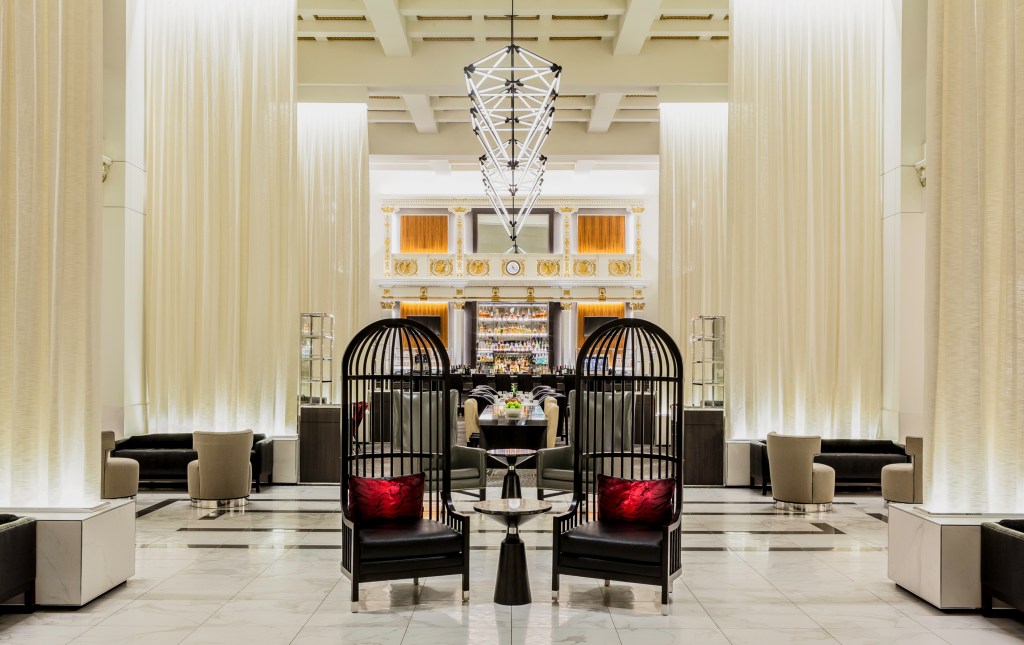 "Nearly 70 years since Hilton first arrived in Boston, we're thrilled to welcome back visitors to this iconic hotel. As we continue to grow Hilton Hotels & Resorts to more than 600 hotels welcoming guests globally, we are excited to add Hilton Boston Park Plaza to the brand's portfolio," said Leonard Gooz, brand leader, Hilton Hotels & Resorts. "We look forward to honoring the hotel's legacy and serving as a destination for the next generation of travelers, galas and events for years to come." 
Located four miles from Boston Logan Airport, Hilton Boston Park Plaza is primely situated one block from Boston Common, the most historic public park in the United States, and just steps away from Boston Public Garden, the Theater District, and the Arlington T Station, offering easy connectivity to the city's most treasured attractions. Originally conceived by hotelier E.M. Statler as a city within a city, the property originally opened in 1927 as The Statler Hotel and in 1954, Conrad Hilton purchased the property as part of The Statler Hotel chain before renaming the hotel the Statler Hilton in 1957. In 1976, a local family purchased the hotel, renaming it Boston Park Plaza Hotel & Towers. Throughout its nearly 100-year history, the hotel has played host to an array of dignitaries, U.S. Presidents, celebrities and cultural events.  
Featuring 1,060 contemporary guest rooms, including 55 suites, the well-appointed, bright and inviting accommodations honor the hotel's personality and history with thoughtful design, including New England inspired artwork and stone-topped cabinetry. Most guest room amenities include a dedicated workspace, interactive smart TVs with streaming capabilities, bedside USB charging ports, blackout shades, a refrigerator and a Keurig coffee and tea machine. For added space and amenities, guests can choose from studio and one-bedroom suites or opt for the spacious 1,160 square foot Presidential Suite, featuring a full bar and deep soaking tub or the sophisticated 1,400 square foot Garden Suite, with a pantry kitchen and expansive, private terrace overlooking the city.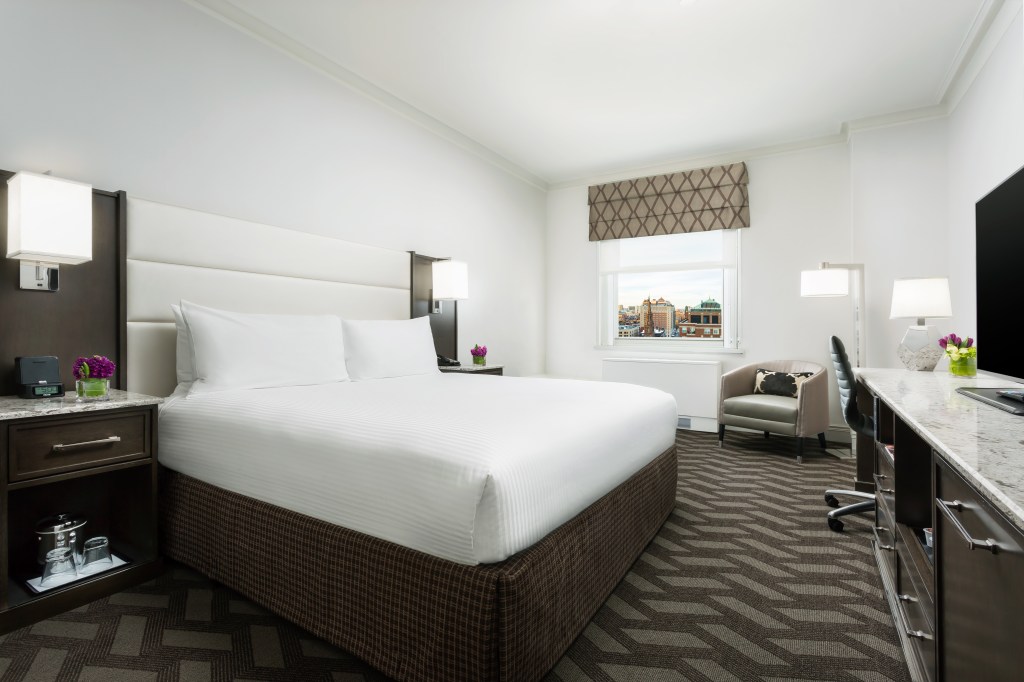 Located in the vibrant and contemporary lobby, guests can enjoy all-day dining at the signature restaurant and bar, Off the Common. Serving locally inspired cuisine across breakfast, lunch and dinner, the restaurant is the perfect location to start the day, host a lunch meeting or toast the end of the day with a cocktail. Other dining options include Strega Italiano, which features a diverse menu of Italian-inspired dishes and creative cocktails; a convenient onsite Starbucks serving ethically sourced arabica coffee and sweet treats for hotel guests; and room service, offering a variety of delectable classics, small plates and beverages.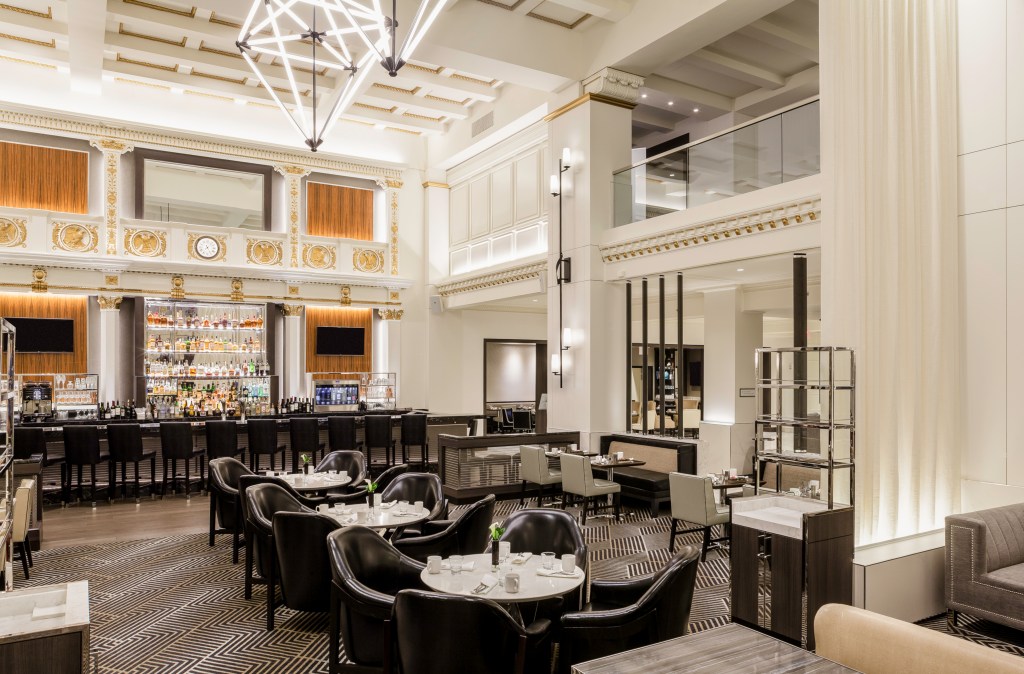 In addition to the hotel's food and beverage outlets, Hilton Boston Park Plaza guests can enjoy an array of amenities, including golf swing suites, which offers PGA-certified lessons, full virtual golf courses and a virtual driving range available for private events. For travelers keeping up with their fitness routine, guests have access to Lynx Fitness Club, an expansive 20,000 square foot innovative health club with the latest state-of-the-art equipment, expert trainers, and a variety of yoga, boxing, HIIT classes and more, offering guests a well-rounded fitness experience.
Additionally, art lovers can peruse the only Leica Store and Gallery in New England for a fully immersive photography experience with rotating exhibits. For business travelers, Hilton Boston Park Plaza also offers a full-service FedEx Business Center.  
Perfect for social events of all sizes, the legendary property is a celebrated and timeless venue for dream weddings and memorable galas. Hilton Boston Park Plaza features 70,000 square feet of historic and contemporary space, including the 13,215 square foot Grand Ballroom. Floor-to-ceiling windows, original Baccarat Crystal chandeliers and ornate balconies make the Grand Ballroom an exceptional backdrop for any occasion. For a non-traditional venue, Avenue 34 and The Square offer a bespoke experience featuring tasteful industrial chic design, including city-inspired artwork and exposed beams. With a variety of flexible options, planners can choose from 35 meeting rooms and three ballrooms that can host a range of gatherings from corporate meetings and general sessions to social events for up to 2,000 guests.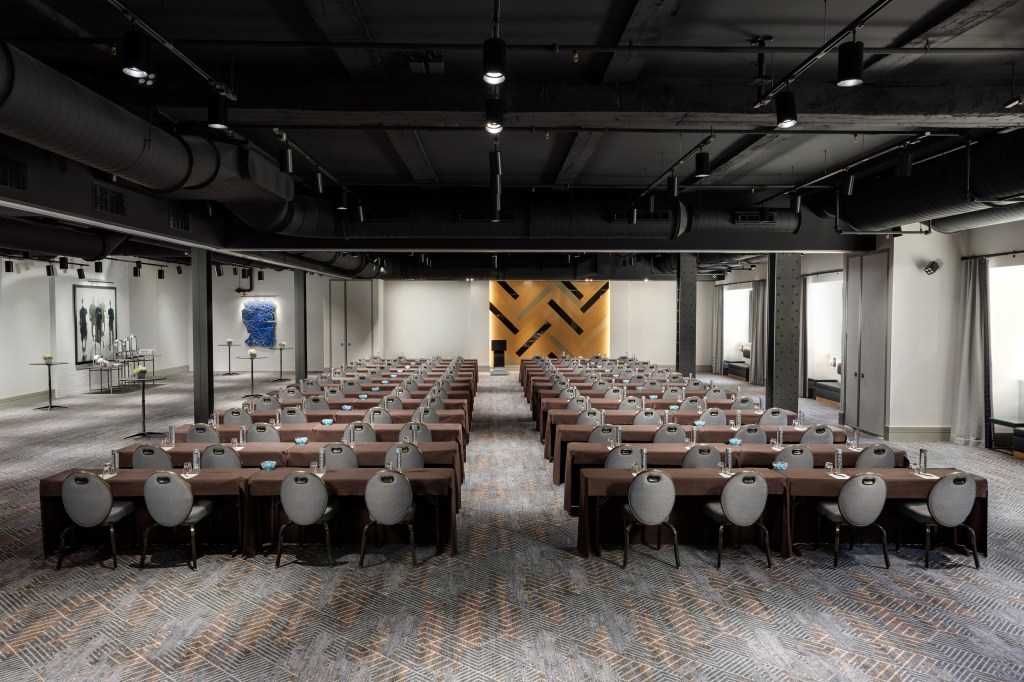 "Acquiring the celebrated Boston Park Plaza is a significant milestone for Parks Hospitality Holdings as it represents our first asset in the Northeastern U.S.," said Charles El-Mann Fasja, CEO at PHH. "This addition to our portfolio marks a new era of expansion for PHH, bringing our expertise in hospitality development from Mexico to locations across the U.S."
Hilton Boston Park Plaza joins Hilton's portfolio of more than 60 hotels across ten brands in the market. Boston continues to represent an important destination in Hilton's portfolio, with a pipeline of nearly ten hotels in various stages of development.
Hilton Boston Park Plaza participates in Hilton Honors, the award-winning guest-loyalty program for Hilton's distinct hotel brands. Members who book directly have access to instant benefits, including a flexible payment slider that allows members to choose nearly any combination of Points and money to book a stay, an exclusive member discount, free standard Wi-Fi and the Hilton Honors mobile app. 
Hilton Boston Park Plaza is located at 50 Park Plaza at Arlington Street, Boston, MA 02116.  For more information or to make a reservation, visit Hilton.com or call 1-800-HILTONS.  
For more information about Hilton Hotels & Resorts visit stories.hilton.com.  
---
About Hilton
Hilton (NYSE: HLT) is a leading global hospitality company with a portfolio of 22 world-class brands comprising nearly 7,400 properties and more than 1.1 million rooms, in 124 countries and territories. Dedicated to fulfilling its founding vision to fill the earth with the light and warmth of hospitality, Hilton has welcomed more than 3 billion guests in its more than 100-year history, earned a top spot on Fortune's 100 Best Companies to Work For list and been recognized as a global leader on the Dow Jones Sustainability Indices for six consecutive years. Hilton has introduced several industry-leading technology enhancements to improve the guest experience, including Digital Key Share, automated complimentary room upgrades and the ability to book confirmed connecting rooms. Through the award-winning guest loyalty program Hilton Honors, the more than 173 million members who book directly with Hilton can earn Points for hotel stays and experiences money can't buy. With the free Hilton Honors app, guests can book their stay, select their room, check in, unlock their door with a Digital Key and check out, all from their smartphone. Visit stories.hilton.com for more information, and connect with Hilton on Facebook, Twitter, LinkedIn, Instagram and YouTube.
---
About Hilton Hotels & Resorts
For over a century, Hilton Hotels & Resorts has set the benchmark for hospitality around the world, providing new product innovations and services to meet guests' evolving needs. With more than 600 hotels across six continents, Hilton Hotels & Resorts properties are located in the world's most sought-after destinations for guests who know that where they stay matters. Experience a positive stay at Hilton Hotels & Resorts by booking at hiltonhotels.com or through the industry-leading Hilton Honors app. Hilton Honors members who book directly through preferred Hilton channels have access to instant benefits. Learn more about Hilton Hotels & Resorts at stories.hilton.com/hhr, and follow the brand on Facebook, Twitter and Instagram.
---
About Parks Hospitality Holdings
Parks Hospitality Holdings (PHH), founded in Mexico over 20 years ago, is Latin America's largest full-service hotel developer with 11,000 rooms developed to-date and 3,000 more rooms in the pipeline. Led by CEO, Charles El-Mann Fasja, Parks Hospitality not only enhances the destination experience where they build but spreads the resilience of the region by employing and sourcing directly from the region. PHH is a significant employer and supporter of local suppliers, uplifting the economy and fostering community development.
In addition to enhancing local economies, PHH is deeply committed to environmental stewardship. Each property is a testament to this dedication, reflecting a synergy of luxury and environmental sustainability. From the use of eco-friendly materials in construction to the integration of green technologies, PHH ensures that every venture makes a minimal footprint on the environment while offering an unmatched guest experience.
The PHH portfolio includes but not limited to, Conrad Tulum, Waldorf Astoria Cancun, Hilton Cancun, an All-Inclusive Resort, Hilton Tulum Riviera Maya All-Inclusive Resort and Hilton Mexico City Reforma.