DoubleTree by Hilton Kyoto Station set to debut in the spring of 2024
TOKYO, Japan – Hilton (NYSE: HLT) today announced the signing of a management agreement with Daiwa House Realty Mtg. Co., Ltd. for DoubleTree by Hilton Kyoto Station. Scheduled to open in the spring of 2024, the rebranded hotel will be Hilton's fifth hotel development in Kyoto.
"We are thrilled to partner with Daiwa House Realty Mtg. Co., Ltd. to open DoubleTree by Hilton Kyoto Station. Kyoto is one of Japan's most sought-after destinations for international and domestic travelers alike, and the signing of our fifth property here illustrates Hilton's strong commitment to serving even more guests and their diverse needs with our growing portfolio of brands," said Guy Phillips, senior vice president, development, APAC ex Greater China, Hilton.
The signing follows the openings of ROKU KYOTO, LXR Hotels & Resorts in 2021 and Hilton Garden Inn Kyoto Shijo Karasuma in 2022. This year, DoubleTree by Hilton Kyoto Higashiyama is slated to open on August 8, while Hilton Kyoto is set to open in 2024.
Situated just 5 minutes from the bustling Kyoto Station, the 266-room DoubleTree by Hilton Kyoto Station provides effortless access to four major railways – Tokaido Shinkansen, the JR Lines, the metro, and Kintetsu Railway – as well as an extensive bus network. Travelers can take advantage of expeditious rail connections to nearby urban centers such as Osaka, Nara, and Kobe. The hotel is also an ideal base for guests exploring Kyoto. The nearby Kyoto Station building offers a wide array of shops and restaurants to satiate culinary cravings and shopping needs, while the Kyoto Tower, a 10-minute walk away, offers stunning views of the city's skyline. The Nishi Honganji and Higashi Honganji Temples, both UNESCO World Heritage sites, feature stunning architecture along with beautiful gardens and are within a 2-kilometer radius from the hotel.
Mitsuhiro Ito, president, Daiwa House Realty Mgt Co., Ltd., said, "We are happy to announce our first partnership with Hilton, and we look forward to providing a global standard of service that will satisfy both domestic and international travelers at DoubleTree by Hilton Kyoto Station."
DoubleTree by Hilton Kyoto Station will be housed in a nine-story building infused with a Kyoto-inspired style of design and architecture. The hotel will feature a variety of guest room types – majority of which span 25 square meters – as well as an all-day dining restaurant, a café lounge, a fitness center, an executive lounge, and meeting facilities.
"For more than fifty years, DoubleTree by Hilton has been renowned for delivering a warm welcome to guests around the world. The signature, warm DoubleTree chocolate chip cookie has become synonymous with the brand's hospitality and delivery of feel-good moments from arrival throughout a guest's stay," said Vincent Ong, vice president, Brand Management, Full Service, Asia Pacific, Hilton. "We look forward to expanding the brand's presence in Kyoto and extending its signature hospitality to even more travelers in the city."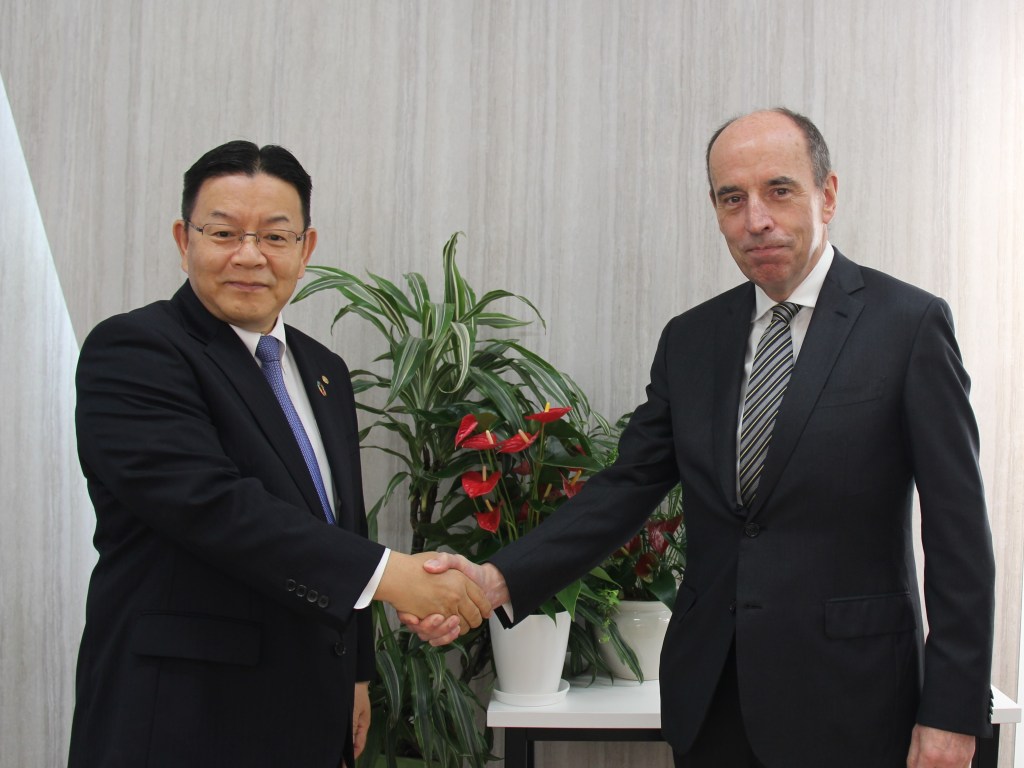 Read more about DoubleTree by Hilton at stories.hilton.com/doubletree.
---
About Hilton
Hilton (NYSE: HLT) is a leading global hospitality company with a portfolio of 22 world-class brands comprising nearly 7,300 properties and more than 1.1 million rooms, in 123 countries and territories. Dedicated to fulfilling its founding vision to fill the earth with the light and warmth of hospitality, Hilton has welcomed more than 3 billion guests in its more than 100-year history, earned a top spot on Fortune's 100 Best Companies to Work For list and been recognized as a global leader on the Dow Jones Sustainability Indices for six consecutive years. Hilton has introduced several industry-leading technology enhancements to improve the guest experience, including Digital Key Share, automated complimentary room upgrades and the ability to book confirmed connecting rooms. Through the award-winning guest loyalty program Hilton Honors, the more than 165 million members who book directly with Hilton can earn Points for hotel stays and experiences money can't buy. With the free Hilton Honors app, guests can book their stay, select their room, check in, unlock their door with a Digital Key and check out, all from their smartphone. Visit stories.hilton.com for more information, and connect with Hilton on Facebook, Twitter, LinkedIn, Instagram and YouTube.
---
About DoubleTree by Hilton
DoubleTree by Hilton is a fast-growing, global portfolio of 660 hotels with more than 150,000 rooms across 51 countries and territories. For more than 50 years, DoubleTree by Hilton has continued to be a symbol of comfort for business and leisure travelers around the world, from welcoming guests with its signature, warm DoubleTree chocolate chip cookie, to serving the local community. DoubleTree by Hilton offers contemporary accommodations and amenities, including unique food and beverage experiences, state-of-the-art fitness offerings and meetings and events spaces. Experience a positive stay at DoubleTree by Hilton by booking at doubletree.com or through the industry-leading Hilton Honors app. Hilton Honors members who book directly through preferred Hilton channels have access to instant benefits. Learn more about DoubleTree by Hilton at stories.hilton.com/doubletree, and follow the brand on Facebook, Twitter and Instagram.