Landmark opening marks Hilton's entry into Tunisia and promises a myriad of unique experiences, overlooking breathtaking beachside vistas across the Skanes area
MONASTIR, Tunisia – Hilton (NYSE: HLT) today announced its debut in Tunisia with the opening of the highly anticipated Hilton Skanes Monastir Beach Resort – a unique property set close to historical cultural landmarks, offering panoramic Mediterranean views, world-class dining, and a destination-worthy wellness centre. 
Located six miles from Monastir downtown and eight miles from Sousse, Skanes is a highly sought-after resort destination on Tunisia's coastline, renowned for its rich history, vibrant culture, and natural beauty. Hilton Skanes Monastir Beach Resort is close to the Monastir-Habib Bourguiba International Airport, making it easily accessible to major attractions such as the Ribat of Monastir, Mausoleum of Bourguiba, Medina of Sousse, and other cultural attractions, visited and enjoyed by locals and tourists alike. Golfers can enjoy their favourite sport on the Monastir Flamingo Golf Course located within the immediate vicinity of the resort.
"This new resort offers guests a blend of Tunisian heritage, modern sophistication, culinary excellence, and Hilton hospitality – creating the perfect beachside stay."
Jan van der Putten, vice president, operations, Africa and Indian Ocean, Hilton said, "We're excited to be opening Hilton Skanes Monastir Beach Resort, bringing Hilton's world-class hospitality to Tunisia once again. This new resort offers guests a blend of Tunisian heritage, modern sophistication, culinary excellence, and Hilton hospitality – creating the perfect beachside stay. By growing our portfolio of wonderful resort hotels across the African continent, we are providing new holiday choices for travellers in outstanding destinations like Tunisia, as well as creating career opportunities for residents in the travel and tourism industry."
The resort's interiors offer a unique interpretation of Tunisian culture, creating an exclusive sense of place, where designs tell a story and spaces have meaning. Guests are welcomed into the lobby with warm marine colours – white and turquoise – transporting them into a world of calm.
Meanwhile, the 346 rooms and suites are meticulously designed to provide the ultimate comfort for every guest's stay. The balconies feature stunning sea or pool views, and each room offers a relaxing and peaceful atmosphere.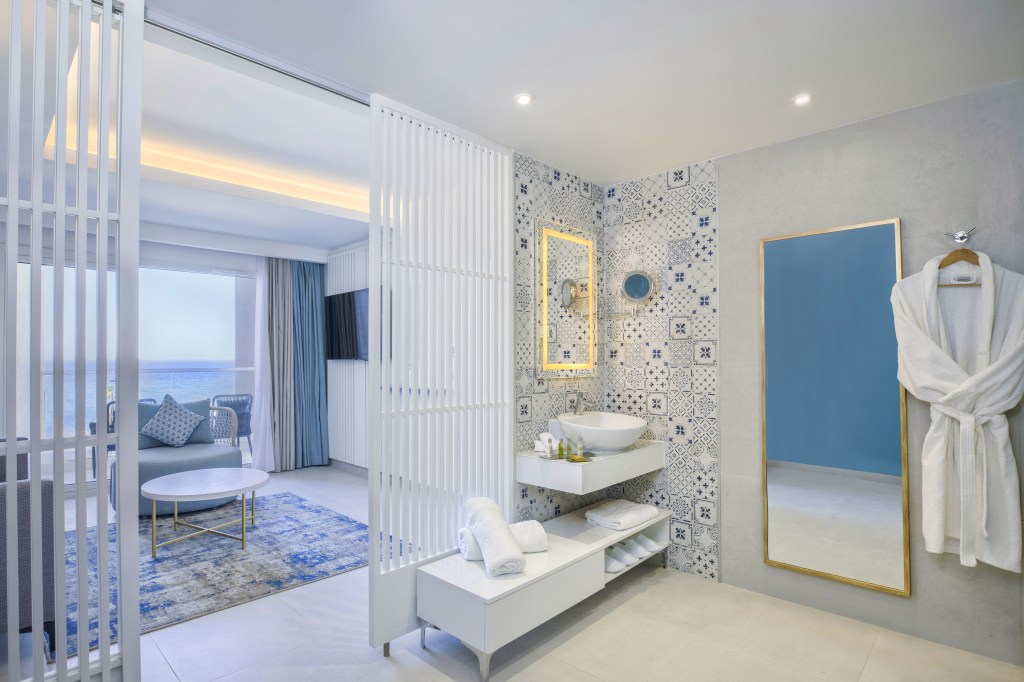 The beach at Hilton Skanes Monastir Beach Resort features crystal-clear turquoise waters and soft white sand, making it an ideal spot for swimming and sunbathing. Guests can enjoy four spectacular outdoor swimming pools, equipped with sun loungers and parasols, as well as Jacuzzis and water toboggans, allowing adults to relax by the main pool. 
Guests can also opt for the resort's seawater indoor heated pool or turn things up a notch with various activities including tennis, water sports, a game of billiards, or air hockey in the games room. Entertainment options are also available to create the perfect getaway for guests and kids and teens can enjoy high-energy activities at the Kids and Teens Club. 
"We are excited to debut our flagship brand in Tunisia as we continue to expand our signature hospitality offerings across the North Africa region," said Leonard Gooz, global brand head, Hilton Hotels and Resorts. "Hilton Skanes Monastir Beach Resort will provide guests with exceptional service, calming and inviting spaces, meeting and event offerings, and elevated wellness and culinary experiences, making a memorable stay within an ideal destination most known for its golden beaches and rich culture."
Culinary Destinations
Hilton Skanes Monastir Beach Resort features a range of culinary venues with an international flair. 
The Kitchen offers a contemporary all-day dining experience with an extensive buffet and live cooking stations showcasing Tunisian flavours alongside international specialities. 
Drift is the lobby lounge, with a warm and inviting personality. Guests can enjoy a selection of drinks, exquisite pastries, and cakes in a relaxed atmosphere. 
Mulberry Tavern is a vibrant evening venue featuring delicious pub food and a selection of refreshing drinks. The restaurant showcases live entertainment that appeals to music connoisseurs. 
SeaShore is a seafood-focused Mediterranean restaurant featuring classical dishes topped with complimentary fresh spices, herbs, regional fruits, and vegetables. 
La Luce restaurant is an outdoor alfresco Italian Trattoria with American-Italian classical dishes, fresh juices, and cocktails. The restaurant is located in a cosy terrace beside the main pool with an open kitchen and a stone pizza oven. 
Dive In is located inside the pool, and guests can enjoy refreshing drinks and light snacks without leaving the cool water. 
The Vibe is a destination Californian lifestyle concept located at the pool presenting sandwiches, salads and smoothies throughout the day, and a grill concept in the evening. 
Wellness & Spa
During their stay, guests can indulge at Natura Thalasso & Spa Cinq Monde, a destination for relaxation and rejuvenation. With 15 treatment rooms, including special exfoliating or hydrotherapy treatments, guests can enjoy an unforgettable spa experience. 
In addition to the elegant treatments, guests can embark on a beauty journey through the hammam, sauna, jet showers, experience showers and heated rooms. Fitness enthusiasts can access the 24-hour fitness centre, fully equipped to cater to all exercise needs. Whether it's a high-intensity workout or a calming yoga session, guests will find everything they need to maintain their fitness routine.
For Meetings & Events, guests can Meet with Purpose and create engaging experiences in a socially responsible manner. The resort boasts 1,100 square metres of conference spaces with an expansive ballroom and three modern meeting rooms, accommodating up to 600 guests that can be transformed for weddings, social celebrations, or business meetings. The hotel also offers 440 square meters of breakout areas for any occasion.
The resort is a part of Hilton Honors, the award-winning guest loyalty program for Hilton's 19 world-class brands. Hilton Honors members who book directly through preferred Hilton channels have access to instant benefits, including a flexible payment slider that allows members to choose nearly any combination of Points and money to book a stay, an exclusive member discount that can't be found anywhere else, and free standard Wi-Fi. Members also have access to contactless technology exclusively through the industry-leading Hilton Honors mobile app, where Hilton Honors members can check-in, choose their room, and access their room using Digital Key.
Hilton Skanes Monastir Beach Resort is Hilton's first trading property in Tunisia, with another three properties currently in development. For more information or bookings, please click here. Visit Stories from Hilton to learn more about Hilton Hotels & Resorts.
---
About Hilton
Hilton (NYSE: HLT) is a leading global hospitality company with a portfolio of 22 world-class brands comprising nearly 7,400 properties and more than 1.1 million rooms, in 124 countries and territories. Dedicated to fulfilling its founding vision to fill the earth with the light and warmth of hospitality, Hilton has welcomed more than 3 billion guests in its more than 100-year history, earned a top spot on Fortune's 100 Best Companies to Work For list and been recognized as a global leader on the Dow Jones Sustainability Indices for six consecutive years. Hilton has introduced several industry-leading technology enhancements to improve the guest experience, including Digital Key Share, automated complimentary room upgrades and the ability to book confirmed connecting rooms. Through the award-winning guest loyalty program Hilton Honors, the more than 173 million members who book directly with Hilton can earn Points for hotel stays and experiences money can't buy. With the free Hilton Honors app, guests can book their stay, select their room, check in, unlock their door with a Digital Key and check out, all from their smartphone. Visit stories.hilton.com for more information, and connect with Hilton on Facebook, Twitter, LinkedIn, Instagram and YouTube.
---
About Hilton Hotels & Resorts
For over a century, Hilton Hotels & Resorts has set the benchmark for hospitality around the world, providing new product innovations and services to meet guests' evolving needs. With more than 600 hotels across six continents, Hilton Hotels & Resorts properties are located in the world's most sought-after destinations for guests who know that where they stay matters. Experience a positive stay at Hilton Hotels & Resorts by booking at hiltonhotels.com or through the industry-leading Hilton Honors app. Hilton Honors members who book directly through preferred Hilton channels have access to instant benefits. Learn more about Hilton Hotels & Resorts at stories.hilton.com/hhr, and follow the brand on Facebook, Twitter and Instagram.