Maintains Position as World's Fastest-Growing Hospitality Company
Creates Nearly 20,000 New Hotel Jobs Worldwide in 2016, Projected to Add 25,000 more in 2017
MCLEAN, Va. - 2016 was an extraordinarily impactful year for Hilton (NYSE: HLT), which achieved record pipeline and net unit growth, accomplished its most successful brand launch with Tru by Hilton and maintained its position as the fastest-growing hospitality company. It also completed the spin-offs of Park Hotels & Resorts and Hilton Grand Vacations, creating three pure-play businesses that will lead their respective segments with tremendous growth potential.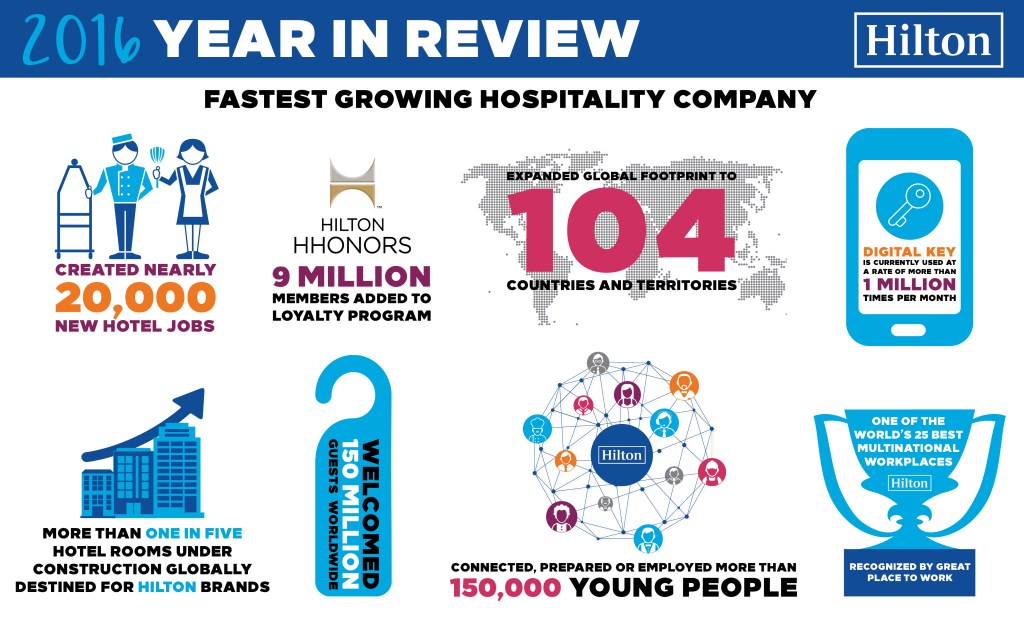 "For nearly 100 years, one name has stood for hospitality: Hilton. And it's for this reason that we continue to build on our success and expand at a rapid rate," said Christopher J. Nassetta, president & CEO, Hilton. "As the result of our spin-offs, Hilton is a more simplified, focused and resilient business, which allows us to offer even more exceptional experiences to our guests, extensive opportunities to our Team Members and premium returns for our hotel owners and shareholders."
Hilton's major highlights in 2016 include:
 Global Development Highlights
Held its position as the fastest-growing global hospitality company on an organic net unit growth percentage basis.
Grew its pipeline to a record of more than 300,000 rooms, with more than one in five hotel rooms under construction globally destined for Hilton brands, which is 4.5 times Hilton's existing share of global rooms. Four of Hilton's brands make up the top five brands in the industry under construction globally.
Approved 106,000 new rooms, started construction on 76,000 rooms and delivered net unit growth of 45,000 rooms, representing 6.6 percent growth of the managed and franchised portfolio.
Opened nearly one property a day (a total of 354 properties) and expanded its footprint across five new countries (Philippines, Armenia, Montenegro, Estonia and Morocco) for a total of 104 countries and territories.
Launched its 13th brand - Tru by Hilton - which has become the fastest-growing new brand in company history and we believe the most successful new-build hotel brand in the industry, with nearly 400 deals now signed or in progress.
Enterprise Highlights
Regional Development Highlights
Americas: For the second consecutive year, Hilton delivered a record number of approvals across the region - signing more than 600 deals, representing approximately 73,000 rooms.
Europe, Middle East and Africa: Hilton closed the year with almost 100 new approvals (approximately 16,500 rooms) including its first properties in Lithuania, Latvia and Serbia.
Asia Pacific: Hilton had a record-breaking year for approvals with the signing of nearly 17,000 rooms. Greater China alone also had a banner year with nearly 60 deals (more than 12,000 rooms) signed, including the first two Curio - A Collection by Hilton and Canopy by Hilton hotels. Hampton by Hilton opened seven hotels and signed 30 hotels in China through its partnership with Plateno Hotels Group.
Brand Highlights
Innovation Highlights
The Hilton HHonors app, the company's award-winning guest-loyalty program app, has been downloaded more than 3.6 million times (downloaded every 8 seconds) and is the highest rated travel app in the Apple App Store.
Digital check-in with room selection, the hospitality industry's first-and-only way for travelers to check in and select the exact room they want, is available worldwide at more that 4,700 hotels and has been used more than 22 million times since it launched in the summer of 2014. It is currently used at a rate of more than one million times per month.
Hilton guests can now access their rooms through the Hilton HHonors app via Digital Key functionality, currently available in 750 hotels. Hilton will continue to build on this industry-leading capability, with an additional 2,500 hotels around the globe expected to offer the service by the end of 2017.
Great Place to Work Highlights
Earned the following workplace recognitions:
Led the charge in addressing the challenge of global youth unemployment, by connecting, preparing or employing more than 150,000 young people.
Achieved its Operation: Opportunity goal two years early, hiring 10,000 U.S. military veterans and their family members in just three years.
Developed a workplace culture that attracts the best talent by introducing unique benefits such as:

A best-in-class parental leave policy;
A best-in-industry adoption assistance program;
The Go Hilton Team Member travel program, a global, system-wide framework to support travel for Team Members and their family and friends.

Joined 28 other leading businesses, including Apple, Coca-Cola, Facebook and General Motors, in signing the White House's Equal Pay Pledge.
*Industry data from STR Global
Media contact:
Astrid Egerton-Vernon
astrid.egerton-vernon@hilton.com
+1.703.883.5696
About Hilton
Hilton (NYSE: HLT) is a leading global hospitality company, with a portfolio of 14 world-class brands comprising nearly 4,900 properties with more than 796,000 rooms in 104 countries and territories. Hilton is dedicated to fulfilling its mission to be the world's most hospitable company by delivering exceptional experiences - every hotel, every guest, every time. The company's portfolio includes Hilton Hotels & Resorts, Waldorf Astoria Hotels & Resorts, Conrad Hotels & Resorts, Canopy by Hilton, Curio - A Collection by Hilton, DoubleTree by Hilton, Tapestry Collection by Hilton, Embassy Suites by Hilton, Hilton Garden Inn, Hampton by Hilton, Tru by Hilton, Homewood Suites by Hilton, Home2 Suites by Hilton and Hilton Grand Vacations. The company also manages an award-winning customer loyalty program, Hilton HHonors®. Hilton HHonors members who book directly through preferred Hilton channels have access to benefits including an exclusive member discount, free standard Wi-Fi, as well as digital amenities that are available exclusively through the industry-leading Hilton HHonors app, where Hilton HHonors members can check-in, choose their room, and access their room using a Digital Key. Visit news.hiltonworldwide.com for more information and connect with Hilton on Facebook, Twitter, LinkedIn, Instagram and YouTube.
---
About Hilton
Hilton (NYSE: HLT) is a leading global hospitality company with a portfolio of 22 world-class brands comprising nearly 7,300 properties and more than 1.1 million rooms, in 123 countries and territories. Dedicated to fulfilling its founding vision to fill the earth with the light and warmth of hospitality, Hilton has welcomed more than 3 billion guests in its more than 100-year history, earned a top spot on Fortune's 100 Best Companies to Work For list and been recognized as a global leader on the Dow Jones Sustainability Indices for six consecutive years. Hilton has introduced several industry-leading technology enhancements to improve the guest experience, including Digital Key Share, automated complimentary room upgrades and the ability to book confirmed connecting rooms. Through the award-winning guest loyalty program Hilton Honors, the more than 165 million members who book directly with Hilton can earn Points for hotel stays and experiences money can't buy. With the free Hilton Honors app, guests can book their stay, select their room, check in, unlock their door with a Digital Key and check out, all from their smartphone. Visit stories.hilton.com for more information, and connect with Hilton on Facebook, Twitter, LinkedIn, Instagram and YouTube.