Hilton Garden Inn La Romana offers a contemporary design featuring guest rooms with private balconies and sweeping views
DOMINICAN REPUBLIC – Today, Hilton (NYSE: HLT) announced the opening of Hilton Garden Inn La Romana, marking the Hilton Garden Inn brand's first hotel in the Dominican Republic. The 130-room hotel offers rooms overlooking Catalina Island and the Caribbean Sea, a pool, and flexible meeting space with an outdoor terrace.
"As Hilton continues its expansion in the Dominican Republic and across the broader Caribbean, we are excited to welcome travelers with a brand-new hotel option in the highly sought-after destination of La Romana," said Jorge Giannattasio, senior vice president and head of operations, Caribbean and Latin America, Hilton. "Whether visiting La Romana for the historic architecture and turquoise beaches or to embark on a Caribbean cruise, we're delighted to offer guests an upscale and affordable stay matched by our friendly and renowned hospitality."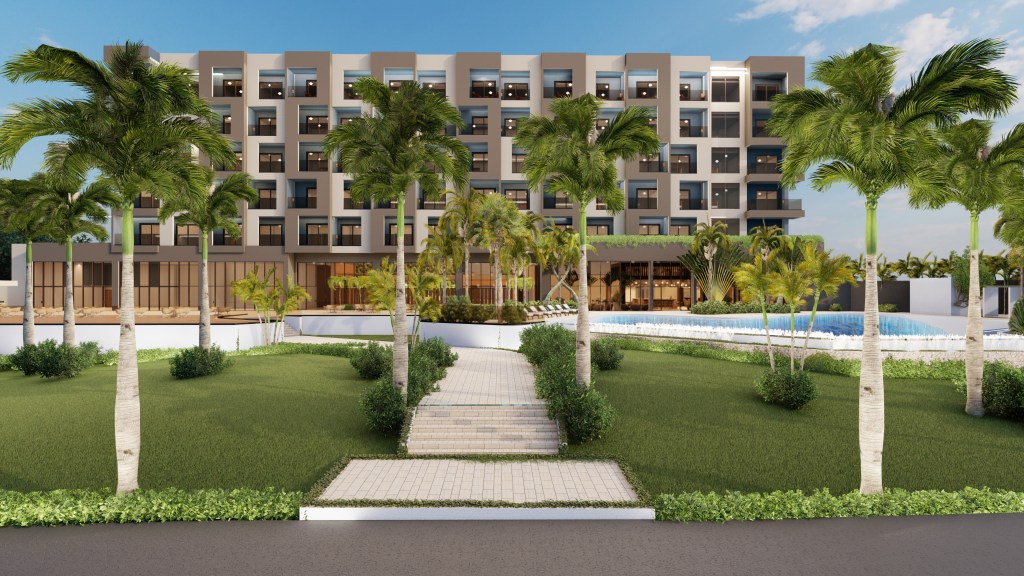 Hilton Garden Inn La Romana is conveniently located between the popular resort area of Punta Cana and the bustling capital city of Santo Domingo, with Punta Cana International Airport located approximately 50 miles away and less than 9 miles from La Romana International Airport and 4 miles from La Romana Cruise Terminal. Hilton Garden Inn La Romana guests can enjoy nearby adventures, including a shuttle service to Catalina Island and snorkeling trails, scenic beaches, watersports, boating, shopping, golf, ziplining and more.  
Overlooking the Caribbean Sea and the city's 16th-century-style architecture, the hotel maintains a seamless connection with its surroundings through expansive water views, an open lobby and rich local culture woven throughout all materials and patterns. Reflective of the region's natural landscape, the property is surrounded by lush gardens and boasts warm, neutral tones across interior furnishings. The hotel's 130 guest rooms feature private balconies overlooking the rustic and medieval town of La Romana or unobstructed views of Catalina Island.
Guests at Hilton Garden Inn La Romana can enjoy a variety of onsite dining options. The Garden Grill serves daily cooked-to-order breakfast, and features local and international cuisine for lunch and dinner a la carte, while The Garden Bar offers drinks and light snacks. Guests can relax at the outdoor bar under the breeze of the Caribbean Sea while looking out onto Catalina Island. Perfect for those on-the-go, The Shop, a 24-hour, grab-and-go retail space, offers an upscale mix of healthy, indulgent and fresh foods, including salads, gourmet snack items and artisanal food offerings, varietal beverages and a self-serve specialty coffee bar. The hotel features an infinity pool and oceanfront 24-hour fitness center.
"With more than 970 hotels worldwide, and Hilton's largest pipeline in the Caribbean and Latin America, Hilton Garden Inn continues to showcase remarkable growth in the region. Today, we are thrilled to bring the brand's hallmark open, inviting atmosphere and best-in-class service to the Dominican Republic," said Alan Roberts, brand leader, Hilton Garden Inn. "With its ideal location, thoughtful amenities, and expansive meeting and event spaces, Hilton Garden Inn La Romana is the perfect choice for travelers seeking affordable upscale accommodations and Hilton's signature reliable and friendly service."
Ideal for meetings and social events, this unique hotel features 9,000-square feet of meeting and event space across three flexible venues with capacity for up to 400 people. These include an outdoor oceanside terrace for up to 250 attendees and a ballroom with bright natural light.
Hilton Garden Inn La Romana participates in Hilton Honors, the award-winning guest loyalty program for Hilton's world-class brands. Hilton Honors members have access to instant benefits, including a flexible payment slider that allows members to choose nearly any combination of Points and money to book a stay, an exclusive member discount and free standard Wi-Fi, and access to the Hilton Honors mobile app. 
Hilton Garden Inn La Romana is the latest addition to Hilton's rapidly expanding portfolio in the Caribbean, where guests are currently welcomed at nearly 30 hotels and resorts across the region. The company also plans to double its portfolio in the Caribbean, with a pipeline of approximately 30 hotels in various stages of design and construction.
For more information or to book a reservation, visit laromana.hgi.com.
---
About Hilton
Hilton (NYSE: HLT) is a leading global hospitality company with a portfolio of 22 world-class brands comprising nearly 7,300 properties and more than 1.1 million rooms, in 123 countries and territories. Dedicated to fulfilling its founding vision to fill the earth with the light and warmth of hospitality, Hilton has welcomed more than 3 billion guests in its more than 100-year history, earned a top spot on Fortune's 100 Best Companies to Work For list and been recognized as a global leader on the Dow Jones Sustainability Indices for six consecutive years. Hilton has introduced several industry-leading technology enhancements to improve the guest experience, including Digital Key Share, automated complimentary room upgrades and the ability to book confirmed connecting rooms. Through the award-winning guest loyalty program Hilton Honors, the more than 165 million members who book directly with Hilton can earn Points for hotel stays and experiences money can't buy. With the free Hilton Honors app, guests can book their stay, select their room, check in, unlock their door with a Digital Key and check out, all from their smartphone. Visit stories.hilton.com for more information, and connect with Hilton on Facebook, Twitter, LinkedIn, Instagram and YouTube.
---
About Hilton Garden Inn
The award-winning Hilton Garden Inn brand provides business and leisure guests upscale, affordable accommodations and modern amenities for an experience that is simply on another level. The Hilton Garden Inn Promise affirms the brand's goal to make each guest's stay better and brighter. Guaranteed. With more than 980 hotels in 58 countries and territories around the world, the brand ensures today's busy travelers have a bright and satisfying experience, starting with the first hello. Experience a positive stay at Hilton Garden Inn by booking at hgi.com or through the industry-leading Hilton Honors app. Hilton Honors members who book directly through preferred Hilton channels have access to instant benefits. Learn more about Hilton Garden Inn at stories.hilton.com/hgi, and follow the brand on Facebook, Instagram and Twitter.