New campaign takes innovative approach to showcase the many career options available in hospitality
McLean, Va. – Today, Hilton announced the launch of a new employer brand campaign as the global hospitality company continues to boost hiring in a period of rapid, post-pandemic growth. Building on the success of its recent enterprise-wide "Hilton. For the Stay" platform, the "Every Job Makes the Stay" campaign will bring a new perspective to hotel employee marketing by shining a light on the Hilton team members who make the stay, showcasing the jobs, the people, and – most importantly – the impact and joy that hospitality jobs offer.
"What makes Hilton such an amazing place to work is the passion and dedication of our people, and we're continuing to build on that through our new 'Every Job Makes the Stay' campaign," said Laura Fuentes, executive vice president and chief human resources officer, Hilton. "We chose to make team members the stars of this campaign because who better than them to speak authentically about what's it's like to work at Hilton. They are the heart of our business and the best ambassadors to help us find talent for our growing teams."
The new employer brand campaign aims to disrupt thinking around what it means to work in hospitality by showcasing joy, purpose, and career growth. Built as an extension of Hilton's first-ever global brand platform "Hilton. For The Stay," the campaign targets labor challenges and recruiting needs by calling attention to the vast career growth possibilities that exist within Hilton. The campaign aims to ensure Hilton is top of mind for job seekers, especially those considering front line and hourly positions by emphasizing why a job at Hilton is unlike any other.
The inspiration for this innovative campaign came from the very people it features: Hilton team members. The campaign reveals what team members love most about jobs at Hilton and the strong sense of pride not just in what they do, but how they do it. When asked about their roles, team members described what they do as much more than their front-line job titles. They saw themselves as Magic Makers, Chief Welcome Officers, and Ultimate Stay Creators – and they work in an award-winning culture where they can bring their whole selves to work every day with flexibility that allows them to pursue their passions and grow their careers.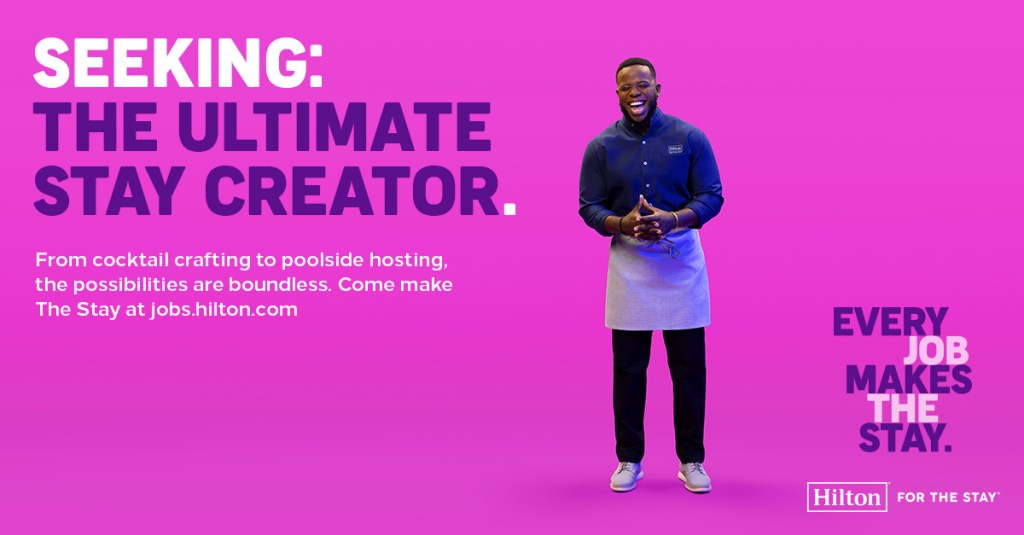 Developed in partnership with advertising agency TBWA\Chiat\Day\New York, which also assisted in developing the "Hilton. For The Stay" platform, the global employment campaign will launch first in the U.S., followed by select markets in EMEA, APAC and CALA in June.
"Every Job Makes the Stay" spotlights Hilton's people and highlights the many roles and extraordinary team members who make the stay by creating exceptional experiences for guests. As a result of the work of these incredible team members, Hilton's powerful workplace culture continues to gain recognition. Hilton has been named a Great Place to Work in more than 20 countries already this year, including topping the list in seven countries, and once again being recognized as the highest ranked hospitality company when it was named #2 on the Fortune Best Companies to Work For list in the U.S.
For more information about the "Every Job Makes the Stay" campaign, read a Q&A with Hilton's Chief Human Resources Officer Laura Fuentes.
To apply to become a team member, visit https://jobs.hilton.com/us/en.
---
About Hilton
Hilton (NYSE: HLT) is a leading global hospitality company with a portfolio of 22 world-class brands comprising nearly 7,400 properties and more than 1.1 million rooms, in 124 countries and territories. Dedicated to fulfilling its founding vision to fill the earth with the light and warmth of hospitality, Hilton has welcomed more than 3 billion guests in its more than 100-year history, earned a top spot on Fortune's 100 Best Companies to Work For list and been recognized as a global leader on the Dow Jones Sustainability Indices for six consecutive years. Hilton has introduced several industry-leading technology enhancements to improve the guest experience, including Digital Key Share, automated complimentary room upgrades and the ability to book confirmed connecting rooms. Through the award-winning guest loyalty program Hilton Honors, the more than 173 million members who book directly with Hilton can earn Points for hotel stays and experiences money can't buy. With the free Hilton Honors app, guests can book their stay, select their room, check in, unlock their door with a Digital Key and check out, all from their smartphone. Visit stories.hilton.com for more information, and connect with Hilton on Facebook, Twitter, LinkedIn, Instagram and YouTube.