Partnership spotlights Hilton's ongoing commitment to delivering elevated dining experiences and industry‑leading innovation in food & beverage
MCLEAN, Va. –  Hilton today announced a first-of-its-kind partnership with the James Beard Foundation, serving as a Premier Sponsor of the 2023 Restaurant and Chef Awards. As the first global hospitality company to sponsor the Outstanding Bar Award, the activation underscores Hilton's ongoing leadership and innovation in food and beverage.
"Across our portfolio of brands, we have always sought opportunities to join forces with strategic partners, such as Proof & Company, and world-class chefs, such as Michael Mina, José Andrés, and Nancy Silverton, to drive innovative dining and drink experiences at Hilton," said Matt Schuyler, chief brand officer, Hilton. "The partnership between Hilton and the James Beard Foundation is a perfect fusion of hospitality and culinary excellence, bringing together two industry leaders anchored in our shared values to create an unforgettable experience."
"We believe that artful cuisine and carefully crafted cocktails can be a conduit for cultural expression and, ultimately, serve as an integral part of the travel experience," said Adam Crocini, senior vice president and global head, food and beverage brands, Hilton. "For this reason, our team is thrilled to partner with such a prestigious organization to honor the incredible talent and creativity that drives our industry."
This partnership spotlights Hilton's dedication to celebrating and providing exceptional experiences for culinary enthusiasts around the world, proving it matters where you stay. Most recently, Hilton announced its unique partnership with Proof & Company's award-winning bar and beverage consultancy arm, Proof Creative. In this joint venture, the two will work together to reimagine the beverage experience across Waldorf Astoria Hotels & Resorts Peacock Alley locations around the world, which will be demonstrated on-site during select weekend events. Hilton will participate in the post-Restaurant and Chef Awards celebration immediately following the ceremony on the evening of Monday, June 5 at Chicago's iconic Union Station, among others.
"Hilton's passion for providing culinary excellence and hospitality aligns beautifully with our mission to celebrate, elevate, and support the people behind America's food culture," said Clare Reichenbach, CEO, James Beard Foundation. "We are delighted to partner with Hilton to honor incredible talent and leadership across our industry—all the chefs, restaurateurs, beverage professionals, food advocates, and more—at this year's James Beard Awards."
The 2023 Restaurant and Chef Awards ceremony will take place on June 5 in Chicago and will honor outstanding achievement in the food and beverage industry across 22 categories and a range of experiences, from fine-dining establishments to casual gems, and emerging talent to established leaders. The James Beard Awards are among the industry's most prestigious honors, recognizing exceptional talent in the culinary and food media industries, and broader food system. The Outstanding Bar Award recognizes those who demonstrate consistent excellence in guest experience, atmosphere, hospitality, and operations while contributing positively to the broader community.
To learn more about Hilton's innovative food and beverage offerings, visit hilton.com. For more information about the James Beard Foundation and the James Beard Awards, visit jamesbeard.org.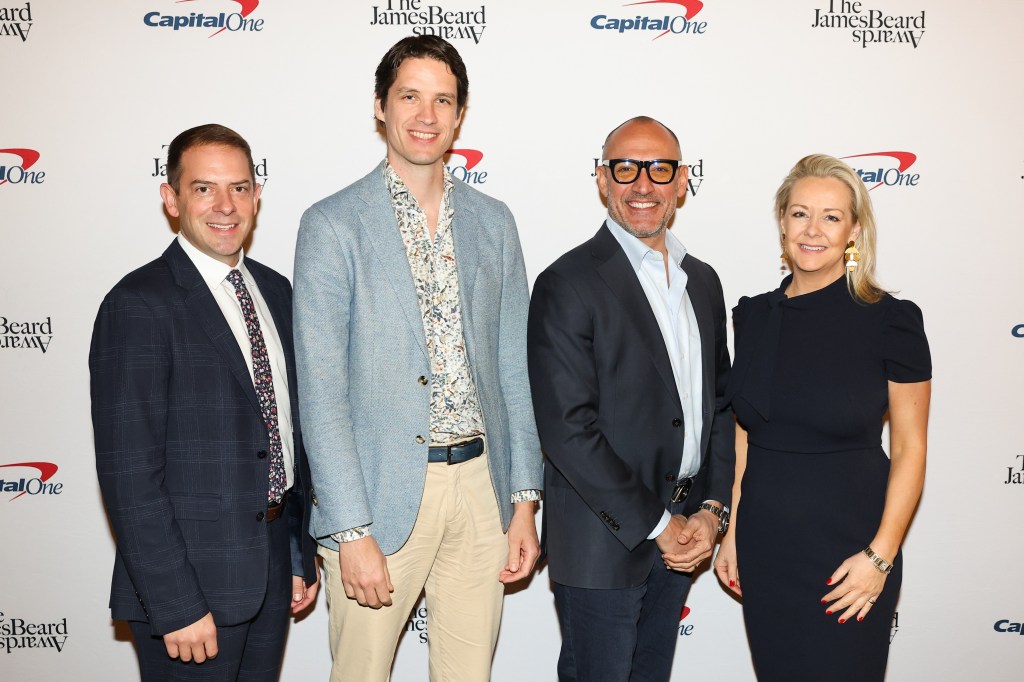 ---
About the James Beard Awards
The James Beard Awards recognizes exceptional talent and achievement in the culinary arts, hospitality, media, and broader food system, as well as a demonstrated commitment to racial and gender equity, community, sustainability, and a culture where all can thrive. Established in 1990, the James Beard Awards are among the nation's most prestigious honors recognizing leaders in the culinary and food media industries. The Awards are overseen by the Awards Committee. Each Awards program (Book, Broadcast Media, Journalism, Leadership, and Restaurant and Chef) has its own subcommittee members who volunteer their time to oversee the policies, procedures, and selection of judges for their respective program. All James Beard Award winners receive a certificate and a medallion engraved with the James Beard Foundation Awards insignia. For more information, subscribe to the Awards digital newsletter.
---
About the James Beard Foundation
The James Beard Foundation (JBF) is a 501(c)3 nonprofit organization that celebrates and supports the people behind America's food culture, while pushing for new standards in the restaurant industry to create a future where all have the opportunity to thrive. Established over 30 years ago, the Foundation has highlighted the centrality of food culture in our daily lives and is committed to supporting a resilient and flourishing industry that honors its diverse communities. By amplifying new voices, celebrating those leading the way, and supporting those on the path to do so, the Foundation is working to create a more equitable and sustainable future—what we call Good Food for Good®. JBF brings its mission to life through the annual Awards, industry and community-focused programs, advocacy, partnerships, and events across the country. For the first time in the Foundation's history, exceptional culinary talent, industry leaders, and visitors from NYC and beyond can experience unforgettable dining and educational programming at Platform by the James Beard Foundation—and be the first to try new food concepts at the Good To Go by JBF kiosk—inspiring food and beverage devotees for decades to come. Learn more at jamesbeard.org, sign up for our newsletter, and follow @beardfoundation on social media.