MCLEAN, Va. - Hilton Worldwide Holdings Inc. ("Hilton" or the "Company") (NYSE: HLT) today reported its first quarter 2022 results. Highlights include:
Diluted EPS was $0.75 for the first quarter, and diluted EPS, adjusted for special items, was $0.71
Net income was $211 million for the first quarter
Adjusted EBITDA was $448 million for the first quarter
System-wide comparable RevPAR increased 80.5 percent, on a currency neutral basis, for the first quarter compared to the same period in 2021
System-wide comparable RevPAR was down 17.0 percent, on a currency neutral basis, for the first quarter compared to the same period in 2019
Approved 22,200 new rooms for development during the first quarter, bringing Hilton's development pipeline to more than 410,000 rooms as of March 31, 2022
Added 13,200 rooms to Hilton's system in the first quarter, contributing to 7,800 net additional rooms in Hilton's system during the period, which represented 5.0 percent net unit growth from March 31, 2021
Resumed share repurchases in March 2022 and repurchased 907,000 shares of Hilton common stock for approximately $130 million in the first quarter and 1.8 million shares for approximately $265 million through April
Declared a $0.15 per share quarterly cash dividend in May 2022
Full year 2022 capital return is projected to be between $1.4 billion and $1.8 billion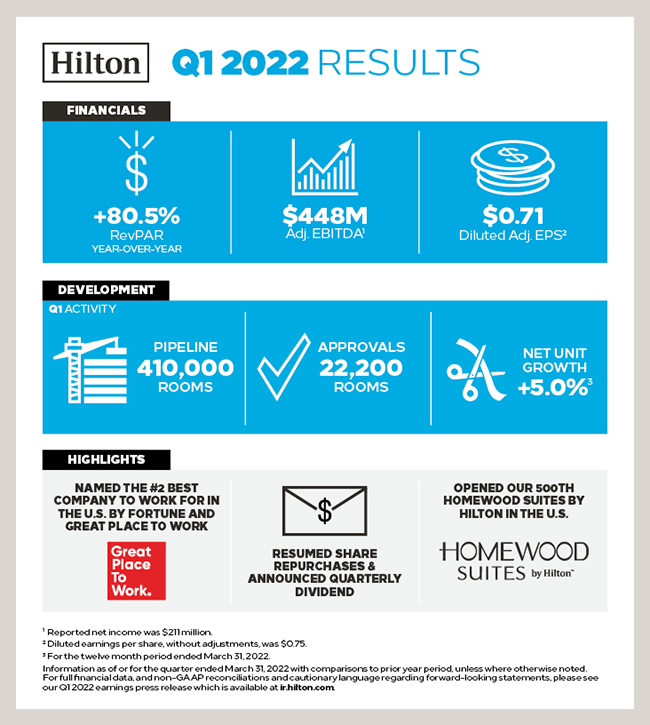 Click here to view the full report.
Contacts
Jill Slattery
Investor Contact
+1 703 883 5476
Kent Landers
Media Contact
+1 703 883 3246
---
About Hilton
Hilton (NYSE: HLT) is a leading global hospitality company with a portfolio of 22 world-class brands comprising nearly 7,300 properties and more than 1.1 million rooms, in 123 countries and territories. Dedicated to fulfilling its founding vision to fill the earth with the light and warmth of hospitality, Hilton has welcomed more than 3 billion guests in its more than 100-year history, earned a top spot on Fortune's 100 Best Companies to Work For list and been recognized as a global leader on the Dow Jones Sustainability Indices for six consecutive years. Hilton has introduced several industry-leading technology enhancements to improve the guest experience, including Digital Key Share, automated complimentary room upgrades and the ability to book confirmed connecting rooms. Through the award-winning guest loyalty program Hilton Honors, the more than 165 million members who book directly with Hilton can earn Points for hotel stays and experiences money can't buy. With the free Hilton Honors app, guests can book their stay, select their room, check in, unlock their door with a Digital Key and check out, all from their smartphone. Visit stories.hilton.com for more information, and connect with Hilton on Facebook, Twitter, LinkedIn, Instagram and YouTube.