MCLEAN, Va. - Hilton Worldwide Holdings Inc. ("Hilton," or the "Company") (NYSE: HLT) today reported its fourth quarter and full year 2016 results. The Company completed the spin-off of Park Hotels & Resorts Inc. ("Park") and Hilton Grand Vacations Inc. ("HGV") (the "spin-offs") in January 2017. All results herein present the performance of Hilton without giving effect to the spin-offs, unless otherwise specified. Additionally, all share and share-related information presented herein have been retroactively adjusted to reflect the 1-for-3 reverse stock split of Hilton's outstanding common stock that occurred in January 2017 (the "Reverse Stock Split"), unless noted otherwise. Highlights include:
Diluted loss per share was $1.17 for the fourth quarter, largely driven by $513 million of non-cash corporate restructuring charges incurred prior to the spin-offs, and diluted EPS was $1.05 for the full year 
Diluted EPS, adjusted for special items, was $0.70 for the fourth quarter and $2.68 for the full year; diluted EPS, adjusted for special items, before giving effect to the Reverse Stock Split was $0.23 for the fourth quarter and $0.89 for the full year 
Net loss for the fourth quarter was $382 million, and net income for the full year was $364 million 
Adjusted EBITDA was $751 million for the fourth quarter and $2,975 million for the full year; pro forma Adjusted EBITDA was $1,763 million for the full year 
Achieved high end of guidance on system-wide comparable RevPAR with increases of 0.9 percent and 1.8 percent for the fourth quarter and full year 2016, respectively, on a currency neutral basis from the same periods in 2015
Approved 29,000 new rooms for development during the fourth quarter, bringing total approvals to a record 106,000 rooms for the full year 
Grew development pipeline 16 percent from 2015 to 1,968 hotels, consisting of 310,000 rooms, 50 percent of which are under construction 
Net unit growth was 45,000 rooms in 2016, representing a 6.6 percent growth in managed and franchised rooms
Added 354 hotels to its system in 2016, opening nearly one hotel per day in the year 
Launched its newest brand, Tapestry Collection by Hilton, in January 2017 
Full year 2017 RevPAR projected to increase between 1.0 percent and 3.0 percent, net income from continuing operations projected to be between $555 million and $592 million and Adjusted EBITDA projected to be between $1,835 million and $1,885 million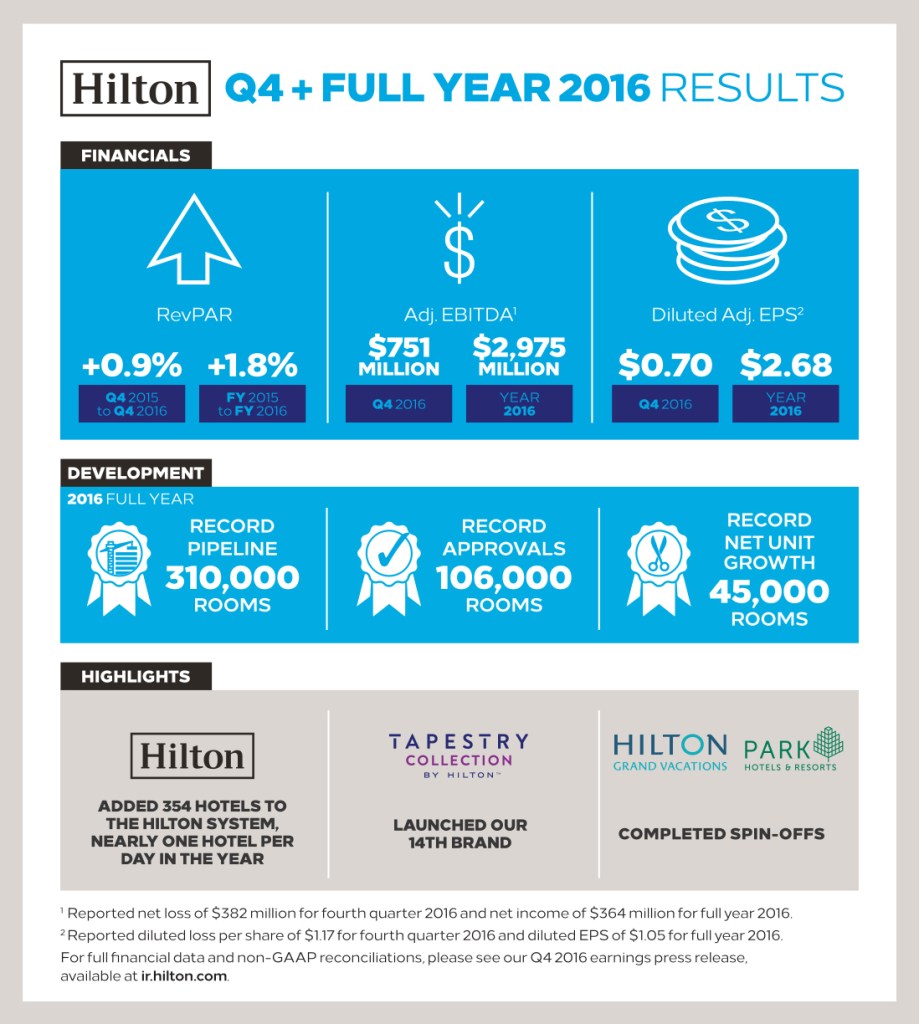 ---
About Hilton
Hilton (NYSE: HLT) is a leading global hospitality company with a portfolio of 22 world-class brands comprising nearly 7,400 properties and more than 1.1 million rooms, in 124 countries and territories. Dedicated to fulfilling its founding vision to fill the earth with the light and warmth of hospitality, Hilton has welcomed more than 3 billion guests in its more than 100-year history, earned a top spot on Fortune's 100 Best Companies to Work For list and been recognized as a global leader on the Dow Jones Sustainability Indices for six consecutive years. Hilton has introduced several industry-leading technology enhancements to improve the guest experience, including Digital Key Share, automated complimentary room upgrades and the ability to book confirmed connecting rooms. Through the award-winning guest loyalty program Hilton Honors, the more than 173 million members who book directly with Hilton can earn Points for hotel stays and experiences money can't buy. With the free Hilton Honors app, guests can book their stay, select their room, check in, unlock their door with a Digital Key and check out, all from their smartphone. Visit stories.hilton.com for more information, and connect with Hilton on Facebook, Twitter, LinkedIn, Instagram and YouTube.