MCLEAN, Va. - Hilton Worldwide Holdings Inc. ("Hilton" or the "Company") (NYSE: HLT) today reported its second quarter 2018 results. All results herein, including prior year periods, reflect the adoption of new accounting standards, including Accounting Standards Update ("ASU") No. 2014-09, Revenue from Contracts with Customers (Topic 606) ("ASU 2014-09"). Highlights include:
Diluted EPS was $0.71 for the second quarter, a 54 percent increase from the same period in 2017, and diluted EPS, adjusted for special items, was $0.70, a 37 percent increase from the same period in 2017
Net income for the second quarter was $217 million, an increase of 44 percent from the same period in 2017
Adjusted EBITDA for the second quarter was $555 million, an increase of 10 percent from the same period in 2017, exceeding the high end of guidance
System-wide comparable RevPAR increased 4.0 percent on a currency neutral basis for the second quarter from the same period in 2017, driven by U.S. RevPAR growth of 3.5 percent and international RevPAR growth of 5.9 percent
Approved 28,800 new rooms for development during the second quarter, growing Hilton's development pipeline to 362,000 rooms as of June 30, 2018, representing 9 percent growth from June 30, 2017
Opened 17,100 rooms in the second quarter and achieved net unit growth of 15,800 rooms, which was an 18 percent increase from the same period in 2017
Repurchased 18.5 million shares of Hilton common stock for an aggregate cost of $1.3 billion during the second quarter, including shares repurchased from HNA and Blackstone in connection with their full divestitures of their investments in Hilton
Returned nearly $1.6 billion to shareholders through July, in the form of share repurchases and dividends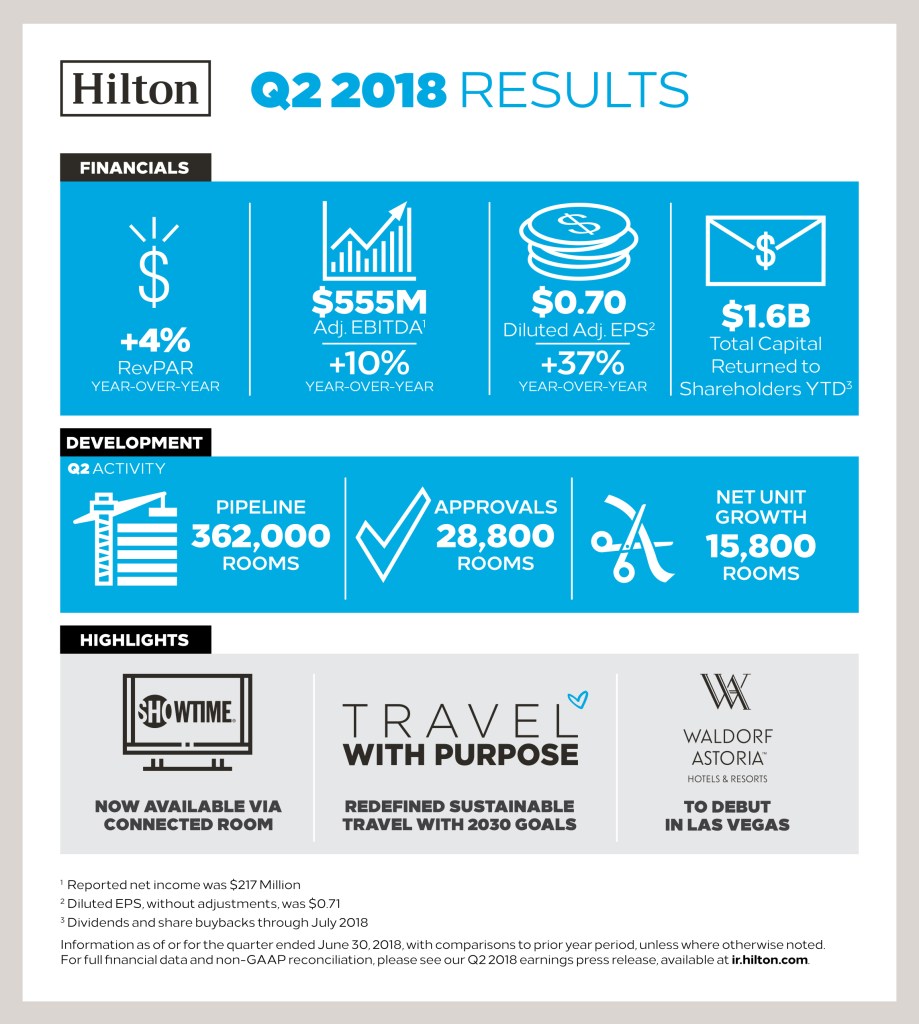 ---
About Hilton
Hilton (NYSE: HLT) is a leading global hospitality company with a portfolio of 22 world-class brands comprising nearly 7,400 properties and more than 1.1 million rooms, in 124 countries and territories. Dedicated to fulfilling its founding vision to fill the earth with the light and warmth of hospitality, Hilton has welcomed more than 3 billion guests in its more than 100-year history, earned a top spot on Fortune's 100 Best Companies to Work For list and been recognized as a global leader on the Dow Jones Sustainability Indices for six consecutive years. Hilton has introduced several industry-leading technology enhancements to improve the guest experience, including Digital Key Share, automated complimentary room upgrades and the ability to book confirmed connecting rooms. Through the award-winning guest loyalty program Hilton Honors, the more than 173 million members who book directly with Hilton can earn Points for hotel stays and experiences money can't buy. With the free Hilton Honors app, guests can book their stay, select their room, check in, unlock their door with a Digital Key and check out, all from their smartphone. Visit stories.hilton.com for more information, and connect with Hilton on Facebook, Twitter, LinkedIn, Instagram and YouTube.