Kasteel Gemert Eindhoven, Curio Collection by Hilton, is slated to open in 2024
McLEAN, Va and EINDHOVEN, Netherlands – Hilton (NYSE: HLT) has today announced its first Dutch Curio Collection by Hilton hotel as part of a franchise agreement with Castle estate owner Bas van de Laar. Kasteel Gemert Eindhoven, Curio Collection by Hilton, will be located in the charming town of Gemert, a short drive from Eindhoven city centre, and is expected to welcome guests in 2024.
David Heijligers, managing director, development, France and Benelux, Hilton, said, "Hilton continues to develop its Curio Collection by Hilton portfolio across Europe, Middle East and Africa, now boasting more than 60 hotels trading or under development. With plans to enter seven new markets in the region within the next three years, more and more guests will be able to take advantage of the brand's distinct character and authentic upscale offering. Kasteel Gemert Eindhoven, Curio Collection by Hilton, will be a unique opportunity to experience an impressive 14th-century castle hotel near the city of Eindhoven, a hub for technology and design."
Bas van de Laar, Castle estate owner and CEO, said, "This development will be an incredible addition to the Eindhoven hospitality market, bringing the authentic and characterful charm of Curio Collection by Hilton to both business and leisure travellers. We are excited to partner with Hilton to deliver this project and look forward to welcoming guests in 2024."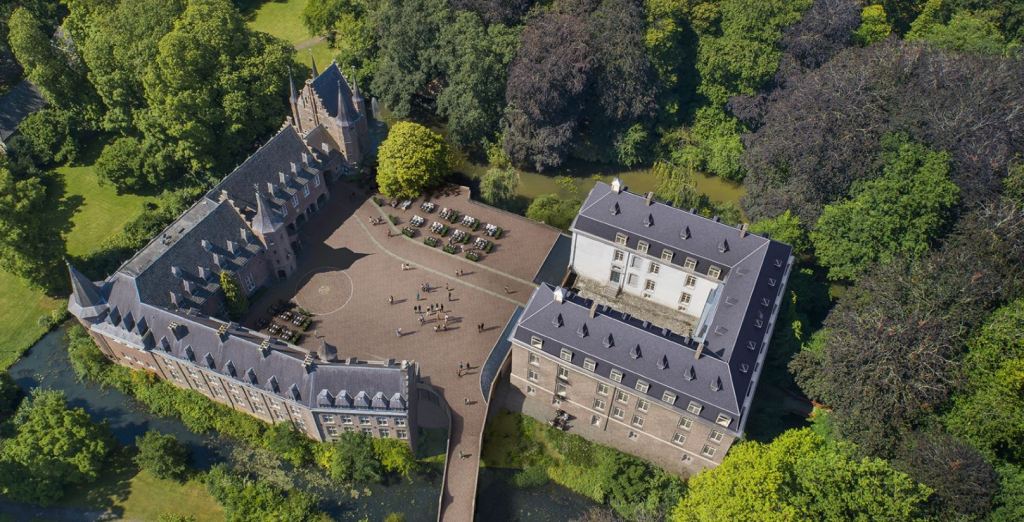 Kasteel Gemert Eindhoven, Curio Collection by Hilton, will offer at least 56 upscale guest rooms designed to provide a modern aesthetic while reflecting the property's historic character. Led by award-winning designer Piet Boon, the hotel's interior will be carefully renovated to offer contemporary accommodations and public spaces with all the authenticity and originality the Curio Collection by Hilton brand is known for. The hotel will feature two restaurants and a bar, along with spa and wellness facilities featuring an indoor swimming pool. The tranquil castle hotel will be flanked by trees and the castle's moat, where guests will be able to enjoy a relaxing rowboat experience along the still waters.
For visitors hosting meetings and events, Kasteel Gemert Eindhoven, Curio Collection by Hilton, will offer both an indoor meeting room and a large outdoor event space. Underground and outdoor parking means the hotel will also be well prepared to welcome both domestic and international guests looking to take advantage of the hotel's proximity to key cities like Eindhoven, or explore the many parks and castles in the North Brabant province.
As the home of more than 5,000 technology and IT companies, nearby Eindhoven has built a reputation as a European tech hub and is the leading producer of patents in the country. While this reputation attracts strong business travel demand, the city also welcomes leisure travellers for events like the GLOW Festival, a citywide festival of light sculptures that takes place each year. Eindhoven's museums, vibrant urban culture and many shopping outlets will also be of interest to those visiting the city.
The extensive global portfolio of Curio Collection by Hilton includes more than 130 one-of-a-kind properties that provide travellers with authentic, curated experiences through distinctly local offerings and unexpected amenities. Hand-picked for qualities including original architectural design and rich historical significance, each hotel is carefully crafted to deliver a unique experience like no other. 
Kasteel Gemert Eindhoven, Curio Collection by Hilton, joins 14 trading hotels in the Netherlands, including the recently opened Motto by Hilton Rotterdam Blaak, as well as Waldorf Astoria Amsterdam and DoubleTree by Hilton Sittard.
Kasteel Gemert Eindhoven, Curio Collection by Hilton, is a member of Hilton Honors, the award-winning guest loyalty programme for Hilton's 18 distinct hotel brands. Members who book directly can unlock a number of exclusive benefits such as a flexible payment slider that allows members to book a stay with nearly any combination of Points and money, exclusive member discounts, free standard Wi-Fi, and access to the Hilton Honors mobile app.
For more on Hilton's development news and its extensive Curio Collection by Hilton portfolio, visit stories.hilton.com.
---
About Hilton
Hilton (NYSE: HLT) is a leading global hospitality company with a portfolio of 22 world-class brands comprising nearly 7,400 properties and more than 1.1 million rooms, in 124 countries and territories. Dedicated to fulfilling its founding vision to fill the earth with the light and warmth of hospitality, Hilton has welcomed more than 3 billion guests in its more than 100-year history, earned a top spot on Fortune's 100 Best Companies to Work For list and been recognized as a global leader on the Dow Jones Sustainability Indices for six consecutive years. Hilton has introduced several industry-leading technology enhancements to improve the guest experience, including Digital Key Share, automated complimentary room upgrades and the ability to book confirmed connecting rooms. Through the award-winning guest loyalty program Hilton Honors, the more than 173 million members who book directly with Hilton can earn Points for hotel stays and experiences money can't buy. With the free Hilton Honors app, guests can book their stay, select their room, check in, unlock their door with a Digital Key and check out, all from their smartphone. Visit stories.hilton.com for more information, and connect with Hilton on Facebook, Twitter, LinkedIn, Instagram and YouTube.
---
About Curio Collection by Hilton
Curio Collection by Hilton is a global portfolio of more than 145 individually remarkable hotels hand-picked to immerse guests in one-of-a kind moments in the world's most sought-after destinations. Each hotel in the Curio Collection evokes a bespoke story through distinctive architecture and design, world-class food & beverage and curated experiences, while providing the benefits of Hilton and its award-winning guest loyalty program Hilton Honors. Experience Curio Collection by Hilton by booking at curiocollection.com or through the industry-leading Hilton Honors app. Hilton Honors members who book directly through preferred Hilton channels have access to instant benefits. Learn more about Curio Collection by Hilton at stories.hilton.com/curio, and follow the brand on Facebook, Instagram and Twitter.