Hilton sets a new standard for the all‑inclusive experience as it expands its offering in Mexico
TULUM, Mexico – Hilton (NYSE: HLT) today announced the opening of Hilton Tulum Riviera Maya All-Inclusive Resort, marking the company's first-ever all-inclusive offering in Tulum. Located beyond the mangroves and overlooking the white-sand beaches and Caribbean coastline of the Riviera Maya, the beachside resort is a destination unto itself, offering a new kind of retreat for travelers seeking great service and extensive amenities alongside enriching culture and lasting experiences. The resort offers rooms and suites in three-story villa-style buildings, a variety of dining experiences including five signature restaurants, a vast selection of entertainment, activities and pools and a dedicated, secluded Family Zone with a water park playground. With 735 rooms, Hilton Tulum Riviera Maya All-Inclusive Resort is Hilton's largest resort in the Caribbean and Latin America and joins the campus of the recently debuted Conrad Tulum Riviera Maya, with nearly 30 additional Hilton-branded properties set to open in Mexico in the coming years.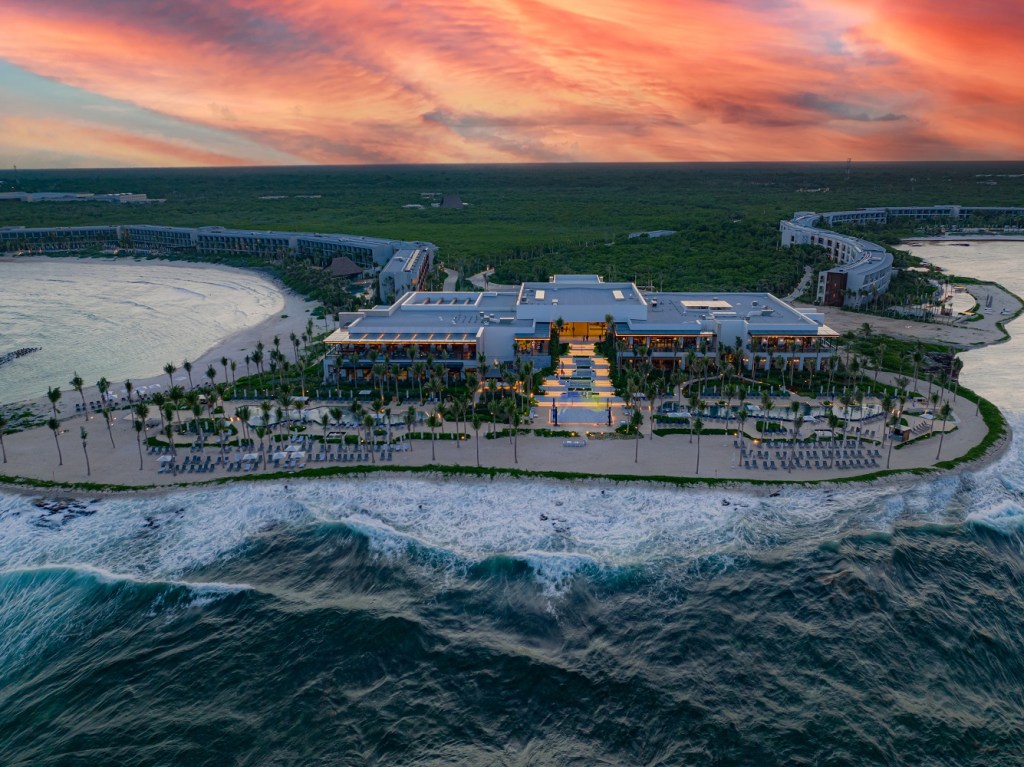 "As we continue to strategically expand our footprint across the Caribbean and Latin America, Mexico remains a priority as we move closer to reaching 100 hotels in the country, which represents our 5th largest in number of hotels, in the next four years", said Danny Hughes, executive vice president and president, Americas, Hilton. "The opening of Hilton Tulum Riviera Maya All-Inclusive Resort is an incredibly exciting addition to our rapidly growing portfolio of premier all-inclusive resorts in the most sought-after beachfront destinations around the globe."
"Tulum provides a unique market to expand and elevate our all-inclusive footprint and showcase our diverse range of brand experiences to meet the needs of travelers," said Matt Schuyler, chief brand officer, Hilton. "Joining Conrad Tulum Riviera Maya and the anticipated debut of our first lifestyle property in the region, Motto by Hilton Tulum, the opening of Hilton Tulum Riviera Maya All-Inclusive Resort provides guests with even more options to experience our brands in this desirable travel destination. Bringing Hilton's unrivaled all-inclusive hospitality to Tulum opens up a world of possibilities for those looking to immerse themselves in this extraordinary destination in a whole new way."
"We are proud to see the vision of Hilton Tulum come to life and serve as the largest and most impactful self-sustained resort in the region," said Charles Elmann Fasja, developer of Hilton Tulum Riviera Maya All-Inclusive Resort and Parks Hospitality Holdings CEO. "With more development underway, we look forward to continuing our partnership with Hilton throughout Mexico. I would like to thank all of Parks and Hilton's teams for all their hard work in making these amazing projects a reality."
Setting a New Standard for All-Inclusive
The resort is the latest addition to Hilton's rapidly expanding portfolio of all-inclusive properties in prime beachfront destinations. In 2021, Hilton grew its all-inclusive room count in the Caribbean and Latin America by nearly 75 percent, including the recently opened Hilton Cancun, an All-Inclusive Resort. Other key properties include Hilton Vallarta Riviera All-Inclusive Resort, Mangrove Beach Corendon Curaçao All-Inclusive Resort, Curio Collection by Hilton, and The Yucatan Playa del Carmen All-Inclusive Resort, Tapestry Collection by Hilton. Hilton is redefining the all-inclusive experience with breathtaking high-end accommodations, elevated dining options and destination-driven on-property activities and entertainment, premium wellness offerings and innovative meeting and event spaces - all without worrying about planning or having to leave the resort. From unparalleled service to its legacy in hosting meetings and events, Hilton brings its more than 100 years of expertise to the all-inclusive space. Travelers can trust Hilton to deliver the quality and consistency that they have come to expect and offer an unmatched all-inclusive experience.
Accommodations
Designed by HBA San Francisco to integrate the stay experience with the unique natural environment of Tulum, each touch point of the resort's design brings guests together with the spirit of the destination through considered details – from pathways that weave from each guest room's doorstep through dense palm trees leading to the ocean, to materials sourced from local artisans. Guest rooms feature soothing tones that emphasize the white sand beaches and clear shallow water of Tulum and offer private balconies with nature or ocean views. Each of the resort's 59 suites features ocean-facing balconies alongside large living and dining areas and spacious king bedrooms with comfortable sitting areas. Each suite also features upscale bathrooms with oversized vanities and walk-in rainfall showers. Premium suites include two-bedroom connecting room options ideal for families and groups traveling together.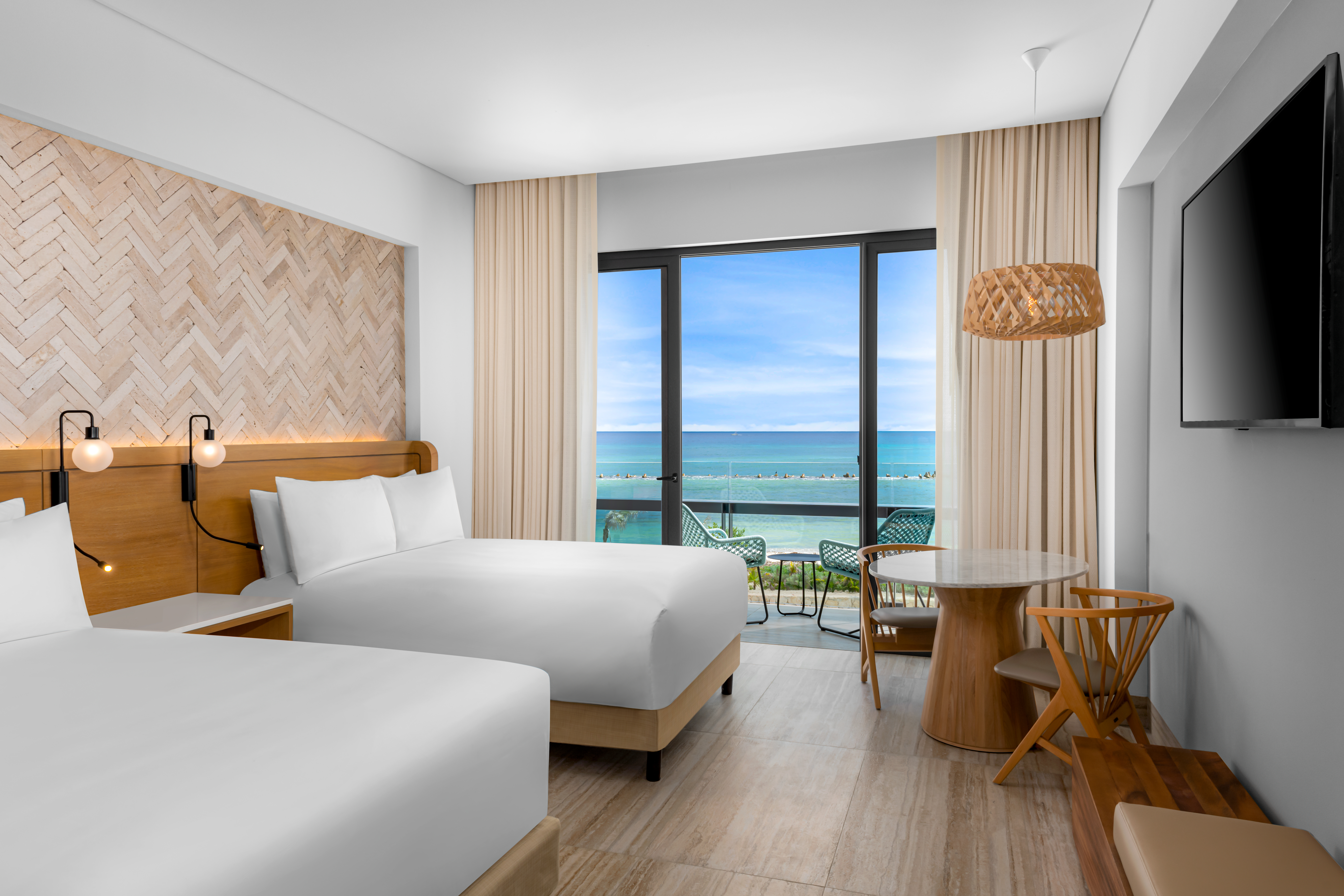 Elevated Food & Beverage
The dining experience offers 13 concept-driven restaurants and an upscale beverage program. The culinary options include five signature restaurants, bars and lounges, a coffee shop and deli as well as numerous casual poolside offerings. Guests can savor numerous rich experiences, including:
Mexican cuisine at Maxal, inspired by homecooked traditions such as Castacan tacos with shrimp aguachile, prepared with an endemic pork from the peninsula and shrimp from Campeche.
La Luce Restaurant, a convivial trattoria offers cooked-to-order pasta in a warm, friendly and inviting atmosphere.
Auma, which features grilled prime cuts and vegetables direct from the open-fire grill.
Noriku, contemporary Asian cuisine like octopus from the Mayan area prepared on the grill with organic bok choy grown seasoned with rayu sauce, ponzu sauce and eureka lemon.
All-day dinning buffet at Vela.
Azulinda, a deli-style coffee shop in a casual atmosphere to take a quick snack.
Cocomar Ceviche, the freshest fish cured in citrus juices and spiced Mexican seasoning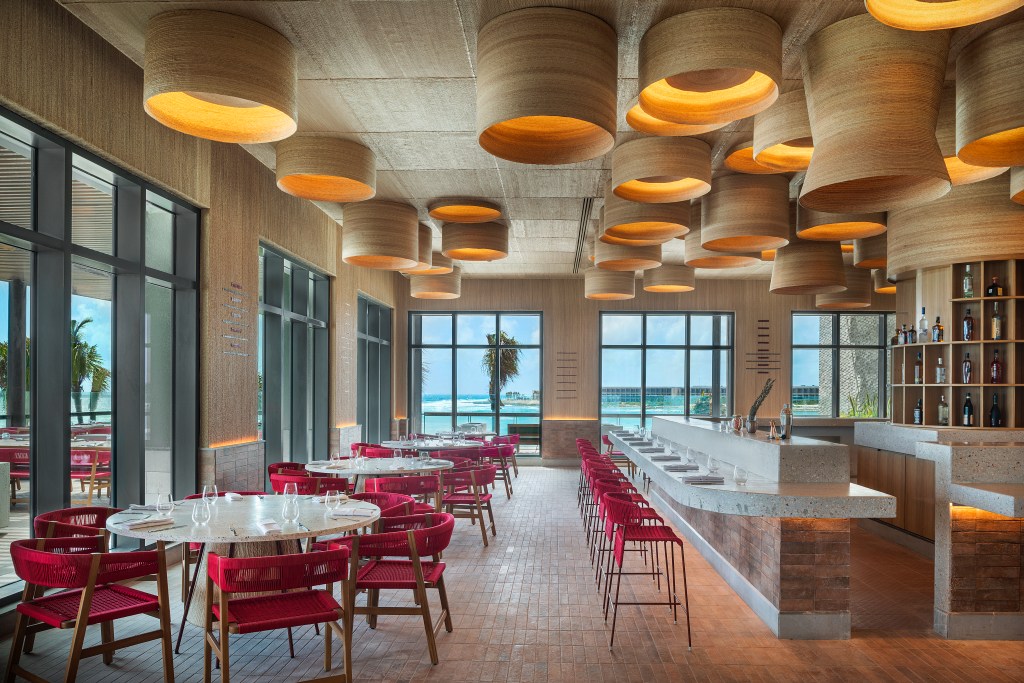 Amenities & Entertainment
The resort offers a variety of immersive activities and entertainment options including world-class live theater, music, family fun and authentic cultural experiences.
In addition to a stunning swimmable beach area, the resort offers eight pools and five jacuzzies, each with their own unique vibe.
The Fitness Center features the latest equipment as well as a yoga studio, spinning room and access to professional instructors.
Following opening, the resort will have a Family Zone offering a kids-only splash pool, with water park playground, play area and activities. With space to feed the imaginations of young travelers and burn off some energy, the area will include its own family all-day dining with bar, La Churreria, and a two-story facility for kids and teens.
Guests at Hilton Tulum Riviera Maya All-Inclusive Resort can also visit the just-opened neighboring property Conrad Tulum Riviera Maya, which includes five gourmet restaurants and six upscale bars, and Conrad Spa Tulum, a destination spa nestled in lush mangroves between the two properties, carefully and purposefully designed as a refuge of wellness.
Celebrations & Events
Hilton Tulum Riviera Maya All-Inclusive Resort also offers Tulum's only and largest purpose-built event center featuring 55,000 square feet of exquisitely designed indoor and outdoor event space. Shared with Conrad Tulum Riviera Maya allowing for dual-resort events, the convention center's modern and sleek décor boasts large windows for sun-soaked rooms and breathtaking views. The 9,000 square foot outdoor terrace is perfect for al fresco dining or events, and additional spaces include a Main Ballroom, Junior Ballroom and three meeting rooms that can accommodate up to 1,800 people. Experienced event planners are available to help guests make the most out of momentous occasions of every size. Transportation between the events center and resort will also be provided.
Destination
Located on the Caribbean coastline of Mexico's Yucatan Peninsula, Tulum is a magical town with an eco-chic atmosphere known for beautiful white sand beaches, lagoons, cenotes and caverns that shows nature in all its splendor. From exploring historic ruins and the Sian Kaan Biosphere Reserve, to enjoying world-class shops and restaurants, those looking for adventure need not look far. Offering seamless access to Tulum's renowned sights and attractions, Hilton Tulum Riviera Maya All-Inclusive Resort is located eight miles north of Tulum and 60 miles south of Cancun International Airport.
Hilton Tulum Riviera Maya All-Inclusive Resort offers guests the confidence of Hilton CleanStay and participates in Hilton Honors, the award-winning guest loyalty program for Hilton's 18 distinct hotel brands. Members who book directly have access to instant benefits, including a flexible payment slider that allows members to choose nearly any combination of Points and money to book a stay, exclusive member discounts, free standard Wi-Fi, and access to the Hilton Honors mobile app.
In total, Hilton now welcomes travelers in more than 80 properties in Mexico and more than 180 hotels across the Caribbean and Latin America.
For more information or to book reservations at Hilton Tulum Riviera Maya All-Inclusive Resort, please visit hilton.com/hilton-tulum and follow the hotel on Facebook and Instagram.
---
About Parks Hospitality Holdings
Parks Hospitality Holdings ("PHH") was founded in 2006 as a division of Parks to develop, build, acquire, and operate hotels primarily in Mexico's getaway cities and major tourism markets.
Since its inception, PHH has developed +8,000 keys including +3,000 keys in resorts, and +1,500 in full-service hotels and currently operates +8,000 keys including select-service hotels.
PHH currently focuses on development of best-in-class resorts in Cancun, Riviera Maya, and Cabos, and acquisitions of hotels in the U.S. Some of its Hotels Developments include Hilton and Waldorf Astoria Cancun, Conrad and Hilton Tulum, Hilton Vallarta Riviera, Hilton Santa Fe, Hilton Guadalajara Midtown, Canopy by Hilton Cancun, Hilton Monterrey, and many others under different brands such as Grand Hyatt, Hilton Garden Inn, Hampton Inn by Hilton, Fiesta Inn.
---
About Hilton
Hilton (NYSE: HLT) is a leading global hospitality company with a portfolio of 22 world-class brands comprising nearly 7,400 properties and more than 1.1 million rooms, in 124 countries and territories. Dedicated to fulfilling its founding vision to fill the earth with the light and warmth of hospitality, Hilton has welcomed more than 3 billion guests in its more than 100-year history, earned a top spot on Fortune's 100 Best Companies to Work For list and been recognized as a global leader on the Dow Jones Sustainability Indices for six consecutive years. Hilton has introduced several industry-leading technology enhancements to improve the guest experience, including Digital Key Share, automated complimentary room upgrades and the ability to book confirmed connecting rooms. Through the award-winning guest loyalty program Hilton Honors, the more than 173 million members who book directly with Hilton can earn Points for hotel stays and experiences money can't buy. With the free Hilton Honors app, guests can book their stay, select their room, check in, unlock their door with a Digital Key and check out, all from their smartphone. Visit stories.hilton.com for more information, and connect with Hilton on Facebook, Twitter, LinkedIn, Instagram and YouTube.
---
About Hilton Hotels & Resorts
For over a century, Hilton Hotels & Resorts has set the benchmark for hospitality around the world, providing new product innovations and services to meet guests' evolving needs. With more than 600 hotels across six continents, Hilton Hotels & Resorts properties are located in the world's most sought-after destinations for guests who know that where they stay matters. Experience a positive stay at Hilton Hotels & Resorts by booking at hiltonhotels.com or through the industry-leading Hilton Honors app. Hilton Honors members who book directly through preferred Hilton channels have access to instant benefits. Learn more about Hilton Hotels & Resorts at stories.hilton.com/hhr, and follow the brand on Facebook, Twitter and Instagram.