Part of a nearly 2000‑room addition across multiple Hilton brands, Motto by Hilton New York City Times Square expands the brand essence of flexible design and local vibe with its second lifestyle hotel in the epicenter of New York City
NEW YORK – In a new era of Hilton growth in one of the world's most iconic destinations, Hilton (NYSE: HLT) has opened Motto by Hilton New York City Times Square, the second hotel from the Motto by Hilton brand in New York City. The 400-room tower is in the heart of Manhattan's famed Times Square neighborhood, offering an immersive and authentic affair under the lights of Broadway.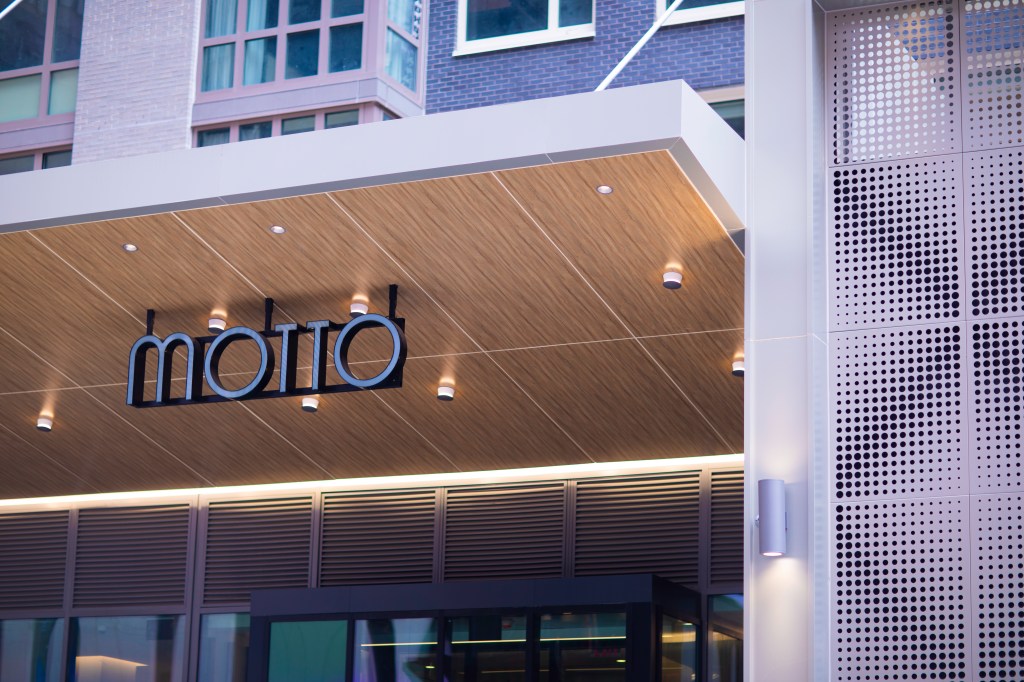 "We are thrilled to welcome guests to Motto by Hilton Times Square, a landmark moment for the brand and an ideal addition to Hilton's presence in New York City," said Theodora De Souza, brand leader, Motto by Hilton. "This new hotel exemplifies the Motto brand essence - it is centrally located in one of the city's most famed neighborhoods and incorporates flexible and modern design elements, encouraging guests to connect and reflect on the cityscape, moments from the best of Broadway, museums, dining and culture." 
Reimagining the large-scale footprint of a New York City hotel, Motto New York City Times Square will entice guests looking for connection and efficiency. Guest rooms designed with an intentional footprint feature soft neutral textures offering a cozy escape, while dynamic storage and technology features synthesize their stay. The property's signature restaurant The Alderman will offer an elegant take on the classic New York City diner with American food and craft cocktails inspired by the beginning of the last century, updated to have a modern flair. 
The ideal New York City adventure hub, Motto New York City Times Square is set inside the bustling city center, just above 47th Street. The hotel is steps away from 41 Broadway theaters, immersive spectacles, unique outdoor attractions and distinct dining venues, while also being just minutes from celebrated uptown museums such as The Metropolitan Museum of Art, MoMA and The Guggenheim, in addition to Radio City Music Hall and Rockefeller Center. 
With the debut of Motto New York City Times Square, alongside the recent and upcoming openings of Tempo by Hilton, Home2 Suites by Hilton and Hampton by Hilton in Times Square this summer, Hilton will add nearly 2,000 rooms to its portfolio in this iconic destination. 
"Combining unmatched hospitality, elevated design and a premiere location, Motto Times Square is sure to offer the most authentic taste of New York City."
"Times Square is a neighborhood and destination all its own and the entire Motto by Hilton Times Square team is excited to welcome guests and locals to experience all this property and our neighborhood has to offer," said Peter McNamee, general manager, Motto by Hilton New York City Times Square. "Combining unmatched hospitality, elevated design and a premiere location, Motto Times Square is sure to offer the most authentic taste of New York City." 
A Minimal Nod to The Past, for Future Travelers 
Inspired by combining 1920s New York City style and design with today's modern lines and architectural elements, a sophisticated palette of warm tones will offer guests a tranquil respite from the excitement of the neighborhood, while still granting unparalleled access to the bright lights and world-renowned attractions. The connection to past and present is expressed throughout, with headboards mimicking the city skyline with curves and corners that reflect the architectural evolution of the city, in a neutral and calming collection of textures. 
Art selected by contemporary artists reinvents the lines and forms of 1920s fashion in a minimal and sophisticated way for the modern era of the 2020s. Art focused on shape scale replaces the technicolor displays outside, with softer refined details. Communal spaces marry the rhythm of the archways and corners with an intentional flow of welcoming spaces from The Commons to the arched lobby bar and into the on-property restaurant. 
Flexible Guest Rooms with Smart Room Technology 
Motto New York City Times Square will offer cleverly compact rooms with a soft, modern design that feature unobstructed views of the city and are outfitted with everything guests need for an enjoyable and restful night's sleep, including top-notch mattresses and sound-absorbing surroundings. The hotel features its signature sets of connecting rooms, providing guests the ability to book up to six unique adjoining rooms together. Motto by Hilton was the pioneer of Confirmed Connecting Rooms by Hilton technology, so guests can not only take advantage of the brand's unique room configurations, but also simplify coordinating travel for larger friend and family groups.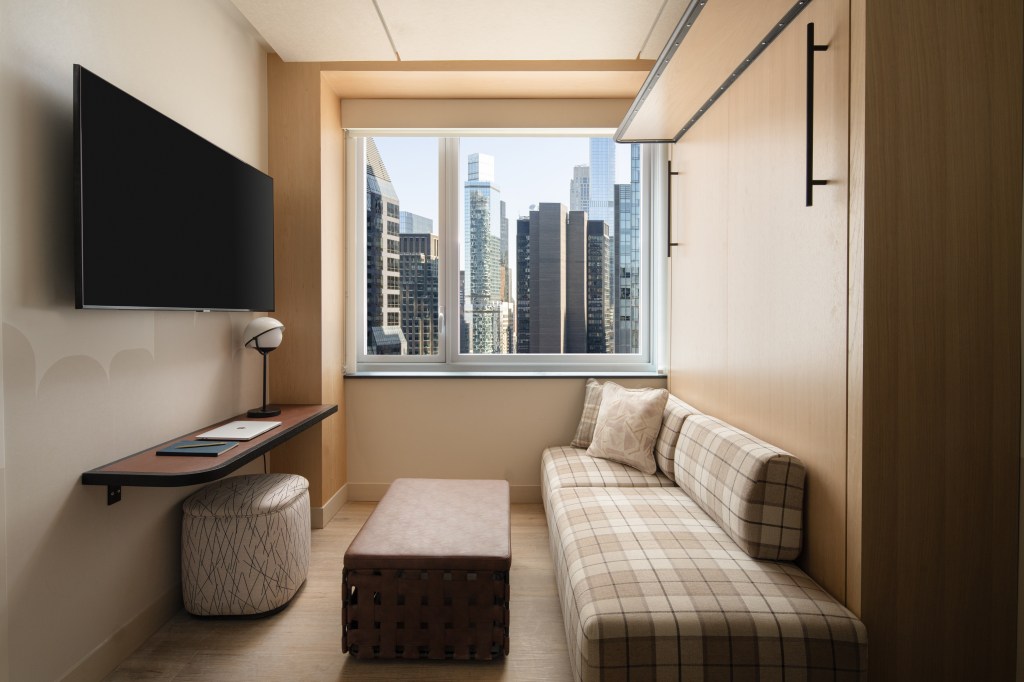 Other room details include:
Cleverly compact rooms are designed to provide what guests value most in a more efficient footprint, while in-room tech allows guests to personalize their space by adjusting the temperature and lighting by mobile device 
Flexible sleeping setups, including a queen Bunkie (bunk bed) with a twin bed above, a queen flex bed that stows into the wall, and standard queen bed 
Design details to maximize the space, including built-in storage and conveniently located power outlets 
Sleek and beautifully tiled showers with premium bath amenities and high-quality shower heads, as well as illuminated vanity and full-size mirrors 
As part of Motto by Hilton, Motto New York City Times Square is committed to the brand's investment in carbon offset projects across the globe that create impactful change, including the Starch Wastewater to Energy initiative in Thailand, the Rwanda Boreholes project, Blue Fire Bio Wastewater Treatment and Biogas Utilization Project, the Crow Lake Wind initiative and the Taiwan InfraVest. 
Guests of Motto New York City Times Square can enjoy the benefits of Hilton Honors, the award-winning guest loyalty program for Hilton's distinct hotel brands. Members have access to instant benefits such as Digital Key, flexible payment options using Points, exclusive member discounts and free Wi-Fi. 
Motto by Hilton New York City Times Square is the sixth Motto by Hilton to open since the brand launched in 2018, joining Motto by Hilton New York City Chelsea, Motto by Hilton Washington DC City Center, Motto by Hilton Philadelphia Rittenhouse Square, Motto by Hilton Tulum and Motto by Hilton Rotterdam Blaak, with upcoming locations including Cusco, Peru; Hong Kong; Glasgow, Poland; Atlanta, Georgia and more coming soon.
For more information, or to make a reservation, please visit https://www.hilton.com/en/hotels/nycmoua-motto-new-york-city-times-square/. 
For more information on Motto by Hilton, please visit stories.hilton.com/motto. 
---
About Hilton
Hilton (NYSE: HLT) is a leading global hospitality company with a portfolio of 22 world-class brands comprising nearly 7,300 properties and more than 1.1 million rooms, in 123 countries and territories. Dedicated to fulfilling its founding vision to fill the earth with the light and warmth of hospitality, Hilton has welcomed more than 3 billion guests in its more than 100-year history, earned a top spot on Fortune's 100 Best Companies to Work For list and been recognized as a global leader on the Dow Jones Sustainability Indices for six consecutive years. Hilton has introduced several industry-leading technology enhancements to improve the guest experience, including Digital Key Share, automated complimentary room upgrades and the ability to book confirmed connecting rooms. Through the award-winning guest loyalty program Hilton Honors, the more than 165 million members who book directly with Hilton can earn Points for hotel stays and experiences money can't buy. With the free Hilton Honors app, guests can book their stay, select their room, check in, unlock their door with a Digital Key and check out, all from their smartphone. Visit stories.hilton.com for more information, and connect with Hilton on Facebook, Twitter, LinkedIn, Instagram and YouTube.
---
About Motto by Hilton
Motto by Hilton is a lifestyle hotel brand designed to help guests live like a local in prime global locations. Motto by Hilton caters to travelers looking for dynamic experiences by bringing together the best elements of a lifestyle hotel – cleverly compact guestrooms, centrally located destinations, modern design, locally inspired food & beverage and a vibrant connection to the neighborhood. Motto by Hilton delivers a flexible and innovative hospitality experience through elements like first-of-its-kind connecting guestrooms for up to 9 rooms, lively communal spaces and a coffee house and bar for work and social use by guests and locals alike. Check out Motto by Hilton in Washington D.C., Philadelphia, New York City, Tulum and Rotterdam by booking at mottobyhilton.com or through the industry-leading Hilton Honors app. Hilton Honors members who book directly through preferred Hilton channels have access to instant benefits. Learn more about Motto by Hilton and its 20 additional properties under development at stories.hilton.com/motto, and follow the brand on Facebook and Instagram.