Lower midscale brand designed for guests who typically book stays of 20 or more nights
MCLEAN, Va. – Hilton (NYSE: HLT) today announced an inventive new extended-stay brand designed to meet the needs of the rapidly expanding $300 billion workforce travel market – the long-stay guest that never stopped traveling, even throughout the pandemic. Through extensive research, Hilton has created a hotel product for this vastly underserved group looking for apartment-style accommodations for 20 nights or more, built with the staying power of Hilton's award-winning hospitality.
Launching in the U.S. under the working title Project H3 as Hilton navigates the final stages of the trademark process, this lower midscale, extended-stay solution is the newest addition to Hilton's portfolio of world-class brands. The product provides a reliable and consistent foundation for the long stay, allowing guests to make the most out of every day, and delivers an exciting investment option for developers looking to diversify their portfolio under the Hilton name.
"We aim to serve any guest, anywhere in the world, for any travel need they may have, and this new brand represents a greater opportunity for us to grow our portfolio while providing the reliable and friendly service our customers expect from Hilton."
"Project H3 is perfectly positioned to serve the unique needs of the long-stay traveler, thanks to its innovative design, strong value proposition for our owners and of course, the hospitality our team members offer every day," said Chris Nassetta, president and CEO, Hilton. "We aim to serve any guest, anywhere in the world, for any travel need they may have, and this new brand represents a greater opportunity for us to grow our portfolio while providing the reliable and friendly service our customers expect from Hilton."
Innovating for the Long Stay
Hilton's research shows long-stay travelers, including traveling nurses, military personnel, and those experiencing workforce relocations, value the simple things in life, placing quality time and comfort above all else. In addition, those looking for a long stay will book an average of 20 or more nights and desire a reliable home base that allows them to maintain their routines while delivering simplicity, consistency and convenience.
This new extended-stay brand will appeal to the long-stay traveler through signature elements including:
Deliberate Design: This product will reimagine core design elements from the ground up and deliver all the essential amenities in a warm, comfortable, yet delightfully modern way. Guests are welcomed by the hotel's inviting exterior, designed to include warm wood tones, and a modern farmhouse-inspired palette with light industrial touches. Outdoor patios are outfitted with grills, a communal fire pit and comfortable seating to make our guests feel like they are truly coming home.
Spacious Apartment-Style Accommodations: The thoughtfully designed stylish suites feature an adaptable layout with four distinct areas for guests to rest, work, cook and refresh, which seamlessly bridge the gap between comfort and functionality. Ample storage space, efficient closet design, and movable, multi-purpose furniture enable guests to seamlessly enjoy the space as both a place to work and rest. This includes a fully equipped kitchen with a full-sized refrigerator, dishwasher, microwave, two-burner stovetop and more, as well as a spacious bathroom design, focusing attention on the amenities long-stay guests value most.
Nontraditional Lobby Experience: Hilton has elevated the extended-stay guest experience with a hyper-functional lobby called The Hive, providing easy access to all amenities. Designed to be inviting for guests and operationally friendly for team members, this nontraditional lobby creates a perfect balance of friendly smiles and self-sufficiency during every guest's stay. The Hive lobby allows sight lines from the front desk to fitness, laundry, and a simple retail market, creating a safe and welcoming environment for guests whether they are looking to grab a great cup of coffee, fit in a workout or start their laundry.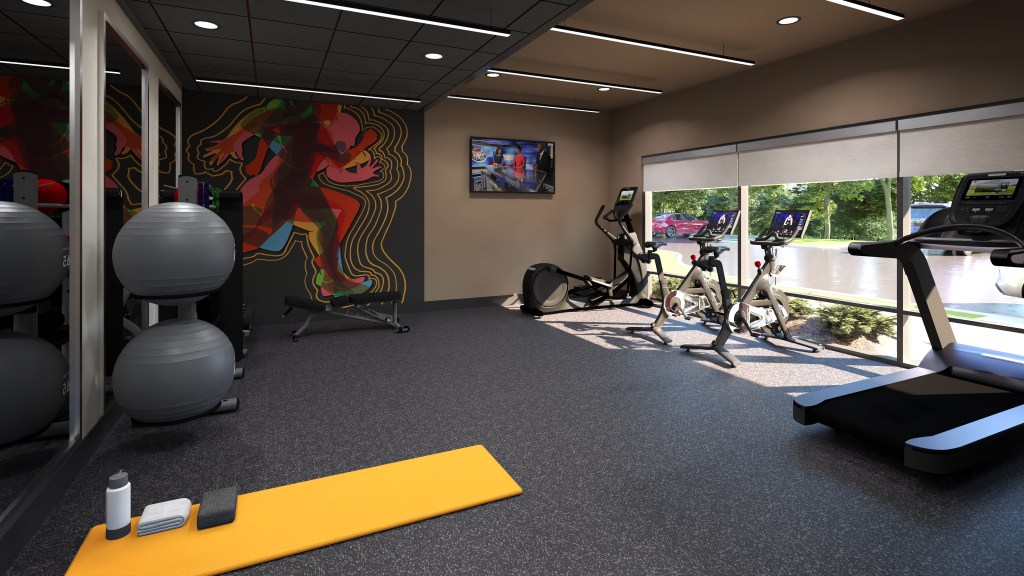 "Many long-stay guests never stopped traveling during the pandemic, especially within the lower midscale extended-stay segment, and we designed a product in direct response to this growing need," said Matt Schuyler, chief brand officer, Hilton. "Project H3 will disrupt the category and allow Hilton to better provide reliable and friendly service for those who are in it for the long stay."
A Focus on Owner Economics
Hilton is providing owners with another attractive investment opportunity in Project H3. The brand has been developed with input from owners, keeping the needs of the development community and long-stay travelers at the forefront of the design process. The new brand prototype dedicates the majority of space to revenue-generating guest rooms, thus reducing overhead costs for prospective owners.
Through Hilton's best-in-class commercial engine, owners will have access to above-property revenue management and sales support models that will streamline on-property staffing needs. Automated customer offerings such as digital check-in and Hilton's Digital Key will enhance the guest experience and create efficiencies for staff.
"Hotel owners have played an integral role in the development of Project H3 and they will continue to guide us as we build this brand from the ground up," said Kevin Jacobs, chief financial officer and president, global development, Hilton. "Project H3 has incredible growth potential, tapping into the rapidly expanding and underserved workforce travel market. The response from the hotel owner and developer community has been immediate and enthusiastic. We're engaged in more than 100 active development conversations, with many owners expressing interest in multiple locations."
From luxury to premium economy, Hilton has a rich history in strategically and organically building brands for every guest and every travel occasion. The addition of this new extended-stay brand enhances Hilton's diverse brand portfolio which has more than doubled in the past 15 years, including the recently announced Spark by Hilton brand, building on Hilton's dynamic approach to the rapidly changing marketplace.
Project H3 will participate in Hilton Honors, Hilton's award-winning guest loyalty program for the company's portfolio of more than 7,200 properties worldwide. Members who book directly with Hilton have access to instant benefits, including a flexible payment slider that allows members to choose nearly any combination of Points and money to book a stay, exclusive member discounts, free standard Wi-Fi and the Hilton Honors mobile app.
For more information on Hilton's Project H3, visit stories.hilton.com/ProjectH3.
---
About Hilton
Hilton (NYSE: HLT) is a leading global hospitality company with a portfolio of 22 world-class brands comprising nearly 7,400 properties and more than 1.1 million rooms, in 124 countries and territories. Dedicated to fulfilling its founding vision to fill the earth with the light and warmth of hospitality, Hilton has welcomed more than 3 billion guests in its more than 100-year history, earned a top spot on Fortune's 100 Best Companies to Work For list and been recognized as a global leader on the Dow Jones Sustainability Indices for six consecutive years. Hilton has introduced several industry-leading technology enhancements to improve the guest experience, including Digital Key Share, automated complimentary room upgrades and the ability to book confirmed connecting rooms. Through the award-winning guest loyalty program Hilton Honors, the more than 173 million members who book directly with Hilton can earn Points for hotel stays and experiences money can't buy. With the free Hilton Honors app, guests can book their stay, select their room, check in, unlock their door with a Digital Key and check out, all from their smartphone. Visit stories.hilton.com for more information, and connect with Hilton on Facebook, Twitter, LinkedIn, Instagram and YouTube.
---
About Project H3 by Hilton
The latest addition to the Hilton portfolio, Project H3 by Hilton is a lower midscale, long-stay hotel brand offering simplicity, consistency and convenience to guests who may be traveling for weeks or months at a time. Project H3 creates a space where guests can seamlessly maintain their daily routines while also immersing themselves in the local community. Each property will feature The Hive, a streamlined public area filled with natural light that includes a simple retail market, a large guest laundry room and a state-of-the-art fitness center. There will also be a spacious outdoor gathering area, which includes a fire pit, grills, and comfortable seating for guests looking to connect. Guest studio suites include a fully equipped kitchen with a full-sized refrigerator, dishwasher, microwave, and two-burner cooktop, along with ample storage options for the long-stay traveler. Learn more about Project H3 at stories.hilton.com/ProjectH3.