The newly constructed hotel joins Curio Collection by Hilton to bring culinary offerings by Michelin‑Starred Chef Nicholas Stefanelli, artful design, an energetic rooftop bar space, and sophisticated gathering options to NoMa
WASHINGTON, D.C. – The highly anticipated Washington, D.C. lifestyle destination, The Morrow Hotel, Curio Collection by Hilton, officially opens its doors today. The hotel acts as an anchor tenant for the neighborhood, bringing artfully designed accommodations, dining by Michelin-starred Chef Nicholas Stefanelli, nearly 12,000 square feet of meetings and events space and unparalleled service to the heart of NoMa, one of the city's fastest-growing creative districts.
Brought to life by Trammell Crow Company and MetLife Investment Management, The Morrow provides one of the area's first ever truly elevated hospitality offerings. This opening marks a new era for NoMa's burgeoning 3rd Street District, an exciting hub of culture, culinary delights, and destination-driven experiences and offerings for locals and guests alike. Rising 12 stories above the neighborhood's tree-lined, walkable neighborhood streets boasting buzzy shops and storefronts, such as Red Bear Brewing Co., REI, and CycleBar, the newly constructed hotel becomes a crossroads of socialization in an energetic area of the city that is known for its rich industrial history and artistic innovation.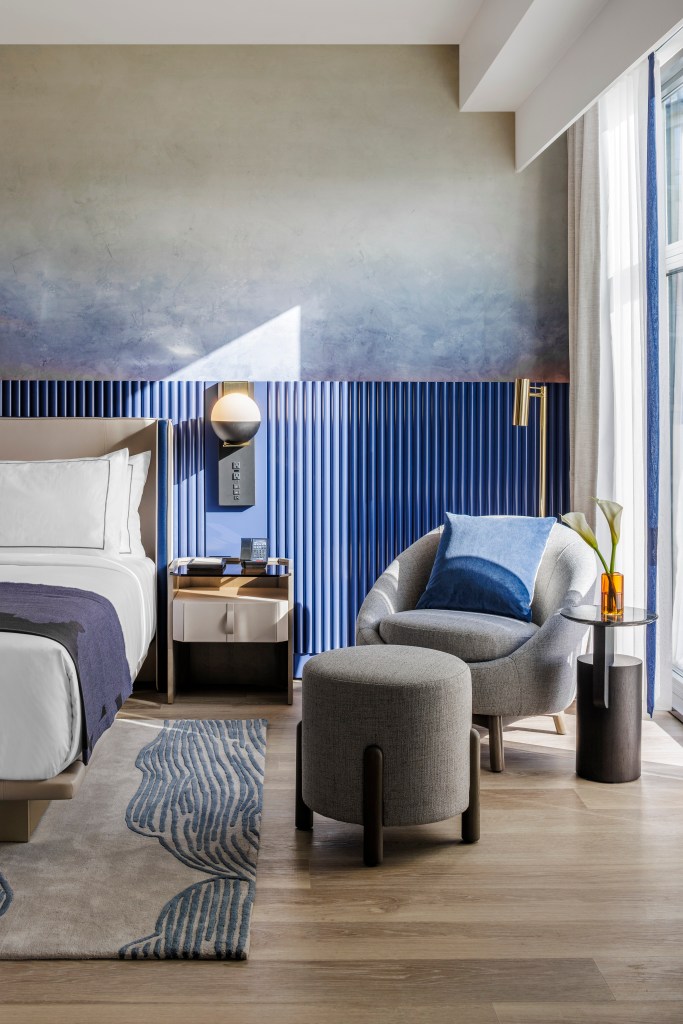 "We set out, along with Trammel Crow Company, to bring a truly unique lifestyle destination to a vibrant and culturally important part of Washington D.C. in NoMa," said Bill Webster, director, Hotel Asset Management, MetLife Investment Management. "We believe in the growth potential of NoMa and The Morrow Hotel will quickly become part of the fabric of the neighborhood, enhancing its already rich culture through unmatched hospitality, service and dining experiences."
"When we started this project, we believed The Morrow could serve as the perfect central gathering place for the local NoMa and Union Market neighborhoods, while also setting new standards for nightlife and hospitality across the District of Columbia and are so thrilled to see that vision come to life in this way," said Campbell Smith, senior managing director, Trammell Crow Company.
"We are delighted to welcome The Morrow to Curio Collection by Hilton, a global portfolio of one-of-a-kind hotels and resorts handpicked for their distinct character," said Jenna Hackett, global brand head, Curio Collection by Hilton. "The Morrow, with its multiple food and beverage outlets and high-end design, is a perfect addition to Curio Collection in one of Washington, D.C. 's fastest-growing creative districts, and truly reflects the brand's commitment to delivering authentic, curated experiences through local offerings and elevated amenities."
The NoMa Neighborhood
The lively and creative NoMa neighborhood is projected to see substantial growth over the next several years with the addition of TikTok's local headquarters. NoMa's 35 blocks include 14.3 million square feet of office space, nearly 8,300 residential units, more than 545,000 square feet of neighborhood-serving retail, and millions of square feet of ongoing construction projects, new businesses and more. 
The Morrow Hotel, part of the new 3rd Street District development, is ideally situated at the nexus of NoMa, Union Market and H Street, with easy access to the NoMa-Gallaudet U Metro and Union Station. The hotel serves as a central gathering spot in this energetic neighborhood that embodies the spirit of an urban village with a dynamic mix of hotel, residential, food and beverage, and retail destinations along pedestrian-friendly streets lined with spaces for outdoor gatherings. The hotel's architecture responds to the urban conditions with an open and accessible site that draws energy from the active street life, integrating guests and community through its indoor and outdoor spaces. 
"Our programming was developed with NoMa's deep cultural and artistic history in mind, and we are proud to continue its legacy through our modern and distinct offerings," said Paul Puzzanghero, general manager, The Morrow. "We've created an experience on-property that inspires local discovery through bold design, elevated food and beverage from our very own hometown hero, Chef Nicholas Stefanelli, and entertainment concepts."
Guest Journey
An uplifting experience is created upon arrival with a bright, airy lobby featuring intimate seating areas surrounded by harmonic lighting and ambient music that transitions with the light throughout the day. The ground floor welcomes guests and passers-by to gather and discover The Morrow Hotel while enjoying house-made kombucha and fresh juices in the morning and champagne and cocktails in the evening from the lobby beverage cart.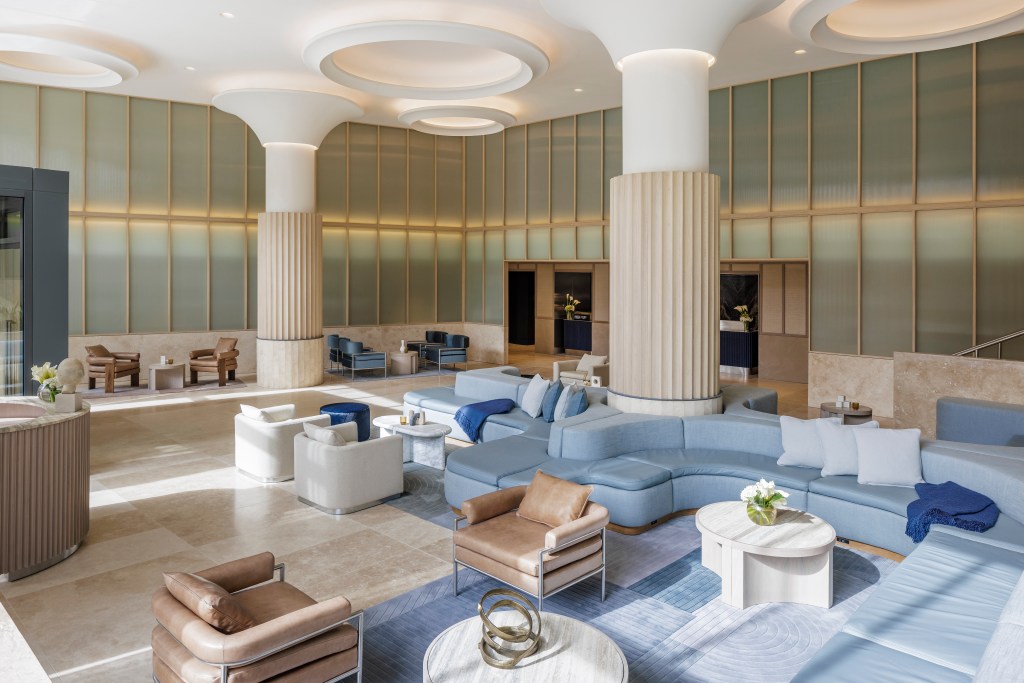 ​​A crisp breeze on the rooftop, the lush greenery on the terrace, a flash of sunlight in the lobby—these small moments, coupled with daily rituals like sunrise yoga, daily elixirs, curated pillow menus and elevated amenities for pets, allow for a momentary pause and ground guests in a fresh perspective. At The Morrow Hotel, guests are inspired to use today to create a greater tomorrow.
From daybreak to nightfall, The Morrow Hotel provides dynamic experiences that effortlessly guide guests from space to space, both physically and mentally. With self-care programming, elevated design and thoughtfully considered partnerships, even the transition is golden.
Dining
The hotel's arrival brings four new food and beverage venues by Michelin-starred Executive Chef Nicholas Stefanelli. Renown for D.C. hot spots Masseria, Philotimo and Officina, Stefanelli is influenced by his local roots in conjunction with his Greek and Italian culinary heritage. 
"As both a chef and a lover of travel, I'm truly inspired to embark on a new professional journey into the world of hotels, with a fantastic group of partners. I wanted to do a hotel project for quite some time, and after my initial meetings with The Morrow Hotel team, it became clear that our approach towards hospitality and creativity was aligned—and that we could have a really fun time creating something for both locals and visitors" said Stefanelli, executive chef, The Morrow. "With Le Clou, Upstairs at The Morrow, and soon Vesper, we hope to add our touch to an already buzzing and dynamic neighborhood."
Stefanelli imbues each space and menu with an undeniable sophistication reflective of the capital's renowned restaurant culture by creating delectable menus that feature a refined blend of European influences within refined, elegant spaces. The Morrow Hotel's destination-worthy dining includes: 
Le Clou, a full-service restaurant providing a modern take on the traditional French brasserie. Showcasing inventive French fare through the lens of Stefanelli, the space features a wrap-around marble bar, striking chandeliers, and gilded finishes, offering D.C. locals and visitors fine-dining at its best.  
Lobby Lounge, a chic communal gathering place serving light refreshments and cocktails against an airy backdrop of white oak columns, travertine flooring and plush furniture. An extension of Le Clou, Lobby Lounge offers artisanal coffee, fresh juices and elixirs by day and hand-crafted cocktails and a champagne trolley by night.
Vesper, opening February 2023, a sophisticated and intimate cocktail lounge featuring craft cocktails and live music in an upscale setting on the 11th floor. Serving inspired cocktail creations alongside grand hors d'oeuvres and caviar service, Vesper serves as the backdrop to intimate business meetings, afternoon tea and lively celebrations from evening to night.   
Upstairs at The Morrow, opening March 2023, the hotel's rooftop bar and the crown jewel of experiential venues in the NoMa neighborhood will offer cocktails, wine, light fare and nightly DJ sets in a space wrapped by an expansive outdoor terrace. Upstairs at The Morrow brings guests unobstructed views of some of the city's key sights in a setting pulsing with energy.  
Design & Accommodations 
The Morrow Hotel is inspired by the vibrant heritage of the surrounding NoMa neighborhood and infuses its artful spirit throughout the entire property. Located on the last site of Central Armature Works, a 100-year-old electrical manufacturing and repair business, the hotel is deeply rooted in Washington D.C.'s history while representing a distinctly modern vision. The hotel exterior is designed by Shalom Baranes Associates, with the lobby and multiple restaurants designed by INC Architecture & Design, and the guest rooms, function spaces and a fitness center designed by Rottet Studio. 
INC Architecture & Design has created an atmosphere that builds on the optimistic qualities of The Morrow Hotel brand as well as emphasizes the historical context of Washington D.C. and the local NoMa setting. The design of the public spaces, including the lobby, restaurant, cocktail lounge, and rooftop bar, creates a series of differentiated experiences from light and airy to dark and sophisticated by invoking the times of the day from morning to night.
"The Morrow brings a new chapter in hospitality to an audience that values the grandeur of history, and the casual comforts of home. Additionally, the pleasures and well-being derived from strong social connections all manifest in a magical alchemy of modern and neoclassical design idioms that connect the hotel to its city and neighborhood," said Adam Rolston, creative & managing director, INC Architecture & Design.
The Morrow Hotel features 203 sophisticated rooms and suites that combine modern comfort, elevated elegance, and thoughtful amenities for a curated guest experience. Calming color palettes come together with luxurious details such as Italian linens and Le Labo bath and body products to provide welcome respite.
Meetings & Events
With 11,400 square feet of endlessly customizable space, and convenient positioning at the nexus of NoMa, Union Market and H Street, The Morrow Hotel is an ideal destination for meetings and events of any size. Featuring a 4,900-square-foot outdoor veranda, a 2,400-square-foot ballroom with multiple configuration options, a private level lounge and an open rooftop bar and terrace perfect for meetings, social affairs, ceremonies, and any other special occasions. All food and beverage offerings will be from Chef Stefanelli.
For further details and information, please visit www.themorrowhotel.com  
*Forward-Looking Statements
The forward-looking statements in this news release, such as "We believe in the growth potential" are based on assumptions and expectations that involve risks and uncertainties, including the "Risk Factors" MetLife, Inc. describes in its U.S. Securities and Exchange Commission filings.  MetLife's future results could differ, and it has no obligation to correct or update any of these statements.
---
About Hilton
Hilton (NYSE: HLT) is a leading global hospitality company with a portfolio of 22 world-class brands comprising nearly 7,400 properties and more than 1.1 million rooms, in 124 countries and territories. Dedicated to fulfilling its founding vision to fill the earth with the light and warmth of hospitality, Hilton has welcomed more than 3 billion guests in its more than 100-year history, earned a top spot on Fortune's 100 Best Companies to Work For list and been recognized as a global leader on the Dow Jones Sustainability Indices for six consecutive years. Hilton has introduced several industry-leading technology enhancements to improve the guest experience, including Digital Key Share, automated complimentary room upgrades and the ability to book confirmed connecting rooms. Through the award-winning guest loyalty program Hilton Honors, the more than 173 million members who book directly with Hilton can earn Points for hotel stays and experiences money can't buy. With the free Hilton Honors app, guests can book their stay, select their room, check in, unlock their door with a Digital Key and check out, all from their smartphone. Visit stories.hilton.com for more information, and connect with Hilton on Facebook, Twitter, LinkedIn, Instagram and YouTube.
---
About Curio Collection by Hilton
Curio Collection by Hilton is a global portfolio of more than 145 individually remarkable hotels hand-picked to immerse guests in one-of-a kind moments in the world's most sought-after destinations. Each hotel in the Curio Collection evokes a bespoke story through distinctive architecture and design, world-class food & beverage and curated experiences, while providing the benefits of Hilton and its award-winning guest loyalty program Hilton Honors. Experience Curio Collection by Hilton by booking at curiocollection.com or through the industry-leading Hilton Honors app. Hilton Honors members who book directly through preferred Hilton channels have access to instant benefits. Learn more about Curio Collection by Hilton at stories.hilton.com/curio, and follow the brand on Facebook, Instagram and Twitter.
---
About The Morrow Hotel, Curio Collection by Hilton
The Morrow Hotel, Curio Collection by Hilton is Washington D.C.'s most highly anticipated new lifestyle hotel featuring a lobby and multiple restaurants designed by INC Architecture & Design, and 203 guest rooms designed by Rottet Studio. Located within NoMa's new 3rd Street District, The Morrow Hotel was inspired by the vibrant heritage of the surrounding neighborhood and infused its artful spirit throughout the entire property. In addition to its thoughtfully appointed guestrooms and public spaces, the hotel offers over 11,400-square-feet of indoor/outdoor meeting space, a state-of-the-art fitness center, and four food and beverage venues from Michelin-starred Chef Nicholas Stefanelli including Le Clou, a modern French brasserie, Lobby Lounge, Vesper Cocktail Lounge and Upstairs at The Morrow, a rooftop bar offering unparalleled views of the city. Brought to life by HHM, an industry leader in hospitality management, The Morrow Hotel is a place where energized guests, dynamic experiences, and engaging staff come together to make the most of each and every day.   
For further details and information, please visit: www.themorrowhotel.com  
---
MetLife Investment Management
MetLife Investment Management, the institutional asset management business of MetLife, Inc. (NYSE: MET), is a global public fixed income, private capital and real estate investment manager providing tailored investment solutions to institutional investors worldwide. MetLife Investment Management provides public and private pension plans, insurance companies, endowments, funds, and other institutional clients with a range of bespoke investment and financing solutions that seek to meet a range of long-term investment objectives and risk-adjusted returns over time. MetLife Investment Management has over 150 years of investment experience and, as of June 30, 2022, had $590.09.0 billion in total assets under management.
---
About Trammell Crow Company
Trammell Crow Company (TCC), founded in 1948, is a global commercial real estate developer having developed or acquired 2,800 buildings valued at nearly $70 billion and over 625 million square feet. As of March 31, 2022, TCC had $19.8 billion of projects in process and $10.1 billion in its pipeline. It employs 700 professionals throughout the United States and Europe.  
Trammell Crow Company's teams are dedicated to building value for its clients with professionals in 26 major cities throughout the United States and Europe. The company serves users of and investors in office, industrial, healthcare, multi-family residential, through its operating subsidiary High Street Residential, and mixed-use projects. For those who occupy real estate, TCC can execute the development or acquisition of facilities tailored to meet the needs of its clients. For investor clients, the company specializes in joint venture speculative development, acquisition/re-development ventures, build-to-suit development and providing incentive-based fee development services.  
TCC is an independently operated subsidiary of CBRE Group, Inc. (NYSE:CBRE), a Fortune 500 and S&P 500 company headquartered in Dallas, and the world's largest commercial real estate services and investment firm (based on 2021 revenue). For more information visit www.TrammellCrow.com. 
---
About HHM
Philadelphia-based HHM is an award-winning hotel management and investment company that operates over 235 full-service and select-service hotels across 30 states and in virtually every major hospitality market from coast to coast. HHM is a leading manager of Marriott and Hilton hotels, while also operating over 30 independent hotels ranging from The Rittenhouse Hotel in Philadelphia to The Joule Hotel in Dallas to The Whitney Hotel in Boston. HHM's highly experienced operating team is known for being nimble, accountable, and entrepreneurial in how they drive market-leading results for owners including publicly traded companies, private equity firms, and family office investors. Additional information on HHM can be found at hhmhospitality.com.