MIAMI, FL – Powerhouse developers Related Group (Related) and Merrimac Ventures alongside hospitality leader Hilton (NYSE: HLT) today announced the signing of Waldorf Astoria Residences, located in South Florida's emerging market of Pompano Beach. Directly overlooking the Atlantic Ocean, Waldorf Astoria Residences Pompano Beach (The Residences) marks the historic brand's first-ever foray into purely residential concepts and its official entrance into Broward County. 
"We set out to distill the timeless elegance and exclusivity of the Waldorf Astoria brand into a purely residential format," said Nick Perez, president, Related's condominium development group. "From the design and architecture to the resident services, we've pulled out all the stops to ensure this property fully embodies the Waldorf Astoria brand. There is no compromise in our approach and we are so excited to see how the market reacts to this incredible development." 
Sitting on a two-acre oceanfront site, Waldorf Astoria Residences Pompano Beach spans only 92 residential units and offers world-class design, spearheaded by Nichols Architects in collaboration with KORA, BAMO and Enea Landscape Architecture. With a hospitality infused amenity package - including a beachfront cafe with room service, resident lounge, pool, jacuzzi and cabanas with poolside dining, wellness facilities, and nearly two dozen boat slips - the new build will add further momentum to South Florida's growth and be part of the sub-market's evolution into a highly sought-after address.
The Waldorf Astoria Residential Experience 
Envisioned as a love letter to the history and tradition of the Waldorf Astoria name, The Residences features many nods to the brand. 
Among the most prominent examples is the tower's Peacock Alley, a homage to the Peacock Alleys that grace many Waldorf Astoria properties around the world. The resident-only space will serve as the property's main gathering area - where residents go to "see and be seen" - and feature a soon-to-be-announced F&B concept along with many other signature touches. Brand aficionados will also spot a lovingly crafted clock inspired by the original at Waldorf Astoria New York - an iconic landmark within the brand's flagship hotel and a legendary part of NYC lore - proudly displayed in the grand lobby.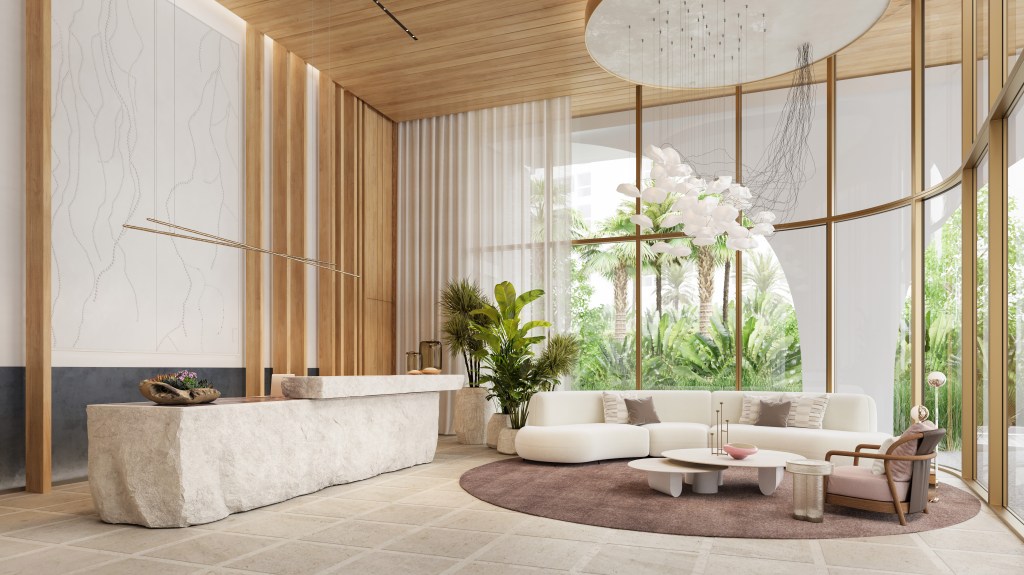 "Waldorf Astoria has been committed to offering sincerely elegant service, culinary excellence, and unforgettable experiences since its inception," says Dino Michael, SVP & global head, Hilton Luxury Brands. "With the announcement of Waldorf Astoria Residences Pompano Beach, we are thrilled that the reputation and expectations associated with our luxury brand will reach new audiences and buyers with our evolved approach to the real estate space."
The influence of the revered hotel flag extends to the more than 15,000 square feet of curated lifestyle amenities. Highlights include a 20,000-square-foot oceanfront pool deck, complete with a lap-pool and private spa, outdoor bar and dining lounge, summer kitchens and resident cabanas. Residents will also have direct, private access to 200 linear feet of beachfront and beachside cafe. The property is also one of the very few in the region to feature a private marina, with 19 slips and ability to accommodate vessels measuring up to 45 feet.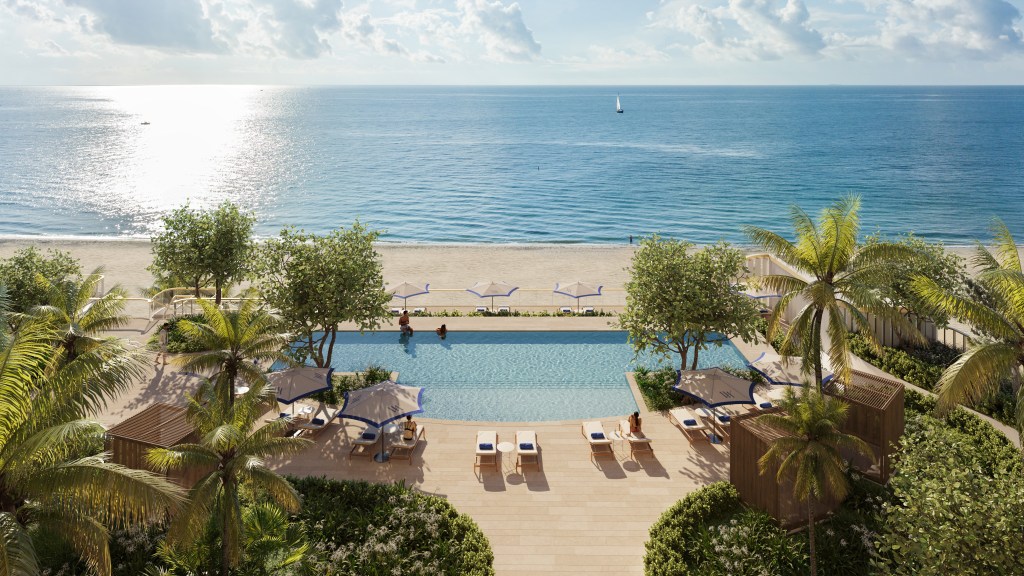 The Residences also offer a wide assortment of wellness-forward amenities. This includes a resident-only spa with private treatment room and His/Her sauna and steam rooms, as well as a cutting-edge fitness center, complete with the latest cardio machine and strength and conditioning equipment, as well as a dedicated movement studio and spin room. 
Additional entertainment options include a ground-floor F&B concept, billiards lounge, children's entertainment room, and multi-sport simulator. Managed by Waldorf Astoria, buyers will also enjoy 24/7, signature resident services, including in-resident dining, beach and pool-side service, personal concierge and more. The property will also feature an assortment of museum-quality art from the world-renowned Jorge M. Perez Contemporary Art Collection. 
The Residences' unveiling comes amidst a major renaissance for Pompano Beach, a city lovingly known as "Florida's Warmest Welcome." Related and Merrimac Ventures have been working for decades to drive the thoughtful transformation of Pompano, and the broader Broward market, into an undeniable luxury destination. 
"Pompano Beach's transformation has been extraordinary – the result of many years of careful, thoughtful development and public investment in the community, which we've witnessed in the last decade since we've owned the site," says Dev Motwani, CEO, Merrimac Ventures. "While we've completed several developments in the market over the years, we've always felt that this property was unique and intentionally waited until we found the right vision for this specific location. Now, with Related and Hilton as our partners, we're excited to move forward on what is sure to be a transformative development, not only for Pompano but for northern Broward County as a whole."
Merrimac Ventures and the Motwani family have been developing and operating in Broward County for more than 30 years, with $3 billion in capital deployed to date and an active pipeline valued in excess of $3.7 billion. Related and Perez family have an equally prolific history in Broward, with neighborhood-defining projects dating back several decades and several billion dollars under active development. 
Conveniently located between the urban hotspots of Miami, Fort Lauderdale and Palm Beach, Pompano Beach offers an on-the-sand lifestyle at a more accessible price. Pompano Beach has always been a favorite for travelers looking for a low-key, waterfront getaway; however, as demand for South Florida real estate continues to heat up, the quiet beachfront village is now one of the fastest growing real estate markets in the Sunshine State. With robust demand for new construction but very limited supply, Pompano Beach property values have seen a steady climb over recent years. 
Significant public improvements, including multi-million-dollar investments into the Downtown arts and entertainment district, combined with continued interest from buyers are expected to add further momentum to this upward trend. Nearby Fishing Village, complete with open-air pavilions and upscale dining concepts, further transforms the area into a lively, pedestrian-friendly community. For those who prefer nature to city life, residents will also be steps away from restored dunes, tree-shaded outdoor attractions, and other beachside activities that define the thriving coastal community.
Meticulously designed by BAMO to complement Pompano's low-key lifestyle, The Residences will offer an exclusive collection of only 92 residences. The homes are available in a wide variety of floor plans and are crafted to evoke single-family living, ranging from two to five bedrooms and varying in size from 2,100 square feet to 6,100 square feet.
Each residence showcases the same painstaking attention to detail evident across the tower, and comes equipped with a private elevator foyer for maximum privacy, soaring ceilings, and panoramic floor-to-ceiling windows highlighting stunning ocean and intracoastal views. Additional standard features include oversized balconies, custom Italian cabinetry, top-of-the-line Wolf and Sub-Zero appliances. For ease of ownership, the residences are delivered ready to be occupied with a selection of designer finishes. 
For more information about Waldorf Astoria Residences Pompano Beach, including availability, pricing, and floor plans, please visit waldorfastoriaresidencespompanobeach.com or contact our sales team at 754-202-0992 or info@waldorfastoriaresidencespompanobeach.com.
---
About Hilton
Hilton (NYSE: HLT) is a leading global hospitality company with a portfolio of 22 world-class brands comprising nearly 7,400 properties and more than 1.1 million rooms, in 124 countries and territories. Dedicated to fulfilling its founding vision to fill the earth with the light and warmth of hospitality, Hilton has welcomed more than 3 billion guests in its more than 100-year history, earned a top spot on Fortune's 100 Best Companies to Work For list and been recognized as a global leader on the Dow Jones Sustainability Indices for six consecutive years. Hilton has introduced several industry-leading technology enhancements to improve the guest experience, including Digital Key Share, automated complimentary room upgrades and the ability to book confirmed connecting rooms. Through the award-winning guest loyalty program Hilton Honors, the more than 173 million members who book directly with Hilton can earn Points for hotel stays and experiences money can't buy. With the free Hilton Honors app, guests can book their stay, select their room, check in, unlock their door with a Digital Key and check out, all from their smartphone. Visit stories.hilton.com for more information, and connect with Hilton on Facebook, Twitter, LinkedIn, Instagram and YouTube.
---
About Waldorf Astoria Hotels & Resorts
Waldorf Astoria Hotels & Resorts is a portfolio of more than 30 iconic properties that creates a unique sense of place with a relentless commitment to elegant service, one-of-a-kind experiences and culinary expertise in landmark destinations around the world. Inspired by their timeless environments and sincerely elegant service, Waldorf Astoria hotels deliver an effortless experience seamlessly, creating a true sense of place for guests through stunning architecture, Peacock Alley, refined art collections, Michelin-starred dining concepts and elevated in-room amenities. In addition to the brand's world-class hotel offerings, Waldorf Astoria boasts a global residential portfolio that provides the comfort of a private home combined with unsurpassed amenities and high-touch service. Waldorf Astoria is part of Hilton, a leading global hospitality company. Experience an unforgettable stay at Waldorf Astoria Hotels & Resorts by booking at waldorfastoria.com or through the industry-leading Hilton Honors app. Hilton Honors members who book directly through preferred Hilton channels have access to instant benefits. Learn more about Waldorf Astoria Hotels & Resorts at stories.hilton.com/waldorfastoria, and follow the brand on Twitter, Instagram and Facebook.
---
About Related Group 
Established in 1979, Related Group is Florida's leading developer of sophisticated metropolitan living and one of the country's largest real estate conglomerates. Since its inception, the privately held company has built, rehabilitated and managed over 100,000 condominium, rental and commercial units. The firm is one of the largest Hispanic-owned businesses in the United States with a development portfolio in excess of $40 billion over 40+ years. Related Group has earned international status for its visionary designs and development of luxury condominiums, market-rate rentals, mixed-use centers and affordable properties – often in emerging neighborhoods that impact the lives of all demographics. Related Group has redefined real estate by diversifying both its products and buyers, expanding internationally while also sponsoring public art installations that enhance cities' global culture and streetscapes.   
Currently, Related Group has 70+ projects in varying phases of development. 
---
About Merrimac Ventures
Merrimac Ventures is a real estate investment and development firm located in Fort Lauderdale, Florida. Its primary focus is on prime resort and mixed-use development but also has extensive investments in multi-family residential, condominiums, retail and office. While Merrimac Ventures began its journey in South Florida, it has substantially expanded its holdings into a national footprint. Partners in Merrimac Ventures are currently involved in over $3 billion in real estate development projects, which are transformational, building communities and advancing cities. To learn more visit https://merrimacventures.com.