Luxury baths at these Hilton properties offer the ultimate 'me time'
Bathing combines the art of stillness with scent and heat to create the ultimate vacation de-stress moment that appeals to multiple senses. Whether you crave some solo "me time," need to soak sore muscles after a day of adventure, or want to enjoy a luxury indulgence, Hilton properties around the world can certainly draw up something perfect.
Hilton takes the bathing experience to the next level by offering luxury bath treatments ranging from fragrant aromatherapy retreats to spa services dripped in everything from chocolate to gold. Whatever your aching bones desire you can find it at these amazing properties with bath rituals sure to make guests say "Ooh-la-spa!"
Go On a Journey of Self Discovery in Bali
JIWA WELLNESS at Conrad Bali uses a holistic approach focused on the whole person, using a range of curated experiences to treat all interconnected dimensions of the self, creating harmony and well-being. To help you on your wellness journey, the spa offers a floral fragrance-inspired Frangipani and Flower Petal Bath. Or, for those looking for a different type of sweet retreat, the Chocolate Mud Bath is the perfect indulgent offering.
Soothe Your Senses in Chicago
At The Spa at Chicago's Palmer House, a Hilton Hotel, you can soak away your tension during Honoreì's Hydrotub Immersion. This treatment amplifies a time-tested wellness method of using water to promote and prepare the body for healing, which is beneficial for stress relief, muscle relaxation, increased blood circulation, and detoxification. And for those seeking to pamper their toes, The Spa offers pedicures that revitalize your feet with a soothing soak of their own.
Settle Into Storied Spa Services in Tokyo
Water and the moon, two of nature's most powerful yet calming symbols, have been integrated into the design of Mizuki Spa at Conrad Tokyo, the largest hotel spa facility of its kind in Tokyo. Mizuki Spa offers a complete line of facials, body treatments, and spa rituals designed to de-stress. But perhaps the spa's biggest treat is the detoxifying bath inspired by ancient rituals that are sure to relax the body and quiet the mind.
Enjoy a Multi-Sensory Experience on an Italian Island
A Turkish bath is a feast for the senses, and at Conrad Chia Laguna Sardinia you can enjoy this special water-filled journey, along with experiential showers, to help regenerate your mind and body. At the resort's spa you can experience ultimate relaxation while taking in panoramic views of Chia Bay from the water massage pool, surrounded by lush greenery and scents of strawberry trees, mastic, juniper, and myrtle.
Get Lost (and Find Yourself) in an Arizona Desert Oasis
Tucked in the Arizona desert is the Tierra Luna Spa at Arizona Biltmore, a Waldorf Astoria Resort, home to three different soaking experiences. Whether you select the self-care-centered Goddess Bath Ritual, the muscle-reliving Circadian Bath Ritual, or the emotion-driven Intention Bath Ritual, you'll enjoy deep soaks accompanied by restful music and essential oils and salts that add to the sensory journey. Supporting gemstones are chosen to change the energetic vibration of the water, allowing you to seek personalized clarity and relief.
Jet Off to the Maldives for Healing Hydrotherapy
For the ultimate in relaxation, enjoy a session in the custom hydrotherapy pool in the Aqua Wellness Centre at Waldorf Astoria Maldives Ithaafushi. Designed in zones, with each station targeting a different part of the body, this relaxing spa features a jet bath, air, and shower jets, along with massage loungers using varying levels of intensity and water temperature to ease muscle tension, boost the immune system, increase blood circulation, speed up metabolism, and improve deep sleep quality.
Soak Up Golden Opulence in Cartagena
Looking to be (literally) bathed in gold? If so, try the opulent "El Dorado" Ritual at Hilton Cartagena. This luxurious sensory experience evokes the area's Colombian ancestors and begins by preparing your skin with body exfoliation and immersion in a relaxing hot tub. Next, delight in the Privilegio massage, which gives you an energetic balance with a mix of coconut and other aromas. Finally, you'll be wrapped in gold, providing luminosity and skin regeneration.
Breathe in the Sweet Scents of Bora Bora
At the tropical Conrad Bora Bora Nui awaits a premiere soaking experience. The 30-minute Art of Bathing service offers bespoke amenities including champagne, sweet or savory snacks, and the soothing scents of vanilla and amber, which are sure to relax your body and mind. The experience is offered in the spa's couple's treatment room, which features breathtaking views of the property's private turquoise lagoon.
Discover Ancient Bathing Rituals in Atlanta
Waldorf Astoria Atlanta Buckhead's Spa offers a restorative oasis in which to relax, revive, and rejuvenate. This pampering paradise features 13 treatment rooms, a couples' suite, and pools, including an invigorating 60-foot saline lap pool. Here you can enjoy a variety of signature therapies and treatments, including a restorative detoxifying bath inspired by ancient rituals.
Uncover a Deeper Sense of Well-Being in Orlando
Florida will soon be home to an all-new bathing service when Conrad Orlando opens in December 2023. The resort's Spa Water Garden will be an aquatic oasis that offers a circuit of hot and cold experiences to achieve an even deeper sense of well-being. Clear your mind in the Vitality Pool and submerge in the invigorating Cold Plunge. Or elevate your body temperature as you relax in the warm whirlpool and private soaking tubs.
Seek the Serenity of an Epic Private Bath at Hilton Properties Worldwide
Those seeking an even more personalized bathing experience can delight in luxe in-room soaking options at Hilton properties worldwide, allowing you to seek solace in the comfort of your own private suite. If spending the evening lounging in a relaxing bubble bath is your idea of heaven, then consider these decadent Hilton bathing options.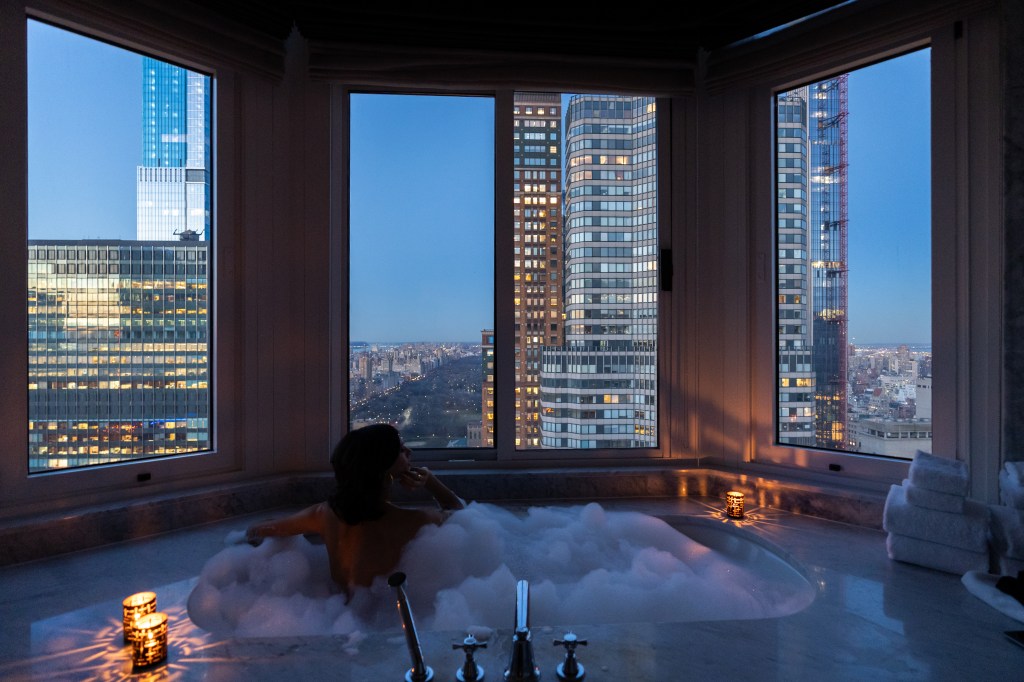 Virgin Hotels Las Vegas, Curio Collection by Hilton's Ruby All Suites Tower boasts an inviting soaking tub in every room. This sumptuous soaker is big enough for two, making it the perfect spot to savor a couple's getaway.
Hilton Okinawa Sesoko Resort's executive rooms feature a spacious terrace with an outdoor bath and day beds overlooking the ocean. Enjoy the refreshment of a cold, private bath on a hot summer day, or enjoy a hot, relaxing bath after a long day of exploration.
The Statler Dallas, Curio Collection by Hilton offers free-standing soaking tubs in every single room and suite, providing an unforgettable bathing experience for all guests. And when it comes time to step out of the steamy waters, you can stay warm in cozy terrycloth kimono robes.