Rotterdam, the second-largest city in the Netherlands, is full of hidden gems waiting to be explored. The vibrant city is bursting at the seams with modern architecture, food and art, allowing tourists to immerse themselves in modern Dutch culture. If you are looking for an authentic experience in an abbreviated timeframe, here are some of the best sights and experiences off the beaten path to create an unforgettable 24 hours in the port city.
The Markthal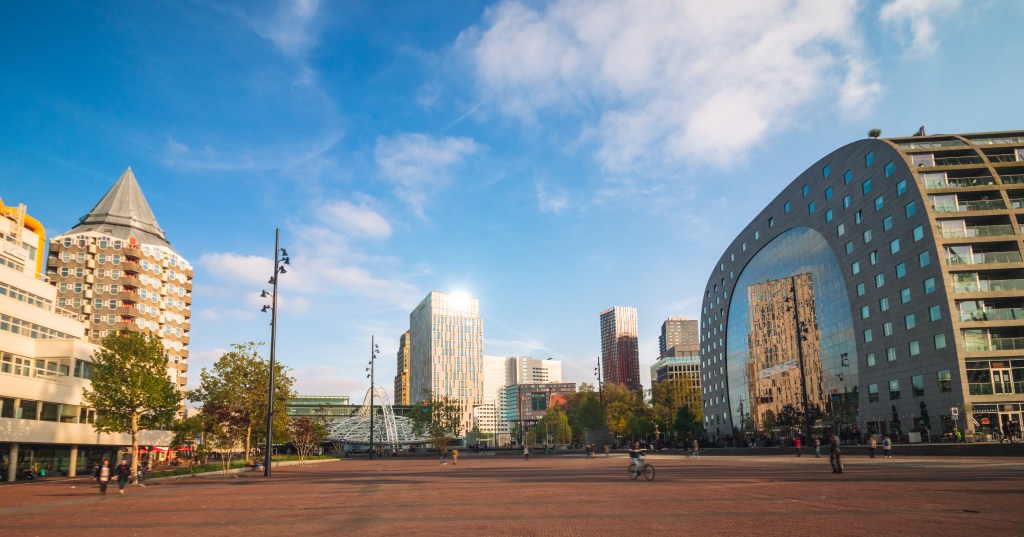 Stop by this jaw-dropping market hall to experience an authentic taste of Rotterdam. The Markthal, a horseshoe-shaped building with a market hall underneath, is one of Rotterdam's most popular gathering points. This food hall is a sight to see, with its 131-foot-tall arch covered entirely by murals of vegetables, fish and other local produce. Under the arch, you'll find over 100 fresh produce sellers, 15 food shops and eight restaurants selling everything from fresh bread and cheese to fish, poultry, flowers and plants. Grab a Stroopwafel while you peruse the vendors.
The Cool District
Staying true to its name, the Cool District is a must-see central hub while exploring Rotterdam. Make sure to stop by the Witte de Withstraat, a street within the district that offers an authentically local experience packed with restaurants offering the best traditional Dutch foods, local bars, art and fashion galleries and tons of people watching. While exploring, pop into Tent, an art gallery for local artists, the contemporary art museum Boijmans Van Beuningen and DEARHUNTER, a vintage fashion gallery in the district. Before you head out to your next spot, stop in a café and grab some must-try Poffertjes, a.k.a. mini pancakes, one of the tastiest Dutch traditions!
Get on the Water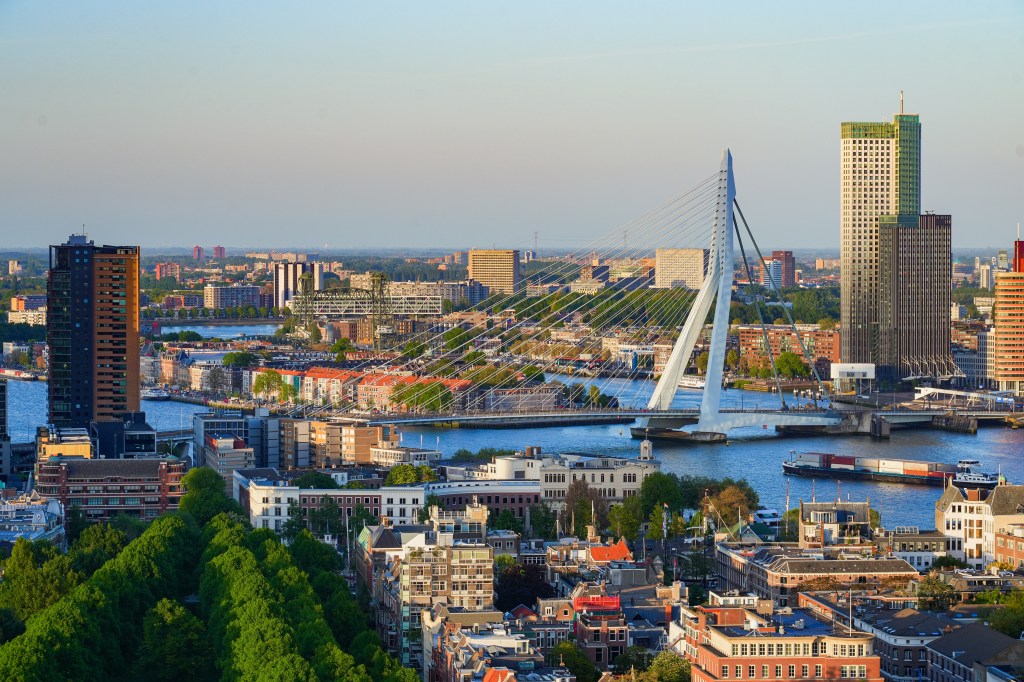 To take in some of the city's best architecture from a new vantage point, take a water taxi or speedboat through Rotterdam and see the Erasmus bridge, one of the city's most iconic landmarks. Or, for a more relaxing slower pace, hop in a floating Jacuzzi in the old harbor of Rotterdam, a short walk from the beautiful 10-story Art Nouveau-style Witte Huis, where visitors can grab a bite to eat before taking to the water.
Dutch Pinball Museum
Located in the Historic Delfshaven district that brings you back to the atmosphere of pre-war Rotterdam, the Dutch Pinball Museum is one of the city's hidden gems. The museum is located within a historic building called Dubbelde Palmboom, or the Double Palm Tree. It has lived many lives since it was built in 1825 as a grain warehouse and eventually became home to the Pinball Museum in 2020. In addition to the historic learnings available, the museum offers guests a unique interactive experience with over 100 pinball machines visitors can play. The museum houses pinball machines dating back to as early as 1930, as well as collector item machines. 
Motto by Hilton Rotterdam Blaak
While visiting and experiencing all the lively city of Rotterdam has to offer, consider staying at the new Motto by Hilton Rotterdam Blaak. Nestled inside the city's iconic bank building, Motto by Hilton Rotterdam Blaak was designed to create a modern environment inspired by the rich architecture of the Netherlands' trendiest city. Motto by Hilton is an urban, lifestyle hotel brand designed to help guests authentically live like a local. While staying at this hotel, guests can enjoy an authentic Dutch meal at its on-site restaurant, Pesca, with a continuously evolving menu featuring the best fresh fish daily. 
When traveling, every minute counts, and after an eventful day of exploring all the beautiful areas, sights, and tastes that Rotterdam has to offer, you'll find yourself with a whole new perspective, experiencing life as a local!