The Slate Denver, Tapestry Collection by Hilton pays homage to the building's original past as a school with thoughtful touches
In the heart of downtown Denver, The Slate Denver, Tapestry Collection by Hilton stands as a testament to over 100 years of educational history. Once the hallowed halls of the Emily Griffith Opportunity School, this secondary and technical college blazed a trail by offering education to all Denverites who "wished to learn" when it originally opened its doors in 1916.
Educator Emily Griffith offered free education to the masses and paved the way for countless generations to embark on successful careers beginning with typing classes and evolving into various vocational training with diplomas and certificates. Over the years, the school underwent numerous expansions and transformations, ultimately becoming the Emily Griffith Technical College in 1991. In 2014, it moved to a new location, leaving behind its iconic and life-changing building.
Thanks to the efforts of Historic Denver and History Colorado, the former school was saved from demolition and the buildings between 12th and 13th Streets and Welton and Glenarm were designated as historic landmarks. Hospitality company Stonebridge stepped in to preserve Griffith's legacy with an ambitious reuse project, resulting in the birth of The Slate Denver, Tapestry Collection by Hilton, which opened its doors in May 2022.
Check-in counters in the lobby use card catalogs of bygone days, flanked by a slate chalkboard
The Slate Denver pays tribute to its educational heritage with thoughtful design, nostalgic amenities and cleverly hidden surprises that transport guests back to their school days. Upon entering the hotel's original block- and terracotta-tiled columns, guests are greeted by a front desk fashioned like a card catalog, flanked by slate chalkboards. Throughout the hotel, original staircases and school corridors have been lovingly preserved, and typewriter artwork adorns the walls, harkening back to Griffith's early offerings.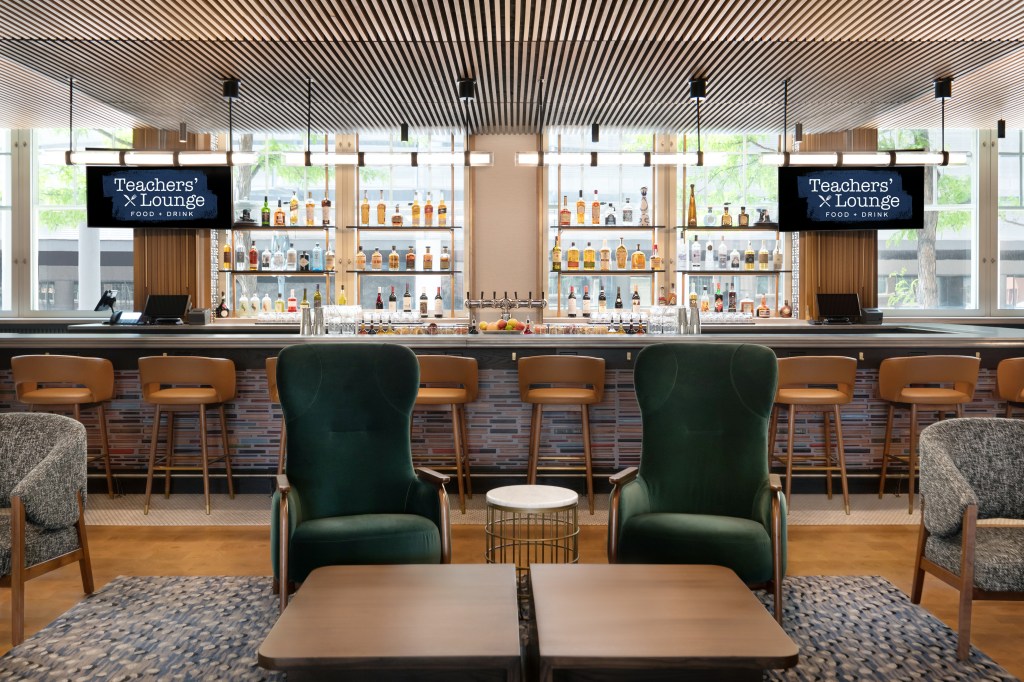 A highlight of The Slate Denver experience is the Teachers' Lounge Food + Drink restaurant, where guests can savor literary-inspired cocktails like "Monte Cristo," "Paradise Lost" and "Atlas Shrugged," as well as the signature apple-themed "The Emily" cocktail. The restaurant's above and beyond the typical school cafeteria fare, offering regionally sourced and themed dishes like Crispy Bison Meatloaf Bites and Jumpin' Good Goat Cheese, each crafted with ingredients from Colorado suppliers.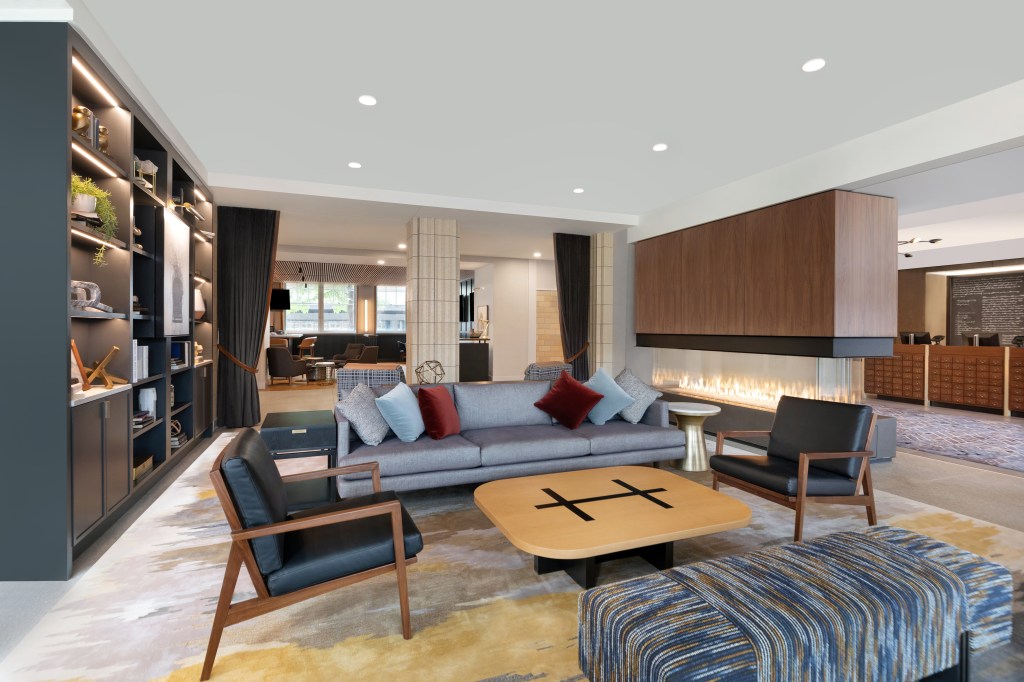 While the hotel embraces its historical roots, it also seamlessly blends modern-day conveniences into the mix. Hilton Honors members can take advantage of Digital Keys for a hassle-free check-in experience, and the hotel boasts tech-savvy meeting and events spaces, aptly named the Study Hall, Library, Assembly and 1916 Boardroom, complete with state-of-the-art audiovisual equipment and high-speed Wi-Fi.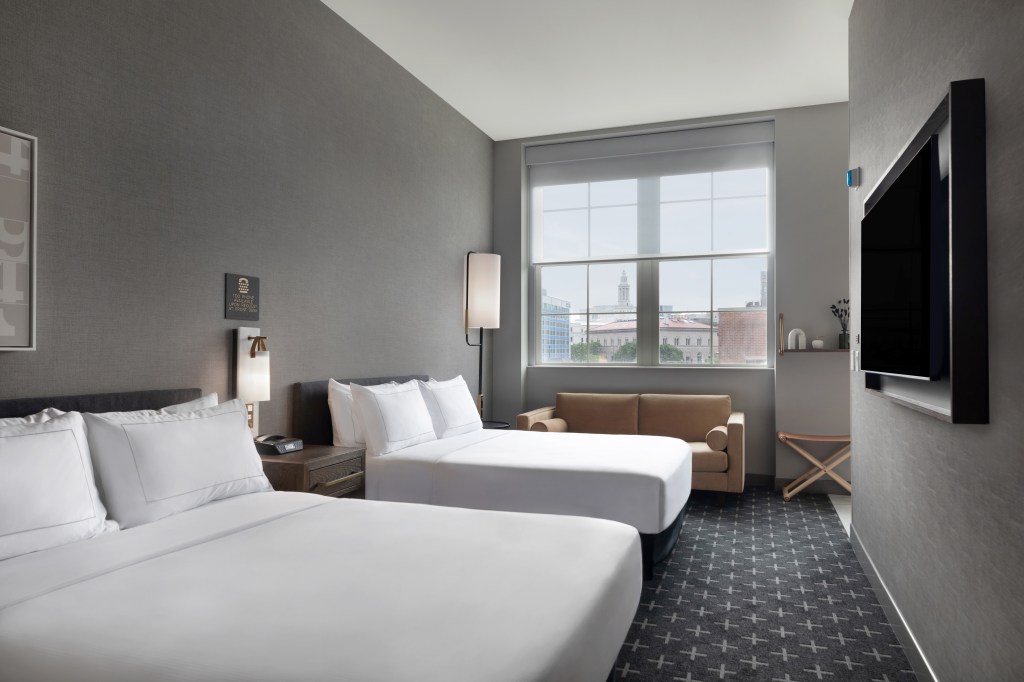 The 251 Dean's List guest rooms at The Slate Denver reflect a sophisticated old-school charm with their neutral palette of grays and whites. These rooms feature a wooden desk and lamp perfect for the studious traveler, while expansive windows fill the space with natural light and Rocky Mountain sunshine. The amenities receive top marks with features like a mini fridge, coffeemaker, 55-inch HDTV and Wi-Fi. Bathrooms boast a walk-in rainforest shower and luxury bath amenities, as well as wallpaper paying tribute to Griffith's past as an English teacher.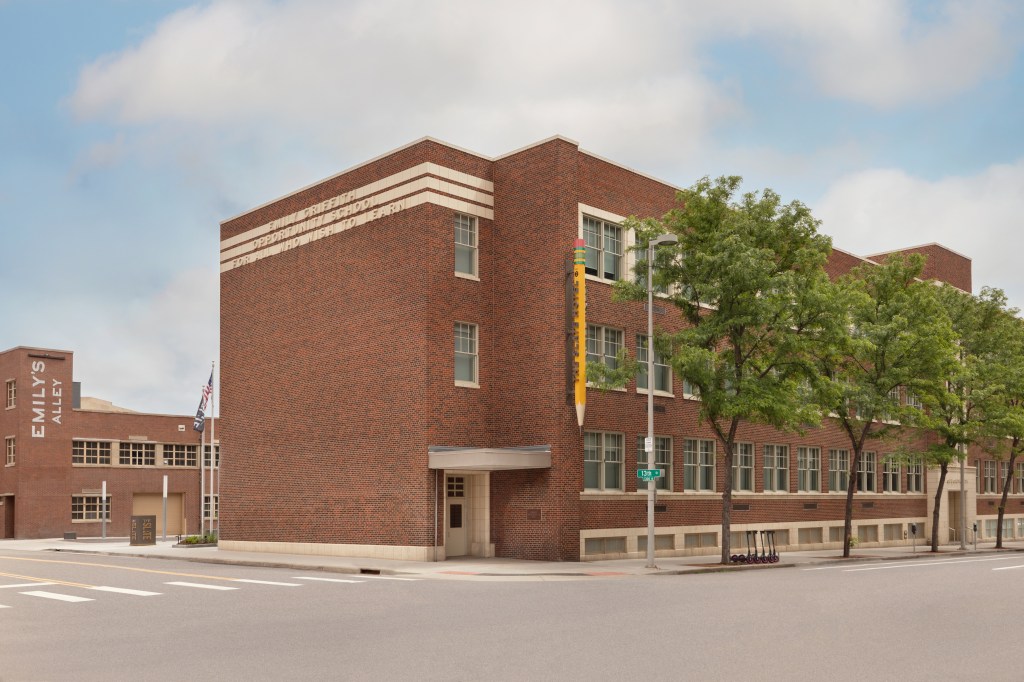 Adjacent to the hotel is Emily's Alley, a vibrant new retail and dining block dividing the property that will bring the community together with an array of events, such as farmers' markets, live music sessions and arts and crafts fairs. This new destination will inspire guests to mingle with neighborhood residents and experience the true essence of Denver's lively spirit and is just steps from the already lively Central Business District.
With its unique blend of history and modernity, The Slate Denver, Tapestry Collection by Hilton provides a school-inspired oasis where guests can experience the richness of the past while indulging in the comforts of the present. The Slate Denver's story continues to inspire all who step through its historic doors and stands as a shining example of the Mile High City's enduring legacy.