Rich in cultural history, the city of Cologne, Germany, is a hidden gem waiting to be explored. Although its extensive past dates back to 38 B.C., Cologne is renowned for its lively and youthful spirit. Hugging the Rhine River in Western Germany, the city is one of the country's oldest and features a mix of gothic- and contemporary-style architecture.
One of Cologne's century-old landmarks is its 115-foot-tall Wasserturm (water tower). Created in 1872 to supply 170,000 inhabitants with water, the Wasserturm was Cologne's primary source of drinking water until 1930. Years of decay left the tower unused and in ruins until 1985, when it dawned on a creative collective of investors to transform it into a unique, historic hotel. Today, Wasserturm Hotel Cologne, Curio Collection by Hilton is a one-of-a-kind stay for discerning guests seeking a boutique hotel with a story to tell.  
Wasserturm Hotel Cologne's tale continued into modern day following an ambitious restoration project helmed by architect Konrad L. Heinrich. It was no easy feat to revamp the building while preserving its historical and architectural moments. With its circular construction, design called for creative and inventive floor plans to provide flowing spaces hugging the cylindrical space.
Wasserturm Hotel Cologne's original design elements combined Rhenish Romanesque with Classicism and its origin still takes center stage. As soon as guests enter the characterful 36-foot-tall lobby, they find down-to-earth charm through formidable brickwork, lofty ceilings and geometric patterns combined with contemporary elegance and charm.
To bring warmth into the space, interior designer Andrée Putman originally added rich textured furnishings with an Art Deco influence, as well as curvaceous furnishings to match the building's flow. Today, as a Curio Collection by Hilton hotel, furnishings have received a modern take under the direction of interior designer John Beattie and the Goddard Littlefair team.
The hotel's cylindrical construction naturally draws guests into Wasserturm Hotel Cologne's central, round hub and adjacent private Wintergarten, which wraps around the entire hotel and creates a calm oasis in the city. Enjoying breakfast in the Wintergarten, guests can take in the garden views for a peaceful start to their day.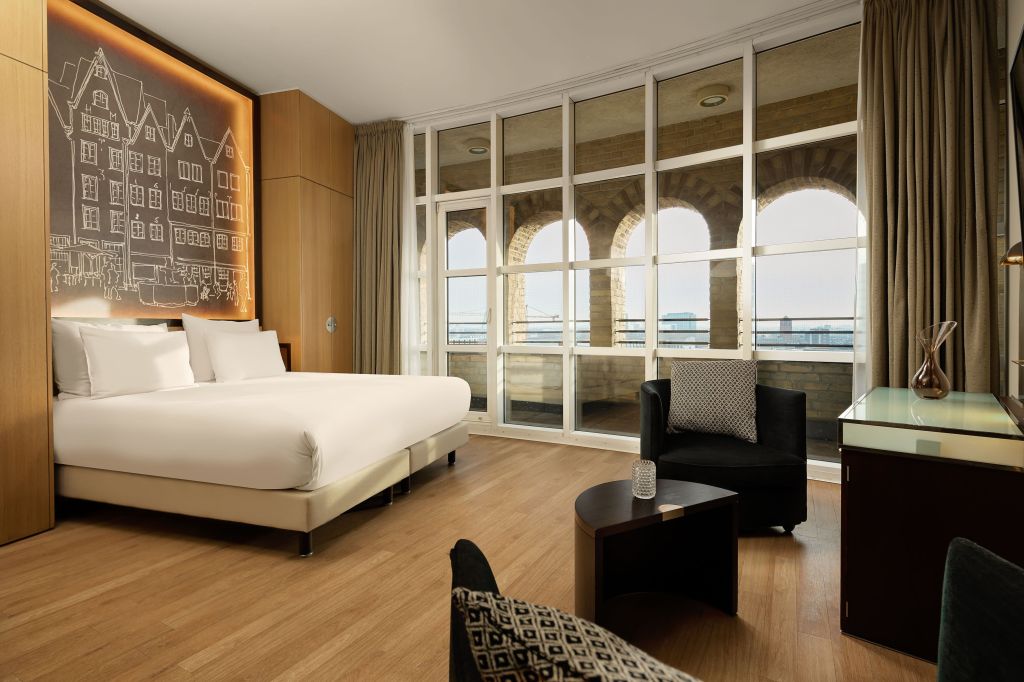 From there, guests can ride the elevator to any of the hotel's 11 floors, where 88 guest rooms and suites, individually designed to follow the unique cylinder shape of the building, guarantee a truly unforgettable stay and no shortage of incredible views of the city. From standard queen-sized rooms to junior king-sized suites to duplex accommodations with living and dining areas, groups of all sizes will find a perfect fit. As the lift traverses the water tower's 11 floors, guests move past the rooms and suites, all with state-of-the-art furnishings, and Tapps, the hotel's spa and gym, complete with sauna, showers, relaxing areas and training equipment. 
Even pets are welcome at Wasserturm Hotel Cologne, where modern amenities include free Wi-Fi, in-room espresso machines, mini-fridges, LCD TVs, free bottles of water and a state-of-the-art fitness center.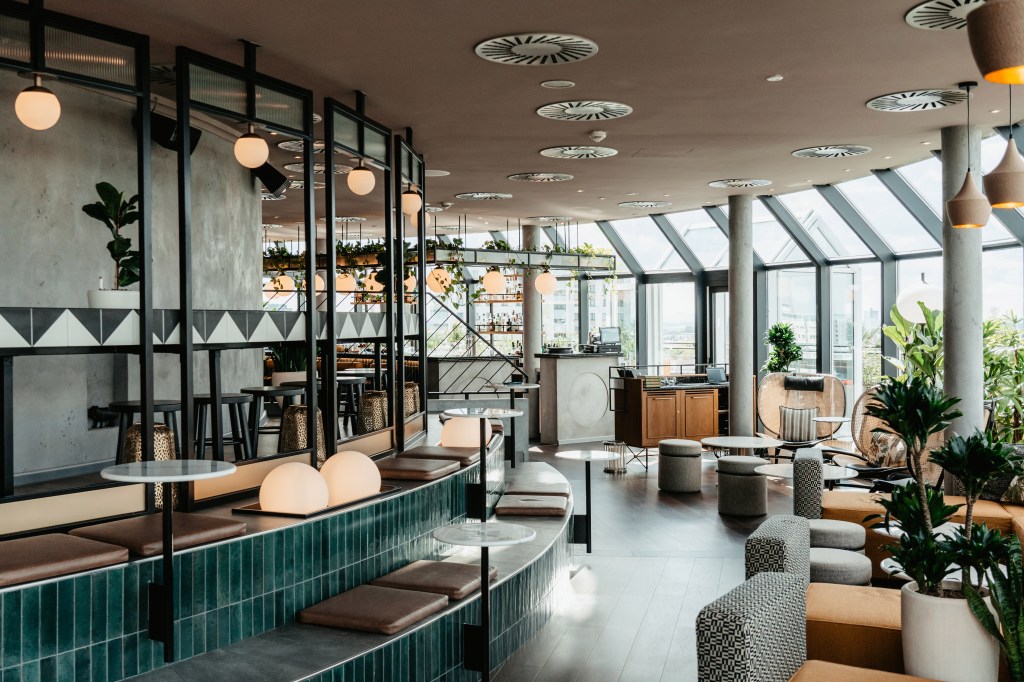 At the top of the water tower is the true gem of the converted hotel. Here, guests find a breathtaking 360-degree view of the city from Wasserturm Hotel Cologne's intriguing botany-themed Bar Botanik. The atmosphere is filled with floral and herbal aromas set in a design that infuses a botanical greenhouse with industrial materials like steel, concrete, wood and leather.
In order to create a perfect symbiosis, all food items are matched to the innovative drink menu. Bar Botanik serves as Cologne's ultimate hotspot for cocktails, where sundowners are served alongside DJ-led special events and Colognians and visitors equally enjoy the one-of-a-kind vibes.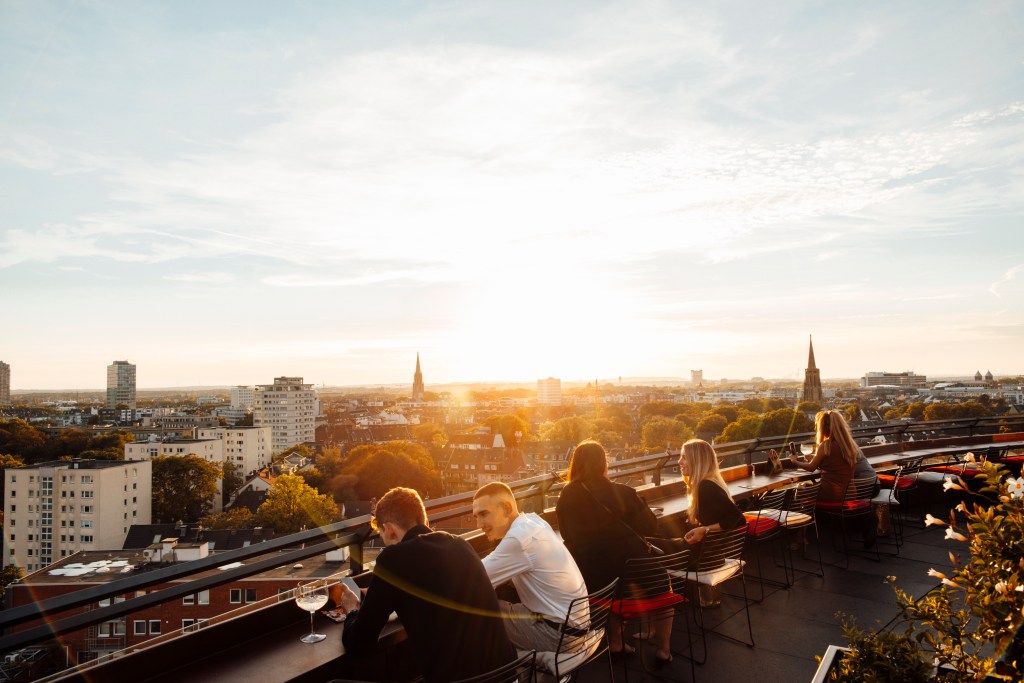 Once a water tower providing life for the citizens of Cologne, Wasserturm Hotel Cologne brings new life to the city by offering a lively immersive space for travelers and locals alike. Learn more about Wasserturm Hotel Cologne, Curio Collection by Hilton here.