JOHANNESBURG, South Africa – As part of Africa Day 2023, Hilton is celebrating the continent's vibrant cultures through a series of unique collaborations with African artists. By celebrating culture and embracing diversity, these local art partnerships are in support of Hilton's Travel with Purpose ESG strategy, aimed at creating a positive impact across the communities Hilton operates in around the world.
Hilton's hotels across the Africa & Indian Ocean region are supporting their local communities and spotlighting local cultures by partnering with artists to create installations, showcase their work, as well as provide them with an opportunity to sell their art pieces. Various hotels are hosting art exhibitions – as well as art fairs, with each piece telling a story ranging from African mythology and creativity, to making use of sustainable sourcing and recyclable materials. 
Some of the inspiring art collaborations and stories include:
Transcorp Hilton Abuja: Where Sustainability Meets Art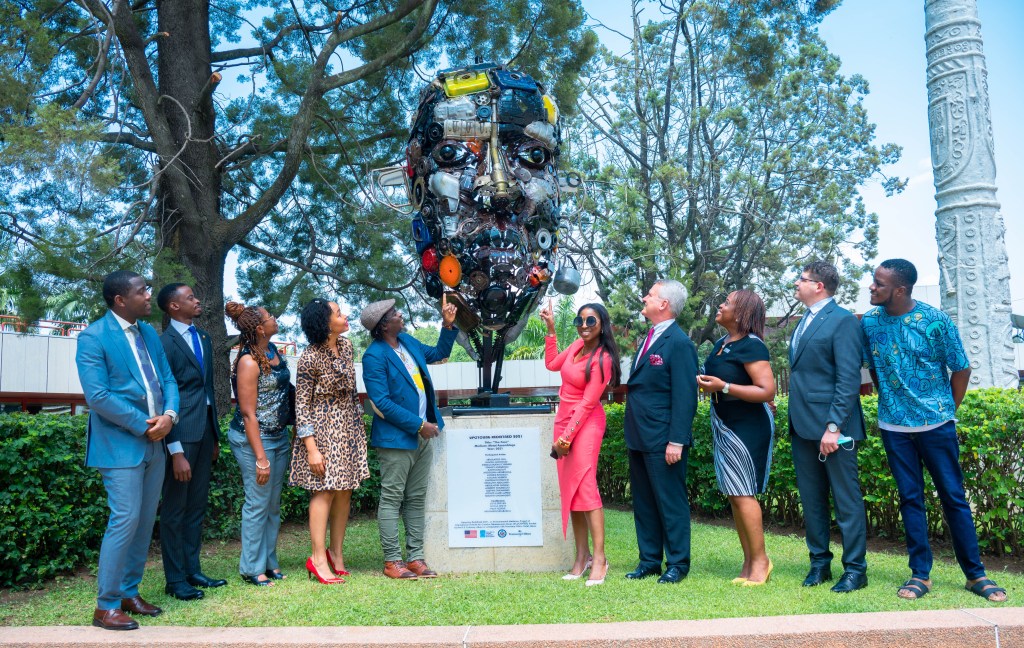 Transcorp Hilton Abuja recently partnered with Nduwhite Ndubuisi Ahanonu, the Nigerian artist behind 'The Face', an installation created from recycled materials collected from the hotel's garage and workstation. The collaboration was centered around environmental sustainability and has been created in collaboration with the United States Embassy. The installation serves as a reminder of the impact of human activity on the environment and encourages people to think more about sustainability.
Legend Hotel Lagos Airport, Curio Collection by Hilton: Empowering Nigerian Communities Through Art
Lagos artisans Victor Ehikhamenor and Dotun Popoola have created stunning installations such as 'The Igunnuko Masquerades' (a traditional masquerade known to support the wellbeing of communities), 'Irinola' i.e. Waste-to-wealth  (a hybrid metal assemblage made from scrap metal and recycled materials) and 'The Rise of Emotan' (depicting a revered market woman known for her selflessness). Their work is being showcased at Legend Hotel Lagos Airport, Curio Collection by Hilton to help local people in need.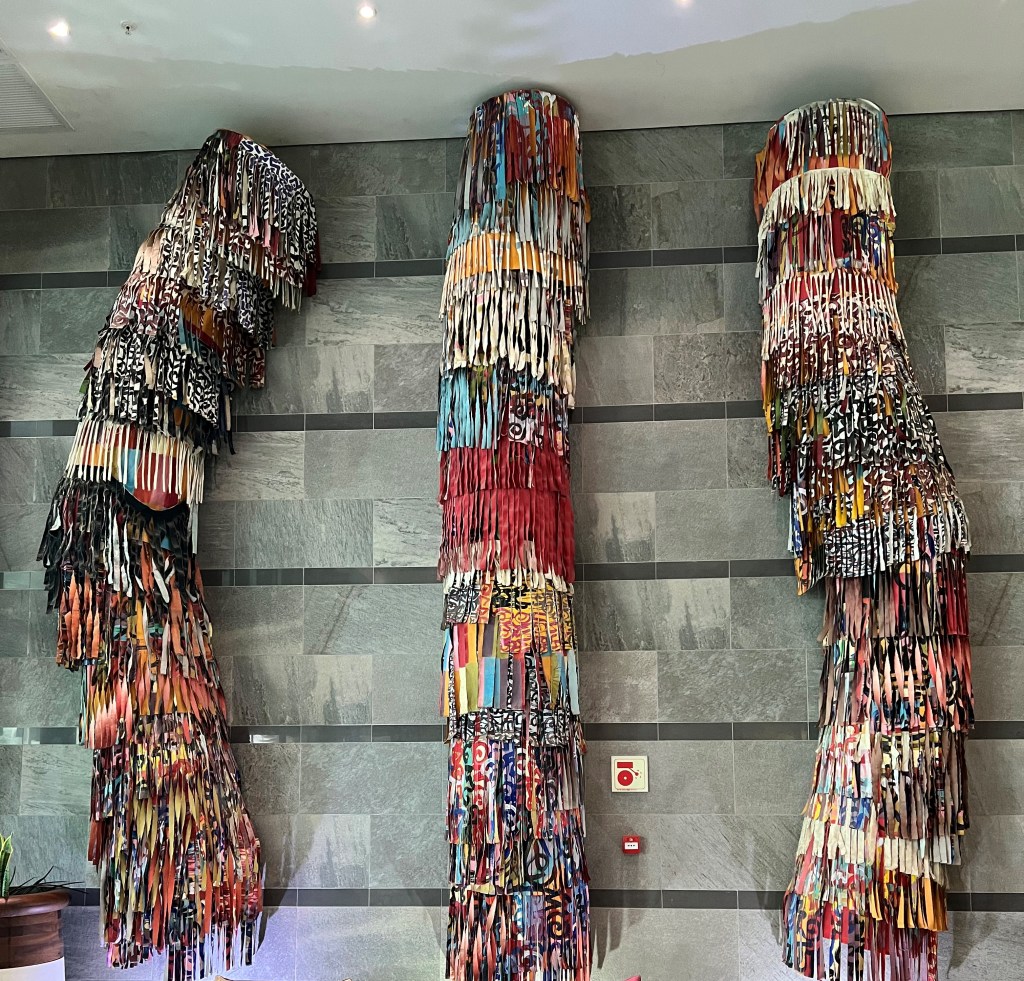 Hilton Addis Ababa: Ethiopian Artists Take the Stage at Big Art Sale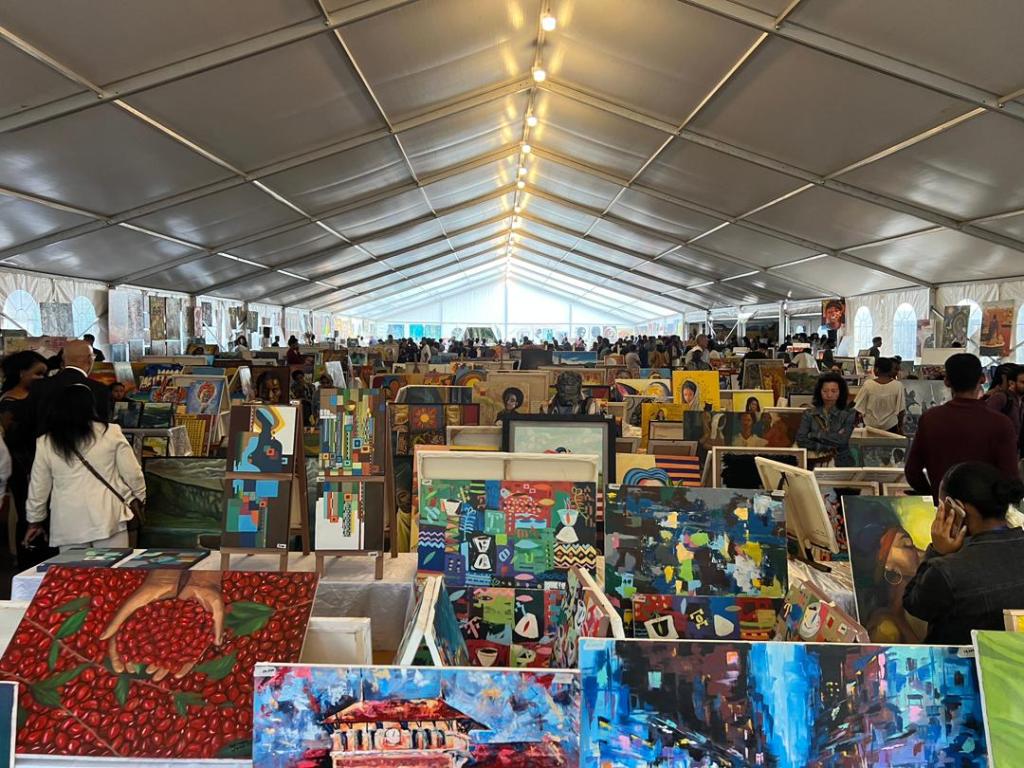 Hilton Addis Ababa is showcasing the work of local artists in Ethiopia through its Big Art Sale. This exhibition takes place annually and features over 250 artists and more than 2,500 paintings and sculptures.
The exhibition provides a platform for local artists to highlight their talent and connect with potential buyers, with proceeds from the exhibition channelled towards charity projects via the Art Association of Ethiopia. The Big Art Sale has grown tremendously since its inception five years ago, with the number of participating artists increasing every year.
The hotel also displays some of the art pieces in various parts of the hotel for guests to view and purchase. Some artists have also gone on to showcase their art in other organisations, including embassies, because of the exposure received from the Big Art Sale.
Hilton Yaoundé: Empowering Cameroon's Art Scene
Hilton Yaoundé is collaborating with local handicraft artisans through the Hilton Yaoundé Fair. To support local artists whose lives were disrupted by the pandemic, the property launched the fair in September 2020. The initiative provides a commercial platform for local artisans to sell their products and pass on a part of Cameroon's history to the public.
Hilton Yaoundé also encourages team members to showcase their own artwork at the fair. Hotel team member Murielle Ibis Njoh dedicates her free time to creating items such as soaps, wool carpets, jewellery, beaded headdresses, ginger syrup, and vegetable oils. The initiative has supported 80 local artisans, including Njoh.
Hilton Seychelles Labriz Resort & Spa: An Art Gallery Fit for Paradise
Hilton Seychelles Labriz Resort & Spa recently reopened its Art Gallery on Silhouette Island, where the resort showcases a collection of stunning artworks created by talented local artists. The gallery is a celebration of the vibrant culture and breathtaking natural beauty of Seychelles and features over 80 artworks from 13 local artists. The art collection ranges from sculptures to abstract interpretations of the Seychellois way of life.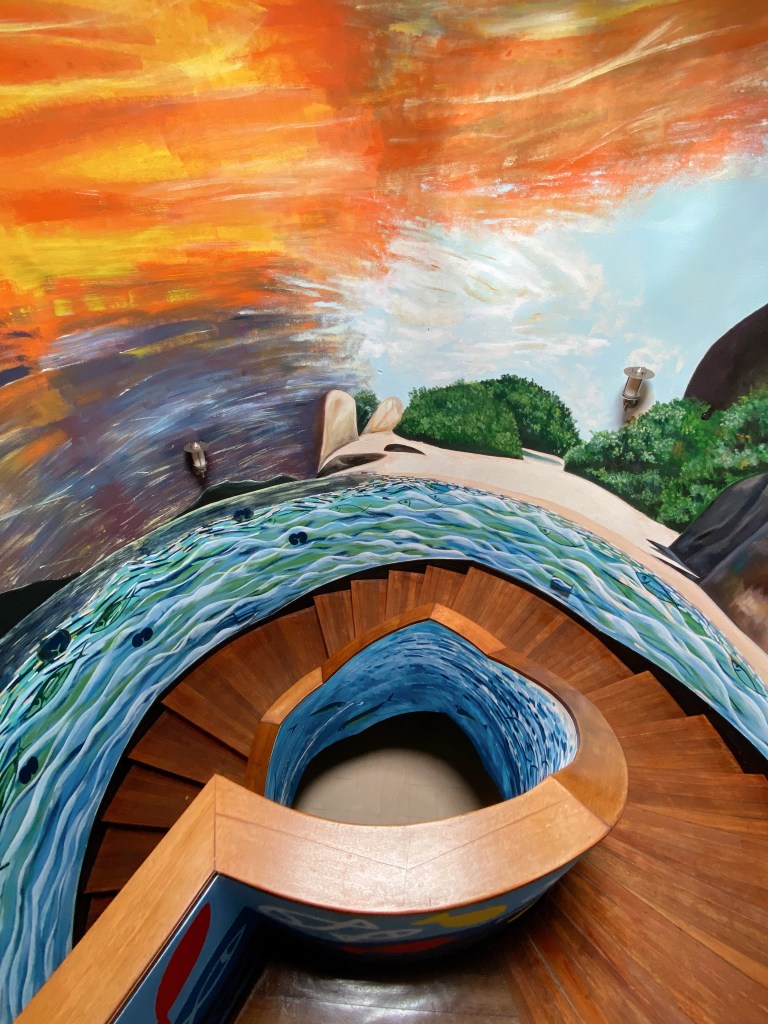 Hilton has also supported other African artists across the continent, including:
Hilton Garden Inn Lusaka Society Business Park features a beautiful sculpture called 'Kanyimbo ka Alangizi' made by Gift Chiyawa, which was unveiled in 2019 to celebrate Zambian culture and support the local arts sector.
The #PushaBW initiative at Hilton Garden Inn Gaborone provides a platform for local artists to showcase and sell their artwork to international customers from the hotel's lobby. #PushaBW is a hashtag coined by the government of Botswana, "Pusha" comes from the word push while "BW" stands for Botswana.
---
About Hilton
Hilton (NYSE: HLT) is a leading global hospitality company with a portfolio of world-class brands comprising more than 7,200 properties and more than 1.1 million rooms, in 122 countries and territories. Dedicated to fulfilling its founding vision to fill the earth with the light and warmth of hospitality, Hilton has welcomed more than 3 billion guests in its more than 100-year history, earned a top spot on Fortune's 100 Best Companies to Work For list and been recognized as a global leader on the Dow Jones Sustainability Indices for six consecutive years. Hilton has introduced several industry-leading technology enhancements to improve the guest experience, including Digital Key Share, automated complimentary room upgrades and the ability to book confirmed connecting rooms. Through the award-winning guest loyalty program Hilton Honors, the more than 158 million members who book directly with Hilton can earn Points for hotel stays and experiences money can't buy. With the free Hilton Honors app, guests can book their stay, select their room, check in, unlock their door with a Digital Key and check out, all from their smartphone. Visit stories.hilton.com for more information, and connect with Hilton on Facebook, Twitter, LinkedIn, Instagram and YouTube.